Here's another post in a new series here at the blog: Read-Bait! Over the coming weeks, I'll be featuring different words or phrases that catch my eye in book descriptions, the books I've read under those categories, and the books I plan on reading. I hope it shares some insight about my reading preferences and interests. As always, feel free to recommend any books you'd think I like!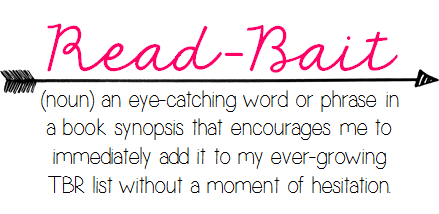 You know how it goes: you're browsing Goodreads, clicking on books that look interesting, and checking out their summaries. All of a sudden you see a certain word or phrase in the synopsis that triggers an automatic reaction to click that "Want to Read" button. I call this "read-bait" – any word(s) that make you instantly think that you MUST read this book. One example for me is…
I joined in with Andi and some others on a feature called Parallel Time Loop, where we featured our favorite books about time travel and parallel universes. I have been fascinated with this topic for as long as I can remember and chose Just Like Fate for my book. My post over there about my background and experience with parallel universes and how every decision shapes our lives in some way. ANYWAYS, that book was really my first foray into the genre and I loved it. It was a parallel life book, where one decision that Caroline makes alters the path of her life forever. It asks the question: do we end up in the same place regardless of our decisions? Or do they somehow bring us to a different result that otherwise wouldn't have happened? Fascinating stuff, folks. Ask Again Later has a similar premise. The main character (Heart, which is an ironic name) has to decide between two prom dates, which obviously affects how her night ends up going. In Pivot Point, Addie can see both outcomes of a decision and choose which one is the best. The coolest part about this book, though, is that Addie is not alone in her paranormalcy; she lives in a compound full of other people with cool abilities. I wasn't expecting that because I'm used to the main character not really knowing that the reader is seeing both paths. This was such a cool book. One Past Midnight is a unique one compared to the rest too. Sabine literally lives two lives: she wakes up one day in one life and the next day in a completely different one. She lives each day twice… until she starts to think that's no longer what she wants. It was a really powerful book and the reader gets to witness the difficult decision Sabine has to try to make (or not – you'll see!). Now, I've saved the best for last. Dissonance was sheer perfection for me. The story itself lines up with my thoughts of how I view the whole alternate universe thing. It was so well thought-out that I was thoroughly impressed. I couldn't stop reading. In this one, the main character (Del) lives in a family of Walkers, who can navigate the "multiverse" and explore the worlds created by every single decision that every single person makes. The book is just SO freaking cool and I am DYING for the next book in the series!
I believe that the five books I've shown here are the only ones I've actually read in this particular sub-genre. There are many books out there that involve parallel universes and here are the top five I'm looking forward to:
---
Parallel or Alternate
+ Universe or Life
(+ Creation or Manipulation)
= YAAAAS.
Related Posts