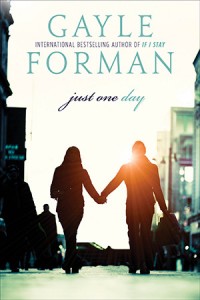 Just One Day by Gayle Forman
Series: Just One Day #1
Genres: Contemporary, Young Adult
Published by Penguin on August 20th 201
Also by this author: If I Stay, Where She Went, Just One Year, Just One Night, Leave Me
Format: Paperback (369 pages) • Source: Gift
Goodreads • Amazon • Barnes & Noble


Allyson Healey's life is exactly like her suitcase—packed, planned, ordered. Then on the last day of her three-week post-graduation European tour, she meets Willem. A free-spirited, roving actor, Willem is everything she's not, and when he invites her to abandon her plans and come to Paris with him, Allyson says yes. This uncharacteristic decision leads to a day of risk and romance, liberation and intimacy: 24 hours that will transform Allyson's life.

A book about love, heartbreak, travel, identity, and the "accidents" of fate, Just One Day shows us how sometimes in order to get found, you first have to get lost. . . and how often the people we are seeking are much closer than we know.   The first in a sweepingly romantic duet of novels.
Book Buddies is a discussion-style review that takes place with one of my two buddies. (Learn more and see past reviews here) We both read the book and then have a private discussion about it. We post our discussion as a review on the last Wednesday of each month. You'll be able to see our similar/different opinions on the overall book, characters, writing style, etc. – just like a regular review. The first half our discussion will take place right here, and the second half will be on Cristina's blog! (Link at the bottom)
---
What made you initially add this one to your TBR and what were you expecting from it? Did it meet your expectations?
Lauren: I read If I Stay and Where She Went by Gayle Forman and was really captivated by her writing style. I liked the second book in the duology better than the first, but regardless enjoyed her style. I was honestly not THAT interested in Just One Day when I initially heard of it, but there were so many bloggers who said it was pretty life-changing. I ended up asking for it for Christmas and my dad came through. I was expecting the same beautiful writing as I've previously experienced from Gayle, but wasn't sure of much else! She seems to write a lot of different kinds of stories, so it's hard to draw parallels between all of her work. Overall this book completely exceeded any expectations I did have. I couldn't believe how swept up I was in the story; it was like a race to the finish to see how their story ended! I will say, though, that the title Just One Day had me thinking that the entire book was actually going to take place over the course of one day. I didn't expect for it to actually go on for a full year. I liked that, but it definitely caught me off guard!
Cristina: I initially added this to my TBR because I felt like I was one of the only YA readers who had not read anything by Gayle Forman! I actually ended up reading her new release I Was Here prior to this one, and was pretty underwhelmed by it. Therefore, when I started Just One Day I didn't have very high expectations…but I ended up really liking it and being really emotionally invested in the story!
Lauren: Well, I'm glad you decided to give it a chance and it was able to impress you! From the reviews on I Was Here, I'm not entirely surprised you felt that way. I have heard mixed things, even from the Gayle fangirls, so I think this one was a good way to almost "redeem" your thoughts on her.
Have you ever been to Paris? If so, what was your experience like? If not, would you like to?
Lauren: I haven't travelled outside of the US, unfortunately. I've always wanted to go to Paris but haven't had the means to yet. I would love to go – especially after this story! It seems like the kind of place that offers so many traditional tourist attractions, but also has a lot to offer in other ways. There seem to be so many little places you could see or things you could do that are off the map.
Cristina: While I haven't been to Paris, which I'm quite sad about, I have been to London for a study abroad course when I was in college. My experience abroad was much better than Allyson's, and I didn't find myself being disappointed by the sights or putting too many expectations on them being "like the movies." I had a lot of friends on the trip visit Paris after our class (traveling on alone like Allyson did) and they all had nothing but good things to say about it! Aside from wanting to do all of the tourist-y stuff (which Allyson and Willem sort of avoided) I really can't wait to try the food- especially the macarons. I've had them stateside and in London and Forman wasn't exaggerating how amazing they taste! Truthfully, I think my experience in Paris would be a lot more like the Australian's Allyson meets up with later on, who want to hit all the major sites rather than the residential or underground areas of the city.
Lauren: I'm with you on that. I would love to see all of the "standard" attractions of Paris and definitely wouldn't limit myself to only places that are off the grid. I can understand Allyson's point on things not being exactly as she expected or like the movies. If I were her, however, I would love it no matter what! I can't imagine being disappointed by the sights, even if there's a McDonald's right near an old site. In fact, I think it would be interesting to look at how much the times have changed. It would be kind of jarring to see that mix of old and new.
What kind of emotions did this book evoke in you as you were reading?
Lauren: Wanderlust! Does that count as an emotion? I seriously want to travel everywhere thanks to this book. Beyond that, Just One Day was an absolute roller coaster for me. The emotions I felt between different events were SO varying, it was insane. One minute I was so heartbroken from a little piece of information; other times I was so happy and excited to see what was going to happen next. I can't explain how crazy it felt going from page to page! I think this book broke my feels for a long time. I really felt like I was inside Allyson's head as she searched for answers. I was just as invested in figuring out what happened as she was. I actually only sat down to read this book three times because I could not stop reading each time. This was especially true when I got towards the end when she returns. I'm trying to be vague and spoiler-free, but those who read it should know what I mean!
Cristina: I'm usually not a super emotional reader, so I was surprised that this book got to me so much! After the first third I was heartbroken, and feeling Allyson's panic at trying to navigate through a foreign city by herself. I was completely struck by how much I ended up empathizing with Allyson's journey. Waiting for the outcome of the romance had me on pins and needles, but I also felt a deep sense of emotion reading about Allyson struggling during her freshman year of college (we've almost all been there!) and dealing with an exhausting, constant battle with her parents over the status of her independence. I applaud Forman for making me care not just about the love/lust feels, but about deeper aspects of Allyson's life as well!
This is the kind of book that almost begs the reader to take action. Did it make you want to live your life any differently?
Lauren: Yes! I feel like beyond travelling, I need to just take more risks and live life to the fullest. It feels kind of cheesy to say, but that was such a clear message from this book. Allyson has spent her whole life sitting around and letting other people (her parents) guide her life. Instead of just doing everything expected of her, she takes a chance. She takes multiple chances – sometimes big, sometimes small – but the bottom line is that all of them are worth taking. She tries to become a different person, Lulu, by acting in ways she usually never would. I think the main moral of the story is that you don't really have to be so drastic as to change everything about yourself (and become someone completely different), but you should always think about what you truly want out of life and GO FOR IT. I actually ended up joining this online project called Day Zero Project (www.dayzeroproject.com), where you decide on 101 goals you want to complete in 1001 days (almost 3 years). You can track everything through that website and just try to live your life with more purpose.
Cristina: Yes and no. It definitely made me want to travel more, and to not be so wary of traveling alone in particular. I liked how Allyson wasn't 100% confident even by the end of the book, but she forced herself to communicate in different languages, learn to read maps, take public transit, etc. and though she had screw-ups, she figured it out in the end. Yet I didn't necessarily have an urge to increase my adventurous, risk-taking behavior or find a deeper alter-ego (like Lulu) within myself, because I'm pretty content with my pragmatic side. It was romantic to read about, but Allyson's personality shift was pretty drastic to want to apply to myself.
Lauren: I agree. I don't think I could ever change the side of myself that is a natural planner or organizer. Allyson did a good job of balancing the Lulu aspects of herself and the Allyson parts when she returned to Paris. I feel like that's the only way I would be able to bring in some of that risk-taking behavior.
Were there any parts of the book that you didn't really like or couldn't relate to?
Lauren: The section of time in the middle while Allyson was moping at college kind of bothered me. She was clearly impacted by the events of that day, but really let it spill into every single other aspect of her life – to the point where it was completely debilitating. There were quite a few chapters that I was just itching to move beyond because she was feeling very sorry for herself when she could have been living it up at college. Again, I get the point of that section, but it seemed like a bit much. I just wanted to jump into the book and shake her out of it sometimes. I did love when she started opening up to people, like her roommates and Dee, and wish she had some more time to develop those relationships before going home for the summer.
Cristina: In the beginning of the book I was afraid Allyson was going to be a complete Mary Sue, but her character really developed as more of a complex one for me! It bothered me a bit how she let her mother control SO MUCH of her life (I have protective parents growing up, but Allyson's mother takes it to a whole new level) but it made it more rewarding when she learns to become more of her own person. I actually really enjoyed reading about Allyson's college experience, because I think there are a lot of kids who end up in similar situations (forced into majors they don't like, feeling like the odd one out with their roommates, have burnout from high school, etc) and I'm glad the book addressed the harder side of adapting to college life.
How did you feel about the ending?
Lauren: Oh lord, my heart. I have so many thoughts on the ending. I somehow KNEW that was going to happen and it was going to break my heart. I was so mad at myself that I didn't order Just One Year sooner. While I think it was appropriate, I am very eager to get to Just One Year and Just One Night. (Just One Night will actually focus on what happens next, while Just One Year focuses on Willem's side of the story during the same timeframe as Just One Day). I really liked the symbolism of her referring to herself as Allyson instead of Lulu when he answered the door. I think, going back to what I mentioned before, she realized that she isn't Lulu. She can't ever be someone completely different than her original self. She can make changes, take chances, and become more of a risk-taker, but she'll always be Allyson. The whole interaction at the door was a second chance – a chance to start over for them, hopefully.
Cristina: I LOVED that she called herself by Allyson at the end too, as it really felt like she had grown into her own person enough to not need to hide behind a fantasy! I sort of sensed the book was going to be more of a self-journey for her rather than focusing on their reunion, but oh my goodness, it left me wanting to know what happened SO badly! I'm waiting for Just One Year to come in at the library, and I'm really curious to see what sort of closure (if any) I'll get from the Just One Night novella.
Lauren: It's definitely one of those situations where you wonder how it will even be possible for their relationship to continue across continents – if it ends up that way. I am definitely dying for a little more closure than that!
Continue reading the second half of our discussion on Cristina's blog

HERE

!
---
 Overall Thoughts and Rating
I absolutely loved this book overall. As usual, Forman's writing style was spectacular. Allyson was so fleshed out as a character; we really got to know her and her struggles. As I said before, I definitely didn't realize this book actually took place over the course of a year instead of actually "just one day." Although the element of that one day is what's carried throughout the story and impacts everything going forward in Allyson's life. The romance with Willem was short and sweet, but the effects of it were longlasting. If you haven't read this one, I highly recommend checking it out. It made me rethink some things in my life and I got so caught up in feelings of wanderlust. I gave this one 4.5 stars because it was nearly perfection. The part with Allyson at college while she's in her funk and pining were a little overdone; the depression seemed to be magically cured by the end, and I didn't think there was enough realistic closure with that. 
Related Posts