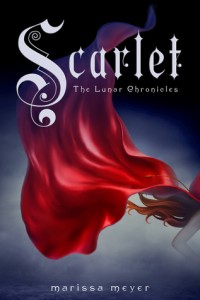 Scarlet
by
Marissa Meyer
Series:
The Lunar Chronicles #2
Genres:
Young Adult
,
Fairytale Retelling
Published by
Macmillan
on February 5th 2013
Also by this author:
Cinder
,
Winter
,
Fairest
,
Stars Above
,
Heartless
,
Wires and Nerve
,
Gone Rogue
,
Renegades
,
Archenemies
Format:
eBook
(452 pages) •
Source:
Purchased
Goodreads
•
Amazon
•
Barnes & Noble

Cinder, the cyborg mechanic, returns in the second thrilling installment of the bestselling Lunar Chronicles. She's trying to break out of prison--even though if she succeeds, she'll be the Commonwealth's most wanted fugitive.

Halfway around the world, Scarlet Benoit's grandmother is missing. It turns out there are many things Scarlet doesn't know about her grandmother or the grave danger she has lived in her whole life. When Scarlet encounters Wolf, a street fighter who may have information as to her grandmother's whereabouts, she is loath to trust this stranger, but is inexplicably drawn to him, and he to her. As Scarlet and Wolf unravel one mystery, they encounter another when they meet Cinder. Now, all of them must stay one step ahead of the vicious Lunar Queen Levana, who will do anything for the handsome Prince Kai to become her husband, her king, her prisoner.

I think my feelings for this book can be summed up in my Goodreads review, which is usually just a quick snapshot of my gut reaction:
Okay yeah, so I am really enjoying this series so far! It's not what I was expecting (in a good way) but somehow I'm not in LOVE with it like most people. I'm sad about that. I've heard that a lot of people count Cress as their favorite, though, so I'm feeling really good about the next book.
As for Scarlet, I feel like I didn't get enough of SCARLET! I love that these books alternate around between some of the main characters, but Cinder's story from this book is sticking more in my mind than Scarlet's chapters. I don't know if it's because I was more interested in Thorne than Wolf – or something similar – but damn. I kept itching for Cinder's chapters.
I loved the end of the book, when all of the stories connected and everyone came together. I can't wait to see how they mix in Cress and other new characters in the next couple of books! Stories that have characters whose lives are connected (usually without them personally know each other) are always fun for me.
These books, so far, feature a decent amount of action throughout, and then a little uptick towards the end. Usually that climax is what keeps me interested and prepares me for the next book. I'm really glad that I started Scarlet late in the readalong, so I can jump right into Cress without waiting.

Cress
by
Marissa Meyer
Series:
The Lunar Chronicles #3
Genres:
Young Adult
,
Fairytale Retelling
Published by
Macmillan
on February 4th 2014
Also by this author:
Cinder
,
Winter
,
Fairest
,
Stars Above
,
Heartless
,
Wires and Nerve
,
Gone Rogue
,
Renegades
,
Archenemies
Format:
eBook
(550 pages) •
Source:
Purchased
Goodreads
•
Amazon
•
Barnes & Noble

In this third book in the Lunar Chronicles, Cinder and Captain Thorne are fugitives on the run, now with Scarlet and Wolf in tow. Together, they're plotting to overthrow Queen Levana and her army.

Their best hope lies with Cress, a girl imprisoned on a satellite since childhood who's only ever had her netscreens as company. All that screen time has made Cress an excellent hacker. Unfortunately, she's just received orders from Levana to track down Cinder and her handsome accomplice.

When a daring rescue of Cress goes awry, the group is separated. Cress finally has her freedom, but it comes at a high price. Meanwhile, Queen Levana will let nothing prevent her marriage to Emperor Kai. Cress, Scarlet, and Cinder may not have signed up to save the world, but they may be the only hope the world has.

YES. This book is what I've been waiting for. I've certainly enjoyed the previous two books, but this one was amazing. Cress. Thorne. LOVE.
"Maybe there isn't such a thing as fate. Maybe it's just the opportunities we're given, and what we do with them. I'm beginning to think that maybe great, epic romances don't just happen. We have to make them ourselves."
This book was full of action and frustration and feels. I don't know how else to talk about it, so let's give this a try:
Things start coming together. Finally! The reader knows all sorts of ~things~ that only some characters know, so I started to get a little frustrated. LIKE OMG JUST TELL HIM kind of things. In this book, all of the connections between the characters start coming to light. There were some missed connections where people were so close and so far from figuring out truths.
Things start falling apart. The ragtag ol' crew of criminals gets broken up in a few ways, just as they all finally can get together. It was fun to follow all the groupings of people on their different journeys. They all start to realize what's going on and fight to get back to each other.
So much shipping. I love every coupling in this series, and loved where they all ended up in this particular book. I have to say that Thorne and Cress stole my heart completely. I'm so fucking ready to see them take the world galaxy? by storm.
The ending. I'm definitely ready for Winter now. Especially now that she's been introduced to us as a character and she's clearly a psycho. I'm eager for everyone to get and/or stay together in the final book and kick some ass.
Honestly, my one complaint is the amount of times the world "gulping" was used. Characters did that A LOT before speaking. That's all. I truly can't think of any other issues with this book, but there's something holding me back from the five star rating.
---
Related Posts