In an effort to cut down on posts and burnout, my Review Roundups will feature 2-4 books I've read or listened to recently. Sometimes they're newer releases and sometimes they're all backlist titles. My ARC reviews usually get the solo treatment. Enjoy the mini reviews!
---
Supernova
by
Marissa Meyer
Series:
Renegades #3
Genres:
Young Adult
,
Sci-Fi
,
Paranormal
Published by
Macmillan
on November 5, 2019
Also by this author:
Cinder
,
Scarlet
,
Cress
,
Winter
,
Fairest
,
Stars Above
,
Heartless
,
Wires and Nerve
,
Gone Rogue
,
Renegades
,
Archenemies
Format:
Hardcover
(552 pages) •
Source:
Purchased
Goodreads
•
Amazon
•
Barnes & Noble
All's fair in love and anarchy...
The epic conclusion to Marissa Meyer's thrilling Renegades Trilogy finds Nova and Adrian fighting to keep their identities secret. While the battle rages on between their alter egos and their allies, there is a darker threat shrouding Gatlon City.
The Renegades' worst enemy is back among them, threatening to reclaim Gatlon City. Nova and Adrian must brave lies and betrayal to protect those they love. Their greatest fears are about to come to life, and unless they can bridge the divide between heroes and villains, they stand to lose everything. Including each other.
Intrigue and action will leave readers on edge until the final, shocking secrets are revealed.
Like with the other two books in this series, I wish this was shorter by about 100 pages. There were some repetitive internal thoughts throughout and it just makes me think that more editing would have removed some and gotten this to a reasonable length. There's no reason for this series to be the length it is! The pacing is super off. I think the first two books had a bit more twists throughout to keep things interesting but this one really didn't get going until the final third.
My favorite thing through reading all three books was watching Nova slowly think for herself and realize what was important. She started out as a such a villain on the side of the world's biggest anarchist, and then realized that maybe she didn't have to be that way. It genuinely took a while and was spaced nicely and naturally throughout the trilogy. Other than that, everyone was so boring. They were all about their powers and that's about it. I couldn't tell you anything about their personalities or interests otherwise. Just boring superheroes.
Overall though, this book was a really good conclusion to the trilogy. Definitely wondering if a spinoff will happen based off the ending… I'll always be a Marissa Meyer fangirl but I feel like her books are getting the same "this author is really popular and great so we don't need to edit it as much" treatment as Sarah J. Maas recently lol.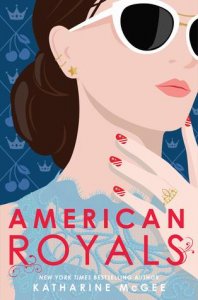 American Royals
by
Katharine McGee
Series:
American Royals #1
Genres:
Young Adult
,
Contemporary
Published by
Random House
on September 3, 2019
Also by this author:
The Thousandth Floor
,
The Dazzling Heights
,
Meet Cute: Some People Are Destined to Meet
,
The Towering Sky
Format:
Audio/Physical
(448 pages) •
Source:
Scribd
,
Library
Goodreads
•
Amazon
•
Barnes & Noble

What if America had a royal family?
When America won the Revolutionary War, its people offered General George Washington a crown. Two and a half centuries later, the House of Washington still sits on the throne.
As Princess Beatrice gets closer to becoming America's first queen regnant, the duty she has embraced her entire life suddenly feels stifling.
Nobody cares about the spare except when she's breaking the rules, so Princess Samantha doesn't care much about anything, either . . . except the one boy who is distinctly off-limits to her.
And then there's Samantha's twin, Prince Jefferson. If he'd been born a generation earlier, he would have stood first in line for the throne, but the new laws of succession make him third. Most of America adores their devastatingly handsome prince . . . but two very different girls are vying to capture his heart.
I really enjoyed the overly dramatic first series by Katharine McGee, with it's near-future premise, technology, murder. and rich kids. I was pumped to get to this new series because I liked her super engaging and addicting writing style. I kicked off my read with the audiobook and then blazed through a copy from the library because I knew it'd take me forever to get the audiobook done otherwise.
It's fascinating to imagine a world where there are American royals. In this alternate history, George Washington became king and his family has ruled ever since. The series-starter introduces the following main characters/POVs: Beatrice (the future queen), Sam (her younger rebellious sister), Nina (best friend of Sam and "commoner"), and Daphne (evil ex-girlfriend of the prince, Sam's twin brother Jeff). There's a lot of drama and relationships between everyone that would take forever to get into and arguably spoil some of the good juicy tidbits you get later. Beatrice is going to be the first queen, since they changed the law allowing women to lead instead of the first male heir. Her younger twin siblings, Sam and Jeff, have their own bits of drama and love triangles on the side of this story too.
Because I read her first series, I was hoping for the same kind of twists and turns in THIS series for some reason (despite the premise not really lending itself to that very much – it's not like American Royals involves any kind of mystery). I don't know why I set myself up for that kind of "disappointment" but at least my expectations are fully adjusted for the next book(s) in this series!
This didn't end in a cliffhanger necessary but there are sooo many loose threads that need to get resolved or attended to immediately in book two. There were some things in this I didn't love (specifically around Jeff, Nina, and Daphne at the end of the book) but I think this was a solid series-starter that promises a LOT of drama to come!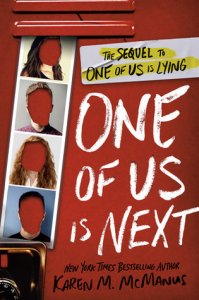 One of Us Is Next
by
Karen M. McManus
Series:
One of Us is Lying #2
Genres:
Young Adult
,
Mystery/Thriller
Published by
Penguin Random House
on January 7, 2020
Also by this author:
One of Us is Lying
,
Two Can Keep a Secret
,
The Cousins
,
You'll Be the Death of Me
,
Nothing More to Tell
,
One of Us Is Back
Format:
Audiobook
(384 pages) •
Source:
Scribd
Goodreads
•
Amazon
•
Barnes & Noble
The highly anticipated sequel to the New York Times bestselling thriller everyone is talking about, One of Us Is Lying! There's a new mystery to solve at Bayview High, and there's a whole new set of rules.
Come on, Bayview, you know you've missed this.
A ton of copycat gossip apps have popped up since Simon died, but in the year since the Bayview four were cleared of his shocking death, no one's been able to fill the gossip void quite like he could. The problem is no one has the facts.
Until now.
This time it's not an app, though—it's a game.
Truth or Dare.
Phoebe's the first target. If you choose not to play, it's a truth. And hers is dark.
Then comes Maeve and she should know better—always choose the dare.
But by the time Knox is about to be tagged, things have gotten dangerous. The dares have become deadly, and if Maeve learned anything from Bronwyn last year, it's that they can't count on the police for help. Or protection.
Simon's gone, but someone's determined to keep his legacy at Bayview High alive. And this time, there's a whole new set of rules.
It's not every day that you get a companion/sequel to a mystery novel, so I was super excited that one of my favorites was getting one! ONE OF US IS LYING was so swerve-y and surprising that I was so intrigued to see how McManus would manage to write another in a series.
The premise behind this one involved a truth or dare game in the same vein of what the bad guy did in book #1. For me, it was incredibly obvious who the "who" was (the "unknown texter") but it wasn't as clear of the "why." This happens to me a lot with mysteries but this one was more plain than ever from early on in the book. I was generally interested to figure out why they were doing it but the book was kind of slow-moving and not AS interesting as the first one. There was a big reveal late in the book that answered some questions and I literally stood with my jaw dropped while taking a shower for a couple of moments. Super solid writing and plotting to make the "why" such a big surprise.
There definitely was a major twist I didn't expect toward the end (well I did expect a twist in general because of other reviews I saw) – what a wild situation. Obviously I can't say anything else but dang. I'm glad she included it because otherwise the book would have had a bit of a flat ending or resolution. It wasn't necessarily a bad book by any means, but it was very easy to compare it to the first book. I would generally recommend it but do your best to not think as much about book one (even though the characters overlap and its referenced a lot…).
Related Posts