In an effort to cut down on posts and burnout, my Review Roundups will feature 2-4 books I've read or listened to recently. Sometimes they're newer releases and sometimes they're all backlist titles. My ARC reviews usually get the solo treatment. Enjoy the mini reviews!
---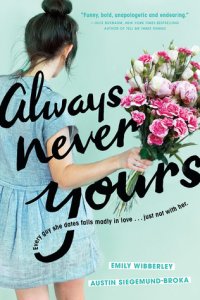 Always Never Yours
by
Emily Wibberley
,
Austin Siegemund-Broka
Genres:
Young Adult
,
Contemporary
Published by
Penguin
on May 22, 2018
Format:
Hardcover
(336 pages) •
Source:
Library
Goodreads
•
Amazon
•
Barnes & Noble

Shouldn't a girl get to star in her own love story?

Seventeen-year-old Megan Harper is about due for her next sweeping romance. It's inevitable—each of her relationships starts with the perfect guy and ends with him falling in love . . . with someone else. But instead of feeling sorry for herself, Megan focuses on pursuing her next fling, directing theater, and fulfilling her dream college's acting requirement in the smallest role possible.

So when she's cast as Juliet (yes, that Juliet) in her high school's production, it's a complete nightmare. Megan's not an actress, and she's used to being upstaged—both in and out of the theater. In fact, with her mom off in Texas and her dad remarried and on to baby #2 with his new wife, Megan worries that, just like her exes, her family is moving on without her.

Then she meets Owen Okita, an aspiring playwright inspired by Rosaline from Shakespeare's R+J. A character who, like Megan, knows a thing or two about short-lived relationships. Megan agrees to help Owen with his play in exchange for help catching the eye of a sexy stagehand/potential new boyfriend. Yet Megan finds herself growing closer to Owen, and wonders if he could be the Romeo she never expected.

In their fresh and funny debut, Emily Wibberly and Austin Siegemund-Broka break down the high school drama to find there's always room for familial love, romantic love, and—most importantly—self-love.
This is one of those books that I was super eager to read and still took forever to do so. I saw it referred to as a Shakespeare retelling in some places but didn't fully believe that it was. I don't think it fully tells any one Shakespeare story and it's not a typical Shakespeare "retelling" but there are a lot of parts that line up to Shakespeare plot points or tropes? There are romantic entanglements, love triangles, miscommunications between characters, and countless references to Shakespeare's plays (especially because the book centers around a Romeo and Juliet school play). The main character, Megan, is constantly compared to Rosalie from the play too.
Anyways, I loved this. Megan was a fascinating character; she's totally comfortable doing whatever she wants, pursuing guys, and flirting shamelessly. There are some pieces of her personality that could be considered ~unlikeable~ by some standards but I loved her for all of those reasons. Owen was ADORABLE and I loved the messy romance of this one, tbh. I think haters of love triangles and cheating (to an extent?) won't like this one, but this felt super high school to me in a great way. It was real, in my opinion.
The family dynamics worked in the background and were another strong element in the story. There were a lot of reasons that Megan acted how she did, moving from relationship to relationship so quickly, and I liked seeing those things come to light. Overall, such a great contemporary with a bit of Shakespeare mixed in.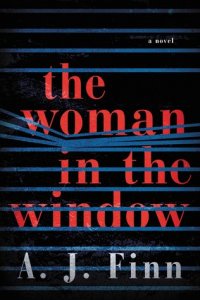 The Woman in the Window
by
A.J. Finn
Genres:
Adult
,
Mystery/Thriller
Published by
Harper Collins
on January 2, 2018
Format:
Hardcover
(429 pages) •
Source:
Library
Goodreads
•
Amazon
•
Barnes & Noble
Anna Fox lives alone—a recluse in her New York City home, unable to venture outside. She spends her day drinking wine (maybe too much), watching old movies, recalling happier times . . . and spying on her neighbors.

Then the Russells move into the house across the way: a father, a mother, their teenage son. The perfect family. But when Anna, gazing out her window one night, sees something she shouldn't, her world begins to crumble—and its shocking secrets are laid bare.

What is real? What is imagined? Who is in danger? Who is in control? In this diabolically gripping thriller, no one—and nothing—is what it seems.
Alright guys, let me preface this by saying I am fully aware of the controversy surrounding this bizarre author. This book was selected for my local bookstore's book club that I've been trying to support and attend. I checked this out from the library, made plans with friends to attend, and THEN remembered the drama??‍♀️  I still wanted to review the book since I read it.
I wasn't overly in the mood to read this and was nervous I wouldn't finish before book club, but let me tell you – this was extremely addicting and compulsively readable. The writing style and short chapters really added to that effect, where I couldn't stop myself from saying "just one chapter" every single time. I was fascinated by the lead character and trying to understand what trauma led to her agoraphobia.
There were a good amount of twists in this one. I was able to figure out the first one; it felt very obvious. The others? Not so predictable! I wasn't sure I would like the ending either (it just had the vibe that it would end kind of like Gone Girl but I ended up being pleasantly surprised). I have to admit that as things were uncovered and revealed, I was a little disappointed? The bigger twists and thriller-ish elements were sub-par. I don't know how to describe it. While I was surprised, I wasn't impressed.
I truthfully don't have much else to say on this one. I'm not overly glad I read it because I don't want to support this author. It wasn't super memorable. I'm glad it was an incredibly quick story that I read in two sittings because I would have been annoyed if I invested more time into it.

What If It's Us
by
Becky Albertalli
,
Adam Silvera
Genres:
Young Adult
,
Contemporary
Published by
Harper Collins
on October 9, 2018
Also by this author:
Simon vs. the Homo Sapiens Agenda
,
History Is All You Left Me
,
They Both Die at the End
Format:
Audio/eBook
(448 pages) •
Source:
Scribd
Goodreads
•
Amazon
•
Barnes & Noble

Arthur is only in New York for the summer, but if Broadway has taught him anything, it's that the universe can deliver a showstopping romance when you least expect it.

Ben thinks the universe needs to mind its business. If the universe had his back, he wouldn't be on his way to the post office carrying a box of his ex-boyfriend's things.

But when Arthur and Ben meet-cute at the post office, what exactly does the universe have in store for them?

Maybe nothing. After all, they get separated.

Maybe everything. After all, they get reunited.

But what if they can't quite nail a first date . . . or a second first date . . . or a third?

What if Arthur tries too hard to make it work . . . and Ben doesn't try hard enough?

What if life really isn't like a Broadway play?

But what if it is?
So, book club did a little bit of a pivot. When everyone was struggling to finish THE DEVOURING GRAY (our original pick) and I hadn't started because of my trip, we had to change our plans. I saw both of the other gals had recently read WHAT IF IT'S US and I knew I could finish this one MUCH quicker than our previous choice, so we made a late-in-the-game change that really just necessitated me reading the book in 2 days and meeting up with them about it. Done deal.
It worked out really well because I couldn't put this one down, alternating between the ebook and audiobook. I wasn't sure I was going to like it when Arthur and Ben were originally introduced – some of the writing seemed forced and sometimes too simplistic? I like both Albertalli and Silvera though, so I had hopes I'd settle in a little bit more. That definitely happened; the story and characters grew on me so much. I loved that the two of them struggled to make things click but they never stopped working on it. This book made me smile like an idiot and it's so damn shippy. The friend groups and family members were fully fleshed out and I felt like I KNEW everyone in this book personally.
I didn't necessarily love the ending but at least it was something. Don't know how to say that without spoiling everything, but it is what it is. I'm also going to say that as someone who doesn't like Hamilton, there was a LOT OF HAMILTON INVOLVED. I liked how much they fanboyed about things (especially Harry Potter and the Sims) but the Hamilton stuff was not for me obviously. Overall, this was such shippy perfection for the most part and it left me… hopeful kind of?
Related Posts