Because my Bookmark Lit Bulletin wrap-ups got out of hand, I wanted to break up my monthly wrap-ups into two posts: one personal and one bookish/bloggy. I created Lauren Lately here to highlight all of the personal happenings in my life: events, activities, shows I'm addicted to, things I'm obsessing over, recipes I've loved, and goals for the next month. I decided to space them out so this wrap-up happens around the mid-point of the month and the bookish one happens at the end of the month.
✨ Check out my most recent bookish and bloggy wrap-up HERE ✨
---
What I've Been Up To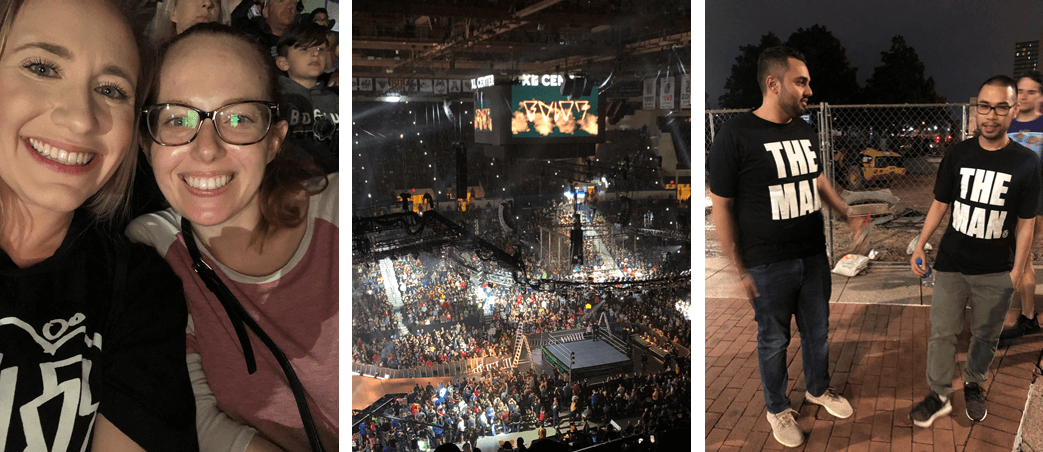 Money in the Bank | We were fortunate that MITB, one of the best WWE shows ever year (just because ladder matches are so fun), was in Hartford this year! A group of five of us went and it was pretty wonderful until the end. I know I don't need to get heavily into the wrestling stuff but let's just say I hate Brock Lesnar and he ruined everything, as usual.
Memorial Day Weekend – Bridal Shower and Double or Nothing | As everyone knows by now, Chris's sister is getting married in August and that's the last wedding that I'm in for the year! (I have one more to attend in September, I believe… my book club friend is making sure she can squeeze us in ?)  I planned her entire bridal shower basically and it went off without a hitch! That night, we had the first AEW PPV, Double or Nothing, which exceeded expectations.

Memorial Day Weekend – Exploring, Relaxing, and Band-ing | As for the rest of that weekend, we spent a lot of time on the porch because the weather was beautiful! We got an umbrella to help block the midday sun a little bit but definitely still need to get a freakin patio table. I read outside a lot and finished my book for one of the book clubs I'm in. We went for a hike at Gay City State Park and went to the water at the end… then got ice cream nearby! My sister's band had their annual Memorial Day picnic at a local park and it's her last band event in high school (and my dad's last as Booster Club president), so we attended that too.

NYC / Greenwich | I went to NYC for a party on Friday night (related to Bookcon/BEA) and finally got to meet/see some blogger friends in person! After my travels to NYC were through, I stayed with Natasha in Stamford for the night. We went down to Greenwich to walk around and eat a lot of food, so that was a successful and gorgeous day to be outside roaming. We also may or may not have spent almost 2 hours in Sephora. Chris and I had to dogsit for his parents so I went to their house to sleep that night and watch NXT Takeover.
BEA & California Trip Recap HERE!
My sister graduated high school this week but I don't want to put pictures on the blog. We're also heading to the Dessen event tonight in Plainville, MA, so those pics will be in next month and/or in my review for the book!
---

TV Shows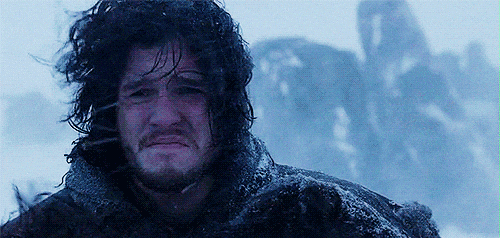 Game of Thrones | We continued to craaaank through GoT using our same speedy method. I'd watch 1-2 episodes before work when getting ready in the morning, then Chris would watch those same episodes during his workday. We'd come home and be ready to watch the next episodes together. We finished all seasons within maybe a 3-4 week period? We had a wedding one weekend last month that infringed on some watch time, but not bad overall. I didn't mind how certain stories were wrapped up, or how we left MOST of the characters, but I echo everyone else when I say that this series felt so damn rushed.
Dead to Me | On the flight home from California, I clearly just went in on Netflix shit. I'm a few episodes into this show and I'm liking it so far! I'm quite confused that everyone thought the ending of the pilot was shocking…? I saw that coming from the beginning of the episode haha. Either way, I love these two actresses so damn much.
Big Little Lies, Season 2 | I'm so excited this show is back!! Meryl Streep in the damn first episode slayed completely and made the second season make sense already hahaha. The second the theme song hit I was so excited to be back in Monterey.
Movies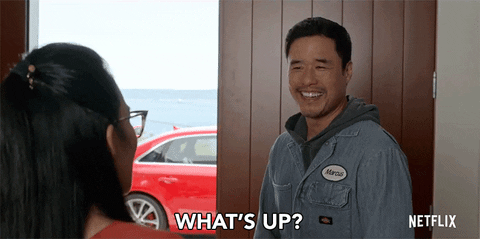 Always Be My Maybe | Ugh this was so cute and so good! We watched it in the hotel the night before we left San Francisco and it was the perfect way to unwind before flying home. We all laughed a lot and thought they had great chemistry together; they're both hilarious. I think the consensus for our group that it felt a bit short and rushed, like there could have been a bit more back-and-forth and development.
Wine Country | I enjoyed this a lot! I think I was expecting an LOL-worthy movie but I really didn't legitimately laugh out loud that much. I would go into it with expectations that it will be more of a fun/friendship-oriented movie rather than a comedy. I love so many of the actresses in it so I knew it wouldn't be bad or anything, but it just wasn't what I expected! Great plane movie.
Wrestling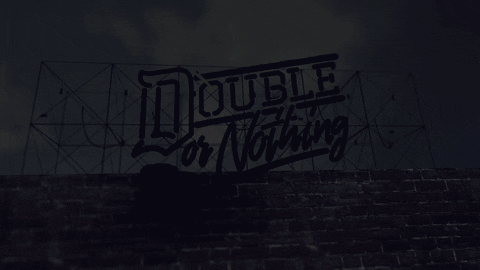 Double or Nothing | I don't think I have adequate words to describe my feelings about this show! We've been so burnt out on WWE lately and have been seriously itching for something new, and I never had any doubt that AEW could or would deliver on Double or Nothing! It's their first actual show ("All In" happened before they announced AEW) and pretty much every match was somewhere between good to amazing on the scale.
NXT Takeover | Another excellent show from NXT, which is unsurprising. Why isn't HHH running the company / main roster yet? Good lord. I loved a lot of these matches but I was obviously pissed by the Shayna/Io match. Please don't get me started.
Podcasts
I haven't been listening to anything new lately!
Music
IGOR – Tyler the Creator | Man I love this album! Chris likes it but not as much as me, which is kind of surprising. My favorite is Earfquake but there are so many other great ones. Tyler is so damn talented and I'm glad I'm trying to get back into new music from my favorite artists.
New songs for my 2019 playlist | I'm actually kind of listening to and enjoying pop music right now?? I genuinely think this is thanks to Paige's bach from last month because her friends made me listen to a few things that really grew on me. A few others I heard on the radio or tried to listen to from general pop culture things.
---

Food & Drink
EveryPlate | I always forget to cancel these when I go away for a weekend and they appear a few days later. We always enjoy them, but they're always kind of simple meals I could make myself but would never actually make myself? I do have a link that gets us both free meals/boxes HERE so check it out if that horrible review is appealing to you hahaha.
Puff Pastry Snacks | I made Cheesy Chicken and Broccoli Bundles and Pepperoni Pizza Pockets for some wrestling shows last month and they were so good! The pizza ones were better (I think I needed more cheese and seasoning for the chicken ones). I need to experiment more with puff pastry.
Fish Tacos | I got some of the new jalapeno sauce from TJ's last month and made some fish tacos with it, instead of the sweet potato ones I made before. SO GOOD.
Sprout Sandwiches | Chris and I have been growing sprouts, thanks to the fun kit his mom gave us! We basically have only used them on sandwiches and sometimes tossed into tacos (like the fish ones above) because they don't have MUCH flavor, but add some healthiness. They taste amazing on a turkey sandwich with TJ's garlic spread!
Trader Joe's Gyros | Another TJ's-based meal: we bought the gyro meat, pitas, feta, tzatziki sauce/dip, and veggies to make some quick gyros. They were really good! I've been all about the easy meals lately and this one involved very little work.
Purchases
I'm coming back back and hitting you with another installment of my Skincare and Makeup Hits & Misses posts because I went crazy in the past month on that front… whoops. So please check that one out on Monday! Anything else I bought over the month that is not cosmetic-related will follow below.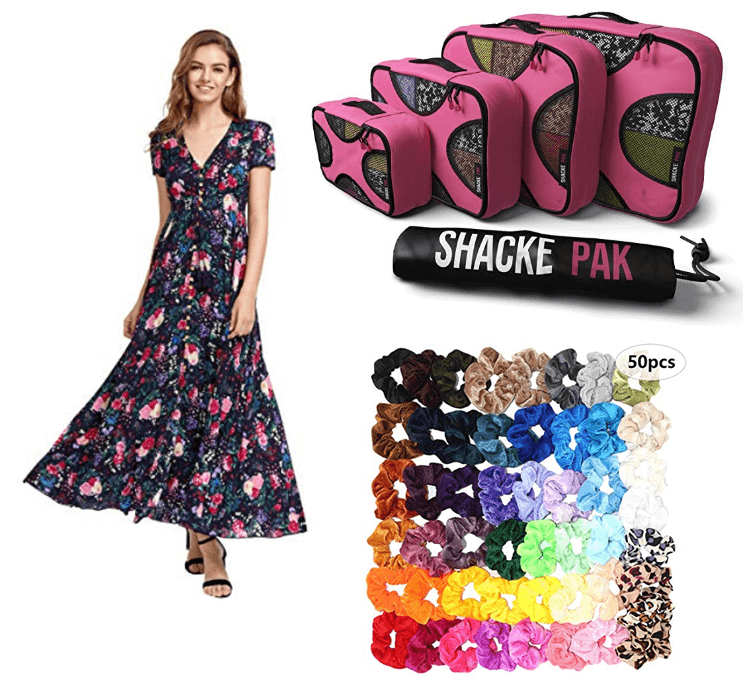 Packing cubes and new suitcase | I can't find a picture of my new suitcase online but it's one of the harder-shell ones by Jessica Simpson. I got it from TJ Maxx so it's probably from last season. It's carry-on size because Chris and I literally never check luggage when we travel. I love how it works with the packing cubes I got too! I'm really enjoying how nicely they squish things together, as well as the laundry bag!
Velvet Scrunchies | Y'all, scrunches are back and I am super duper here for it. I bought this 50-pack for Jen's bridal shower this month (the goodie bags were Wedding Prep/Emergency Kits) and kept the remaining ones for myself hehehe. It's only $10 for 50 of these if you want all the colors!!
Floral Maxi Dress | I don't buy much from Amazon, clothing-wise, except for basic colored shirts and swing dresses, but my friend encouraged me to get this one for California! I LOVE IT. It's so comfy and cute and fun to walk around in. I enjoyed it at the winery we went to as well as my sister's graduation. I can also wear it to work! I'm going to buy at least one more soon, maybe even two.
Around the Internet
Nantucket Guide (and Part Two) @ Covering the Bases | I've been a Cape Cod gal since I was a baby. My parents took me there yearly until they got divorced, and then I went a couple more times after that. I haven't been to the Cape in YEARS though (high school was the last time) and I'm sad about it. ANYWAYS I am getting off topic, but I've always wanted to also see Nantucket! This handy guide will be helpful when I plan that trip.
Cape Cod Travel Guide @ One CrafDIY Girl | I haven't been to the Cape since I was a kid and I really have been itching for a real adult vacation in one of my favorite spots. I wanted to bookmark this post and keep compiling recommendations from blogs I follow and trust!
FaerieAThon Announcement @ Alexa Loves Books | I've talked about this before but FaerieAThon is currently underway! June's book, TITHE, is due to be completed today. I thought I'd share the announcement post so others can see the schedule and continue along throughout the upcoming months.
The Anatomy of Book Reviews @ Once Upon a Chapter | I like reading about how other people approach reviews! I do try to follow a standard format, where I have different sections I talk about in order, because otherwise I genuinely forget what to even talk about!
---

Last Month's Goals & Progress
1. Save money aka only spend on necessities / California ✔ This was a success in general, but I have to admit – a well-timed and unexpected commission payment really helped me out here haha. I was able to get bills paid and save up enough for the trip thanks to this one, so I'm happy about that.
2. Less grocery shopping and more super-planned meals ??‍♀️ I thinkkk I've done a better job of this but I still find myself buying things at the store "because I think I'll need it soon and don't want to come back"… that just means I spend more money than I planned and don't actually need that item AND I usually manage to forget things I actually need. Sigh. Overall though we've been good about eating all of our food and not having as much waste, which is key.
3. Make the WW app worth it ??‍♀️ I haven't really lost much weight recently but I'm genuinely trying to get a little better with it. I know that I'll have some good weeks and some bad weeks over the summer, which is why I'm struggling now. I just want to reach my goal but the inconsistency isn't doing me any favors. I haven't gained weight, but I haven't lost either…
Goals Until Next Time
1. Make a plan for my next commission payments | I have a few major priorities when I get my next wave of commission. Obviously I don't intend on getting into specifics but there are a few things to pay down and a few things I need to buy. My iPad mini recently died and I think I want to upgrade to a bigger screen possibly. My friend is selling one so I might do that to save money (get something used) but I'm not sure yet. I'm currently using our old office one because my boss doesn't need it for anything, but it's clunky.
2. Plan a weekend trip for July? | I'm not sure about this yet but I'm counting this to mean "look into a trip." We have plans to go away for both of our birthday weekends in the fall but otherwise we don't have more trips planned. I'd like to do something in July, even if we go to a beach/lake somewhere in New England we've already been. We're considering Maine for Fourth of July because my family will be there.
3. Plot out 50 Books in 50 Days | I'm talking about this on the blog next week but I need to do more planning. I won't say too much now but I basically need to figure out my schedule for my ~event~ and if I can really even make this damn plan work.
What's Next
Summer plans keep on coming, y'all. I have two more book club meetings before the end of the month. Next weekend is Jen's bachelorette in Mystic, which I'm actually excited for! I love Mystic and it'll be nice to go with a group of ladies and explore. We have some good things planned for it. My sister's grad party is the following weekend. For the Fourth of July holiday, Chris has the whole week off and I'm taking off at least a couple of days so we can spend time together. I don't know for sure what we're doing yet because we have a few options of plans (stay home and go to a family party at his parents' or go to Maine with mine). I think most of July is otherwise pretty clear, which is a nice change of pace!
---
Talk to meeeee! What's new?
Related Posts