It's WILD to read my previous skincare/makeup post from just MARCH and how much things have changed! I'm still leaning toward a skincare-purchasing kick compared to makeup, but there are definitely new makeup things to report on as well! Some good hits and misses to discuss in general, as well as lessons learned.
---
Skincare
Lessons Learned and New Skincare Routine / Products
I've become slightly addicted to certain subreddits on Reddit lately. My most common place to be scrolling through endlessly is the r/SkincareAddiction page. That's where I learned that I may have oily skin, but I'm likely overproducing oil because I've destroyed my moisture barrier with majorly drying/stripping/harsh products for literal years. The minute I got acne and learned I had oily skin as a preteen, I started using so many cleansers that have probably beaten my skin to death. I just wanted to get some products that I could use successfully to make sure my skin looks better and feels better. I bought the CeraVe Foaming Facial Cleanser to restore my skin to a normal pH level and also some more hydrating products for the evening. I modeled my routine sort of around this person's (The Ordinary products) and around the general ScA routine that is suggested on Reddit.
AM:
CeraVe Foaming Facial Cleanser
Thayer's Rose Witch Hazel Toner
The Ordinary Niacinamide 10% + Zinc 1%
Trader Joe's Ultra Hydrating Gel Moisturizer
Shisheido Urban Environment Oil-Free UV Protector Broad Spectrum SPF 42 Sunscreen
PM (Day 1):
The Face Shop Facial Cleansing Oil
CeraVe Moisturizing Cleanser
The Ordinary Salicylic Acid 2% Solution
CeraVe Moisturizing Cream
Trilogy Rosehip Oil
PM (Day 2):
The Face Shop Facial Cleansing Oil
CeraVe Moisturizing Cleanser
The Ordinary Vitamin C Suspension 23% + HA Spheres 2%
CeraVe Moisturizing Cream
Trilogy Rosehip Oil
Treatments/Occasional:
Spot treatment (when needed): Trader Joe's Tea Tree Oil
Mask/scrub (2x per week): Trader Joe's Blueberry Acai Scrub, various sheet masks
Chemical exfoliant (2x per week): The Ordinary AHA 30% + BHA 2% Peeling Solution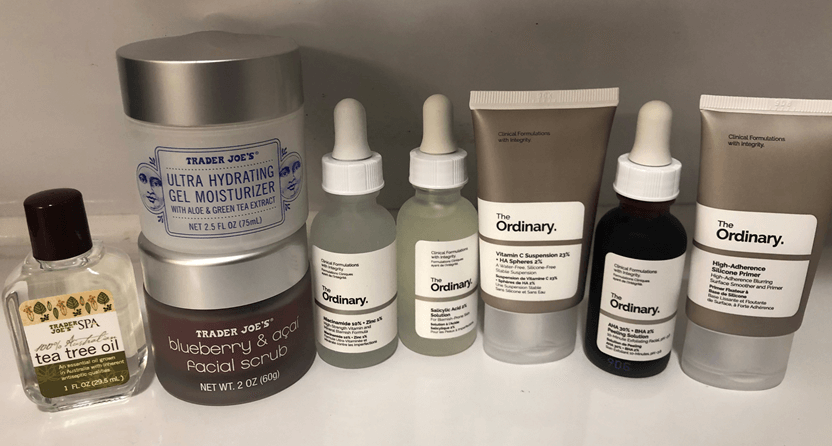 Trader Joe's & The Ordinary Hauls
In my Reddit reading, I saw some recommendations from The Ordinary and Trader Joe's skincare selections, so I thought I'd review and discuss them here now that I've been trying them for around 3 weeks. You saw my order of operations in the section above but here are my actual ~thoughts~ on them:
Trader Joe's
Tea Tree Oil ??‍♀️ I was legit afraid to use this for a few days after purchasing because I knew I had to dilute it before using it and I was just nervous I'd murder my skin. I had a few legitimate pimples (different from the reaction I'll talk about later) that I wanted to clear up, so I finally got my shit together to try this out… once. So I don't know lol.
Ultra Hydrating Gel Moisturizer ? I knew I wanted to switch to a less-creamy (aka gel) moisturizer for daytime during the summer because honestly I just prefer the feeling of them. I LOVE the feel of this and it makes my skin feel so nice after I apply it. I really am enjoying this one a lot and have plans to stock up a bit just in case.
Blueberry and Acai Facial Scrub ?  A lot of people use this as a short mask instead of a straight-up scrub, so I tried that. Just apply it to your face, leave on for 2-3 minutes, and then work in when you rinse it off. My skin feels delightful afterwards so far! I haven't done it too many times but it feels good and has a nice scent.
The Ordinary
Niacinamide 10% + Zinc 1% ?  I think I enjoy this? Might be too soon to tell, but I have been applying this before my moisturizer and it's supposed to kind of clear the skin and make it less oily. I feel like it makes a difference but it's hard to compare when you try too many new things at once.
Salicylic Acid 2% Solution ? I thiiiink this single-handedly fixed my breakout situation that occurred last month? You can use it as a spot treatment but you can also apply a light layer on the face to keep skin clear and I have to say, it's made a huge difference in my skin. I apply it all over my face, focusing on the bottom half where I get acne/bumps.
Vitamin C Suspension 23% + HA Spheres 2% ? I'm not sure about this yet! If you read the routine above, you'd see that I planned to do the Salicylic Acid one night, then this Vitamin C the second night, and keep alternating. I didn't take this on my trip to California so I didn't alternate but I'm not sure about its impact. I have to try to look more into it and experiment maybe…
AHA 30% + BHA 2% Peeling Solution ??‍♀️  I've done this twice since getting it and I like it? My skin feels okay afterwards? I know it's supposed to reduce oil production or something and really clean the skin but I need to get in a better routine of using it 2x per week so I can really see how much it helps as a treatment.
Adherence Silicone Primer ?  This is more on the "makeup" side of things but I thought I'd include it with my general TO haul. I have had my eye on this for years and despite the low price, never went for it. I included it with my order for free shipping and no regrets! I think it does a really nice job of holding makeup in place. It's great for no-makeup days if I just want primed, clear skin, and fuller pores. I do think it makes my skin a bit oilier than normal (or compared to my holy grail primer) so I don't know that I'll use it quite as often. It was cheap and I'll keep it for a quick "running errands" kind of face!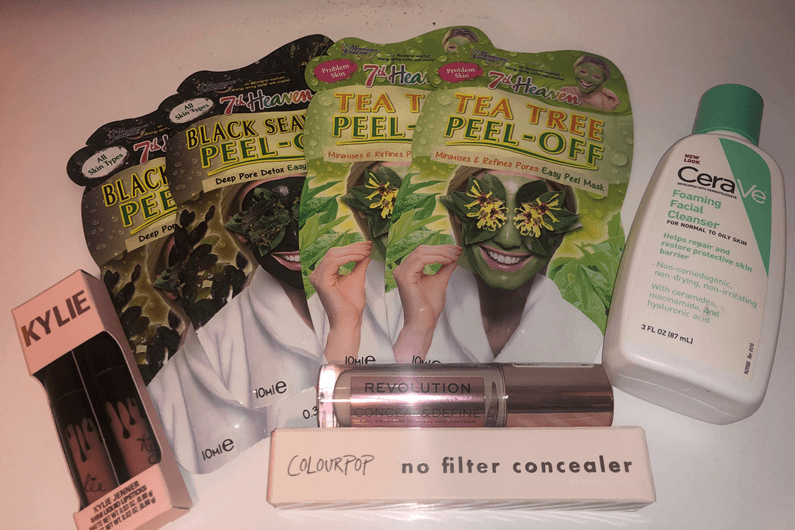 The makeup items will be discussed later on/below, but here are a few random sheet masks I got on sale and a travel-sized version of the cleanser I've been enjoying.
60 Second Rule
This is a super quick tip that I've been trying lately because I noticed, since I moved away from my electronic cleansing brush for nighttime, that I wasn't washing my face as long. Someone posted somewhere that you should be cleansing your face for 60 seconds every time – it's the only way to fully remove makeup and get the cleanser to really dig deep into your skin and pores. I also read that for those of us that do two-step skincare cleansing routines (oil first and then water-based), you can possibly get away with 30 seconds for each step, so it'd be 60 seconds total. My skin really feels cleaner when I'm done!
---
Makeup
Foundation Struggles Continued
A few months ago I wrote about my struggles with foundation – none were exactly the right shade, the right level of oil control, the right formula that didn't break me out… I just couldn't get it right. I mixed them together to get the right balance of everything, so I was using the Estee Lauder Double Wear and the Revlon Colorstay combination. I saw a review for the Wet n' Wild Photo Focus Foundation on a blog I love and decided to get it. I sincerely loved and enjoyed using this one for a few weeks… until I realized it was most likely the cause for my new fun and cute "breakout" on my face. There were a lot of small bumps that would cover up fine with makeup but become red and irritated during my skincare routine. Was this from the litany of skincare products I'd been trying? Was my skin in the classic purge phase that happens when you try new skincare products that actually clean your clogged pores and bring gunk to the surface? Nope, pretty sure it's just a sort of reaction to the foundation. I saw other people had this experience and others who love it, so don't be deterred. Makeup and skincare CLEARLY is never one size fits all. One positive from using this foundation is that I found my perfect foundation color match / shade. (That's in the next section.)

I went to Sephora and got some trial sizes of foundations I've been wanting to try lately. I got the Dior Backstage Face & Body Foundation and the Fenty Pro Filt'r Soft Matte Longwear Foundation. I haven't tried the Fenty one but I IMMEDIATELY LOVED the Dior one! It's more medium coverage but definitely buildable, which I appreciate. I'm enjoying the more liquid kinds of foundation and concealer lately – nothing too heavy. Maybe this is a good summertime foundation for me. I went ahead and ordered it right away so I'll give more updates later. I tried the Fenty one out for a couple of days as well. I didn't enjoy the way it looked when it was first applied; there was something just "off" about it. It looked okay once I applied concealer. Adding powder and my other contouring made it look a million times better!
Finding My Correct Skin Tone/Foundation Shade
As I said, the best thing about my foundation mishap is that I genuinely found my perfect foundation shade. It matches my skin better than anything I've ever used before. There's a website called Findation where you put in your best match(es) for foundation and they populate both drugstore and high-end shades that match you! On top of that, Tati posted a video recently (I think it was this one) where she shared an amazing tip with the same idea. Squirt some of your perfect match foundation in a contact case and bring it with you when makeup shopping. Put some on your hand when you get into the store and test new shades alongside it. That way, once they dry down, you'll know which foundation shade will match you perfectly based on your go-to. Equipped with both of these ideas/tips, I investigated to find the proper Estee Lauder shade for me. I have a weird skin tone where I'm definitely cool and rosy (especially because my skin gets red and/or sunburned very easily), and on the "light" end of the spectrum instead of "fair." The issue is that most cool-toned foundations are very pink and oxidize weird on my skin, so it looks too pink and wrong. I therefore lean a little more neutral in my makeup choices. Long story short: the previous Estee Lauder Double Wear shades are either too light, too dark, or too pink for me. Womp. Using the Findation site and my new favorite shade, I learned that the lighter neutral version of what I currently use will match better than both the cool version I've used for years and the darker version they forced me to buy last time. Ya girl went from 1C1 to 1N2 to 1N1.
Concealer Trials… Also in the Right Shade
Another issue I'd been annoyed with is my concealer shade selection as well. Chris would always tell me how white the center of my face would be at the end of the day from my oils pushing the concealer up. Usually it would be mostly fine (a little too light) during the first 50-75% of my day and then be SO light and crazy in the evening. I knew I needed to get darker shades that come closer to my ~newly discovered~ slightly darker skin tone. I tested a bunch in the store (swatches above) and bought these two guys:
I knew I wanted a lighter, creamier, and less thick concealer. I was a little sick of the Too Faced Born This Way Sculpting Concealer as well as Tarte Shape Tape and my ELF 16 Hour Camo (dupe for Shape Tape!). They're just so heavy and I knew I wanted something a bit lighter for the summer. I remembered loving the Makeup Revolution Conceal & Define when I first got it a year or two ago, but I knew my shade needed to be upgraded. I compared it on my hand and also got the Colourpop No Filter Concealer (kind of mixed reviews but I'm enjoying it!). I've been rotating between these and am overall SO HAPPY with a more correctly matched face, both in foundation and concealer shades.
Nikkia Joy Cosmetics Setting Powder and Sponge
I'm not 100% sure if I've talked about this before but my favorite oily-skinned YouTuber, Nikkia Joy, has her own cosmetics company. She recently released her face line, which included a powder and a few sponges. I bought the Velvet Finishing Powder a month or two ago and just ordered the Pro Perfecting Sponge to go with it.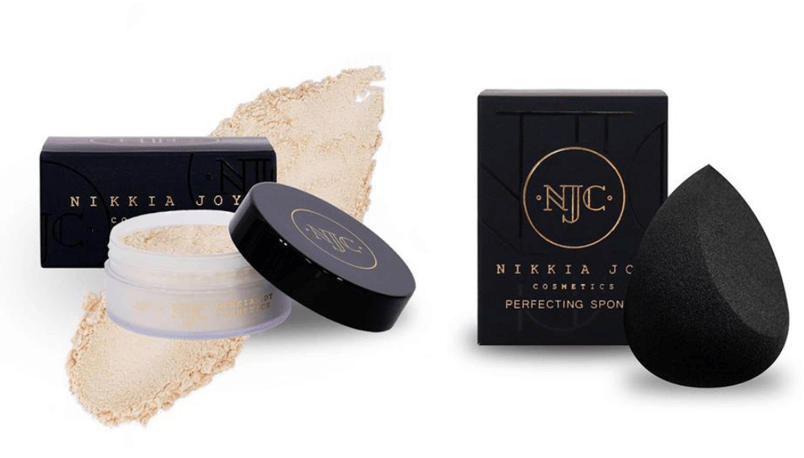 It has a five-star average rating on her website and people are obsessed with this powder, saying their skin is the least oily it's ever been. It has so many great ingredients and makes my skin look great… but it does not do a good job of stopping oil compared to my Too Faced Peach Perfect Powder and Coty Airspun for baking. My oils start poking through a couple of hours earlier than I prefer BUT when my skin starts to get oily, it becomes nice and dewy instead of yucky. That's the major benefit. So, combined with my skincare changes, I'm hoping I can make this powder work for me! The sponge is completely amazing, which is actually annoying because it's $16 plus shipped from Australia and I just bought a bunch of nice sponges from Amazon for $8 soooo I have to try to make cheaper things work instead of loving this damn thing.
Other Sponges/Tools
Another quick update here that I bought a few tools to use that I'm enjoying!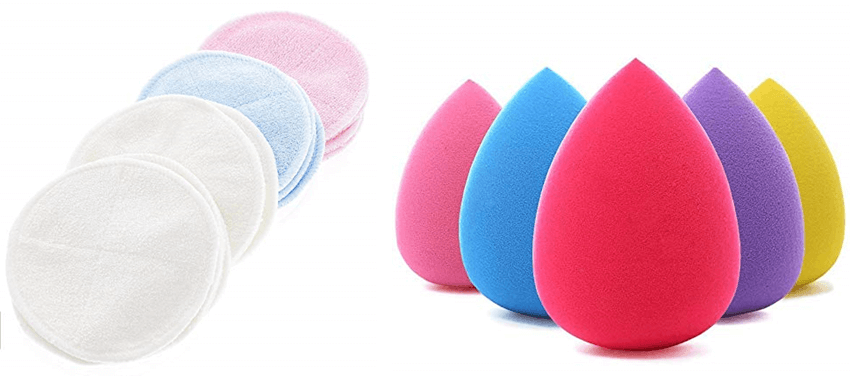 I got this five-pack of Beakey Sponges, mentioned above, for super cheap and they're SO NICE and just super soft. I also got a 16-pack of reusable facial rounds (Bamboo Cotton Pads)! They're supposed to take the place of cotton rounds so you can reuse them like 1,000 times apiece before you need new ones. You just throw them in the wash (they come with a mash bag if you want to keep them all together in the washer/dryer!) and go from there. I've been enjoying them. I spray my toner on my face and wipe it in with these. I also use them at the end of the day to remove the oil-based cleanser from my face before moving on to water-based.
Lazy Day Makeup Routine
I recently thought excessively about how stupid it is that I do full-scale makeup during the workweek on days I don't have plans after work. My office consists of just me and my boss, with sometimes 1-2 other people working here too. There's no point in me wearing ALL the things when I see one person during the day, run quick errands at lunch, and then take my makeup off at 5:30 when I get home. I brought a few "leftover" or extra makeup products to my office to finish up and use as a part of a lazy day makeup routine. This means that I have an extra 30 minutes in the morning to do something other than makeup, and I do my five-minute face when I get into the office! Here's what's in the bag, what I'm using up, and what I may replace:
Maybelline Age Rewind Concealer (use this when I use the CC cream below, for a fuller face)
IT Cosmetics Matte CC Cream (same as above – only for more makeup if needed)
Real Techniques Face & Body Sponge (this is huge which covers a lot of area quickly!)
Covergirl Lash Blast Mascara (not pictured – the best GD mascara)
Maybelline Fit Me Powder Foundation (so easy to swipe on a few layers / add more later on)
Maybelline Brow Studio Define + Fill (not my favorite but wanna use it up)
Essence Color Correcting Sticks: Yellow and Green (more on those below)
So these Essence sticks… I love them and I'm pretty sure they discontinued them / reformulated them into liquids. I like that it's super easy to swipe the yellow shade under my eyes and the green on my nose and cheeks. When I'm doing the lowest-key makeup day for work, I literally just use these two sticks, the powder foundation, eyebrow stick, and mascara. It works so well.
Enough About My Face Makeup… Lips and Eyes!
Alright so clearly I am someone who prioritizes my facial makeup instead of getting fancy with eyeshadows and lipsticks/etc. I just don't care about it, which is stupid, because I buy a lot of this shit. Essence, one of my favorite super cheap brands, had a 50% off sale at Christmas Tree Shops recently and I went INNNN on some things. I haven't tried everything yet but I'm including all the makeup-ish stuff (aka not the nail polish).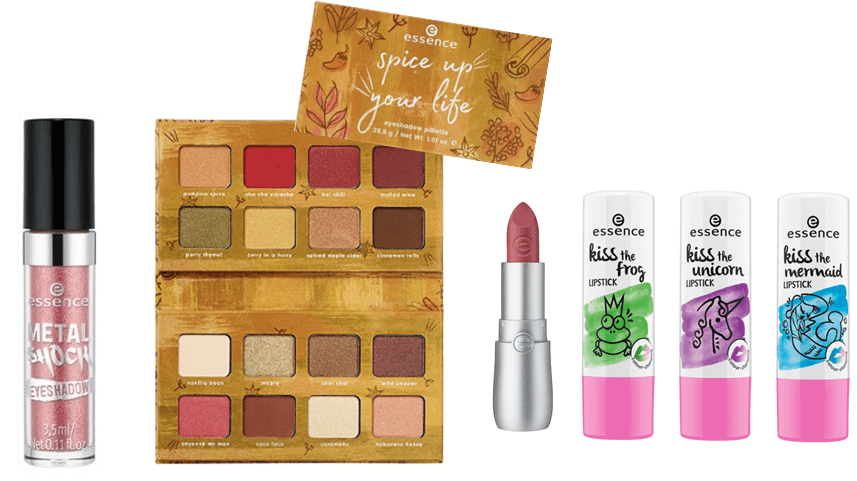 My favorite items out of all of these are the color-changing lipsticks. They're various colors, go on like lip balm or chapstick, and then turn your lips a beautiful shade of pink! It acts as more of a stain; you can't feel it on your lips like lipstick. I am obsessed with these because I loathe liquid lips most of the time (despite buying them
constantly) and normal lipstick freaks me out LOL. These are a major win for me, since I usually use the Burt's Bees tinted chapstick instead. The palette is beautiful and the liquid eyeshadow swatched so nicely! I haven't tried the real lipstick because I'm scared but what else is new. You can search for these on their website; all of them are still out there but I think the liquid eyeshadow is gone?
And now for a few non-Essence things! I bought some of the Covergirl TruNaked Queenship Shadow Sticks after seeing them on YouTube. When I used these the first and only time, I had applied them (creamy sticks) on top of powder and it wasn't the best. My fault, but still. I think I'd have to use a base (I usually do) and then do my face makeup after applying these. I also probably need more colors to make them work but we'll see. For more lip things, I bought this mini pack of two Kiley Cosmetics Liquid Lips because I was determined to try them out! I think they're soooo nice – long-wearing and they don't transfer or budge much. I like the mini sizes because I can keep them in my purse or travel easily with them.
OKAY THAT'S IT, GOODBYE MONEY
Related Posts