Because my Bookmark Lit Bulletin wrap-ups got out of hand, I wanted to break up my monthly wrap-ups into two posts: one personal and one bookish/bloggy. I created Lauren Lately here to highlight all of the personal happenings in my life: events, activities, shows I'm addicted to, things I'm obsessing over, recipes I've loved, and goals for the next month. I decided to space them out so this wrap-up happens around the mid-point of the month and the bookish one happens at the end of the month.
✨ Check out my most recent bookish and bloggy wrap-up HERE ✨
---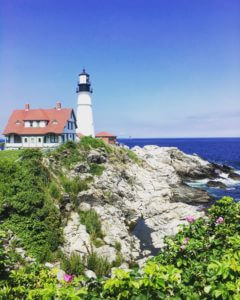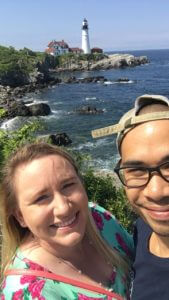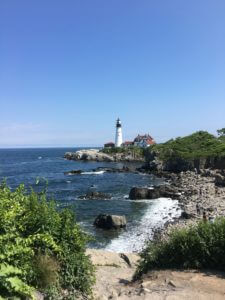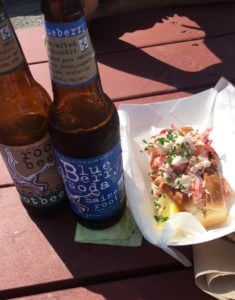 Cape Elizabeth / Portland Head Lighthouse | We weren't sure what to do the day before Jen came to visit (a Saturday) so we decided to take a little trip down to Cape Elizabeth, which is around 20 minutes away from us. There's a huuuuge land preserve with the Portland Head Lighthouse. Apparently it's one of the most photographed lighthouses in the world. It was gorgeous, so I can see why. We walked around there a little bit, took pictures, and got a fantastic lobster roll with local Maine sodas.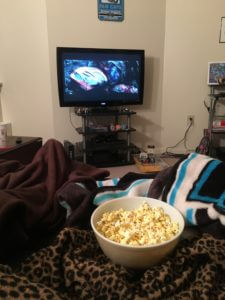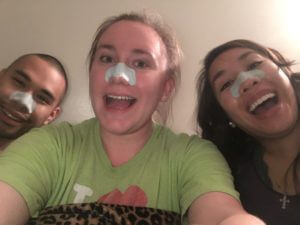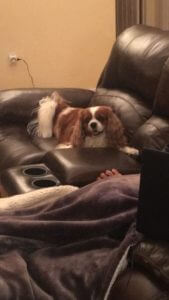 Jen's visit and first trip home | Chris's sister was coming to Maine for a few days to take her nursing exam (she passed!) and stay with us. We didn't do anything too crazy while she was there, since she lived in Portland for two years (literally in the apartment next to ours…) and didn't need to sightsee. We hung out and watched movies (you'll see below!), did some pore strips, and ate a good amount of food. We were actually planning to come home that Wednesday for the long weekend as well, since I had a bridal shower to attend. Jen left Wednesday morning for CT and we left Wednesday night, when I was finishing up work. So we basically got to chill with her for a full week since we live with her and Chris's parents when we come home.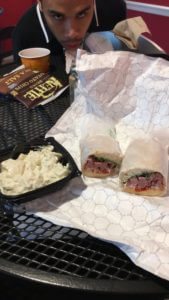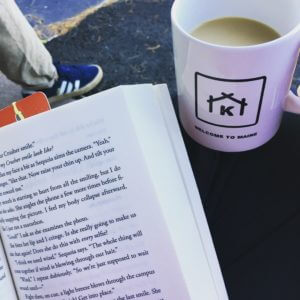 Weekend Trip (Kittery and Portmouth) | We decided to take a little weekend trip from Saturday to Monday down in Kittery. We stayed at the cutest little inn and suites ever. I would totally stay again! Kittery is less than hour south of us but we wanted to spend a good amount of time there. Portsmouth, NH is about two minutes down the road, so we planned on outlet shopping on Saturday (Kittery) and walking around Portsmouth on Sunday. While we were at the hotel, we did a lot of reading and relaxing! I miss reading outside since I don't have super easy access to it where we live in the city. Chris even read a lot too! It was so relaxing and I'm incredibly glad we decided to get away for a few days. One of the biggest reasons I wanted to go to Kittery is because my favorite sandwich shop – Henry VIII Carvery – is there. There used to be a location where my grandma lives in Maine so I haven't had it in around 10 years. It was just amazing as before; we went twice while we were in the area because I miss it. Luckily we basically pass it when we come home, so we'll have to make stops!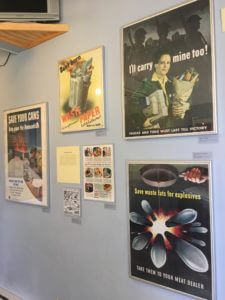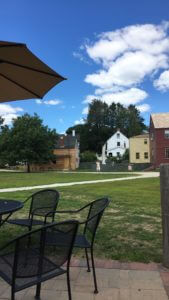 Portsmouth | We went over to Portsmouth that Saturday to explore. Chris hurt his foot skating that week so we didn't walk around downtown, but we scoped out the Strawberry Banke Museum. It's kind of like Plymouth Plantation or Old Sturbridge Village (near us in CT/MA), where people dress up in costume and talk about historical buildings. It was really cute; New England has such a wonderful history. We enjoyed lunch on their patio and explored the maaaany buildings they had. We crossed the street to see some water and the nice flower gardens before heading home to chill for the night.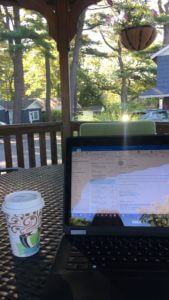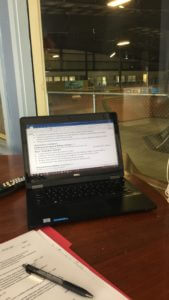 Rye Airfield and WFH life | I'm really enjoying the flexibility of working from home. Chris wanted to check out this indoor skatepark (around 15 minutes from our hotel in Kittery) on Monday when it wouldn't be as busy, which was another reason we stayed the weekend there. Because I can work from home now, I was able to start my work day at 8 AM at the hotel and work until we checked out at 11 AM. We spent my lunch break driving to the skatepark and helping me get set up there. I was able to work the rest of the day (12-4ish) from the park while Chris took his runs. You can see my view of the skatepark from the "parents lounge" at Rye! We also started going for bike rides in the morning sometimes before I start my work day. We can make it around the Back Cove trail in around 30-45 minutes depending on when we stop. We rode bikes around and then to a new Jewish/NY deli down the road from us.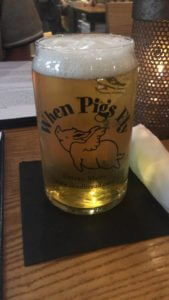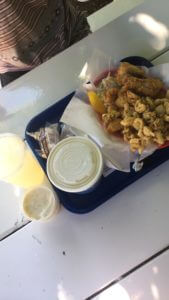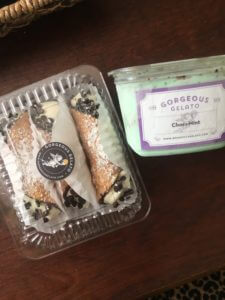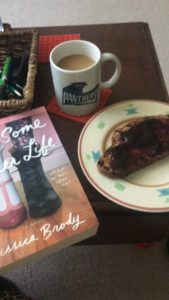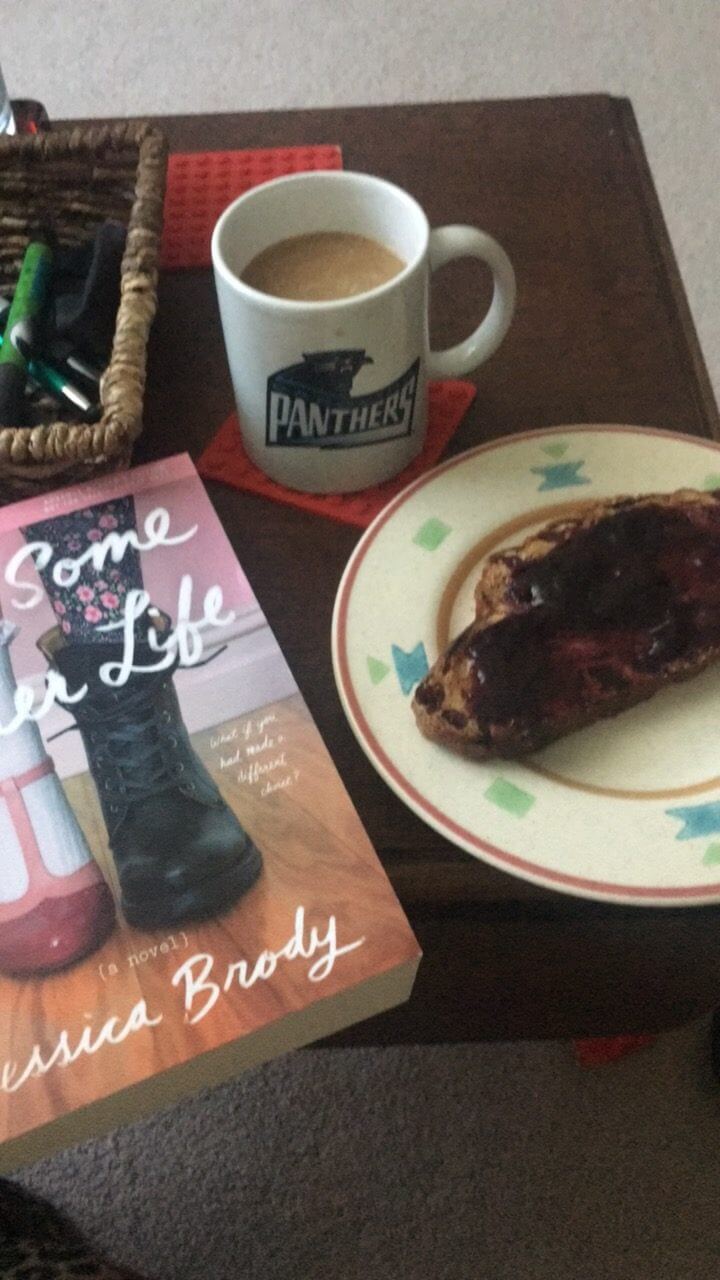 More fooooood | We had some yummy food in Kittery! We went to a pizza restaurant and bakery when we first got there and they had some great beer with cute cups! I bought one for me and my sister. We got fried seafood and lemonade at Bill's Clam Shack, which is a local favorite. We stopped back at When Pigs Fly Bakery to pick up some AMAZING bread and jam we couldn't stop thinking about – it's blueberry raspberry bread made with lemonade and we got blueberry jam/butter to go on it. SO AMAZING for breakfast! Aaaand we may have gotten cannolis and gelato delivered when we got home on Monday evening. Whooops. ?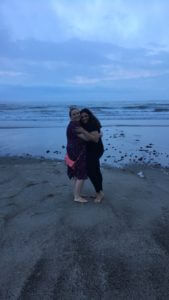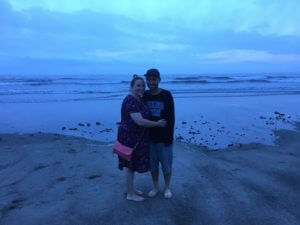 First friend visit! | My friends Natasha and Rahul were our first visitors, if you don't count Chris's sister! They came from Friday to Sunday a few weeks ago and it was amazing to have them there. Natasha has always wanted to see Maine (she's from NJ) so we did sooo many Maine-y things. I knew I wanted to take her around Portland and also explore Kennebunk, where my grandma lives, because it's beachier and has cute shops too. The weather was pretty good but I was bummed that the day they had to leave was gorgeous.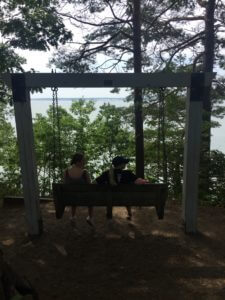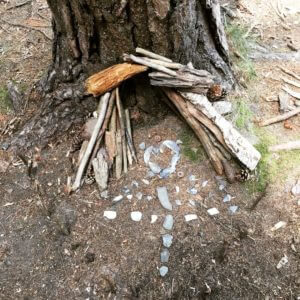 My sister visits and another trip home | My sister came to visit us at the tail end of her trip to Maine with my parents. I went down and picked her up Thursday. She really enjoyed Portland and staying with us, so it was fun! Our internet went down and they didn't estimate that they'd fix it until Saturday (long, annoying story) but it ended up coming back Thursday night (after we scrambled to get internet elsewhere so I could finish my workday). We ran some errands, checked out Books-a-Million, and went out to dinner. We went up to Mackworth Island on Friday, which is 10 minutes north of Portland. It's a one mile trail around an island and has faerie gardens and beaches. It was so fun. We hung around most of the night and relaxed, then came home Saturday with her. Chris's sister had a grad party and we spent the rest of the time at home seeing people.

TV Shows
I've been trying to get super ahead of my reading challenge, so TV has been on the back burner for the most part. Chris and I are barely watching anything except RAW/Smackdown and…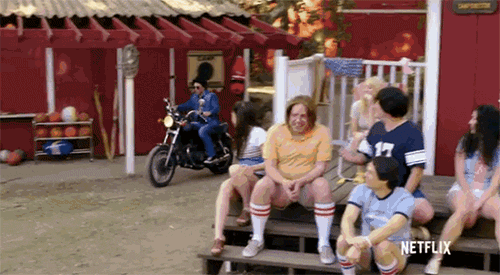 Wet Hot American Summer: First Day of Camp | I'm ashamed to admit that even though I LOOOOVE the movie, we still never finished the spin-off TV show. We finally cranked through those episodes in anticipation of the new season that came out in early August. (If you love funny and absurd and campy (literally) movies with MANY stars before they were ~super famous~ please watch this movie and subsequent shows).
Unsolved Mysteries | Jen was in the middle of an Unsolved Mysteries binge in between studying for her exam, so we all got a little addicted for a few days while she was here lol. I plan to continue watching some episodes here and there; they're fun to keep on in the background during the work day!
Movies
Spider-Man Homecoming | We also went to see this one when Jen was visiting. I LOVED IT. Why is Tom Holland so adorable??? and thank GOD he's 21 years old! #creepin  I thought it was so cute and funny and perfect in most ways. I can't wait to watch it again.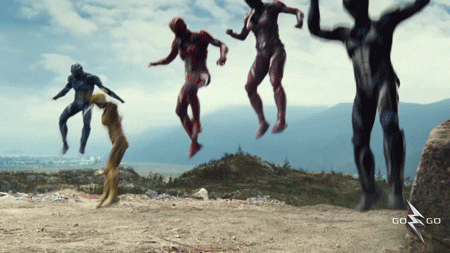 Power Rangers | Another excellent movie! Chris, Jen, and I watched this one when we did our pore strips lol. It was nice and cozy to hang out and watch a great movie. I loved the characters and the representation. Chris was a little pickier in terms of actual ~Power Rangers~ history from the old show, but I think he generally enjoyed it. I reaaaally hope they make a sequel! UGH.
Soaked in Bleach | I'm fascinated by some conspiracy theories and I've always sort of believed that Kurt Cobain didn't actually commit suicide. This documentary presented some compelling evidence that explains how it couldn't have been. Don't get me wrong – it's obviously one-sided toward that conclusion. But the three of us were super fascinated to learn about it.
My Scientology Movie | I couldn't find a real GIF from this documentary so a South Park episode will have to do here. Another interesting one! I read a book about someone who escaped from Scientology and have always been fascinated by the whole thing. This documentary was pretty good; I think Chris liked it more than me (which never happens for movies lol).
Everything Everything | My sister and I had planned to see this in theaters but we ended up missing it. We watched together when she came to Portland and we really liked it! I think they did a REALLY cute job integrating the drawings and other elements of the story, plus keeping the characters "together" when they really weren't.
Podcasts & Music
The Fall Line | I heard an ad for this podcast during another I'm enjoying (Unconcluded) and decided to start it. I really like it but it honestly feels a little… pointless? Maybe not pointless but kind of meandering. It goes all around looking into certain things but doesn't have a good flow between episodes or topics within the case. I think it's worth exploring what happened to these missing twins for sure.
Up and Vanished | Finally the first season of this is dooooone. I got so tired of the pointless filler episodes where things drag on until the last five minutes. I don't even listen to the bonus episodes anymore because it's all random legal questions and bullshit. I'm eager for a new case / season two DEFINITELY because I think they've done all they can on Tara Grinstead.
---

Food & Drink
Southwestern Alfredo Pasta | I love simple pasta dinners that don't require too much energy. This one was REALLY good. If you like tacos (the seasoning at least) and alfredo sauce, you'll enjoy this one. Super easy.
Sheet pan dinners | This is my new thing for sure! I recently discovered the magic of making sheet pan meals and it's soooo easy. Here are some of my favorite recipes so far…
Purchases & Addictions
Pillowtop futon | We originally wanted to get a sleeper sofa but they're way too heavy. We found this pillowtop futon on Amazon and it's been great so far! It's obviously much cheaper and won't last forever, but it's the best option for moving out in a year or so. Light, cheap, comfortable, AND fits guests!
Upgraded electronics | After one of my commission checks, I decided to upgrade my iPad mini to the newest version. It was long overdue because I was so sick of mine being super slow. This one has TONS of space and I love using it now. We also got a new Amazon Fire Stick because ours was the first edition and super slow too.
Around the Blogosphere
Parallel Moments @ Andi ABCs | I joined this post by Andi to celebrate the books of Lauren Miller! She asked us to find one moment in a book we've read that could have led to different results if the character made another choice. You know how I feel about those books!

Falling Out of Love with Authors @ Book Addict's Guide | I've been feeling this way lately with one of the authors Brittany mentions too. It gets tiring to read the same tropes or feel like the writing has gone downhill for a fave series or author, but it just happens sometimes!
When You Just Can't Commit @ Girl in the Pages | I don't mind big books from time to time, but it's hard to dive into them lately. I want to breeze through books and keep up with my reading challenge! I know it's just so daunting to start something that's over 400-500 pages.
My Favorite Fitness YouTube Channels @ Nick & Nereyda's | I hope to start doing some kind of beginners workouts so I definitely wanted to bookmark this post! It's hard to find good ones out there.
Real Talk: Book Pushing @ Girl in the Pages | Clearly Cristina is killin it this month. I loved this discussion as well. It's so nice when people learn you're a reader and try to give you recommendations, but it's hard from non-bloggers. They bug you about the rec, ask why you haven't read it, etc. YOU DON'T UNDERSTAND. I can't just read whatever you tell me – I have sooo many books on my TBR!
---

Since Last Time…
1. Read 10 books | PASS | Okay, I definitely had this one in the bag. It helps that Cristina and I are binge-reading the easiest, most addicting series ever this month. I crank through one book every 1-2 days in THE A-LIST. I'm on the sixth book as of writing this post and will probably have another done by the time it publishes.
2. Read at least 2-3 physical books to return home | FAIL | I definitely failed at this one because I ended up buying more books and bringing those new ones home for storing. Whoooops. I've been doing a lot of binging the A-LIST and also reading Kindle/iPad books. I'm trying to read from a variety of locations but that basically involves neglecting my owned books.
3. Get the apartment 100% settled | PASS | We finally hung up the last of our pictures/wall hangings. We have one poster to put in the kitchen but I honestly keep forgetting it even exists, so whatever. We're settled! And we've been doing a really good job of keeping everything clean and tidy too.
Goals Until Next Time
1. Read physical books and bring them home! | I really hope to actually complete this one this time. I definitely will have the whole A-LIST series to bring back with me and I'm also aiming to bring back 1-3 other books from my shelves. I have to bring new books to Maine for the Reading Quest when I go home today, so we'll see how many I can return home soon.
2. Ride bikes around the cove 1-2 times a week while it's still nice out | Chris and I got into a good habit of riding bikes around Back Cove a couple of times per week, but we've been lazier lately. I want to keep up the exercise while we still can.
3. Find a good trail or two and hike | We enjoyed our walk around Mackworth Island and I definitely hope to come back a few times before the summer is over. I'd love to spend a whole day there – hike and then sit on the beach for a long time. BUT we definitely need to scope out some other hiking trails. I love walking in the fall and early winter because it's nice and cool / not too humid. Early September will be good for that.
---
Talk to meeeee! What's new?
Related Posts