Because my Bookmark Lit Bulletin wrap-ups got out of hand, I wanted to break up my monthly wrap-ups into two posts: one personal and one bookish/bloggy. I created Lauren Lately here to highlight all of the personal happenings in my life: events, activities, shows I'm addicted to, things I'm obsessing over, recipes I've loved, and goals for the next month. I decided to space them out so this wrap-up happens around the mid-point of the month and the bookish one happens at the end of the month.
✨ Check out my most recent bookish and bloggy wrap-up HERE ✨
---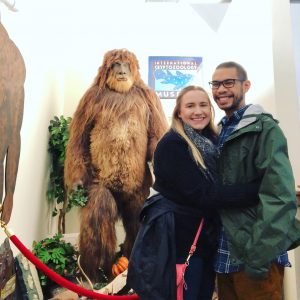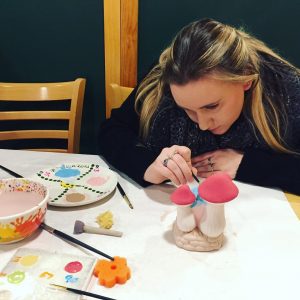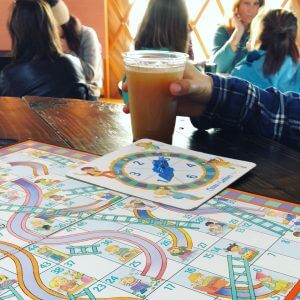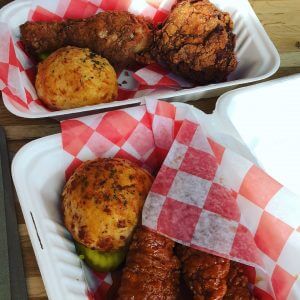 Thompson's Point | I'd always heard about this little neighborhood in Portland and had been planning a trip there for a while. It's this little strip of land that juts out into the ocean and is currently being developed still. They're going to add some apartments and hotels to make it an actual neighborhood. Anyways, there's currently a bunch of stuff to do there for a day: brewery, ice skating, fried chicken and waffles restaurant, distillery, paint your own pottery, and a cryptozoology museum. We decided to hit most of those one Saturday afternoon! We got chicken and waffles first, then went to the museum, then went to a yurt near the ice skating for beers (the brewery was way too busy), and then painted pottery.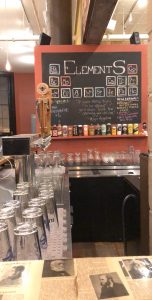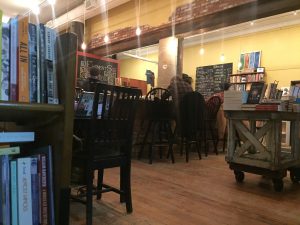 Biddeford / Elements | In an effort to keep exploring the surrounding area, I spent some time one Friday researching local bookstores. I came across a really cool concept for one: it's a hybrid coffee shop, bar, and bookstore named Elements. We headed down to Biddeford, had some beer, and browsed the small selection of books. I would definitely go there more during the day to get coffee too. We headed over to Rapid Ray's in the next town to get burgers before heading home.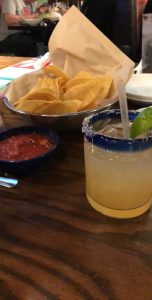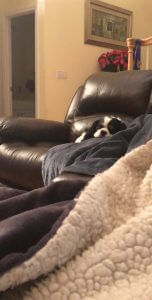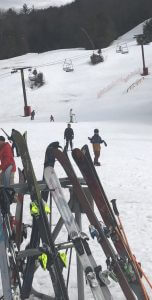 January's trip home, skiing, and time off | We went home for a couple of birthdays for the last weekend of January, and then I took some days off from work. At home, we went to Chris's cousin's birthday dinner at On the Border, then I went to a birthday party for one of my best friends at her new house. We skiied multiple times (once at home for Chris's dad's birthday and once on one of my days off).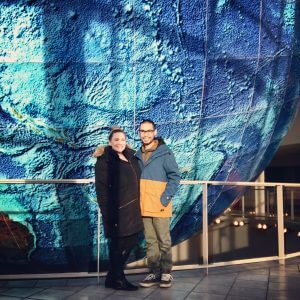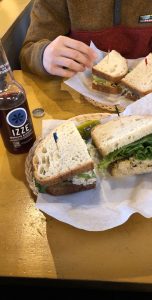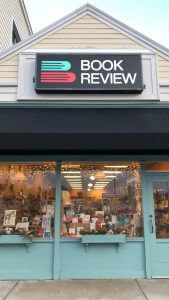 Yarmouth / Eartha | When I was a kid, I vividly remember going to see Eartha with my grandparents and parents up in Yarmouth. It's the world's largest rotating globe and obviously not the COOLEST attraction, but still totally worth seeing. You can see it from the ground level, a floor near the middle, and a floor at the top. I'm glad we made the short journey over there because it's free and brought back great memories. We followed up this trip with a stop at Clayton's, which had unbelievable sandwiches and desserts. We ended this day off with a stop at the Book Review, which is a cute little bookstore between Yarmouth and Portland. They had a small selection of YA and I wasn't tempted to buy anything, but I'm glad I finally stopped in.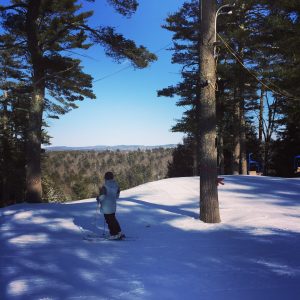 Reading, football, snacks, and more skiing | It's been a great month, really. The Patriots lost the Super Bowl and I made tons of delicious snack foods for the playoffs and SB (that led to fun leftover creations later). We've gone to the mountains multiple times, sometimes right after a snow day. I've been reading like nobody's business and really soaking in the relaxation time before things get crazy and the weather gets warmer.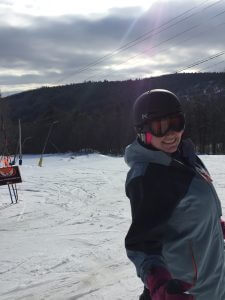 Valentines Day | We saw a deal for a two-for-one Valentine's Day ski special at a mountain in New Hampshire, so we decided to make that our day trip for Valentine's Day. I requested of the 14th and 15th off from work specifically for this reason (and because I needed to use my leftover vacation days). We decided to just relax after the day on the slopes and order in a Valentine's Day meal from BRGR Bar. The food was decent but they had issues with delivering everything we asked for. We were both sore and exhausted from skiing so it was nice to have a relaxing night with the Olympics and Netflix.
---

TV Shows
Glow | We spent an entire night binge-watching all ten episodes of Glow on Netflix. I obviously love wrestling but for some reason we slept on this show for way too long. I absolutely loved all of the characters and the journey they went on. It was obviously great and helpful to know how wrestling works anyways, but you don't need to even like wrestling to enjoy this show. I can't wait to see what happens next season!
Olympics | I'm one of those people who SAYS they don't care about the Olympics, but then become an absolute addict when they're on TV. I thinkkk I like the summer Olympics more, but the winter one has some of my favorites too. I love watching snowboarding and figure skating. I've grown to like curling and luge a little bit. Oddly enough, I don't care too much for the skiing competitions even though that's my winter sport of choice. It was awesome to watch some historic moments and both the men's AND women's gold medals for snowboarding slopestyle went to Team USA! Jamie Anderson is unbelievable and it was so cool to see Red Gerard come from behind with an unlikely gold. Chloe Kim (half pipe) has been one of my favorites to watch in recent years too!
Movies
The Secret Life of Pets | This was pretty cute. We were curious about this movie when it come out, but it's not one I would prioritize to see in theaters. I liked all the pet characters and seeing what animals might do when their humans aren't around. Obviously it was a little ridiculous, but cute.
A Bad Moms Christmas | I was a big fan of the original Bad Moms movie (probably because of my obsession with Mila Kunis) and HAD to see this one before we got TOO far away from the holiday season. Yes, we watched it on the first day of February. Oh well. I didn't want to wait until Christmas again. I really enjoyed it; the story was fun and meeting the mom's moms (lol) was enjoyable. I'd definitely watch a third movie with them!
Rumble in the Bronx | I'm on a mission to watch more Jackie Chan movies, since Chris's family is obsessed. This is actually Chris's favorite and I can definitely see why. As always, I was incredibly impressed with Chan's moves. He is so absurdly talented. The plot for this one was enjoyable as well!
When We First Met | We both love Adam Devine because of his Workaholics days, so I was bugging Chris to watch this one… even if rom-coms aren't his thing. I loooooove books/movies that involve some kind of time travel or Groundhog Day premise. This one had a fun spin to it and good lessons learned by the end. Chris was surprised about the ending but I predicted it from the first 20 minutes. It's just because I'm well-versed in the genre hahaha. I'd recommend this one!
Podcasts & Music
A Very Fatal Murder | THIS WAS PERFECT. If you love The Onion's articles, the show American Vandal on Netflix, and true crime podcasts, you will love this. Because it's The Onion, it's a parody/satire of true crime podcasts and it's so funny. They make fun of all of the elements while still offering up an interesting fake murder to be solved. I loved it so much. It's very short, so give it a try! I think only people who really love true crime podcasts and have that kind of sense of humor will enjoy it, because otherwise the jokes may not land?
Atlanta Monster | I'm not super far into this one yet, but it seems good. I enjoyed Up and Vanished for the first 75% of the season but grew annoyed with the end, where it felt like he was just dragging stuff out. This is from the same creator but the topic (a real life Boogieman, essentially, in the 1970s) is intriguing.
WrestleRamble | We watch a lot of wrestling YouTube (which is mostly just all of the episodes of WrestleTalk) and they have a podcast they put out a few times per week. I've started listening to their RAW vs. Smackdown reviews each week because they go more in-depth and offer fun commentary. They're sort of long, but they're great for when I'm skiing and not paying as much attention.
---

Food & Drink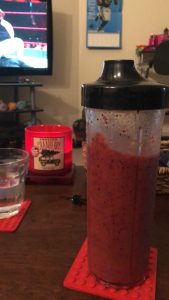 Balsamic Steak Tips and Veggies | I feel like I always cook the same few meats and don't dive into steak as much. I think it's because I'm constantly afraid of overcooking it. We don't have a grill at the moment, so I've been looking at alternative cooking methods. This was a DELICIOUS recipe. I ended up getting a veggie mix from the grocery store instead of just using mushrooms, since I don't like them, and we had some mushrooms, onions, and asparagus. Loved it.
Smoothies | We're trying to get a good smoothie game going because they're nice and filling when done right. I think our problem was that we'd just do frozen fruit with juice. It makes a slushie-like drink instead of an actual smoothie. We usually don't use yogurt before it expires, so I got a small container of almond milk from Trader Joe's to give it more thickness like an actual smoothie. Still a work in progress, but yummy regardless!
Chicken Lettuce Wraps | Oh man. If you're like most people out there, you love the chicken lettuce wraps from PF Changs. I always have Asian sauces like the ones listed in the recipe, so you can bet I'll be making these SO often. It was really easy and obviously DELICIOUS.
Crunchy Taco Cups | I was experimenting with won ton wrappers a bit around the Super Bowl, but moved on to these crunchy taco cups. You just bake tortillas into cups using a muffin pan, then fill them with a taco meat mixture (mine has ground turkey, taco seasoning, Rotel tomatoes, corn, jalapenos, and black beans) and top with cheese.
Jalapeno Cheddar Soup | I had a can of jalapenos (from the previous recipe) and found a fun soup recipe. It really just tastes like a slightly spicier cheese soup, if you're into that kind of thing. It was really good! The recipe actually calls for you to blend the veggies into the soup so it's just a thicker soup instead of having potatoes, carrots, and jalapeno pieces in it. I'm lazy so I just left them and it was totally fine.
Purchases & Addictions
Skincare | I have a post coming on this next month, but a sneak preview here for some of my recent purchases. I'm embarking on a new, mostly natural skincare regimen for my morning and evening routines. I got these from Amazon, Walmart, and Trader Joe's after reading someone's Twitter post about a skincare regiment to get rid of acne. So far so good, but the whole "your skin gets worse before it can get better" part is kind of true.
Around the Blogosphere
How Do My Reading Habits Fluctuate By Month? at Girl in the Pages | Cristina's post inspired me to write my own, so it's very necessary to link hers here again. I love seeing that people have similar experiences to me when it comes to seasonal reading.
10 Books on my Kindle I Keep Forgetting About at The Perpetual Page-Turner | Another post that inspired me to write my own – coming soon! I feel like I always write some version of this post because there are a lot of backlist books that get lost on my Kindle.
How I Read 170 Books in a Year at Novel Ink | I don't have a problem meeting my Goodreads goal, generally speaking, because I'm a very quick reader and often use audiobooks to get me there. However, there are a loooot of good tips in here for how to increase your reading!
Why Do I Rate Books Highly? at Nick and Nereyda's Infinite Booklist | YES TO THIS. I have gotten really great at identifying books that I know will be good for me. There are obviously some major disappointments here and there, but for the most part? I can kind of tell how much a book will work for me. My ratings are usually close to 4 stars on average.
Writing 3-Star Reviews at The Opinionated Book Lover | Soooo agreed on this. I like writing gushy reviews and ranty reviews, but the ones in between are so challenging! Three stars is that middle ground area where the book wasn't great OR terrible – so what do you even say about it?!
New to You featuring ME at Andi's ABCs | Andi's new feature involves her friends/fellow bloggers reading books that Andi considers favorites and reviewing them on her site. There are often giveaways too! I decided to finallllllly read ALL IN PIECES and I adored it. I'm not reviewing it on my own blog, so check out my post at Andi's if you're curious about my thoughts.
---

Last Month's Goals & Progress
1. Plan and take some vacation days | PASS | I took off three days in January and two in February, including one right this second. We've done a good mix of relaxing and keeping busy on some days, which means heading to the slopes, restaurants, and other activities that are better done during weekdays when it's less crowded!
2. Ski 2-3 more times | PASS | Definite success. We went skiing multiple times throughout January and now that we're in February, we've gone three times I believe? Maybe four. My brain isn't working but suffice to say, we exceeded this goal.
3. Finish the bookstagram challenge strong | FAIL | I really love bookstagram challenges and can't wait to actually participate in them when I have all my books. Truthfully, it's really hard to keep things interesting and feature new titles when I only have around 15 books here in Maine. A lot of them are unread, so I don't even know how to feature them quite yet.
Goals Until Next Time
1. Watch as much of the Olympics as possible | This is a lame goal that I know will happen, but I don't feel like going too crazy. This is a weird month because some days get warm while many stay cold; we'll still get snow but also have it melt on and off. It's a good time to stay indoors when you need to. So, this is an easy one that I'm going to allow myself to have.
2. Venture downtown for something | We really don't hit downtown Portland a lot because it can be a pain. There are so many restaurants and shops in other areas, so why bother? We're horrible city people, TBH. In any case, I do went to hit the downtown area a bit more while we still can. As the weather kind of might get nicer, hopefully we can go down there for food or an Escape Room when Chris's sister comes to visit.
3. Get some physical activity going, aside from skiing | During the winter, I get my exercise from skiing 1-2 times per week. That's about it. In warmer weather, you can find us riding bikes, going for walks, and hiking all over the place. Chris started doing a bit of yoga and we bought yoga mats, so hopefully we can get moving inside a little bit.
What's Next
I'm not sure what we're going to do this weekend, but next week we'll be headed home for a few days. We're only going to be there for some weekdays so I can cover in the office for my boss's vacation to Iceland. That weekend, Chris's sister and her boyfriend will be coming up to Maine. We'll probably go downtown and out to eat, and just hang around too. March will be a little busier; I hope if the snow goes away we can get some biking in. We'll be home again in the middle of the month for my friend's bridal shower and to cover another vacation for my boss. We'll see what other Portland area things we try to sneak in! Our calendars are nicely open right now.
---
Talk to meeeee! What's new?
Related Posts