I received this book for free (hey, thanks!) in exchange for an honest review. I promise that this does NOT affect my opinion of the book or the content of my review. For real.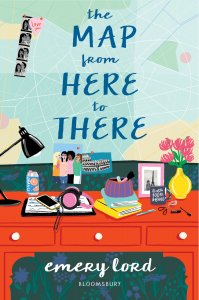 The Map from Here to There
by
Emery Lord
Series:
The Start of Me and You #2
Genres:
Young Adult
,
Contemporary
Published by
Bloomsbury
on January 7, 2020
Also by this author:
Open Road Summer
,
The Start of Me and You
,
When We Collided
,
The Names They Gave Us
,
Meet Cute: Some People Are Destined to Meet
,
Toil & Trouble: 15 Tales of Women & Witchcraft
Format:
eARC
(368 pages) •
Source:
Publisher
Goodreads
•
Amazon
•
Barnes & Noble

Acclaimed author Emery Lord crafts a gorgeous story of friendship and identity, daring to ask: What happens after happily ever after?

It's senior year, and Paige Hancock is finally living her best life. She has a fun summer job, great friends, and a super charming boyfriend who totally gets her. But senior year also means big decisions. Weighing "the rest of her life," Paige feels her anxiety begin to pervade every decision she makes. Everything is exactly how she always wanted it to be--how can she leave it all behind next year? In her head, she knows there is so much more to experience after high school. But in her heart, is it so terrible to want everything to stay the same forever?

Emery Lord's award-winning storytelling shines with lovable characters and heartfelt exploration of life's most important questions.
I realized while reading this book that I have not read new words from Emery Lord since 2017. (She did have a small story in an anthology from last year, I realized, but whatever.) That is EONS ago. I was obviously eager to read this book because THE START OF ME AND YOU is probably (???) my favorite Emery Lord book. I will tell you: I recommend rereading that one before this if you have a bad bookish memory. It's obviously a contemporary romance, which makes it less challenging to get up-to-speed on (IMO), but I still found myself completely forgetting who people were. It didn't take long to sink into her writing and characters though.
This story follows Paige and Max beginning at the end of the summer. Max, as we know, was in Italy for a summer experience. Paige did an NYU film program and came home to work at the local cinema. We're introduced to Hunter, her coworker that I LOVED, and I could just sense that some trouble may brew from their friendship down the line. Sidenote: give me a Hunter Chen book. PLEASE. PLEASE. PLEASE! Anyways, this story brings us through senior year moments and highlights (as well as some definite lowlights).
Paige is really struggling with her anxiety in this one and I definitely felt for her. I certainly deal with that on a daily basis but in a different way; it was challenging to see her unable to express her feelings. I wanted them to communicate so badly but I was right in her shoes, understanding and remembering MY relationship from senior year of high school. I was not good at communicating at all (granted my relationship was hot garbage and Paige's is much better) and a lot of drama ensued.
The passages with Paige's mom and discussing how much she worries REALLY resonated with me. I definitely inherited my general anxiety and worries from my mom too. So relatable and honestly hard to read as a result. While this book is a quiet exploration of senior year, growing up, first love, college plans, etc., it's also heavy and real in a lot of spots too. I hated so many parts of this book because I felt them so strongly. Remembered them. Saw what was going to happen next. This book was frustratingly real and that's the best way to describe it.  Messy, relatable, quiet, hopeful – all of the usual words to describe an Emery Lord novel.
I didn't fully love the ending, which is stupid, because it makes a lot of sense. I think this story will really stick with me because I love these characters and the journey they went on was messy but necessary. It brought my right back into my own head from senior year – so many decisions to make, both small and large.
---
Related Posts