I tried to share some bullet journal posts last year and got lazy for the final pages of the year. I think I was not giving myself enough ability to be creative with it and just lost steam. I ended up putting a lot of thought and effort into my layouts for this year, so I thought I would share my bullet journal setup for 2020! This includes all of the yearly pages (reading tracking overall, challenges, etc.) but not the monthly layouts. I kept some layouts the same, moved stuff around, and came up with brand new ideas for my new challenges. I also ended up using the same bullet journal from 2019 and just setting up a 2020 section because I barely made a dent in it last year haha. So, here we go!
---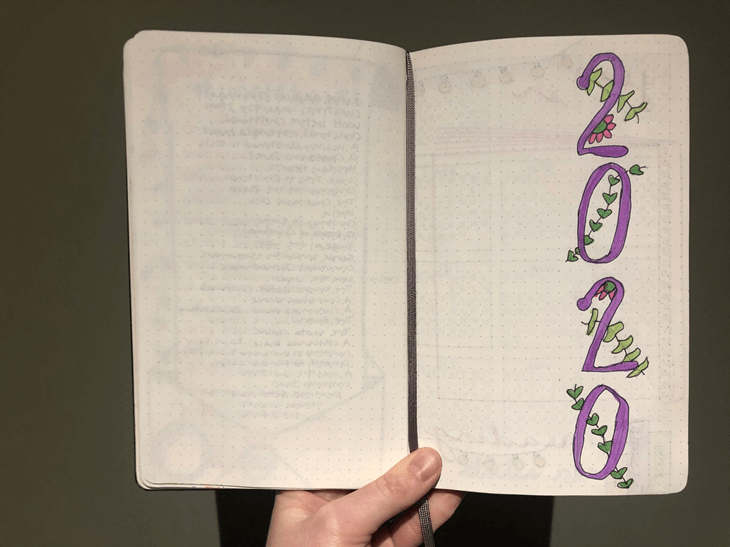 2020 Divider
Because I'm continuing in the same bullet journal from last year, I decided to make a 2020 divider page so I know where the new year starts. I'm keeping the little bookmark there as well.
Year in reading and dates completed/read
These pages are similar from last year's setup as well. I made a large book where I color in one stripe/line across for every five books I finish. By the end of the year, the book should be full of stripes and colored in! The second page here features a year-long calendar. If I finish a book on a specific day, I circle that date in the calendar. If I finish a second book, I draw a line through it as well.
Read by rating and format bookshelf
I had a bookshelf last year where I colored in the book based on rating alone, but I thought it would be interesting to track the book's format as well with some codes. Every time I finish a book, I color it in according to the proper rating. There will be more variety in colors this year since I added half-star colors instead of rounding. I developed a key for book format too. (I since realized I forgot ARCs so that will be "AR.") Each book spine will have one of the markers to designate the format too.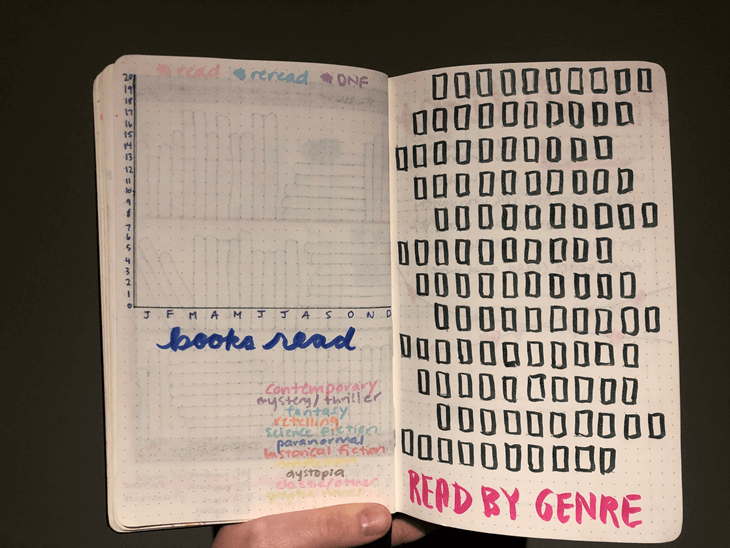 Monthly reading stats and books read by genre
I had a stat graph last year with some other things underneath but I didn't feel the need to include those, since it was basically just copying from a spreadsheet. For this one, I make a line graph to see which months I read, reread, or DNFed the most throughout the year. On the other page, I made some boxes that I can just color in with the genre of the book I read. I didn't like last year's page that much and I'm still not sure I like this one, but it'll look better and more colorful as the year goes on.
Resolutions and blog calendar
I didn't include a lot of other resolutions (only reading ones) for now but I may add something to the second half of this page. Maybe I'll leave it open to include a check-in around the halfway mark of the year. On the other page, I have my blog calendar. This is where I include blog tour dates and other things to remember.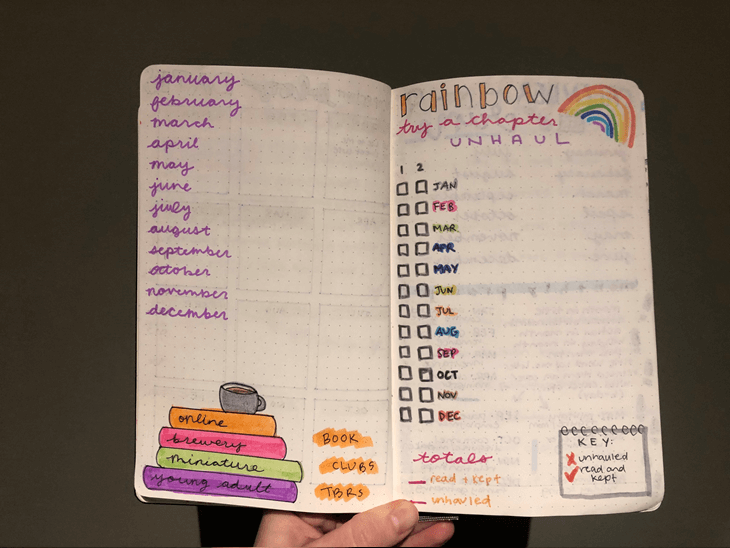 Book clubs' TBRs and RTACU challenge
I'm in a few book clubs but some don't meet every month, so I wanted this to be a casual place to record the books we pick when we do meet. I drew some books on the bottom to designate the different groups and will write the book titles up with each month. My Rainbow Try a Chapter Unhaul personal challenge tracking will go on the next page. I'll write the name of the two books I select and designate if I read them or unhauled them.
Calendar of Crime and Monthly Key Word challenges
A couple of yearly challenge layouts coming up. I'm participating in Calendar of Crime so I recorded the months as well as the related prompts underneath, plus some fun mystery-related doodles. The other page has the monthly key words for that challenge, and I can fill in the books read under each one.
Popsugar reading challenge
I'm also participating in this one again and decided to dedicate two pages to it instead, so I can actually track the prompt names this year! I love how this one turned out. I went with a star/cloud theme and just wrote the prompts underneath the title section.
Romanceopoly
I feel like a lot of us just discovered this challenge! I'm excited to participate with the neat game board-style challenge. I drew out the game board and traced the script from their game board version on one side. On the first page, I'll be recording the dice rolls, prompts/squares, and books read.
Best books of 2020
And finally, my final year-long-related page before I got into January layouts! I decided to designate two pages to this one so I'm able to highlight both the five-star and 4.5-star reads from my year. I'm planning on just drawing small book covers, keeping five stars on the left page and 4.5 on the right.
Related Posts