You can read my monthly Bookmark Lit Bulletin wrap-ups to learn about the bookish and blog-related things I've accomplished. Lauren Lately was created to highlight all of the personal happenings in my life: events, activities, shows I'm addicted to, things I'm obsessing over, recipes I've loved, and goals.
---
Ummm you know it's been a while when you need to include TWO months in your recap post title! I usually try to do this post or a Five on Friday every week but clearly the holiday season derailed that quite a bit. Here's a big ol recap of my life.
What I've Been Up To
I usually go weekend by weekend but simultaneously a lot has happened and not a lot, so I'll do some categorizing instead through the holiday season!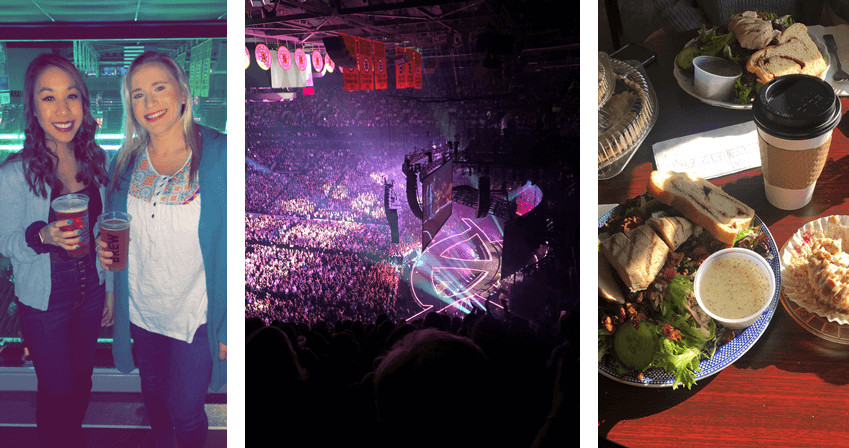 Jonas Brothers concert • I went to see the Jonas Brothers concert with Chris's sister and mom way back before Thanksgiving. We had some annoying people around us (that's my life, every time I go anywhere) but the show itself was WONDERFUL. The next day, Jen and I grabbed lunch at our favorite spot.
Thanksgiving • We always do a fun, comfy Thanksgiving at Chris's parents house, so this year was no exception. We did onesies! I had a nice day at my nana's house in the morning before heading to their house after. We made apple cider mimosas. My favorite part of Thanksgiving though? The post-Thanksgiving turkey sandwiches with everything on it.
Breweries and brunch • Chris and I have been enjoying a new local brewery with delicious food and old-school arcade games – we went three times in two weeks when they first opened! I met up with a friend the day after Thanksgiving at another local brewery too. And finally, we hit brunch with his sister and her husband recently too.
Christmassy day trips • New England is the perfect place to be during the holiday season, in my humble opinion! We went up to Yankee Candle Village in December because we hadn't been in a few years. Got some food, walked around, and took in all the lights! We also went down to Mystic before Christmas and enjoyed their decor, some delicious lunch, and last minute shopping.
Wedding venue tours • We've started the whirlwind that is wedding planning (begrudgingly) but at least we've been making fun trips of it! Not a lot of photos to share but we always make sure to see the tour, get local food somewhere, and hang out in the area for a couple of hours. One had a delicious bake shop and then we met up with Chris's sister and her husband for lunch at a super popular BBQ place down the road.
Parties and dinners with friends • We had a birthday party to attend after Thanksgiving and then our group's annual Christmas party in December. It was a fun night and we all definitely needed to stay over when the festivities were over! I also had a tasty dinner at the tavern in my town; they're famous for their great wings.
Christmas stuff • As usual, the holiday season came and went far too quickly for my tastes! I think we did a good job of soaking it in, watching movies, and doing a couple of festive activities. I always want more though! The photos above show us on Christmas Eve and Day, one of my fun Christmas gifts, and our tree setup.
Friends Boston Pop-Up • I was bummed when I missed the NYC tickets but ended up being very glad that they came to Boston! It's a lot easier for me to get there and enjoy Boston much more. We went through the pop-up, which was a mini museum with photo opportunities. I think I expected a tiny bit more, but it was really an experience I'm glad I had! We also went to Lucky Strike for bowing and arcade games with my friend and her husband, who live outside Boston, and stayed at their place for the night.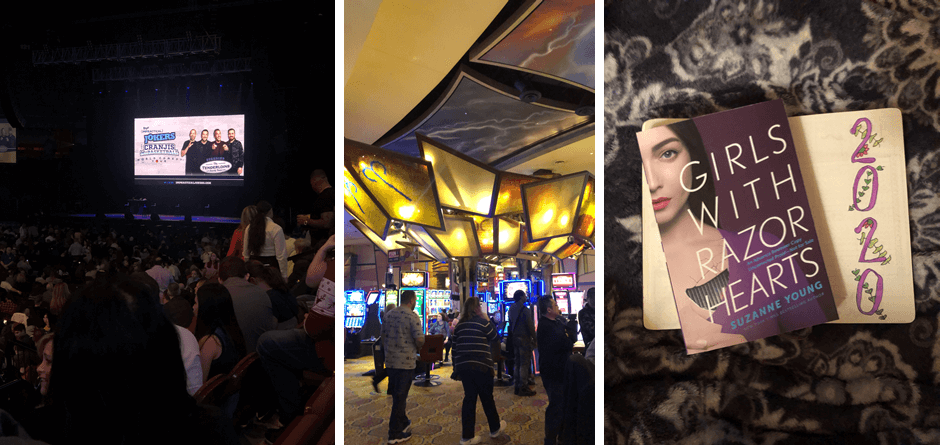 New Years Eve • We traditionally spend NYE with my friends (above, from the holiday party) but everyone ended up with other plans this year. We thought it would be a fun opportunity to see Chris's friends! His friends' parents are high rollers at the casino near us so we ended up getting free tickets to the Impractical Jokers tour stop AND dinner buffet for all six of us. It was a fun show and a cool way to spend NYE. His friend's wife is pregnant so we had a driver, but we wanted to be home before midnight to see the ball drop – the casino would be too crazy. We went to our place, 40 minutes away, and watched it!
Miscellaneous • I think I covered it for the most part but some other highlights include using Disney+ for alllll the things, my dad's cute kitty on her new huge tower thing, and the Harry Potter ASMR rooms channels on YouTube! I love putting them on for background when I read in bed.
---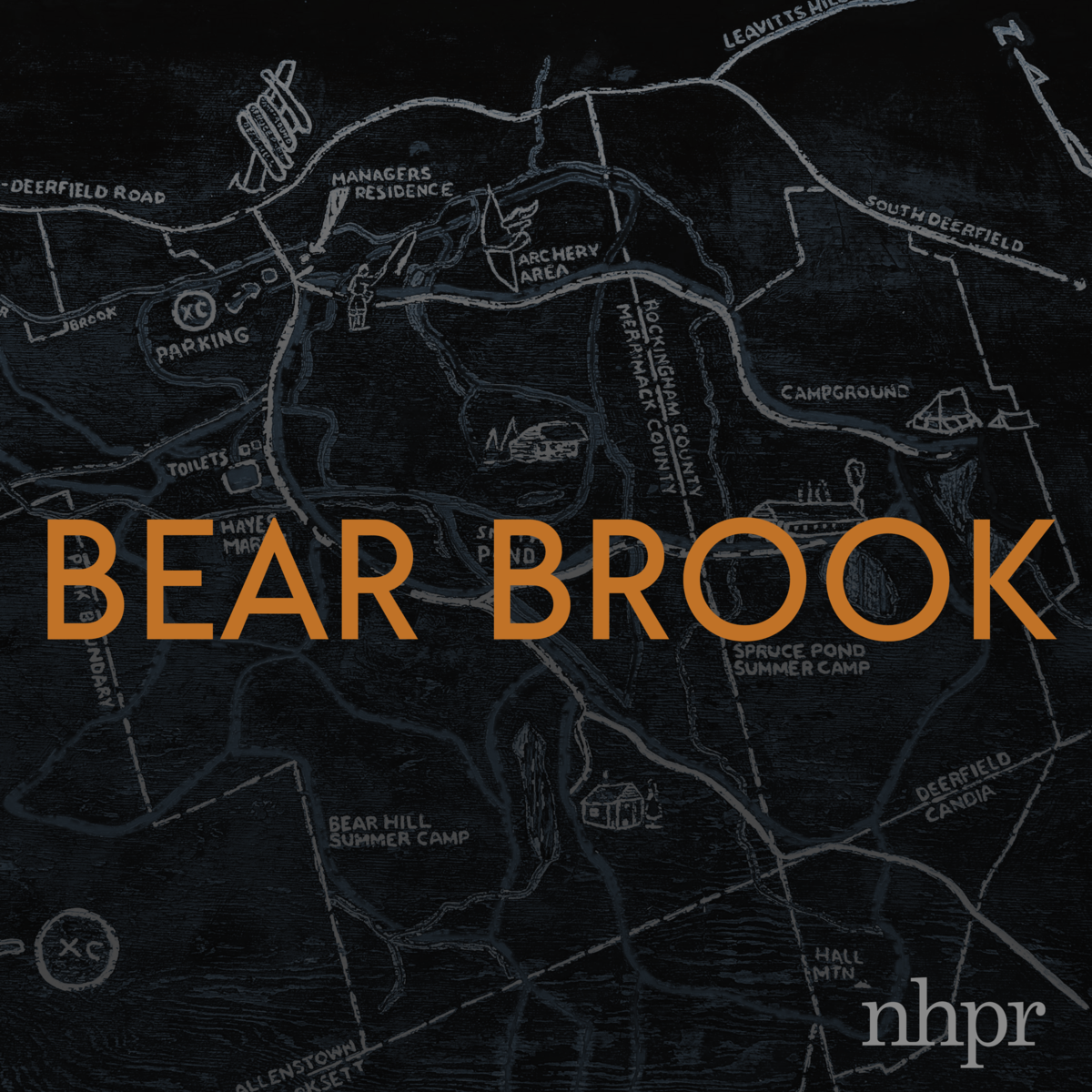 Bear Brook (Podcast)
My friend recommended this podcast to me after Thanksgiving and I was hesitating – the synopsis didn't sound THAT interesting. Well, I was proven wrong damn quick. I LOVED THIS. It was utterly fascinating the entire way though; I cannot believe how interesting this case (and others related to it) was. I cannot recommend this enough if you like true crime podcasts.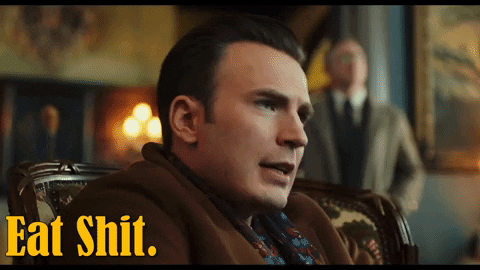 Knives Out (Movie)
I ADORED THIS MOVIE. We were obsessed with it for a while after it came out and despite not being people who like to rewatch movies very often, we were pretty ready to watch this again ASAP. I was never a huge Chris Evans fan (I always liked him but he didn't do anything for me like many of my friends!), but LORD is he attractive. The more I see of him these days, the more I love him now.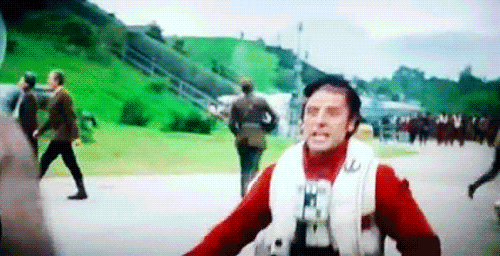 Star Wars (Movies and Shows)
We went to see the newest Star Wars movie with my family after Christmas, as is customary these days, and we all loved it. Chris and I meant to rewatch ALL of the Star Wars movies beforehand but didn't really make time to do so, so we decided to do it after. We started with Episode 1-2, then watch the animated movie, Chris started the show, and then moved into Episode 4 and beyond.
---

Around the Internet
I love that the beginning of a new year brings along everyone's goals, resolutions, challenges, and TBRs! They tend to be some of my favorites to read. You'll see a lot of those on here.
100 Anticipated YA Novels Jan-June @ Pop! Goes the Reader • I will probably always highlight Jen's posts like these, or her cover-related ones, because she does such a beautiful job with the layouts and research! I can just see how much time she spends on these and her work is much appreciated by me! RIP to my Goodreads TBR.
Intentions for 2020 @ What Karly Said • I'm a big fan of using words like "intentions" instead of "resolutions." I actually connected with nearly all of these on Karly's blog, so I thought I would share it here.
My 2019 Year in Reading and Project Try a Chapter @ Super Space Chick • Yes, I'm clearly juuuust a little excited that Kristin has been blogging more! I loved reading her 2019 reading year recap and all of the charts. I also really liked seeing how she chose to do a "try a chapter" challenge, similar to the one I'm doing this year.
Least Favorite Books of the Decade @ Rattle the Pages • I've been seeing a lot of favorites lists this time of year, so this was fun and refreshing! I bookmarked it because I was thinking of doing something similar. There are a few books that come to mind right away.
The Most Anticipated Adult Books of 2020 @ The Perpetual Page-Turner • Jamie's got us covered on the adult side of anticipated releases, much like Jen worked it for the YA books! I'm excited to scroll through this more and find new gems for my TBR.
Food & Drink
Yasso Bars • I slept on getting the holiday flavors that looked SO damn good, so I tried the pistachio ones. Oh god these are so amazing and luckily only 3 points. I love pistachio anything so I plan to get these again and hopefully try a few other flavors at some point.
Tyson Blackened Chicken • I watched a YouTube video where someone shared their favorite WW items because I wanted to get back into my healthy eating patterns and she shared that these frozen chicken strips are ZERO points. They're only blackened, not breaded, but they taste like spicy breaded tenders. I can tell you this, if I lived by myself, I'd be eating these multiple times a week.
Trader Joe's Black Truffle Alfredo Sauce and Cauliflower Gnocchi • I decided to not do a full-scale TJ's section but we're loving these two lately. I'm using the alfredo sauce on normal pasta actually, not the gnocchi, but it's quite tasty. I made the gnocci for the first time in the air fryer and topped it with pasta sauce – so good!
Homemade meals from the past two months • Top-bottom, left-right… Salmon with avocado salsa, brown rice, and roasted colored carrots; crockpot barbacoa soft tacos; blueberry hard cider; eggplant and ricotta pizza on cauliflower crust; broccoli mac and cheese soup; barbacoa nachos; sausage and tortellini soup; oat breakfast bake; Chris's mom's food selection of meat and egg rolls; and pork belly over stir fry kimchi noodles.
Purchases
I haven't bought anything exciting, believe it or not! I'm kind of slowly using my Amazon gift card from Christmas on random stuff and nothing worth sharing here. I spent a good amount on Christmas and received some generous gifts, but no major purchases here!
---

Q1 Goals
I said I would keep my goals low-key and not go wild anymore, but I will say that I have these four goals I am to complete in the first quarter of the year. I'll keep them here where I can mark some progress as needed, but I hope to get all this stuff done by the end of March.
1. Organize the house from top to bottom
2. Rearrange the living room
3. Find better storage solutions (living room, bathroom, bedrooms)
4. Organize financials and paperwork
Up Next
We have more venue tours on a couple of January weekends, but we don't have many other plans! I think there's a birthday party or two in there somewhere. My sister goes back to college next week for her second semester so I hope to see her at least one more time this weekend before then. A lot of organizing (hopefully) and doing some things around the house, as well as getting our venue finalized.
---
Talk to meeeee! What's new?
Related Posts