Because my Bookmark Lit Bulletin wrap-ups got out of hand, I wanted to break up my monthly wrap-ups into two posts: one personal and one bookish/bloggy. I created Lauren Lately here to highlight all of the personal happenings in my life: events, activities, shows I'm addicted to, things I'm obsessing over, recipes I've loved, and goals for the next month. I decided to space them out so this wrap-up happens around the mid-point of the month and the bookish one happens at the end of the month.
✨ Check out my most recent bookish and bloggy wrap-up HERE ✨
---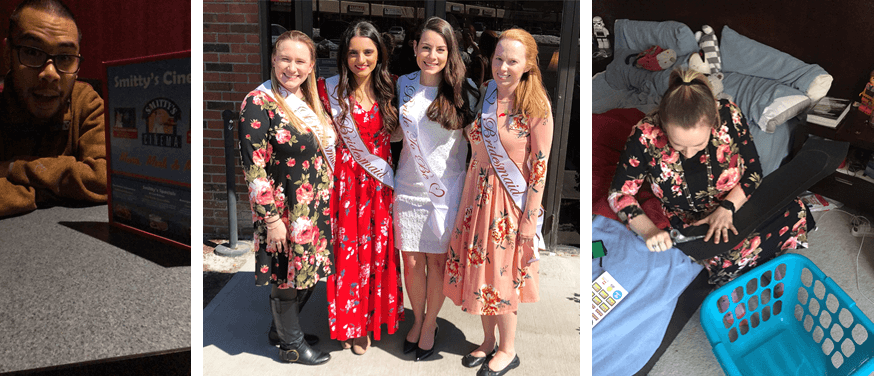 Crazy weekend home – bridal shower, secret santa, birthdays, and all the lies | Before we headed home, we spent one night at our favorite dine-in theater and saw Game Night. So funny! Then, our mid-March journey home was fillllled with plans. My friend wanted a surprise bridal shower, so we had our very late Secret Santa the night before as an excuse for all of us to be in Connecticut. We had this immense web of lies I won't get into, but it paid off! She was definitely surprised and it was a fun day… well, as fun as a bridal shower could be, I guess! (So not my thing.) The next day, we had dinner out for my dad's belated birthday and then my sister and I went to see Love, Simon and its PERFECTION. We both read the book and loved the movie just as much. I got my hair done too. I was supposed to stay home until Wednesday but an impending storm cut the trip short, and we went back to Maine on Tuesday night. Book club was postponed until April.
Alaina's visit to Portland | The following weekend, I had my friend Alaina (who had the bridal shower the weekend before) up to visit! She wanted to ski and see the city. It was a really fun time. She got here Friday night and we got takeout from a vegetarian restaurant (we all loved it, even the two non-vegetarians!). Saturday morning, we got breakfast from Rose Foods and headed up to Lost Valley. She had a great time and previously hadn't been skiing for two years, but still managed to give me a pointer that really helped me improve! That day, while Chris caught up on sleep before work, we went downtown… everywhere! We started at Taco Escobarr for an early dinner and margs, went to Mash Tun for drinks and fries, then Nosh for dessert and more drinks, then the Slice and Ice Bar for drinks and pizza. It was SO much food and SO many drinks… but no regrets! We had Holy Donut for breakfast, because that's a staple, then she headed home.
Birthday bash and "Easter" | My grammie has a tradition where we have two birthday bashes each year – one for the Spring birthdays (my aunt, stepmom, sister, and dad) and one for the fall birthdays (me, Chris, and Grammie). My parents came up to Maine to her house so I went over for the day to have pizza and cake for the birthdays. Chris was asleep; working overnight is tough! The next day, on Easter, we went for a couple of hikes in Falmouth. One had a few random paths in the woods, which was lame, so we went to Mackworth to walk around our favorite place too. That night, we went to Petite Jacqueline for dinner! It was such a cute little French restaurant. Making reservations on OpenTable has made things so much less stressful – but more on that later!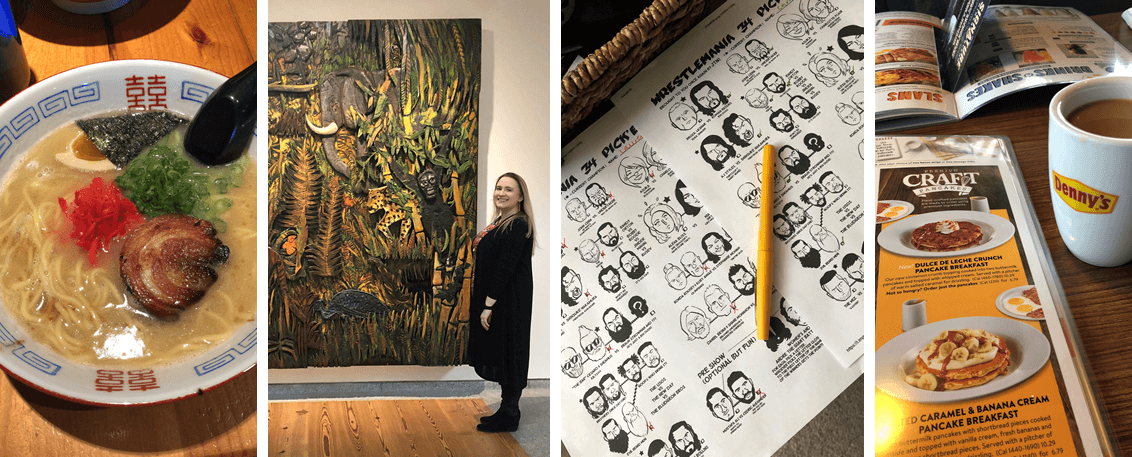 Wrestling weekend and getting out of the apartment | The first weekend of April brought us a bunch of great wrestling. Saturday night had Supercard of Honor and NXT Takeover, and Sunday had the granddaddy of them all – Wrestlemania! We were determined to not loaf around too much just because of the million hours of wrestling to watch; we wanted to get out and about as well. We decided to go downtown Saturday and see the Portland Museum of Art (because the forecast was projecting rain – it didn't, so we could walk around downtown without getting wet!) and then go to Pai Men Miyake for ramen. We were going to get brunch at a new place on Sunday morning but just went for Denny's (super easy). I ran some errands while Chris slept and then we got ready for a fucking GREAT Wrestlemania. I hated the vast majority of the match results, but loved the heel turns and actual wrestling. Read about my wrestling life here! The following weekend was a bit lazier because of weird weather, but we managed to get dinner at our favorite local Mexican place and run some errands.
---

TV Shows
Wrestling, sorry! | Yep, March and April are big months for wrestling. The "Road to Wrestlemania" means that every episode of RAW and Smackdown involves the stories being pushed closer to the ~grandest stage of them all~ and we get super excited. We also started watching ROH TV as well, since we love so many of those guys through Being the Elite. Most of this is irrelevant to you, my reader, but I had to mention it. Enjoy a gif of my fave hottest best most perfect wrestler.
Fresh off the Boat | We took a long, random hiatus from this show, and have recently started catching up again. I love this family SO much and it's really wonderful to see Chris relate to a show like this! Overall it's a super cute and funny sitcom that more people should definitely watch.
Movies
Aurora Teagarden Mysteries | I love Candace Cameron Bure in her Hallmark Christmas movies, then I randomly found her Aurora Teagarden mysteries too! I binge-watched the ones that were already released (mostly on YouTube because Hallmark sucks about making their films accessible) and anxiously awaited the new one, which actually came out last night. The movies are cheesy but fun mysteries and Aurora is a good character. I found myself wishing there were more once I finished.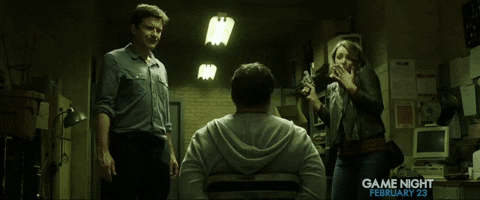 Game Night | I'm a huge fan of many of the actors in this movie, so this was great. I thought it was really funny (the humor was right up my alley) and there were some good twists. I definitely would watch this again because I still have a few questions actually!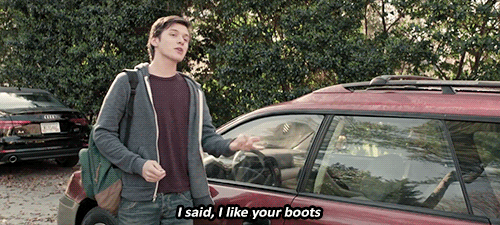 Love, Simon | It's so hard not to post a spoiler-y gif here because Blue is my faveeeeee. In any case, this movie was so good! I don't remember much of the book so I can't exactly speak to how similar/dissimilar it is, but I thought it was great. I loved the cast and the ship is sailing so hard.
The Greatest Showman | I wanted to watch this purely because of how much I love Zac Efron. I actually loathe musicals most of the time because I feel so uncomfortable when people break out into song lol. Regardless, I really liked the story of this film and was able to look past all the singing hahaha.
Murder on the Orient Express | This was fine. I enjoyed the book and the movie was good enough, but definitely nothing to write home about. It was fun to watch Chris try to guess who the murderer was though! I think the cast was good, for the most part, but it was really hard to hear and understand people sometimes.
Game Over, Man! | We love the Workaholics guys, so this was a no-brainer for us one weeknight. I liked it quite a bit but I think I expected it to be a little more funny? Fans of their show will definitely enjoy this kind of humor but I wouldn't recommend it to everyone. It was basically a funny version of Die Hard?
Podcasts & Music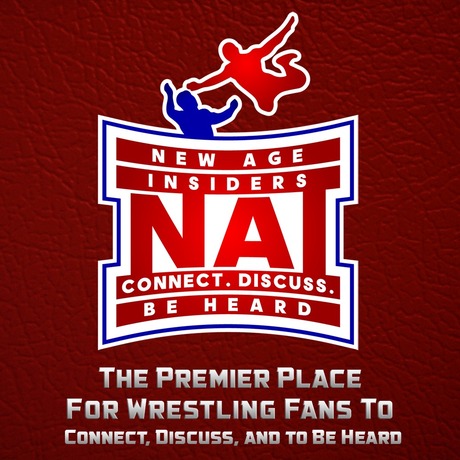 I don't have much to report here. You can check out my current podcast rotation post for what I'm listening to lately. I've been trying to dabble in audiobooks again (even just one a month) and attempt to listen to more music too. The one podcast worth mentioning…
New Age Insiders Wrestling | I don't know how often I'll listen to this because seriously Lauren you need to relax on all wrestling, all the time… but my friend recommended this to me because they do live broadcasts after PPVs and I gave the Mania one a listen. They're suuuuper positive, which is refreshing, because usually I'm down on WWE and get angry. Sometimes it helps to hear good reviews instead of overly critical ones, which is what I usually listen to!
---

Food & Drink
I've been lazy recently, buying pre-marinated meats from Trader Joe's and combining them with rice or potatoes and veggies on the side. (See some of my favorite TJ's foods here!)
Everything But The Bagel-oriented meals | I have to call this out separately because it's easily my new favorite thing. I've used this seasoning on avocado and/or egg toast for almost every breakfast and it's amazing. I also tried it on some of TJ's shaved brussels sprouts. It adds a huuuuuge punch of flavor that I'm loving.
One Pan Sausage, Sweet Potato, and Brussel Sprouts | I made a version of this but tend to get lazy in execution. I just cut up sweet potato, chicken sausage from TJ's, and brussel sprouts, coated them with olive oil and some seasoning, and put them in the oven. So easy and so good! Sheet pan meals are my JAM.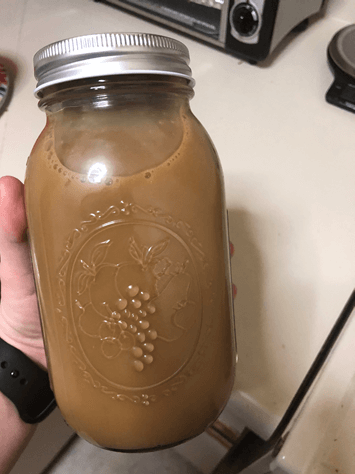 Instant Iced Coffee | I found a few recipes for this when browsing Pinterest and never thought about how easy it could be to make! My biggest issues with making homemade iced coffee are how you have to make it hot first and that it's never really strong enough when you do. This actually uses instant coffee grounds and cold water from the beginning, so you can drink it right away! I ended up making a big mason jar full of it so I could pour from it each morning instead of making it from scratch. Here's how to do it: to make one glass, mix 1-2 tablespoons of instant coffee (depending on how strong you like it) with your normal amount of coffee creamer (keep it out because you might need more later). For me, that's 1-2 tablespoons also. Mixing the coffee grounds with the creamer will cause them to dissolve and everything will blend together. Add 1 cup of water to the glass and mix again. Add however much sugar you usually have in your coffee and test to see if you need more creamer, to taste. (The jumbo mason jar I used fit 4 cups of water, 4 tablespoons of coffee, 7 tablespoons of creamer, and 2 tablespoons of sugar to get it to my preference.)
Spicy Seafood Pasta | This was such a light and "fresh" pasta dish because the "tomato sauce" was homemade from just a can crushed tomatoes. It feels weird to say it feels fresh because it used frozen seafood and canned tomatoes, but it just felt that way to me. It was SO easy; just cook up the pasta and seafood in separate pans, then simmer the sauce and combine everything. I obviously used the Trader Joe's frozen seafood blend, which is the same one she references in the recipe.
Purchases & Addictions
Makeup and skincare things | I go through phases with caring about my makeup, trying new things, etc…. and I'm currently on that kick for sure! I've acquired a lot of new items in the last month and maybe I'll do a full post at some point. I took pictures of the things I bought and tried (even if I might have returned them). I also bought a few more things this past weekend but haven't tried them / didn't feel like taking pictures of them yet. I'll do an updated routine post in May! Quick thoughts and links to where I bought them below: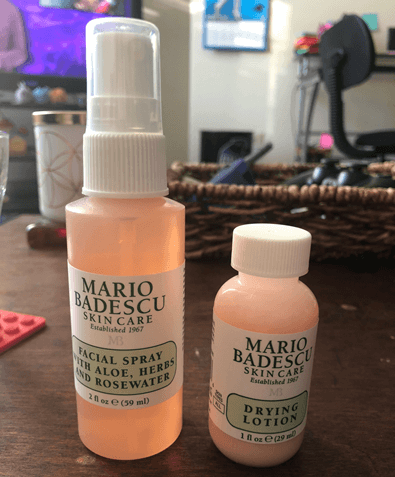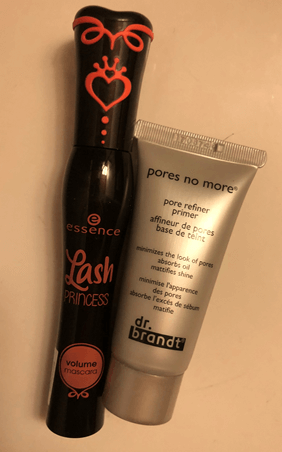 Lularoe sales | I haven't purchased clothes in a long time but LLR tempted me this past month with some sales. A lot of people are either going out of business or just trying to clear inventory, so I got two staple black pieces for 50% off! The Maurine dress caught my eye when it was recently released but could not justify spending over $70 on it. I saw a plain black one and took the plunge during a major sale. I also lucked out and got the usually similarly expensive Sarah sweater on major sale too! I'm justifying this behavior because everything is on sale and I want some new outfits, but I need to stop before I get addicted again.
Castile Soap | I included this in my new skincare routine because I use it every other night for washing my face, but there are so many other uses for this stuff. I bought foaming soap dispensers and you can use a 1:4 ratio of soap to water for cleaning dishes! I'm trying to be better about saving money on cleaning products and being more natural, so this kills two birds with one stone. I'll probably investigate other scents though because the mint one I have smells a little weird for cleaning dishes 😉
OpenTable App/Website | I couldn't decide if this should go under food or addictions, because it involves both, but it's made our meals a lot easier. Portland is a biiiiig foodie city, which means restaurants tend to fill up quickly. We're always tempted to try some downtown restaurants but unfortunately they get crowded and we get stressed. I started using OpenTable to make reservations and remove some of that stress.
Around the Blogosphere
Book Buddies: Starry Eyes [Girl in the Pages] Cristina and I did our Book Buddies post this month for STARRY EYES and I loved reading her thoughts! We both immensely enjoyed the book and did different spin-off topics. Cristina made some book recs based on romance tropes in the book!
Spring Break 2018 [Pink Polka Dot Books] It's not a secret that I love making Polyvore collages for books, as I do it ALL the time for blog tours, Book Buddies, and my Cover Colors feature. Michelle posts this very cute spring bookish/clothing/etc. round-up each year and I love it every time.
Apollycon Wrap-Up [Andi's ABCs] I've never been to Washington DC and am always intrigued by Apollycon, so I feel like a trip down there for it is in my future! Andi's wrap-up was great and truthful about what worked and what didn't, so I think my expectations would be met if I went.
Recipe Roundup [Mom's Radius] I realized I somehow lost Kate's mom/family/etc. blog and was only following her book review one, so I remedied that quickly! I think I lost it in my switch over to Feedly. Regardless, I caught up and found this great roundup of recipes. I hope to try some!
Mary's Minute: Book Recommendations [Mary Had a Little Book Blog] I really enjoyed this post by Marg! She talked about how it's sometimes very easy to scream about favorite books and recommend them to everyone, but there are some books that you just hold very tightly instead. I'm always nervous to rec books to people because I truthfully don't feel like I'm that good at it! I related a lot to what she mentioned about books being special that you're afraid to push on others, just in case they don't love it like you do.
The Year Disney Ruined My Birthday [The Daily Tay] I love her blog; it's always hilarious. This was a funny memory of a time she spent her birthday in Disney but evidently nothing went right.
The Power of Yoga [Super Space Chick] I love seeing Kristin in my reader again and this post is hopefully going to help me a lot. I have so much lower back pain from, to put it bluntly, how large my chest is, and the fact that I sit most of the day (hunched over). She shared that one session of Yoga with Adrienne's lower-back-oriented video made a huge difference for her. We'll see how it goes for me!!
---

Last Month's Goals & Progress
1. Plan vacation time, friend visits, and Portland bucket list | PASS | I'm pleased that we definitely did this! We're still kind of in the process of it all, but we've come up with ideas for what to do when it's shitty weather and we still want to get out of the apartment. We plan to hike and visit some other locations nearby when it's nice out too, so hopefully our bucket list will have fun activities and yummy restaurants.
2. Ski 1-2 more times and get outside for something else | PASS | We went skiing with Alaina for what we thought could be the last time of the year. We also started hiking a few times on nice days, even though there's been quite a bit of rain and wind in between. Regardless, definitely a pass here, as we've been very aggressively trying to do more things out of the apartment!
3. Plan meals and grocery shopping better | PASS | I definitely did a better job here. Trader Joe's has made my life so wonderful because I love everything there and can get ingredients that work with multiple meals. My biggest issue previously was making balanced dinners (sometimes I just don't bother cooking a veggie because I'm lazy) but now we have a great mix every night. We're even trying more vegetarian options.
Goals Until Next Time
1. Try 2-3 new restaurants | Using OpenTable has definitely changed some things for us, in a positive way! We're more likely to try to eat downtown as a result of making reservations instead of being nervous we won't find somewhere to go. I hope to use the app and go downtown a few times for new dining experiences.
2. Try 4-5 new trails | We really like getting out and hiking, especially because Maine is gorgeous. By this time next month, I'm hopingggg we would have already been to Acadia (or planning to go within the week) because that's our biggest plan before we leave. Otherwise, I want to see at least 4-5 new trails overall!
3. Meal plan even better | This one is more loose because I don't know how to quantify it, but there we go. I want to continue doing what I have been with TJ's and my grocery shopping plans, but make it even better. I read a Buzzfeed article the other day where someone lived on $30 worth of groceries for a week. It means you have to be creative with how you use things. I like the idea of moving items around all week in new ways and saving money with less waste.
What's Next
The end of April will consist of another visit home for my cousin's bridal shower, along with my mom and sister's birthdays (on the same day, ugh). It's just a few days and as of right now, Chris isn't planning on coming with me. It's nice because that means I can stay with my parents (mom's house, probably) and not deal with dogs and chickens at his parents haha! My friend Paige is hoping to visit me in Portland the last weekend of April as well. The beginning of May will see a NYC bachelorette party for a friend, followed by hopefully a trip to Acadia National Park in the middle of the month (!!!!!), right after the next LL posts.
---
Talk to meeeee! What's new?
Related Posts