Just when you (probably) thought ya girl was done with challenges, yet another popped up for me to overanalyze and create TBRs for! 😉 You can learn all about Romanceopoly HERE but I'll be discussing the general idea and plan of attack below. This is just such a fun and unique challenge that will help me read a bit more widely under the romance genre and beyond.
The Basics
The hosts have created a Monopoly-like game board with different prompts for each space. You can play a few different ways, including just going around the board in order or actually rolling dice to move around the board. You can pick between the SUN and MOON prompt packs as well, so you can technically complete the board twice if you wanted to.
My Plan
I decided to add this challenge to my life this year because it just seems like something fun I can do whenever I'm in the mood for romance or for something random off my TBR. Not all of the prompts are romance though! I decided to roll a few dice in a row so I have an idea of my next couple of books, and then decide when to read them. I know most people strive to complete the game board but I'm not 100% sure if I will or not. Unlike other challenges, I won't be tracking it as closely in terms of completion percentage or goals. I've picked the moon pack for this because I counted all of the spaces I was interested in on both boards and this one had more!
TBR Ideas
So I was a little hesitant to make any semblance of a TBR because it's really hard to plan. You never know when you're going to land on a specific space. I don't want to put a review book down for something because what if I don't roll that spot until after the pub date?! There are a lot of books I planned to read ASAP so I couldn't necessarily put them on this TBR. I knew this list just had to be IDEAS for me to follow and not forget when specific books fit the prompts. MOST of these books don't have a due date for me and are just books I generally want to read next year.
Sleuth Street | Mystery where the MC is an amateur sleuth | I've been meaning to continue with this series for a long time – I'm pretty sure I finished up the previous one in early 2019, so we're looking at over a year later!
Killer Crescent | Thriller where there's a serial killer on the loose | I've also been curious about this series; it seems pretty thrilling.
The Bar | Book where you and the author share one initial | I'm putting this here as an easy example. Not only do we share an initial, but we share a first name! However, unless this one is a roll for February, I'll end up picking something else later in the year when the roll comes up.
Winter | Book with (a) white, blue, silver cover, (b) snow on the cover, (c) winter word in the title, (d) winter holiday read – read between 1/1 and 3/30 | I got lucky and (spoiler) this was my first roll! I already had this book on my TBR for January and the c over is blue.
Flirts Corner | Contemporary with mature characters (40+) | I believe only one of the characters is over forty, but she's 79… so that certainly counts. I'm excited to read more from O'Leary after loving her debut in the end, but the premise of this one doesn't have me absolutely rushing to read it? So I don't mind waiting for whenever this roll comes up.
BFF's House | Best friend's sibling romance | Forever Romance recommended this one for this category on the Romanceopoly blog, and it's definitely on my TBR for next year. Both books in this series made the cut here… hopefully I roll this one before the other!
Amour Avenue | Second chance contemporary romance | Got lucky again for this one. I'm planning to read it this month despite the summertime setting. I'm just so excited to finally read a book by Holiday! And the premise sounds riiiiight up my alley.
Passion Place | Erotic romance with menage or reverse harem | So I have to say, I'm 0% against this kind of topic or situation, and don't judge anyone interested in it… but erotic romance generally isn't my forte and it took me forever to find a book that intrigued me here.
Post Office | Epistolary romance | I have a number of these on my general TBR but this one seems super cute.
Courtship Row | Historical romance where the h/H is a spy or soldier | I don't read historical romance really but I suppose Tessa Dare is the best one to try out. Why not?
Burger Joint | Book from their book girlfriend list | I'll be honest, it annoyed me a little bit that there were only a few books they recommended for this one, so I decided to make my own spin on this. I ended up searching my TBR and just making this category into "a book with 'girl' in the title" instead.
The Cobbles | Historical romance not set in London | I hope I don't land on this one because it's a behemoth and I'm still not sure I ever want to read it… but part of me does. I may switch it to something up if I land on it.
Outer Space | Sci-fi with an alien or cyborg main character | Like another book on this list, I'm not overly jumping to read this one yet, but I definitely want to read it in 2020. Not usually a science fiction person for some reason but luckily this series has an excellent alien MC.
Spring | Book with (a) green or yellow cover, (b) flowers on the cover, (c) spring in the title, (d) h/H is a gardener or farmer | This is an easy one again but I'm hoping to read this book when its released. Very yellow cover, eh?
Fang Alley | PNR with a vampire or shifter h/H | This is probably a stretch but paranormal romance is usually not for me. Nothing interested me for these squares on the game board, so a YA paranormal werewolf story will have to do it.
Fated Folly | Fated mates PNR | Yes, I'm aware this isn't a paranormal romance, but the "fated mates" thing isn't for me either. I saw somewhere that this series has fated mates, which I don't even remember at this point lol, so if I land on this one, I'll read the next book.
The Vault | PNR on your TBR the longest or pick a recommendation | *Repeats self for the third time* I hope to get this series read… maybe…
Drive in Movie | Romance develops from one night stand or brief tryst | I really enjoyed the prequel novella in this series and will be excited to read the next one when it comes out! Definitely fits the bill about a one night stand turning into more.
Soldier Street | Romantic suspense where the h/H is in an action pose on the cover | And here's the second in this series I hope to read this year!
Farmers Market | Romance where h/H is a chef, works in food insustry, owns restaurant, etc. | I'm noticing a good amount of these books coming in 2020 so I'm excited. I definitely need to read this one soonish so hopefully it gets done before release date.
Rainbow Row | M-M romance | I got lazy searching for this but surely I have more options. I think there's a decent chance I reread this book though…
Lovers Lane | LGBT non-contemporary romance | I've been seriously meaning to read Caleb Roehrig's work and it seems like most of his books are mystery/thriller books with LGBT characters. No matter what, this should get read!
Summer | Book with (a) brightly colored/multi cover, (b) beach/sand/sun on the cover, (c) summery word in the title, (d) summer holiday read | I hit all the boxes here since there's "beach" in the title, it involves a summer holiday, has a beach/sand on the cover, AND bright stuff on there.
Action Avenue | Urban fantasy with kickass heroine on the cover | I've been meaning to finish this duo off for a few years now!
City Lane | Urban fantasy published in the last 5 years | This is subject to change but this book does intrigue me. I'm bummed that another book on here was published SIX years ago.
The Gym | Book with bangin body or gorgeously dressed person on the cover | I'm a little lame with this selection but whatever. I enjoy their outfits, so it counts for me.
Journey's End | Fantasy with the chosen one trope | This is kind of accurate. I've been meaning to read this one for straight-up years and years. The MC finds out she's some long lost faerie princess.
Emergency Services | Romance where h/H is a fireman or police officer | This is another one where timing is everything because I'll probably end up with a review copy, but I know it involves a fireman!
Campus Corner | New Adult where h/H is a jock | This book is long overdue, because I preordered it and its still sitting there… But yes, jock NA books FTW.
New View | Friends-to-lovers new adult romance | I couldn't find any within this category that really interested me, so I may end up diving deeper into contemporary romance books set in college where they go from friends to more. This one would be a reread.
Beau Boulevard | YA novel considered a classic | I know this is basically middle grade but whatever, I read enough YA each year that this isn't a challenge 😉 I've been dying to listen to these on audio again and read the physical illustrated copies!
Autumn | Book with (a) orange, gold, yellow cover, (b) spooky or Halloween read, (c) leaves or trees on the cover | I'm excited to read this one but am not sure I will in June when it comes out. It's got a nice orange cover.
The Office | Romance where couple meet at place of work | This one was on my radar in December last year but I never remembered it or had time for it, so I think it'll be an easy one to read whenever I hit this square.
Lady Lane | Women's fiction novel | This book is certainly a placeholder because I generally read women's fiction each month without issue. I have no idea what month it'll be when I hopefully land on this space, so yes – expect this to be an easy one!
Coffee Shop | Either food or drink on the cover or a foodie word in title | I'm reaaaally looking forward to this one! I adore this cover and it sounds like a wonderful book. Hopefully I get this one right after release!
Past Eaves | Historical fiction novel | I'm glad the word romance isn't in this one. I've been wanting to read this since it was released last year and even checked it out from the library!
January Rolls
I got so lucky for January! I rolled a 6 and then a 3, which meant I'd be reading the following squares: Winter and then Amour Avenue. I was planning on reading both of these books in January anyways, so the roll was perfectly timed. I've also rolled ahead to plot a little further but that one will happen more around February. I'm still deciding my approach to this because there are some spaces I'd really prefer to skip. Maybe if I land on one of those, I roll a double dice instead of one dice and go where that sends me? Or maybe pick the space before or after. We'll see when the time comes.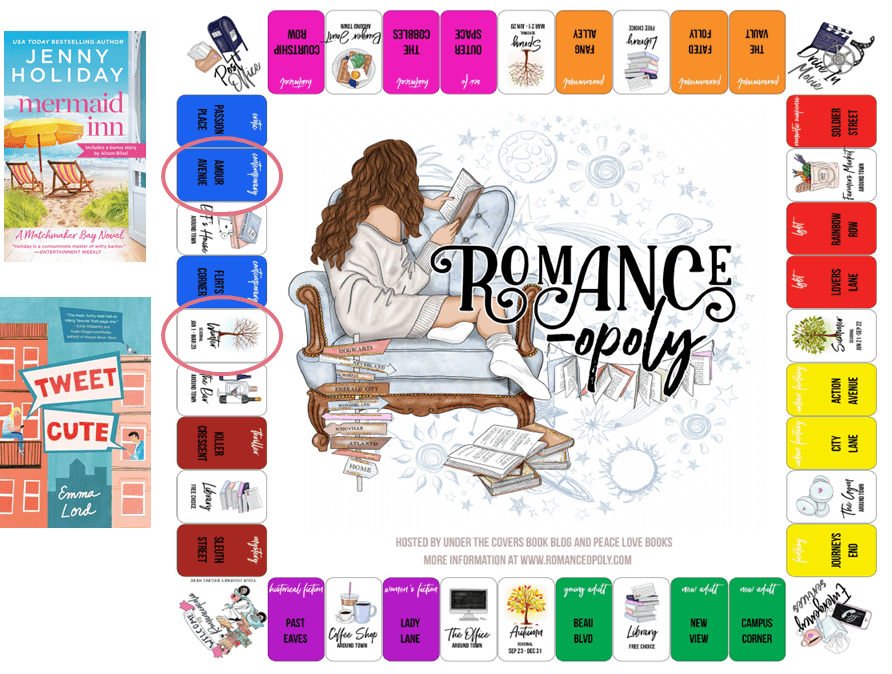 Related Posts