Most Anticipated Book Releases for the First Half of 2020
Top Ten Tuesdays were started by The Broke and the Bookish and are now hosted by That Artsy Reader Girl, where we make lists of our top ten books (or something else!) based on that week's prompt. The topics are provided ahead of time and can be found here. Book links bring you to Goodreads or my review.
I recently made my anticipated sequels and next-in-companion-series post the other day, so today you will find ONLY standalones or series-starters for the first half of 2020. I usually also try to avoid books that I already have review copies of, but no promises if I'm THAT excited for them 😉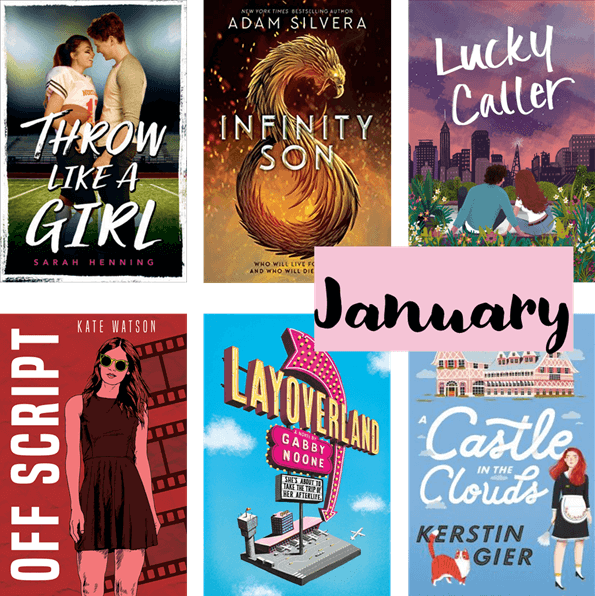 Throw Like a Girl by Henning | Big fan of sporty girl books, especially when football is the main topic!
Infinity Son by Silvera | Adam Silvera has broken my heart in contemporary novels, so I can't wait to see how he pulls it off in his new fantasy series!
Lucky Caller by Mills | I'm a little bummed I won't be spending my third New Years Day in a row reading an Emma Mills novel, but I'm still incredibly pumped to read this one! Her books are so wonderful.
Off Script by Watson | I'm always a fan of books taking place around Hollywood and rich people. This is an Emma retelling apparently, where a teen starlet plays matchmaker to her friends.
Layoverland by Noone | Another trope I'm a sucker for: purgatory! Or, the place between life and death. A girl destined for hell and boy heading to heaven fall in love, and I'm down as heck.
Castle in the Clouds by Gier | I'm fascinated by this one. Gier always writes such interesting stories and this one is no exception: there's a big ol hotel in the Swiss mountains with a New Years Eve ball that takes place, and this book follows the hotel's intern.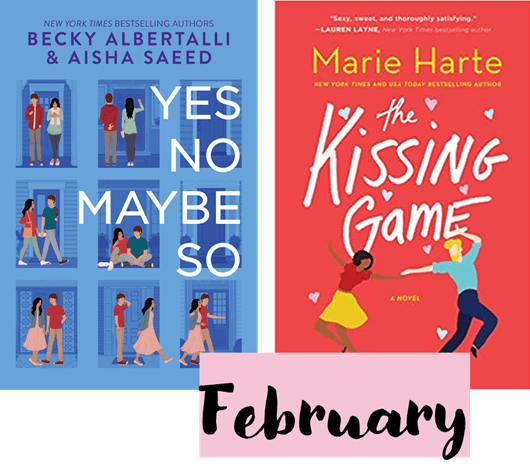 Yes No Maybe So by Albertalli/Saeed | I'm intrigued by this one! Both authors are moderately new to me (I've only read Simon by Albertalli and also her collab with Adam Silvera) so I'm thinking they may pair up nicely here.
The Kissing Game by Harte | I ADORE this cover, but what else is new. Romance's illustrated cover trend shows no signs of stopping and I'm super here for it. The synopsis and title imply a few different things about this story but I'm not sure what the plot will look like, so that's fun!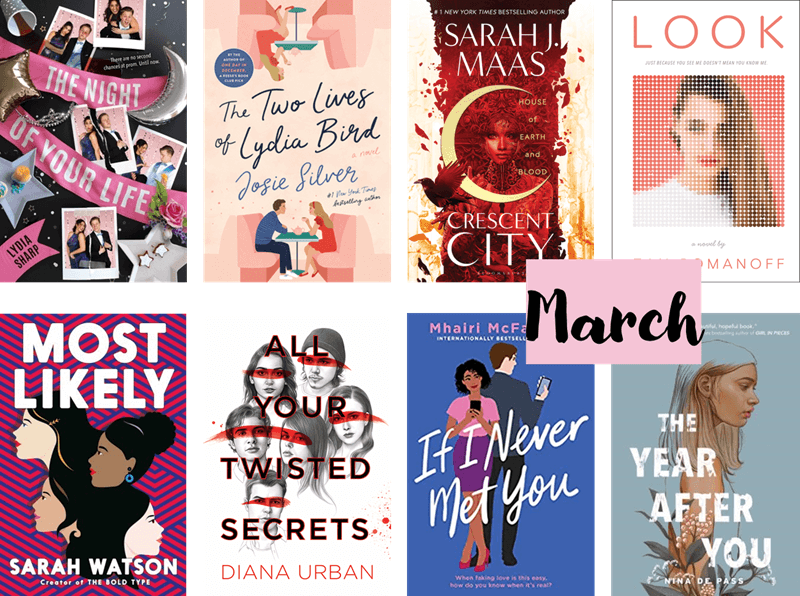 The Night of Your Life by Sharp | Groundhog Day trope alert! YES. This one is about JJ having the worst prom on repeat and, as always, try to figure out how to fix it.
The Two Lives of Lydia Bird by Silver | I should have written a separate post about 2020 releases that fall into the Lauren read-bait category, because here's another: parallel life! Lydia lives two lives (say that three times fast) at once, falling for someone new and getting wrapped back up in her deceased boyfriend.
Crescent City by Maas | I'm not sold on Maas's writing anymore, but I hope her shift into adult fantasy came with more editing lol. Not even sure what this one is about but I'm assuming I'll be reading it!
Look by Romanoff | Despite being a little bored of these books about influencers (haven't even read one but they're already annoying), I'm interested here. It's mostly because it apparently involved the restoration of an old Hollywood hotel.
Most Likely by Watson | This is a contemporary (companion?) series about four best friends. One of them will eventually become president, but which will it be?!
All Your Twisted Secrets by Urban | Most of this list is contemporary but here's a little variety: I'm pumped for this one. It's primarily because it features some read-bait for me: Breakfast Club-style group of people forced together… to pick someone in the group to kill.
If I Never Met You by McFarlane | McFarlane is one of those authors I've been eyeing for YEARS and for some reason haven't read yet. I even bought three of her books! That's uncommon for me from an "unproven" author. This one looks wonderful because it's a fake dating romance!
The Year After You by De Pass | I'm not usually one for heavier reads most of the time, but this one seems promising… mostly because it involves a boarding school 😉
You Deserve Each Other by Hogle | This one sounds so absurd and excellent. Basically, this couple hates each other three months before their wedding. Whoever calls of the engagement/wedding is forced to pay for it. It's enemies-to-lovers… but with a couple already together!
The Best Laid Plans by Lund | I'm always interested in books that discuss virginity as a social construct and I'm hoping that's what this does.
The Perfect Escape by Park | I've talked about this one a lot lately but I think it sounds like a fun companion series-starter, about coworkers at an escape room.
The Happy Ever After Playlist by Jiminez | While I didn't love Jiminez's debut, I'm genuinely so excited for this next story to follow the previous MC's best friend! It will be sad, I'm sure, but ultimately hopeful.
Redemption Prep by Miller | I feel like I've been watching this book and waiting for its release forever. I love creepy boarding schools! A girl goes missing and three people fight to find her.
Time of our Lives by Wibberly/Sigmund-Broka | I enjoyed one book by this author duo and definitely hope to read more of them in 2020 and beyond. This one sounds great.
Clique Bait by Valett | Despite being from a Wattpad author (these stories usually don't work for me), I'm always fascinated by revenge stories and trying to feel sympathy for someone who is more like a villain.
The Switch by O'Leary | It doesn't really matter what this is about because I loved O'Leary's debut and was 100% planning on reading her next release regardless of content.
Four Days of You and Me by Kenneally | This is another one that needs no explanation: I'm pumped for a new book by Miranda Kenneally! It's even BETTER that the synopsis is right up my alley too: it follows a couple's love story on the same date over four years.
The Tourist Attraction by Morgenthaler | I know a lot of people are suckers for books set in Alaska, so maybe I should pay more attention to them! Love the idea of a diner and resorts and bucket lists.
The Life and Medieval Times of Kit Sweeney by Pacton | I really enjoyed the ren faire setting of Well Met this year so reading this one about a medieval-themed restaurant seems almost as fun!
Chasing Lucky by Bennett | Again, no real need to describe why I'm excited about a Jenn Bennett book at this point, right?
My Summer of Love and Misfortune by Wong | This synopsis literally had me at "Anna and the French Kiss meets Crazy Rich Asians." Seriously, that's it.
The Summer of Impossibilities by Allen | I love Rachael Allen's books so far and this one sounds so good! Four girls are forced to spend the summer at a lake house where their mothers became best friend. They all have different feelings about it and the summer takes some interesting turns, I bet!
Beach Read by Henry | I've been talking about this one for a while too – I love both covers I've seen for this one and the plot: a romance writer and literary fiction writer stay at neighboring beach houses and challenge each other to write outside of their normal genre, helping each other along the way.
The Ballad of Songbirds and Snakes by Collins | I AM excited for this in general but I'm also not as huge of a Hunger Games fan as everyone else. I'll read it pretty quickly though I'm sure.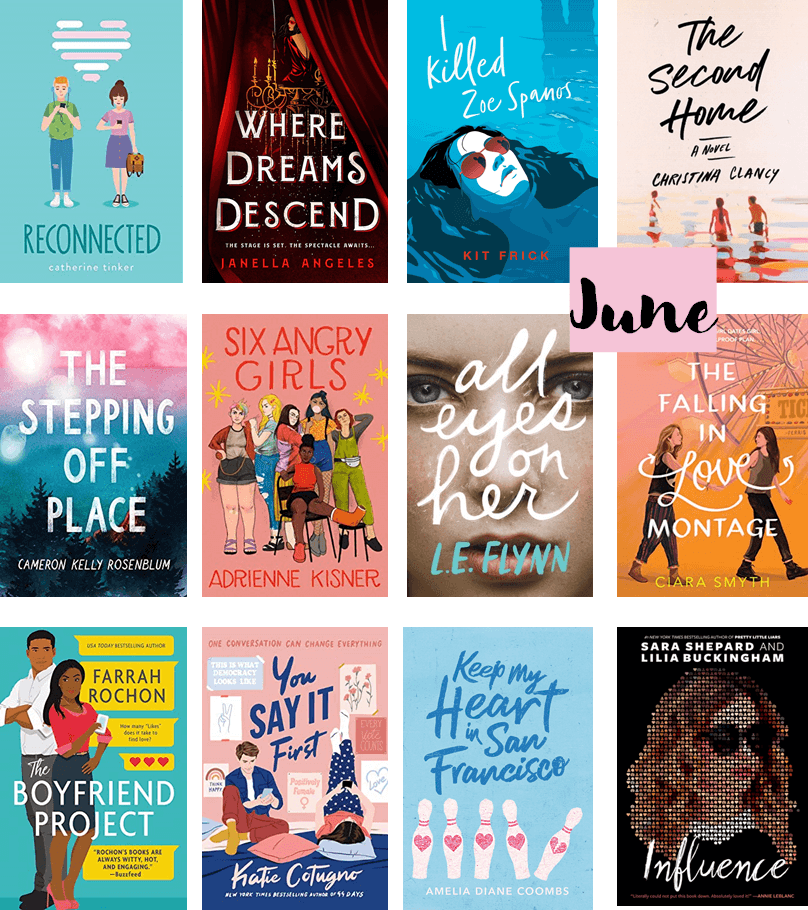 Reconnected by Tinker | This is another book I feel like I've been tracking for ages. Maybe because its a Swoon Reads title? I love the fact that the characters were best friends, had a falling out, and now come back together four years later.
Where Dreams Descend by Angeles | Here's another non-contemporary for you – a fantasy, at that! I've seen good early reviews for this one and am itching to read more books that remind me of Caraval, so hopefully this one does the trick.
I Killed Zoe Spanos by Frick | I still have yet to read Frick's book I have on my Kindle, but this one seems awesome. The Sadie meets Serial podcast mashup has me so damn excited. Gotta get my hands on this one.
The Second Home by Clancy | This book had me at Cape Cod setting, as usual. It's about three siblings coming together to decide the fate of their parents' house.
The Stepping Off Place by Rosenblum | Here's another slightly more serious and out of character book for me. However, adding in the "mystery" part has me ready to read it ASAP! The MC doesn't think her best friend died by suicide and sets off to investigate.
Six Angry Girls by Kisner | Let all the 2020 books be about angry ass girls, amirite? I think if you put the words "smash the patriarchy" in a synopsis, I will be down for it.
All Eyes on Her by Flynn | I enjoyed Flynn's mystery/thriller debut so this is a top priority for me in 2020! She's an auto-buy author for me after just two books in general.
The Falling in Love Montage by Smyth | YES. This title and cover got me right away and the book clearly involves two girls going on cheesy movie montage-esque dates and falling for each other.
The Boyfriend Project by Rochon | I've mentioned this one before. It reminds me of the Central Park Pact series, in that three women become friends after finding out they've all been duped by the same man. I'm PUMPED that Forever Romance snagged this one.
You Say It First by Cotugno | Another one I've talked about a lot already, I think. If it's by Cotugno, it'll be on an anticipated list for me.
Keep My Heart in San Francisco by Coombs | The cover got me right away – so cute! A girl and her ex-best-guy-friend have to save her family's failing bowling alley… and fall for each other in the process, of course.
Influence by Shepard/Buckingham | As usual, Sara Shepard is a favorite of mine and will always end up on these lists! Not overly interested in the influencing stuff, as I mentioned, but will do it anyways.
Related Posts