Anticipated Sequels for 2020
Top Ten Tuesdays were started by The Broke and the Bookish and are now hosted by That Artsy Reader Girl, where we make lists of our top ten books (or something else!) based on that week's prompt. The topics are provided ahead of time and can be found here. Book links bring you to Goodreads or my review.
I know that the "anticipated reads for the first half of 2020" prompt is coming up early next year, so I thought I would use this freebie prompt to talk about the next-books-in-a-series / sequels I'm most excited about for most of 2020 (not just the first half either!). I'm going by the Goodreads release date or year, so apologies if these change or aren't 100% certain, but that's what I'm going with for now!
---
"Legit" Sequels
This category contains books that are direct sequels to the previous book, for the most part (or from what I can tell!) There may be one somewhat exception to this rule, but these generally continue the plot from the previous book as a sequel and feature the same characters.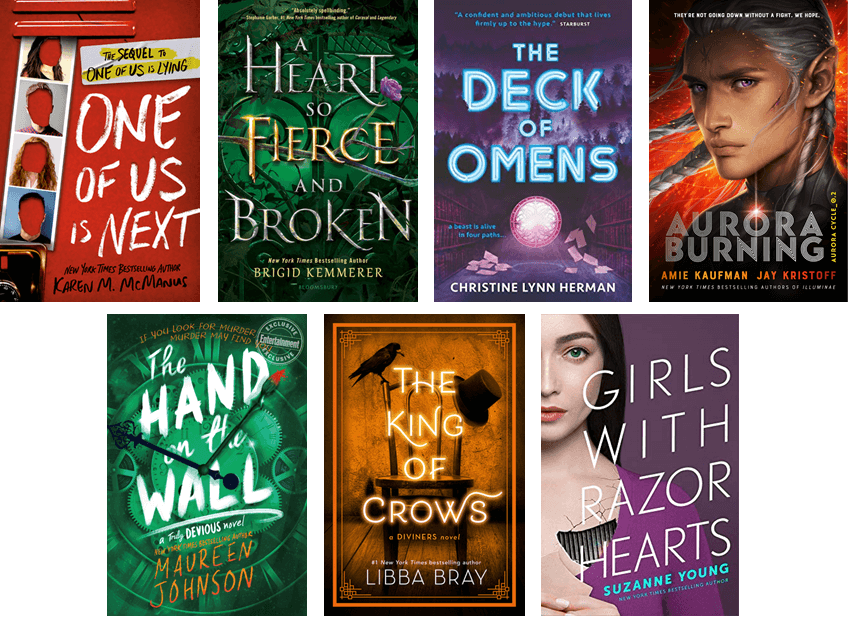 One of Us is Next by Karen M. McManus | I really loved the first book and was surprised to see a sequel get announced! You rarely get that in a murder mystery where things are fully wrapped up by the end of book one.
A Heart So Fierce and Broken by Brigid Kemmerer | I can't believe how long this book took me to finally get to. I ended up loving it! I believe this sequel follows a side character a bit more closely? but generally continues the plot from the first book, instead of acting as a standalone-ish companion.
The Deck of Omens by Christine Lynn Herman | This is another book series that I held on to FOREVER before finally reading… and I also loved it! The second one comes out early next year and I'm super ready to see what happens next.
Aurora Burning by Jay Kristoff and Amie Kaufman | I didn't like this nearly as much as their Illuminae books, but the ending got me interested in continuing the series. I miss the old formatting, if I'm being honest.
The Hand on the Wall by Maureen Johnson | I've been loving this series so far and can't wait to see how things wrap up! I'm pretty sure this is the final book…
King of Crows by Libba Bray | Lowkey my most anticipated on here, to be honest. I finally FINALLY read this series this past year, thanks to the Diviners Readalong, and adored every second of it. Libba Bray is masterful. I'm so excited and so damn nervous to read the finale. Fuck!
Girls with Razor Hearts by Suzanne Young | I'm always a huge supporter of Young's book and the series-starter here was thrilling. I'm sure the sequel will be more of the same!
---
Next in a Companion Series / Universe
These books include those that are set in the same universe as other books in the series, or would qualify as a companion book in the series. They have new characters (aside from some repeat side characters and former MCs making appearances) and follow brand new plots in likely the same setting as the previous book(s).
Come Tumbling Down by Seanan McGuire | I always enjoy these books but never love them… yet I always highly anticipate them and read them ASAP after release? I don't get it. But I AM ready to learn more about Jack  and Jill! This is probably technically a companion book but it does follow characters who had a whole book to themselves previously.
Starting Over at Blueberry Creek by Annie Rains | This will surely be a review copy for me but I'm still super excited, as always, to continue reading the Sweetwater Springs books!
Undercover Bromance by Lyssa Kay Adams | I enjoyed the first book in this companion series and the premise is wonderful, but the main characters kind of annoyed me. I'm excited to read about two new people but keep up with the same general males-reading-romance book club.
The Best Man Plan by Jaci Burton | I read the novella series-starter (listed as #0.5 in the series) for the holidays and loved the setting of Red Moss Vineyard! I can't wait to read more about this family-owned business and everyone involved.
10 Things I Hate About Pinky by Sandhya Menon | I was unsure if I'd even put this on here since I have an egalley of it already and could just read it, but I had to give it a shoutout! This takes place in the Dimple/Rishi universe but is about Pinky.
Once Upon a Con #3 by Ashley Poston | Currently untitled, this book is a Beauty and the Beast retelling at the same con we've read about for two other books so far. Excited and nervous…
The Nobleman's Guide to Scandal and Shipwrecks by Mackenzi Lee | TOTALLY did not realize we were getting another book in the Montague Siblings series! I'm super duper here for it; I love these.
Well Played by Jen DeLuca | I adored the ren faire setting of WELL MET but again, didn't love the characters? I hope to enjoy this one a bit more! I'm not sure what or who it's about yet, but I'm hoping the MC's sister?
Related Posts