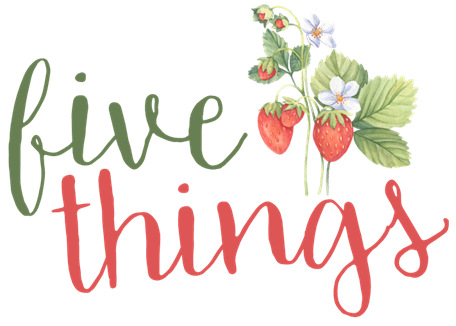 I used to post a Five on Friday every once in a while, but then my Lauren Lately wrap-ups (and more personal posts around here like On My List, Currently, lifestyle or makeup stuff, etc.) took over my need for a Five on Friday. They used to just share five things I was thinking about, doing, buying, loving, etc. Many of my bloggy friends have started similar themed posts on Fridays (Cristina has the wrap-up kind and Kay has more recommendations based on a weekly theme) and I decided to kind of bring it back a little in a different format. I'll be sharing my thoughts or recommendations on a specific topic whenever I feel the need.
This week I'm chatting about… football!
---
The Panthers won last weekend by kicking a game-winning 63 YARD FIELD GOAL.
The Panthers and the Giants somehow always find a way to make their games interesting, even though they have no real rivalry. The last time they played each other in 2015 was when this GIF of Cam Newton became popular:
That year, OBJ and Josh Norman antagonized each other the entire game. The Panthers dominated most of it, then allowed the Giants to come back, and then squeaked by with a victory in the end. I'll be honest, the Panthers love getting ahead, allowing a comeback, and then barely getting a win in the end… but it's even more dramatized with the Giants for some reason.
This game was no exception. There were terrible calls by the refs (in favor of both teams, at certain times) and very odd play-calls by the Panthers in the final minute of the game. In the end though, they set up for a 63 yard kick, which has only been successful from this distance FOUR other times in history and the longest kick ever happened once from 64 yards. Graham Gano, the fucking pro that he is, wailed the kick through as time expired. It's actually tied for the longest game-winning field goal in history… the last time was in 1970.
Chris and I were SCREAMING and no lie, my throat hurt the rest of the afternoon. I celebrated with a Shipyard Pumpkinhead in my Panthers glass. It was quite a game with an even wilder ending.
---
The refs are… rough this season.
I complain about officiating a lot because to be honest, it can make or break most games. In the Browns-Raiders game a couple of weeks ago, the Raiders were screwed when they blew a play dead… just as Marshawn Lynch broke out of tackles and could have had a breakaway touchdown. Later that same game, they called a pretty generous spot for the Raiders that allowed them to pull ahead and win the game.
I always get mad at people who say certain teams won because of poor officiating and generous calls, but usually that's because DURING the game, anything can happen. Sure, there's better field position that can allow for scoring, but there's always a chance the team wouldn't have scored. Or they could have turned the ball over. Anything can happen. However, the last minutes of a game? Refs can easily impact it and not give the other team time to get back.
I will literally never forget this call in my life. #DezCaughtIt
There have been so many questionable calls this season though in EVERY game. The rules are never clear enough, the refs can't agree, and they're inconsistent. I'm all about protecting the quarterback (especially because my QB gets walloped more than anyone else — and yes I'm talking about BEFORE he starts running, okay?), but these "roughing the passer" calls can be baffling. On top of that, I will never understand how a roughing the passer call can offset with someone being offsides. If you really want to protect the QB, let them balance out to an extent but there should at least still be an automatic first down and/or five yard penalty.
---
There are so many games ending in overtime (and ties!).
Overtime stresses me the fug out but at least it's not sudden death like college football. I'm always a nervous wreck even when my team isn't playing. There have been so many games with overtime this season! I don't know what it is. On top of that, because they shortened the overtime to 10 minutes instead of a full 15-minute quarter, there have been even more tie games than before.
I think it keeps things really interesting and I mean, MORE football is always better, but it's just an odd phenomenon this season!
---
I'm starting to notice more issues with coaches vs. players making bad decisions or play calls.
I used to never understand the difference between coaches making bad calls or players making bad choices on the field. There are designed plays, like a read option for example, where the QB gets to choose the best play. Sometimes they make the wrong choice, sometimes they make the right one. Otherwise, coaches are usually making the calls and the players just follow along.
The Panthers' coach is nicknamed Riverboat Ron because he developed a reputation for being a "riverboat gambler" or something, as it relates to going for it on 4th down instead of punting. I love this about him most of the time because it usually pays off. When your quarterback is 6′ 5″ and 245 lbs, he can make a 4th and 1 go pretty quickly.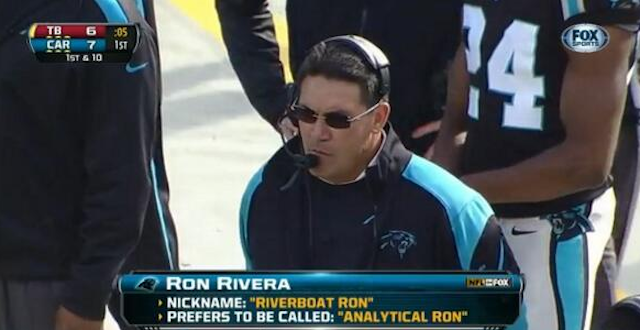 I was watching the Eagles-Vikings game this past weekend and constantly wondering what was going on in Pederson's head when making play calls. It's fun to feel like you're smarter than the coaches even though you probably aren't. 😉
---
Favorite non-Panthers players
I thought it would be fun to end this on a more positive note and talk about some of my favorite players that don't play for the Carolina Panthers! I'm partial to my parents' teams as well (the Cowboys and Raiders) so I'll try not to make this all about their teams either 😉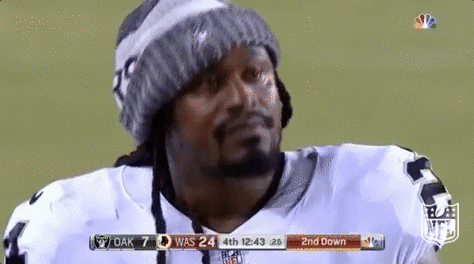 Calais Campbell, Jaguars | I love him almost purely because of his voice. Yes, he's an amazing player and seems like a good person, but his signature deep voice gets me EVERY time.
Josh Gordon, Browns | Hell yes I am putting "Browns" as his team instead of his current team, which will not be named on this blog. I've always loved him because he is SUCH an explosive player. He's been through so much over the years and it's wonderful that he has been given many chances to make something of himself. I love his drive and honesty about his struggles. I'm bummed he's on a team I absolutely LOATHE but hope that it helps him keep going and maintain success.
Brandon Marshall, Seahawks | He's another person who has been very honest about mental illness and trying to be the best he can be. He's hopped around teams a lot unfortunately but I've always loved him, as a player and as a person/mental health advocate.
Marshawn Lynch, Raiders | I realistically wouldn't have put him here if he didn't currently play for the Raiders. I love how intense and passionate he can be while also having the most carefree, unbothered attitude about everything else. He's an enigma IMO and a beast on the field (hence #Beastmode). I love that he came out of retirement to play for his favorite/hometown team before they move to Las Vegas.
Related Posts