I received this book for free (hey, thanks!) in exchange for an honest review. I promise that this does NOT affect my opinion of the book or the content of my review. For real.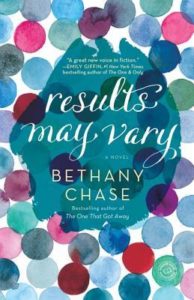 Results May Vary
by
Bethany Chase
on August 9th 2016
Also by this author:
The One That Got Away
,
One Night at the Lake
(336 pages) •
Goodreads
•
Amazon
•
Barnes & Noble

From Bethany Chase—whom bestselling author Emily Giffin calls "a great new voice in fiction"—comes a wise and delightfully relatable novel about a woman's journey to rebuild her life, and her heart, after a stunning betrayal.

Can you ever really know the person you love?

She never saw it coming. Without even a shiver of suspicion to warn her, Caroline Hammond discovers that her husband is having an affair with a man—a revelation that forces her to question their entire history together, from their early days as high school sweethearts through their ten years as a happily married couple. In her now upside-down world, Caroline begins envisioning her life without the relationship that has defined it: the loneliness of being an "I" instead of a "we"; the rekindled yet tenuous closeness with her younger sister; and the unexpected—and potentially disastrous—attraction she can't get off her mind. Caroline always thought she knew her own love story, but as her husband's other secrets emerge, she must decide whether that story's ending will mean forgiving the man she's loved for half her life, or facing her future without him.

Compassionate and uplifting, Results May Vary is a bittersweet celebration of the fact that in love and in life, we rarely get exactly what we bargained for.
My Thoughts
Honestly I went into this book with pretty high expectations. I really loved THE ONE THAT GOT AWAY and had been anticipating Chase's next novel ever since. After the end of her debut, there was an excerpt for her next story. It was slated to be a companion to THE ONE THAT GOT AWAY and I was soooo pumped. Later, Chase talked about how her editor fell in love with this story instead, and wanted to publish them in a different order. I was slightly disappointed but still VERY excited to read her next story… no matter which one it was!
Turns out, I had absolutely no reason to be nervous; my high expectations were truly met and definitely exceeded. This book – almost instantly – became my favorite book of the year. No exaggeration. Within the first page or two, I just had this weird feeling come over me that this book was going to be fantastic. I was completely captivated from the first page and never wanted to stop reading. I could see SO much improvement between her debut and her sophomore novels. That's saying a LOT though, because I was incredibly impressed with her debut as it is!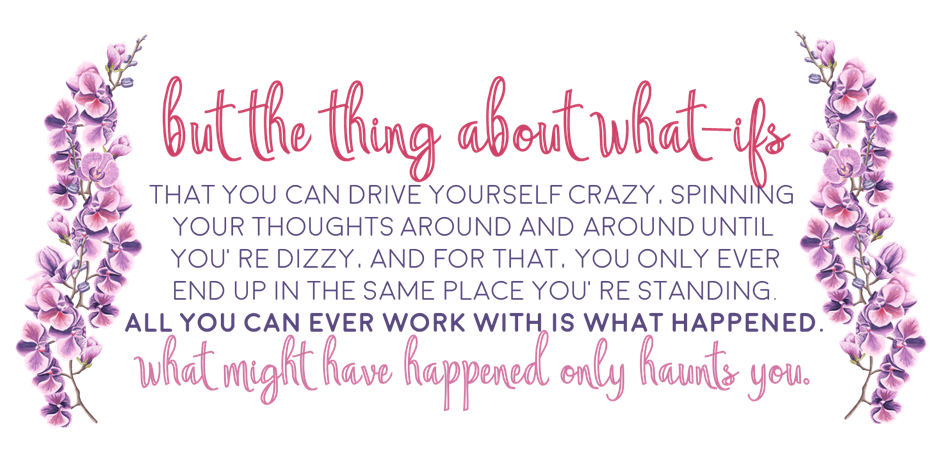 I always think I'm more of a plot-driven reader instead of character-driven. I like the characters to have personalities and be fully fleshed out, of course, but I more want there to be action and a story. Some writers change that for me. This book was really character-driven because Caroline is finally able to find herself without her longtime boyfriend and husband by her side. They'd been together since high school and she really hasn't known anything else. When she finds out he cheated… with a man… she's confused and heartbroken and angry. She has no idea how to react because her entire perception of her life partner has changed. How could he keep something so huge from her for all of these years? This book follows Caroline as she tries to figure out the answer to that question, as well as either move on or fix her marriage.
I loved seeing Caroline's relationship with her sister become strengthened throughout the novel as well. Her friendship with Jonathan was also seamlessly integrated into the story. I don't want to spoil anything about the romance because I really think you'd like it better to see how things play out, but let me just say: I'm thankful there wasn't a love triangle (or square, even!) in this story. Chase handled the romantic elements perfectly.
Caroline and Adam were a bit on the pretentious side at times, if I could have one complaint about the story. It was great to see her grow away from that a little bit. She was kind of rigid in her thinking and her routine in the beginning of the story. I could see why she fell for Adam and why she had a tough time moving on, even though there were definitely reasons not to stick around with him. The entire story felt so real to me.
One of the highest compliments I could give an adult contemporary fiction writer – for me at least – is a comparison to Taylor Jenkins Reid. I love her novels an insane amount and am always in love with how she writes. She focuses on the characters and their development – how they get through certain (major) bumps in the road. This book was very reminiscent of TJR's for me, so I would highly recommend checking out Bethany Chase if you're a fan.
In case you couldn't tell, I LOVED this book. I'm so happy I read it and wish I got around to it sooner. This should be on everyone's radar if they love contemporary romance.
Guest Post from Bethany Chase:
On the Setting of the Berkshires
I set Results May Vary in the Berkshires because, like Caroline, I went to college at Williams and fell in love with the region. It reminds me a little bit of the Virginia Blue Ridge where I grew up—I am a mountain girl, through and through—but it has its own flavor, which is very much a New England one. It has beautiful old 18th-century houses, and a winding river or two, and maple trees everywhere that really do turn just the most outrageous colors of coral and red and gold in October.
The area is an interesting cultural hotspot—in Williamstown itself you have not just the college but also the world-class Clark Art Institute (I debated long and hard between having Caroline be a curator at the Clark vs MASS MoCA, but went with the latter in the end because it suited the plot better), and the Williamstown Theater Festival. Nearby you have the Tanglewood concert series, the beautiful Hancock Shaker Village, and then of course MASS MoCA, which is not just one of the largest contemporary art museums in the country but also a multi-disciplinary facility that hosts music, dance and theater as well as visual art. North Adams is interesting because it is a former industrial town that has been in a resurgence for the last 15 years or so, which is very intentionally led by the museum. One of the reasons I think the region is so great is that it has the beauty and charm of a small town, rural environment, yet packs this amazing cultural punch that far exceeds what you might expect from its population.
And, of course, it is beautiful. Those leaves! Those mountains! Those velvety white snowstorms, and the way they make you hunker down inside in front of a roaring fire. And then the spring that slinks slowly over the landscape, apologizing for the months that preceded it, until it bursts into the full green roar of May. I hope everyone gets to experience the Berkshires in their lives, not just in one season but in all of them.
Excerpt
Chapter 1
We two, you know have everything before us, and we shall do very great things—I have perfect faith in us. —Katherine Mansfield to John Middleton Murry, May 18, 1917
There are these two little words I know, that we all know; we learn them so early that we can't remember when we did. They have a gravitational attraction to each other, I would say: the one word love, and the other word story. 'Cause you can have a story without love, sure; but when it comes to the kind of love you fall in, whether it's a slow glide or a blind plunge over the edge . . . you can't have a love without a story.
I thought I knew mine.
Adam and I had promised we would grow old together, and we had already started to. The finest creases had etched them- selves into the tender skin at the corners of his eyes, delicate as spider silk. They weren't visible most of the time; only in our bed, when the sunlight elbowed in on us and my eyes opened to his face. I remember brushing my fingertips against them, the morning of the day I found out, in the stillness after I switched off my alarm. I remember the little pat on the butt he gave me as I hurried out the door to work. The way he nodded when I reminded him to be ready to leave by two, so we could make it to the city on time.
Because the thing that kills me the most, when I think about that day, is how damn eager I was to get there. The three of us were spilling along the Chelsea sidewalk through the early evening warmth, dodging across Twenty-first Street in front of an oncoming delivery van, hurrying to the gallery because the opening had started twenty minutes ago and the crowd around the photographs would be starting to thicken. I was walking so fast that I stubbed the toe of my favorite wedges on a piece of fractured concrete, and the ugly scratch across the beige leather made me so irritated, because at that moment, it was the most upsetting thing I could imagine going wrong all evening.
I had been looking forward to it all week. A trip into the city with Adam: the long drive from the Berkshires, down the lush green tunnel of the Taconic Parkway, then meeting up with Jonathan for this gallery opening, followed by dinner at some new restaurant in the Meatpacking District that one of Jonathan's chef buddies had opened. I could hardly wait for the people watching: the gallerinas with their sleek ponytails, and the col- lectors, and the wannabe collectors, and all the other art world acolytes who would be idling around the party, drifting up to and away from conversations like fireflies in my yard. I would wear my new sundress and bask in the familiar pleasure at the pride Adam took in me when we were out together. After the meal, we'd stumble home to our little walk-up apartment at one o'clock in the morning and fall asleep after some tipsy sex, lulled by the distant horns of the cabs on Ninth Avenue.
And, of course, I was excited to meet Patrick, the photographer whose show it was—I'd had a migraine the night of the party for his representation with Jonathan's girlfriend's gallery a few months back, though I'd made Adam go without me. I've thought about that, since: whether things would have turned out differently if I'd been by Adam's side that very first night. I've wondered it more than once. I've wondered what would have happened if I'd missed the night of the opening, too. But the thing about what-ifs is that you can drive yourself crazy, spinning your thoughts around and around until you're dizzy; and for all that, you only ever end up in the same place you're standing. All you can work with is what happened. What might have happened only haunts you.
So the night of Patrick's show, I was hurrying.
Beside me, Jonathan was hurrying, too; his girlfriend was going to be pissed at him for being late, because Jonathan is the kind of man you want to show off when you're dating him. Look what I snagged! I captured him myself, from the wild.
But Adam, I remember, was quiet. I wonder now what was shuffling through his brain as we careened toward the party. He must have been nervous. His mind must have been one long unsettled stutter of It's going to be fine; he's not going to say any- thing. He has no reason to say anything. He won't say anything. He wouldn't. He won't. I honestly believe that Adam had no idea what was about to happen, because as selfish as he is, as heedless and self-indulgent and emotionally greedy as I now know him to have been, he has never actually been mean.
It seems strange now that I didn't notice how quiet he was being, but of course there's no reason I would have paid it any particular attention on that particular walk on that particular evening. I do remember, though, that he didn't laugh at the comment Jonathan made about Patrick's name when we spotted it on the poster in the gallery's window.
"By the way," Jonathan said, pointing at the poster, "Patrick Timothy? Alicia told me his real name is Patrick Rubinowitz. But apparently that didn't sound cool enough."
"WASP-washing one's ethnic surname is a time-honored tradition, Jonathan," I said.
"Yeah, for actors and musicians. Artists are usually a little more real than that."
"Maybe you just don't understand," I said. "Your last name is five letters long."
"True," he said, and swung open the door to the end of my marriage as I knew it.
It was quite a big deal, this opening. Patrick Timothy—or Patrick Timothy Rubinowitz, as his birth certificate would have it—was the (latest) toast of the New York art scene. Only twenty-five years old, he was being hailed as the next Mapplethorpe; in the year or so since he'd started coming to people's attention, he'd been universally anointed by everybody who mattered as photography's Next Big Thing. In an artistic landscape where for so long the focus had been on what could be done with the digital, Patrick was obstinately old-school. Critics fawned over his impeccable classical technique, the richness of light in his images, the depth of contrast and range of tone he coaxed from his film. And, of course, the beauty of his compositions.
The rooms of the gallery rattled with activity. Voices and laughter ricocheted off the walls and polished concrete floor, competing in volume with the Vampire Weekend song blazing out of the speakers. The crowd was exactly as I had expected: gallery girls, their equally polished but not-quite-as-artsy friends who roamed the space like nervous gazelle, and legions of downtown chicerati in Warby Parkers and high-water trousers. Next to me, a cat-faced woman flung bangled wrists wide and exclaimed to her damp-looking assistant, "This photograph . . . is . . . stunning. I have to have it for the Zolkows' dining room. Saskia . . . will . . . love it."
As I reached for a second glass of cold sauvignon blanc from a passing server, Jonathan poked the side of my waist. "Easy now, darlin'. Don't want you gettin' blitzed before we even make it to dinner."
I smacked his hand away and seized my wine. Jonathan has been teasing me about overdrinking for the last fifteen years, ever since the night my freshman-year roommate introduced me to vodka—cleverly concealed in cranberry juice—and my stomach rebelled several hours later by rejecting the vodka and the cranberry juice all over the floor of Jonathan's dormitory bathroom. Since my roommate had disappeared into the filthy bedroom of one of the rectangle-shaped football players with whom Jonathan had been assigned to share a suite, Jonathan was the one who shepherded me back to my room across campus and somehow, out of that ignominy, our friendship was born.
I turned to see if Adam needed another glass, but he was scanning the room for something, or someone.
"Babe, wine?"
He shook his head without looking at me. "Nah, I'm good." "What about this photo?" I said, pointing to the one the decorator had been so enamored of. "Do you agree that Saskia . . . will . . . love it?"
But instead of the eager humor I'd expected to send him leaping into the game, all I saw in his face was confusion.
"Never mind," I said, and stepped closer to the photograph I had been studying. Shenanigans with his honest Jewish name aside, Patrick was extravagantly talented. The subject of his work was bodies. Sometimes his own, sometimes other people's, but, in this exhibition at least, they were all men. There were a few images of Patrick with his subjects, too—nothing played for shock value, simply snapshots of the interaction between two bodies, some more overtly sensual than others. The emphasis was on the shapes created: the contrast between two different tones of skin, or the negative space defined by the curve of a hand. Patrick presented the swells and dips and curves and ridges of the human body as a landscape, in lush black and white. Most of the images were close-ups, rendering the subject almost abstract—here the arch of a flexed calf, there the graceful terrain where the shoulder merges into the neck. I wondered: Did he already have the compositions in his mind's eye when he pressed the shutter? Or did he set the camera to keep shooting over the space of a few breaths, and then go back through the negatives to see what arrested his attention?
A voice behind me interrupted my scrutiny. "Hey, guys." Patrick himself was standing arm in arm with Jonathan's girlfriend Alicia, or, should I say, Patrick was tolerating Alicia while she dangled off him, giggly and friendsy-wendsy. Aside from his unquestionable talent, it was easy to see why people got so worked up about him—the kid was beautiful. He had the kind of face that cried out for magazine editorials: full lips, arresting cheekbones, puppy-dog brown eyes with curving lashes, smooth tan skin. A slightly cleft chin added dimension to his otherwise regular bone structure. This was a face that could launch a thousand crushes.
There was an awkward moment while I waited for Jonathan or Adam to introduce me, then I gave up and offered my hand. "Hi, I'm Caroline, Adam's wife. It's great to finally meet you."
"I'm glad to meet you too," Patrick said. His handshake was firm, and it lingered. "You had a headache the night of the party, right?"
"I did. But I'm in fighting shape this evening," I said, lifting my wine glass briefly. "Your work is remarkable. Absolutely gorgeous."
"Agreed," said Jonathan. "Incredible stuff, man."
"Thank you," Patrick said. He was studying me so intently that my skin prickled with self-consciousness. It wasn't a sexy stare— Patrick's artwork broadcast resolute disinterest in women—but there was a curiosity about it that I wasn't expecting. The guy was looking at me like I was a foreign exchange student who'd showed up in the middle of homeroom. In a Stormtrooper outfit. "You had a little help showing it off," whined Alicia in a way I suppose she thought was cute, and bumped her hip against him chidingly. Patrick didn't remotely strike me as the kind of gay man who calls his female friends "gurlfriend" and swaps catty observations from behind fruity cocktails, but apparently Alicia had never gotten that memo, because she was trying to make it happen. The predictable effects of Jonathan's Tennessee growl and rugged, unstudied masculinity had led me to dub him "the Panty Blaster" by the end of our freshman year—and when he got lazy, he tended to end up with physically ripe but intellectually low-hanging fruit. And then we all suffered.
"Indeed I did," Patrick said, favoring Alicia with a lazy smile. His eyes drifted to Adam, like he was expecting something.
"It's great," said Adam, flicking his gaze to Patrick briefly be- fore returning it to the gallery floor.
"Thank you, Adam," murmured Patrick, after waiting a beat to see if my husband would elaborate. "Well, if you guys will excuse me, I need to continue with the mix and mingle routine. Please go ahead and drink all of our wine."
After he drifted away, I resumed my study of the photographs. They really were something special. The museum where I worked, MASS MoCA in northwest Massachusetts, didn't ac- quire artwork for a permanent collection, but a vital part of my job as a curator was to keep my eye out for developing talent to potentially showcase in an exhibition.
"Hey, Alicia," I said, tapping her on the arm. "Can we talk a little shop for a few minutes?"
"Suuuure!" she breathed, as if I'd offered her a free first-class flight upgrade. And it belatedly occurred to me that, of course, this was why I had been invited here tonight . . . not because I was Jonathan's friend. Because I was a museum curator. And now I was trapped arm in arm with her as she wheeled us around the gallery, pointing out some of her favorite pieces, extolling Patrick's talent, his craftsmanship, his vision.
"You know what?" she whispered conspiratorially at one point. "There are a few other photographs I want you to see. Patrick didn't want us to put them in the main show, but I don't know why, because I think they're some of his strongest work."
My interest was piqued, as it was meant to be. "Sure, yeah, I'd love to see them."
"Come on, follow me!" she said, and towed me toward the back office of the gallery.
"Top secret," I mouthed to Adam, as she pulled me past him, and he instinctively moved as if to come with us. Just as he detached from his group, though, he was hailed by a filmmaker friend of his mother's. I smiled to myself, knowing how the un- satisfied curiosity would itch him.
Inside the storage room, the noise of the party was muffled. As I watched Alicia in her tight dress and Louboutins struggle to manhandle a couple of large, crated canvases out of the way, I almost felt bad for her, but . . . best to let her handle them. Wouldn't want to be held liable if I damaged anything.
"Aha!" she said, tugging forward a crate with a number of mounted, unframed photographs inside. "Here we go."
As soon as she lifted the first print out of the crate, I could tell that these were different—and I could see why Patrick had wanted to withhold them from the main show. Although, curiously, he'd had no problem turning them over to the gallery for sale. They were similar to the rest of the collection in that they were beautifully composed nudes, but these had a different character. Gone was the frozen, art-directed style of the other photographs; these were vivid, active. Full of erotic tension. As with the other images, none of these overtly depicted sex; their power derived from what was implied, yet not shown. Patrick could only have taken them in the midst of making love with his partner—the images crackled with sensuality.
"Oh wow," I said, feeling at once turned on and uncomfortably voyeuristic. Which, of course, is exactly how Patrick intended the viewer to feel. The face of his lover was cropped from all of the photos; curiosity tickled like a feather on my skin.
"I know, right?" said Alicia. "They're something."
"They are," I said. She was reaching the end of the stack now. I was pretty sure none of these were going to be right for the museum—we didn't shy away from nudes, obviously, or erotic undertones, but these were probably too strong to be hung in a family-friendly museum. The photographs in the main show were better suited. But still, I wanted to see all of them. I wondered what Patrick's partner felt about these intimate images being put up for sale—if he even knew.
A burst of laughter and conversation broke my concentration as the door opened and Adam poked his head inside.
"What are you girls doing in here?" He sounded irritated, almost strained.
"I knew you couldn't wait until I came back. Alicia's showing me some of Patrick's other work," I said. "Come see."
Hesitantly, he walked forward.
"Aren't these amazing?" I said. "Probably a little too risqué for the museum, but they're so powerful."
He nodded so faintly I wasn't sure his head had even moved.
Come on, I thought. You cannot be this weirded out by the sight of two guys together.
Alicia pulled one more photograph from the case. It was another arresting image: Patrick's partner was leaning diagonally across the frame, his body cropped between chest and thighs. He was caught in a half-turning motion, tension pulling the side of his torso as he moved. Patrick was kissing him, just above his hip, and one of his arms was bent in a V across his partner's body, down and up. I studied the lines of Patrick's arm, the way his skin made such a bold stripe of contrast across his lover's body. The shutter had frozen him in a breathtakingly sensual moment of the kiss—I could see the negative space between his arched lips and his partner's skin.
And then, I noticed it. A little blob of a birthmark, floating under the right side of the partner's ribs, almost out of sight. As if someone had daubed him with a paintbrush, just the slightest little touch, leaving behind the shape of a checkmark.
"Hey, Adam," I said, laughing. "Check it out, this guy has a birthmark exactly like yours! Isn't that—"
But when I turned and saw my husband's face, the words piled up in my throat. He was staring at the photograph in shock, his face knotted with horror. It wasn't some other man with an oddly identical birthmark in Patrick's photograph.
It was Adam.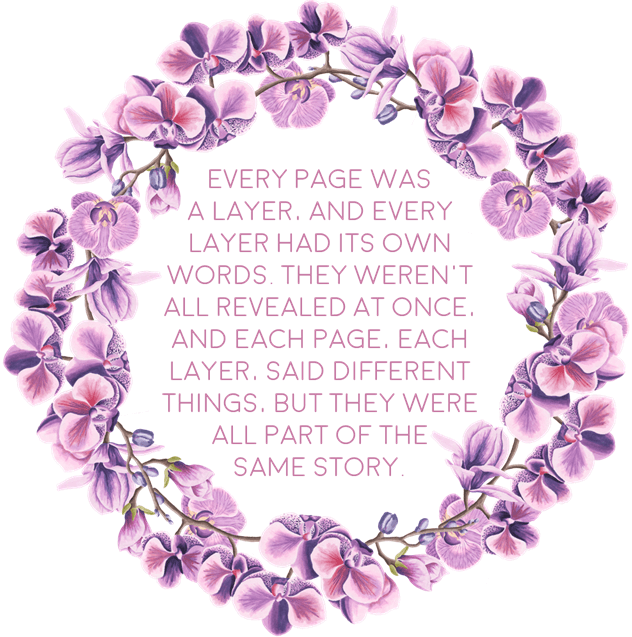 About Bethany Chase
Website/Blog /// Twitter /// Facebook /// Goodreads
After growing up in the foothills of the Northern Virginia Blue Ridge, I headed to Williams College for a degree in English. Only in the spring of my senior year did I begin to consider how exactly I might earn money with a degree in English. And this gave rise to the logical answer: interior design!
I've been working in the architecture & design industry for over eight years now, but when I'm not hanging out with mess-makers and paint-slingers, I'm writing. And when I'm not writing, I enjoy photography, karaoke, and complaining about being flat-chested.
Related Posts