I received this book for free (hey, thanks!) in exchange for an honest review. I promise that this does NOT affect my opinion of the book or the content of my review. For real.
One Night at the Lake
by
Bethany Chase
Genres:
Adult
,
Contemporary
,
Mystery/Thriller
Published by
Random House
on June 18, 2019
Also by this author:
The One That Got Away
,
Results May Vary
Format:
eARC
(304 pages) •
Source:
Publisher
Goodreads
•
Amazon
•
Barnes & Noble
A tragedy on a hot summer night at a lake house forever alters the lives of two best friends—and the man they both love. But the truth isn't as simple as it appears in this intricate novel of love, friendship, betrayal, and forgiveness in the tradition of Miranda Beverly-Whittemore's Bittersweet.

Leah Tessaro has been waiting for this moment for a long time: Her boyfriend, Ollie, is taking her to his family's home on Seneca Lake for a week of lazy summer bliss, boating, and barbeque. The couple has been together for four years, and Leah is convinced that Ollie is finally going to pop the question. And Leah can't wait to share the joyous news with her best friend, June Kang, who is joining them on their getaway, and whose presence will make everything feel more real.

Seven years later, the moment June has been dreading has finally arrived: Her fiancé, Ollie, is taking her to his family's lake house. But this is not an ordinary visit to an ordinary place; it is a house haunted by June's long-buried memories of her lost friend, Leah—and the connection that appears to remain between Leah and the man for whom June's love is as deep as her sense of foreboding.

Alternating between the two women's vibrant voices, One Night at the Lake is a gripping novel that explores a complex tangle of friendship, loyalty, and betrayal, all driving toward one question: What exactly happened to Leah on that hot summer night?
I'm genuinely shocked I waited this long to read ONE NIGHT AT THE LAKE. I've absolutely adored Chase's other books – they're some of my all-time favorites. One of my book clubs decided months ago that they wanted to read this one but they needed to wait until it was released… unlike me. I just have the worst memory so I kept putting it off and now here I am in July. I DIGRESS – on to the book!
This book was very much not quite like her other books. I can't say that it's a bad thing, by any means, but it was my least favorite from her so far. I like that she had a bit more mystery in this one (not majorly – I would still classify this broadly as contemporary fiction but not necessarily romance). I definitely wanted more development in some spots. I hate to say this too but I didn't really like Leah… or June that much either. It made a lot of chapters either frustrating or kind of boring as a result. June was a very bland character for me and Leah was too much on the opposite end of the spectrum… she was annoying.
I liked how well the chapters alternated, going back and forth across time. June's took place in present day, when she first returns to Seneca Lake with her now-fiancee (ex-boyfriend of her friend Leah, who died that summer 7 years prior). I thought that Chase masterfully wove the story back and forth, allowing for crossovers and similarities. The ending was well-timed and I was so eager to get back to Leah's chapters after a while to finally learned what happened to her.
The twisty parts toward the end were simultaneously obvious and predictable while also feeling out of nowhere. Without spoilers, the relationship between June and Ollie never felt genuine to me (View Spoiler »so learning that the two of them always had feelings for each other lingering in the background wasn't fully believable. I didn't see it or feel it in the "past" chapters but I guess that's because Leah herself didn't notice it and she was narrating them. « Hide Spoiler). Anyways, I still would recommend this book in general because I will never NOT recommend a book by her, I presume! She did a beautiful job capturing the Finger Lakes and I certainly need to make my way up there for vacation at some point.
---
I received this book for free (hey, thanks!) in exchange for an honest review. I promise that this does NOT affect my opinion of the book or the content of my review. For real.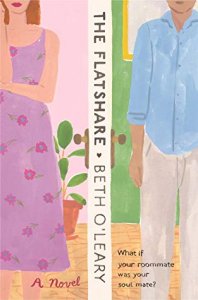 The Flatshare
by
Beth O'Leary
Genres:
Adult
,
Contemporary
Published by
Macmillan
on May 28, 2019
Also by this author:
The Switch
,
The Road Trip
,
The No-Show
Format:
eARC
(325 pages) •
Source:
Publisher
Goodreads
•
Amazon
•
Barnes & Noble

Tiffy and Leon share an apartment. Tiffy and Leon have never met.

After a bad breakup, Tiffy Moore needs a place to live. Fast. And cheap. But the apartments in her budget have her wondering if astonishingly colored mold on the walls counts as art.

Desperation makes her open minded, so she answers an ad for a flatshare. Leon, a night shift worker, will take the apartment during the day, and Tiffy can have it nights and weekends. He'll only ever be there when she's at the office. In fact, they'll never even have to meet.

Tiffy and Leon start writing each other notes – first about what day is garbage day, and politely establishing what leftovers are up for grabs, and the evergreen question of whether the toilet seat should stay up or down. Even though they are opposites, they soon become friends. And then maybe more.

But falling in love with your roommate is probably a terrible idea…especially if you've never met.

What if your roommate is your soul mate? A joyful, quirky romantic comedy, Beth O'Leary's The Flatshare is a feel-good novel about finding love in the most unexpected of ways.
Let me take you through this rollercoaster experience. I wrote my review as I was reading so you'll see my exact progression of thoughts and how things changed…
I thought about quitting this book about a hundred times in the first 20% or so. Oh my god. Leon's chapters absolutely killed me! The book alternates between Tiffy and Leon. Their personalities are super different, with Tiffy being bubbly while Leon is no-nonsense. The way the author decided to differentiate between the two personalities and beef up the fact that Leon is a straight-to-the-point kind of guy was to write his chapters primarily in sentence fragments? As you can tell, I can SEE why this was done and what the author was trying to accomplish when emphasizing the kind of personality he has, but I feel like other writers would be able to do this without compromising the readability of their book. You can show his personality through his actions and thought processes, instead of making his thoughts in fragments as if he somehow doesn't have time to think a full thought out. After wanting to throw my book for a long time when reading, I decided to bring the audiobook in more often. I always figured I'd alternate the two formats but it became a necessity to listen a bit more than read.
The overall premise of the book is… odd. Do people do this in real life? I can totally see the logic behind it in theory, but in practice…?! So, Leon wants to rent out his flat during the evening hours and weekends because he works overnight shifts (and can stay with his girlfriend each weekend). Why not make some money on rent by literally renting his bed/flat out for someone who works normal business hours and would need it during the exact times he's not home? Again, this makes logical sense, but it's so weird to think of literally sleeping in a stranger's bed when they're not sleeping in said bed. Same sheets and everything? I could MAYBE see if the other person (Tiffy) put a comforter down on top of his bed to sleep on top and had her own sheets/blankets that she would remove in time for him to use the bed… but to actually sleep under the covers? Really?
I literally forced myself to keep going with this book. All of the reviews said Leon's chapters took some getting used to, but once they did, they fell in complete love with it. Seriously, most of my blog friends rated this five stars with just a few people dipping under. 3.5 stars is the lowest I saw from anyone I personally know. Because of all that, I became determined. I wouldn't quit yet. I'll be honest: the audio format REALLY helped with this one when I was struggling. Leon's chapters were definitely still choppy because that's how they were written, but they were much less so when being read out loud. It sounded a little more natural coming from someone's voice.
There's one specific chapter where I turned a corner on this book and knew I couldn't DNF it – the first round of sticky notes back and forth (I forget which chapter this is – somewhere in the first 20% of the book). They just had such charming interactions via notes in their apartment and I knew the chemistry would be off the charts without them even meeting each other. It was insane.
Over time, I fell more and more in love with this book and these characters. Tiffy, with her exuberant personality, perfectly matching with her opposite in Leon, as well as Gerty, Mo, Rachel, and Richie on the phone. I wanted to hug everyone and remain with this friend group forever. Without spoilers, the chapter or two at the end made my heart sing. Yes, I used that cheesy phrase.
By the end, I didn't use the audio as much because I was desperate to finish the book as quickly as the chapter allotment for the All Grown Up Book Club would allow. (Okay fine I finished the last two days' worth of chapters in one day because I just NEEDED to finish!) It's kind of amazing how this reading experience turned around for me. I saw many reviews say that they grew to actually like Leon's chapter formatting but I will say I never liked it. I certainly got used to it and it didn't bother me as much, but I still strongly believe the author could have shown he was a man of few words without actually being a man of sentence fragments.
Because of the rollercoaster of emotions, I wrestled for far too long on what to rate this book. It was so perfect from a story perspective and even Leon's chapters were short enough to just deal with the writing. I loved how it balanced serious issues like gaslighting and emotional abuse with light flirting, hilarious moments, and a slow progression of romance. I didn't think I could ignore my pure rage at the beginning of the book when rating it… so I settled on 4.5 stars. HIGHLY recommend this one and please give it until the sticky note chapter. You'll be hooked right after that.
Related Posts