I received this book for free (hey, thanks!) in exchange for an honest review. I promise that this does NOT affect my opinion of the book or the content of my review. For real.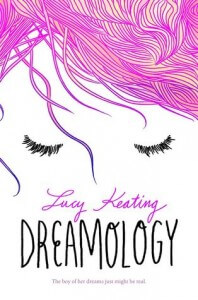 Dreamology
by
Lucy Keating
on April 12th 2016
Also by this author:
Literally
(336 pages) •
Goodreads
•
Amazon
•
Barnes & Noble

Vibrantly offbeat and utterly original, Lucy Keating's debut novel combines the unconventional romance of Eternal Sunshine of the Spotless Mind with the sweetness and heart of Jenny Han.

For as long as Alice can remember, she has dreamed of Max. Together, they have traveled the world and fallen deliriously, hopelessly in love. Max is the boy of her dreams—and only her dreams. Because he doesn't exist.

But when Alice walks into class on her first day at a new school, there he is. Real Max is nothing like Dream Max. He's stubborn and complicated. And he has a whole life Alice isn't a part of. Getting to know each other in reality isn't as perfect as Alice always hoped.

Alarmingly, when their dreams start to bleed into their waking hours, the pair realize that they might have to put an end to a lifetime of dreaming about each other. But when you fall in love in your dreams, can reality ever be enough?

I knew I needed this book the moment I saw it – starting with the cover and ending with the synopsis. It sounded right up my alley because it seemed parallel universe-ish and dreamy and did I mention that cover?? I somehow didn't grab it at ALA because I'm a chicken about talking to publishers, but luckily I was able to grab it from an ARC tour.
I seriously seriously loved this book. The concept and storyline was incredibly unique. Basically, Max and Alice have been dreaming about each other since they were kids. Then, she moves to Boston, finds out Max is a real person, and things! develop! I shipped these two literally immediately, during the first dream we got to see.
The characters were just SO funny, adorable, and charming. Alice and Max were cute cute CUTE. I loved all of the secondary characters as well: the humor that Oliver brought to the story, Alice's friendship with Sophie, the inclusion of Celeste, and Jerry the awesome dog.
The story definitely had some sciencey elements because obviously these two are legit sharing dreams, but I like that it didn't get too bogged down with the details as they started figuring THINGS out. It's very much a contemporary romance – not a lot of sci-fi or paranormal as you may think.
A few other things I loved? They were teens who sometimes went to a party and had some drinks. I always think it's refreshing when there are party-like scenes that don't involve the characters getting drunk and making mistakes as a plot device. These kinds of things just make it feel authentic, because it was similar to my high school experience. I also liked the family elements and issues that Alice and Max had, but I do wish there was a bit more attention paid to them.
Overall, I sincerely loved this story. I couldn't stop reading it. I shipped them like crazy. I want to frame the cover art on my wall. I want to be friends with Oliver and Sophie. I want Jerry to be my dog. I LOVED IT ALL.

| | |
| --- | --- |
| Plot & Premise | |
| Characters | |
| Writing Style | |
| Pacing & Flow | |
| Feels or Swoons | |
| Addiction Level | |
| Overall: | 4.8 |
Related Posts