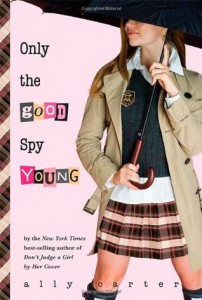 Only the Good Spy Young
by
Ally Carter
Series:
Gallagher Girls #4
Genres:
Young Adult
Published by
Disney-Hyperion
on June 29th 2010
Also by this author:
I'd Tell You I Love You, But Then I'd Have to Kill You
,
Cross My Heart and Hope to Spy
,
My True Love Gave To Me
,
Don't Judge a Girl by Her Cover
,
All Fall Down
,
Out of Sight, Out of Time
,
United We Spy
,
See How They Run
,
Take the Key and Lock Her Up
,
Not If I Save You First
,
The Blonde Identity
Format:
Audiobook
(272 pages) •
Source:
Library
Goodreads
•
Amazon
•
Barnes & Noble

When Cammie Morgan enrolled at the Gallagher Academy, she knew she was preparing for the dangerous life of a spy. What she didn't know was that the serious, real-life danger would start during her junior year of high school. But that's exactly what happened two months ago when Cammie faced off against an ancient terrorist organization dead set on kidnapping her.Now the danger follows her everywhere, and even Cammie "The Chameleon" can't hide.  When a terrifying encounter in London reveals that one of her most-trusted allies is actually a rogue double-agent, Cammie no longer knows if she can trust her classmates, her teachers—or even her own heart. In this fourth installment of the New York Times best-selling series, the Gallagher Girls must hack, spy, steal, and lie their way to the truth.as they go searching for answers, recognizing that the key to Cammie's future may lie deep in the past.

I finally made it to the first Gallagher Girls book that isn't a reread! It was nice hearing a story I hadn't read yet.
DAMN this book got crazy, though! Just when you start to think it's a fluffy story that is more romantic than spy-filled, you're wrong. This book was definitely action-packed, which was certainly a breath of fresh air compared to the last book. Things are starting to get wild. Cammie's spy activities are much more high stakes in this one. Instead of spying on her ex-boyfriend or other boys, she's pretty much trying to stay alive. Part of me still doesn't know who to trust or what's going to happen.
The one thing that continues to bug me is how immature Cammie seems. Maybe I'm so far removed from high school that I don't remember what it was like, but I can't help but feel like her voice is a bit more 12 year old than 17 year old. (I think part of this has to do with the audiobook narrator, though.)
Regardless, I'm really excited to continue with the series and see what happens next! Pretty decent cliffhanger with this book.
Related Posts