Ten of my Favorite Halloween Costumes
and Books I'd Pair with Them!
Top Ten Tuesdays are hosted by The Broke and the Bookish, where we make lists of our top ten books (or something else!) based on that week's prompt. The topics are provided ahead of time and can be found here. Book links bring you to Goodreads or my review.
This week's topic is… Halloween related freebie: ten scary books, favorite horror novels, non-scary books to get you in the Halloween/fall mood, bookish halloween costumes, scariest covers), scary books on my TBR, etc. Well, I really don't read horror books or anything remotely creepy most of the time, so I decided to make this one a little more personal. I'm featuring some of my favorite Halloween costumes I've worn, then matching book recommendations to them! It may be based on a certain character or aspect of the costume; you'll see 😉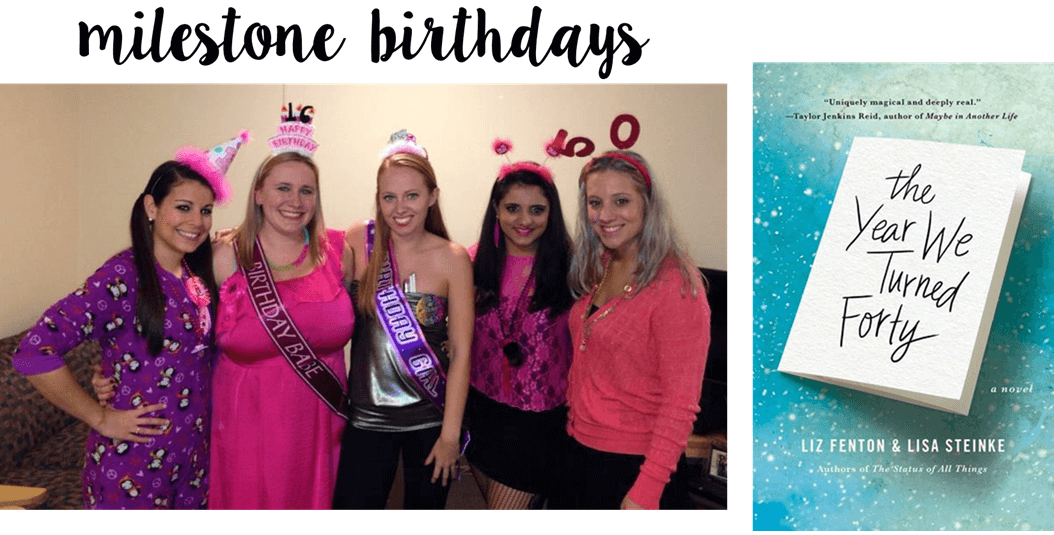 The costume: My college friends and I dressed up as "milestone birthdays" as a group during our senior year. This is one my all-time favorite costumes. We hit various birthdays throughout your life. From left to right, we have the 1st birthday with a onesie and pacifier, the 16th birthday with all the girly pink, the 18th birthday with clubbing outfit and cigarettes, the 21st birthday with shot glasses, and the 50th birthday with a modest sweater outfit.
The book: The Year We Turned Forty by Liz Fenton and Lisa Steinke // I didn't LOVE this book but I did really enjoy it as I was reading! The concept was awesome: three friends return to the year they turned forty and are given the chance to redo everything. I was really excited to see how the story ended.
The costume: Also during my senior year (because in college Halloween lasts multiple days obviously) – we dressed up as a tequila shot. We had our salt, tequila, and lime. Obviously I was the lime on the end. We used some lyrics to the song Let's Get Fucked Up because we're classy like that. (Tequila shots were huge in our townhouse that year so this was a very appropriate costume for us!)
The book: A Midsummer's Nightmare by Kody Keplinger // The main character of this one was a girl I could immediately relate to… because of her love of tequila. She grew from her early alcohol-fueled character arc pretty quickly, but she's the first person I think of when I think tequila!

The costume: I believe this was sophomore year of college? We dressed up as members of a wedding party. It was funny because when we all inevitably got separated later, people just thought I was Hermione because of the weird hairstyle I chose. On the left, we have the Best Man and Groom (me). In the center we have the Priest. On the right, there's my Bride and her Maid of Honor.
The book: Young Widow's Club by Alexandra Coutts // I know this is a morbid choice, to say the least, but it definitely makes sense here. The main character got married very young and became a widow just as quickly. The story was… not great… but it was the best correlation I could think of here 😉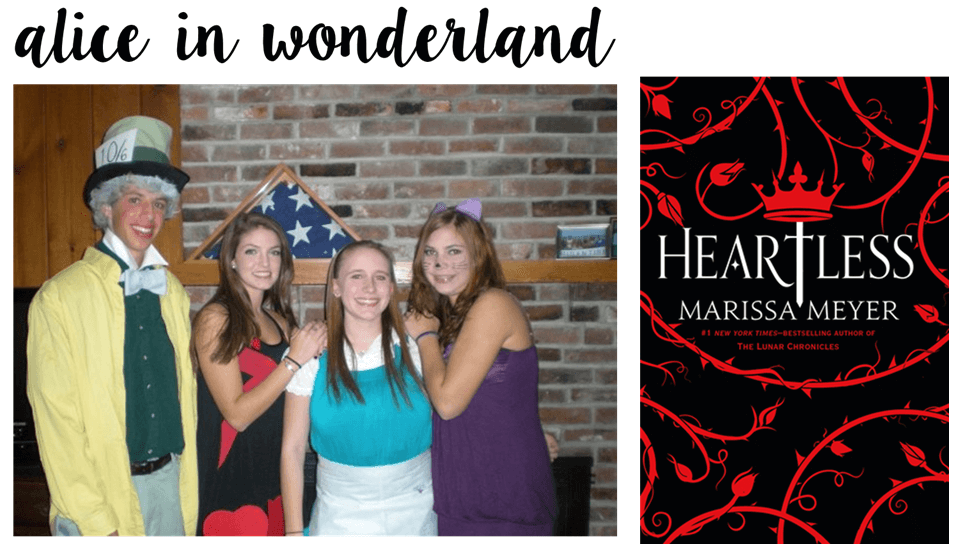 The costume: This was my Alice in Wonderland group costume with a few friends from high school. I was Alice and (L to R) my friends were the Mad Hatter, Queen of Hearts, and Cheshire Cat). It was pretty simple and we all had homemade costumes, but we were definitely proud of how they came out! (That blue dress was really cute and fun to wear after Halloween too, which is always a plus!)
The book: Heartless by Marissa Meyer // This one is obvious of course. I'm reading this book as we speak and it's a pretty interesting, unique retelling. I personally love Wonderland retellings, so I'm excited to continue this week!

The costume: My friends from college and I dressed up as various animals for one Halloween. It was pretty simple, but we loved the variety here 😉 From left to right we had a lobster, black bunny, lion (me!), leopard/cheetah, mouse, white bunny, and black cat. I personally love the lobster one!
The book: Fables #2: Animal Farm by Bill Willingham // I haven't been keeping up with comic reviews on the blog but I recently read and enjoyed the second installment in the Fables series. It's about the animal farm where mystical fairytale animals live outside of Fabletown in New York. This whole series is fun!
The costume: Chris and I went to a Halloween party during the first year we lived together and we came up with this couple's costume. I LOVE Curious George, so Chris became The Man in the Yellow Hat to my George. It was a pretty quick and cute costume, given that we put it together within the week.
The book: Winter by Marissa Meyer // I got in the ~couple~ mindset for this costume and its related book, so I had to go with Winter. This is THE book for OTPs and just some of my all-time favorite book couples. I loved this behemoth of a book and thought it was the best way to end the series.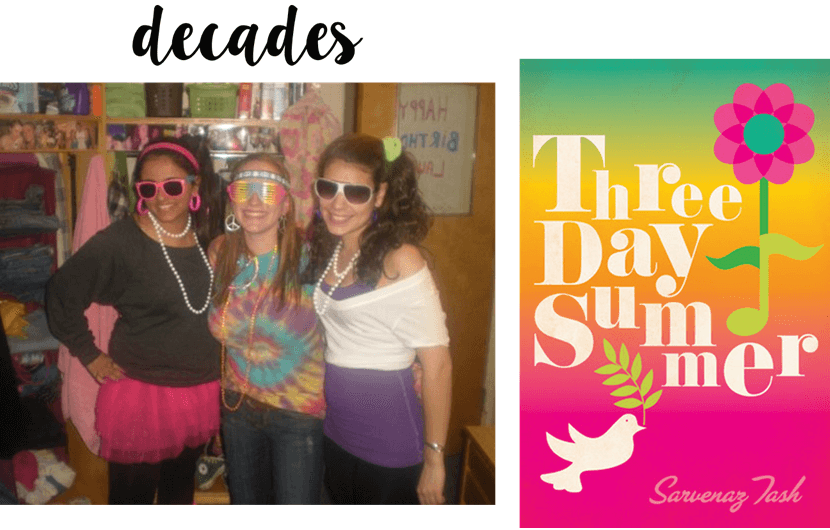 The costume: While I did like this simple costume from my freshman year of college, it's not really a favorite. I couldn't find a picture of the costume I really wanted to highlight here. But! I was dressed up like a hippie from the 70's and my friends on either side of me were from the 80's. Nothing too special.
The book: Three Day Summer by Sarvenaz Tash // I reallllly loved this book because it was set at Woodstock, one of my favorite historical events. I immediately thought of this historical fiction story when I saw this picture on my Facebook. I hope everyone who loves old music reads this one.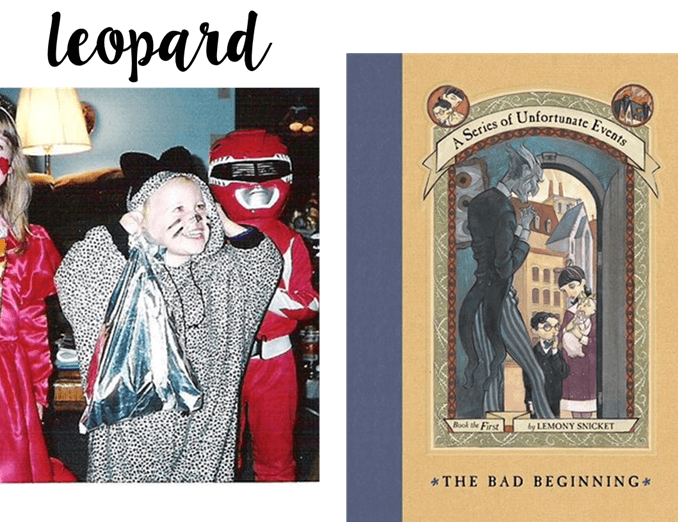 The costume: I will not resist the urge to share a cute baby photo of myself here, okay? I love this costume because it was just this huge, comfortable sack of a leopard suit. The little cat face and the ears on the hood? Come on, it was perfect. I wish I could get this in an adult size to wear around my apartment.
The book: Series of Unfortunate Events by Lemony Snicket // I wanted to pick a book (series) from my childhood that I recently reread. Ta da! I loved this series both times I read (or listened to) it. I totally can't wait for the new Netflix series to come out too.
The costume: Elmo is one of my favorite characters, so I had to show this costume off too. My friends and I dressed as three main Sesame Street characters – Elmo, Big Bird, and Cookie Monster. I love the way my friend's Big Bird legs came out and the small details (fish, cookie) on the other two! So cute.
The book: The Memory Book by Lara Avery // I don't know why this book came to mind right away for me, but I love the idea of memory books to track things as they happen to you. The main character is journaling to remember various moments and people as she loses hers. Elmo was a huge part of my childhood so I guess that's where my memory book-related connection comes into play.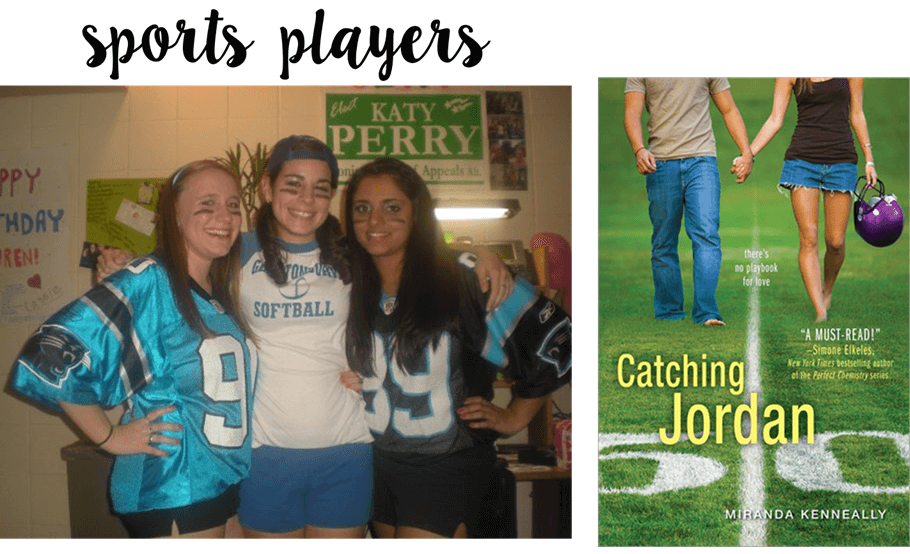 The costume: This was another simple costume from freshman year, but I will never stop reppin' the Panthers (even when they suck – which they did back then and they do right now). My friend and I dressed up as Panthers players (Julius Peppers and Steve Smith – both are not on the team anymore ugh) and another friend dressed as a softball player.
The book: Catching Jordan by Miranda Kenneally // This is one of my favorite books from the Hundred Oaks companion series and is the football-related one (go figure!). It's definitely relevant to this costume. There's a softball-oriented book (Stealing Parker) if you're interested in that one as well.
Related Posts