I don't like to do too many weekly memes on the blog (anymore) and usually stick to TTT, but I thought it would be fun to occasionally post Wednesday memes I'm interested in. It won't be weekly, but it'll be fun to recap the previous week or so and talk about what books I have on the docket. It will be a combination of WWW Wednesdays and Waiting on Wednesdays (more details below!), as well as anything else I'd like to share.
---

Waiting on…Wednesday is hosted by Breaking the Spine and asks upcoming releases that we're eagerly anticipating.
I'm currently waiting impatiently for…
Release Date: November 1st 2016
As soon as Seneca Frazier sees the post on the Case Not Closed website about Helena Kelly, she's hooked. Helena's high-profile disappearance five years earlier is the one that originally got Seneca addicted to true crime. It's the reason she's a member of the site in the first place.

So when Maddy Wright, her best friend from the CNC site, invites Seneca to spend spring break in Connecticut looking into the cold case, she immediately packs her bag. But the moment she steps off the train in trendy, glamorous Dexby, things begin to go wrong. Maddy is nothing like she expected, and Helena's sister, Aerin Kelly, seems completely hostile and totally uninterested in helping with their murder investigation.

But when Brett, another super user from the site, joins Seneca and Maddy in Dexby, Aerin starts to come around. The police must have missed something, and someone in Dexby definitely has information they've been keeping quiet.

As Seneca, Brett, Maddy, and Aerin begin to unravel dark secrets and shocking betrayals about the people closest to them, they seem to be on the murderer's trail at last. But somewhere nearby the killer is watching . . . ready to do whatever it takes to make sure the truth stays buried.
Yes, another murder mystery involving a group of teenagers by Sara Shepard. I don't care if she writes the same trope for the rest of her career… I will probably read ALL of them. I just can't resist it! They're so addicting and twisty. I never see anything coming. I like the idea that the characters don't know the person who was killed and they're somehow trying to solve a cold case. It's more of a mystery than some of her others, if that makes sense? I can't believe it's almost here too!
---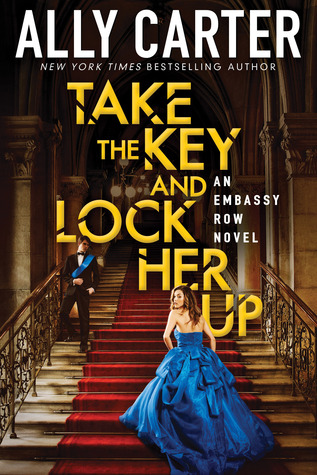 Release Date: December 27th 2016
THE PRINCESS IS DEAD.
LONG LIVE THE PRINCESS.

Centuries ago, the royal family of Adria was killed . . . or so everyone thought.
Now Grace Blakely knows the truth:

There was one survivor, and that survivor's blood runs through her veins. This simple fact could cause a revolution — which is why some people will stop at nothing to keep it from coming to light.

There is only one way for Grace to save herself, save her family, and save the boy she loves. She must outmaneuver her foes, cut through the web of lies that has surrounded her for years, and go back to the source of all her troubles, despite the risk.

If she wins, she will inherit a throne.

And if she loses, she will inherit the fate of all the dead princesses who came before her.
I've noticed a lot of people who are underwhelmed by this trilogy so far, but I've really enjoyed it. Maybe it's my love for Ally Carter (notice a theme with today's WWW books?), but I am always SO ready for the next book immediately when I finish the previous one. This is the final book and the cliffhanger from book two was a doozie. I love that the release is bumped up a bit compared to the other two books!
---

WWW Wednesday is hosted by Taking on a World of Words and asks the three questions below.
 What are you currently reading?
Queen of Shadows by Sarah J. Maas (audiobook, hardcover)
Heartless by Marissa Meyer (ARC)
I took a pretty serious break from QoS because I got addicted to a few podcasts during October. I don't know why, but I just was never compelled to press play on the audio. I binged an entire 50+ episode podcast instead. #YOLO. I finally got back into it this week actually, so I'm hoping with an 1.5 hours a day I'll definitely be done by this time next week. I may also switch in and read the hardcover so I can finish over the weekend instead. I'm also reading Heartless right now! I've been very slooowly reading it because (a) I haven't been in the mood to read and (b) it's a book that needs to be savored. I have the draft for my review scheduled for like next week so I'm definitely going to finish within the next day or so. It's very good! I just want to make it last.
What did you recently finish reading?
Twisted Palace by Erin Watt (ebook)
Daughter of Deep Silence by Carrie Ryan (paperback)
So this has really been a shitty reading month for me. I've finished 5 books this month and it's the final week right now. I definitely plan to have QoS and Heartless done by Halloween so I can say I finished *gasp* 7 books. What a low for me! I can't even pretend I don't know why I'm in a reading slump; I totally do. I'm addicted to TV. In the morning before work, you can find me watching the previous night's fall TV show. In the evening, I may read a little before bed… but I'm more than likely watching something else instead. Whoops. I'm happy I took a "month off" from reading so much, to be honest. I need to stick to the goal of BALANCE I set earlier this year. Anyways, I recently finished the third installment of The Royals series and it was as terrible as expected. I previously finished Daughter of Deep Silence and did a really fun Book Buddies post last week, so click the link above!
What do you think you'll read next?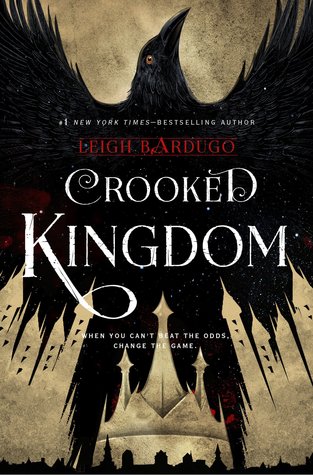 Crooked Kingdom by Leigh Bardugo (hardcover, preordered)
Little Black Dresses, Little White Lies (hardcover, library)
I can't believe I've waited "so long" to read Crooked Kingdom! I'm excited about it but I know there are many people out there who were more excited than I was. I know it'll be another really long book to finish because I'm terrible with fantasy, so I'm just gearing up for that time commitment. After a slow reading month, I'm not eager to start next month with another slow-ass read honestly. I will likely read Little Black Dresses, Little White Lies first because I'll want something light, fluffy, and rom-com-y. I've heard that it'll hit that mark! It's what I need. I may also toss a graphic novel in here somewhere to beef my numbers up again.
Related Posts