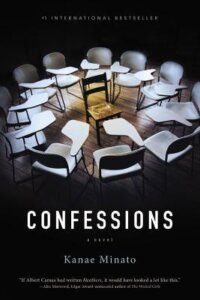 Confessions
by
Kanae Minato
,
Stephen Snyder
Genres:
Adult
,
Mystery/Thriller
Published by
Mulholland Books
on August 19, 2014
Format:
Paperback
(240 pages) •
Source:
Library
Goodreads
•
Amazon
•
Barnes & Noble

Her pupils killed her daughter.Now, she will have her revenge.

After calling off her engagement in wake of a tragic revelation, Yuko Moriguchi had nothing to live for except her only child, four-year-old Manami. Now, following an accident on the grounds of the middle school where she teaches, Yuko has given up and tendered her resignation.

But first she has one last lecture to deliver. She tells a story that upends everything her students ever thought they knew about two of their peers, and sets in motion a maniacal plot for revenge.

Narrated in alternating voices, with twists you'll never see coming, Confessions explores the limits of punishment, despair, and tragic love, culminating in a harrowing confrontation between teacher and student that will place the occupants of an entire school in danger. You'll never look at a classroom the same way again.
I recently shared that there are a number of books I planned to read this year based purely on the hype and their popularity in the community. A bunch of my favorite booktubers have read and loved this one, claiming that there is a twist or big reveal at the end of each chapter (there are 6 chapters across a quick book of 240 pages). I was curious (based on the premise) how they would pull that off and decided to finally go for it. After all, I don't read a lot of backlist books and this looked promising based on everyone's feelings!
Unfortunately this book wasn't what I expected and the hype was REAL. I couldn't get everyone's voices out of my head while reading. I expected wild jaw-dropping twists but it didn't really read like that to me? Yes, it is definitely twisty and very well-plotted and well-written, but not in the same way people had built it up. Each chapter reveals some new information from a different person's point of view so the backstory starts to slowly come together. My jaw literally dropped at the end of the first chapter and the build-up of reveals throughout the rest of the story was pretty great. The ending was strong – surprising and very clever. Again, the plotting made a big difference here and the order in which the author included the different character POVs.
I expected a new favorite and ended up with a solid four-star read that I'd definitely recommend to people who are curious about it. I haven't read a lot of translated works (and none of them from Japan) so I'm intrigued to check out more from this author and others. This was probably the most fucked up book I've read… which is probably not saying much based on the fact that I don't read anything that crazy… but still!

The Golden Spoon
by
Jessa Maxwell
Genres:
Adult
,
Mystery/Thriller
Published by
Atria Books
on March 7, 2023
Format:
Audio/Physical
(288 pages) •
Source:
Purchased
,
Scribd
Goodreads
•
Amazon
•
Barnes & Noble

A killer is on the loose when someone turns up dead on the set of a hit TV baking competition in this darkly beguiling debut mystery that is perfect for fans of Lucy Foley, Nita Prose, and Anthony Horowitz. Soon to be a limited series on Hulu.

Production for the tenth season of Bake Week is ready to begin at the gothic estate of host and celebrity chef Betsy Martin, and everything seems perfect. The tent is up, the top-tier ingredients are aligned, and the crew has their cameras at the ready.

The six contestants work to prove their culinary talents over the course of five days, while Betsy is less than thrilled to share the spotlight with a new cohost—the brash and unpredictable Archie Morris. But as the baking competition commences, things begin to go awry. At first, it's merely sabotage—sugar replaced with salt, a burner turned to high—but when a body is discovered, everyone is a suspect.

A deliciously suspenseful thriller for murder mystery buffs and avid bakers alike, The Golden Spoon will keep you guessing until the very last page.
PSA: do NOT go into this book expecting a fast-paced thriller. This is closer to a cozy mystery than a thriller. It's very slow-burn but I found it super easy and quick to read. I couldn't put it down and the chapters are short, alternating between all of the bakers and the host.
To back up after my PSA: this story is literally like if there was a murder during Great British Bakeoff, but set at a creepy manor house in Vermont. It's still got the cozy baking vibes and follows a group of (sort of, not really) nice bakers.. but with a touch of a murder in the background lol. There's an unsettling feeling while reading with some light mysterious elements but this is not a twisty book by any stretch. I loved the little bits and pieces of mysteries throughout and how they tied in, but this is a quiet story above all else.
I'm glad more reviews are coming out to caution people about this because I do think you'll be disappointed if you're expecting a twisty, fast-paced thriller. The marketing has been a little off IMO. The more I think about this though, the more I like and appreciate the work the author put into the characters and pacing. I had a few things predicted that turned out right, but the ending was a little more surprising!
I would HIGHLY recommend this book if you go in with the right expectations and ignore the marketing for it haha. It's almost a five-star read for me but I think I just wanted a little MORE from it. I'm starting to be more flexible for five-star ratings than I have in the past but this was just a little too far from it for me. I think it's also a bit short.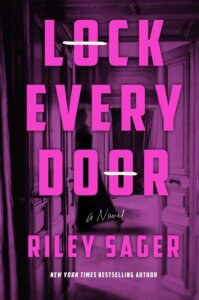 Lock Every Door
by
Riley Sager
Genres:
Adult
,
Horror
,
Mystery/Thriller
Published by
Dutton
on July 2, 2019
Format:
Paperback
(381 pages) •
Source:
Purchased
Goodreads
•
Amazon
•
Barnes & Noble
No visitors. No nights spent away from the apartment. No disturbing the other residents, all of whom are rich or famous or both. These are the only rules for Jules Larsen's new job as an apartment sitter at the Bartholomew, one of Manhattan's most high-profile and mysterious buildings. Recently heartbroken and just plain broke, Jules is taken in by the splendor of her surroundings and accepts the terms, ready to leave her past life behind.

As she gets to know the residents and staff of the Bartholomew, Jules finds herself drawn to fellow apartment sitter Ingrid, who comfortingly, disturbingly reminds her of the sister she lost eight years ago. When Ingrid confides that the Bartholomew is not what it seems and the dark history hidden beneath its gleaming facade is starting to frighten her, Jules brushes it off as a harmless ghost story—until the next day, when Ingrid disappears.

Searching for the truth about Ingrid's disappearance, Jules digs deeper into the Bartholomew's dark past and into the secrets kept within its walls. Her discovery that Ingrid is not the first apartment sitter to go missing at the Bartholomew pits Jules against the clock as she races to unmask a killer, expose the building's hidden past, and escape the Bartholomew before her temporary status becomes permanent.
Alright I'm out here wondering if I read the same book as everyone else! haha. This book is about Jules, a new apartment sitter in The Bartholomew in NYC. The gig seems too good to be true – she gets paid to live in a gorgeous, centrally located apartment building in the city for a few months. Is there a catch or something?! Her life has been kind of crappy to this point – she's an orphan and her sister went missing years ago without resolution. She moved to the city after college to live with her best friend. She just got laid off and her boyfriend was cheating on her. Clearly, she's a little desperate for this apartment sitting job.
I'd heard from countless people that the twist in this was SO shocking and to be prepared. Maybe the hype and warnings ruined it for me a little bit, but I just didn't find it surprising at all. It was very clear to me what was happening throughout most of the story. I didn't make the full leap to EXACTLY what was being done and why (if you read it, you know) but I was more than halfway there so the "big reveal" just wasn't exciting. There were a couple of pieces I couldn't put together but overall it wasn't like a huge shocking end.
I definitely couldn't put this down and would recommend it to most people interested in the premise, but dang. Can't lie that I'm a bit disappointed by the ending!
Related Posts