Hi all – just wanted to make a quick note that this post, as well as so many, are already written and scheduled. If I hadn't already drafted them, this blog would be left empty this week to mourn the country I thought I lived in. Feel free to unfollow my blog but this election has done nothing for my mental health and so many people will be living in fear, without hope, for at LEAST the next four years – possibly many more. I'm not okay. Just because this post is here today does not mean that I'm okay. It does not mean that it's all business as usual. Thank you, take care of yourselves <3 – Lauren
---
I love reading comics and graphic novels, but find that I don't do a great job of reviewing them. I don't have a lot to talk about but kind of just know if I liked it or not, plus a few favorite elements of the story. I also don't binge them liked I'd really prefer to do, so the posts sit in my drafts forever. To remedy this, I'm coming at you with this feature, in which I "review" some of the comics I've been reading lately and let you know how I'm enjoying them.
Recently Read
Ms. Marvel 1-2
This series is definitely fun so far. Kamala is a really great main character who has a lot of sass! I love the diversity and the fact that the main character has a lot of familial responsibilities and cultural things that "interfere" with her superhero-ness. There's a little something missing for me though. It's not my favorite, but it's worth reading if you're interested in diverse comics. The first comic focused a lot on questioning yourself and figuring out who you are, which I liked. The end of the second volume had a big ~moral~ about this generation and how everyone thinks we're all addicted to cell phones. I liked it because it did a good job of sticking up for the younger generations (I really hate jokes about millennials because the stereotypes are super frustrating and rarely accurate). However, it was definitely heavy-handed for the end of a basic comic book. I'm intrigued to see where things go next for Kamala.
Fables Volumes 1-3
This series is pretty damn awesome so far. I love seeing all of the fairy tale characters in a totally different way. In Fables, all of these "fictional" characters live in amongst humans in NYC, but they have a secret society within a luxury apartment building (Fabletown). I loved all of the different ways the characters were integrated into the story.
Each story has focused on a different aspect of life in Fabletown. The first one has Snow White and the Big Bad Wolf (Sheriff Bigby) investigating the mystery behind her sister's (Rose Red) disappearance/apparent murder. The next book takes place upstate on the Animal Farm, where they have all of the non-human-looking fairytale creatures stay. They can't blend in with normal society like the rest of them so they have a special area for all of the pigs, bears, etc. to live. (This one featured some characters from The Jungle Book!) The third volume was a bit more all over the place and didn't flow as a cohesive story like the previous two did. All of the characters have been living cooped up for years and years, so things aren't as great as they appeared in their original tales. The couples with "happily ever afters" are divorced and/or unhappy.
I loved the first volume because it had a mystery to solve, so the other two lacked some intrigue. It focused more on the relationships between characters. I love meeting all of the characters from different stories, but sometimes they didn't hold my interest as much. I'm so intrigued to see where the rest of the story goes though.
Penny Dora and the Wishing Box
I bought each single issue comic of Penny Dora as I saw them at the comic store. I wanted to try something new that wasn't huge and popular in the blog world. The story and maybe even the style of art is geared toward a young audience. Children in elementary and middle school would definitely enjoy this one.
The premise centers around "be careful what you wish for" as Penny discovers a box that grants wishes. Her friends gets involved and takes things waaaay too far. She was a straight-up troll that I would have punched if I were Penny. There were little references to mythology and other fairy tales too.
I don't remember the plot of each individual issue at all, so the story itself didn't leave much of a lasting impression on me. I would definitely recommend it to young readers who are interested in comics though. I'm glad I read it and would continue if there are more installments, but I'm not dying for them. (I saw on my Goodreads review that there was a cliffhanger… Don't even remember what happened.)
Probably Coming Up Next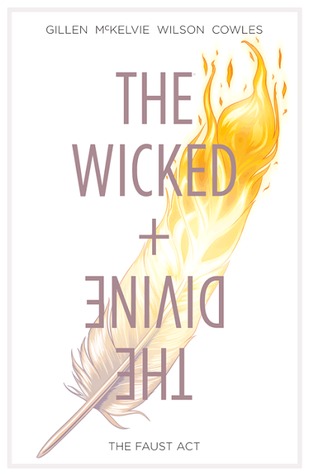 Related Posts