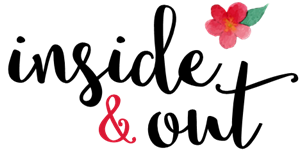 Admiring book covers and bookmarks, shared by you!
Welcome to INSIDE AND OUT. This feature includes two of my absolute favorite book-related things: bookmarks (inside) and book covers (out)! I've invited guest posters to share their favorite book covers and bookmarks here on the second and fourth Mondays of each month. Sign-ups are always open (see bottom of post)! Check out past posts here.
---

Twitter: @bringmybooks| Instagram: @bringmybooks| Snapchat: bringmybooks | Pinterest | Tumblr
Tell me a little about yourself:  My name is Lindsey! What can I say? I'm just your average late 20s book nerd. 😉 Butttttt here are some other things I nerd out about: my cats, Neville & Luna; stegosauri (only the best dinosaur EVER); bouncy balls (I have over 400); old globes and thermoses (my favorite is my old classroom map of "Europe during the time of Napoleon – 1812"); the smell of honeysuckle and chili (but not together, eww); and any and all things summer and beachy! I grew up on the East Coast not 10 miles away from a beach, and now can't imagine my life without water within easy driving distance. My mother started working at a bookstore when I was a teenager, and then I kinda "fell" into working at one myself in my early 20s. I've now been at that bookstore for almost 8 years this July, and I'm a manager! It's been a crazy hectic few years, but I couldn't imagine doing anything with my life that doesn't involve books. (I was originally majoring in Aerospace Engineering with a minor in German. Um. What?)
Talk about your blog (what you blog about/kinds of books, features, etc.):  I started the blog in 2013, but didn't really get into it until about midway through 2014. I mostly focus on book reviews and book memes, but as of just this month I am starting to try to branch out into more discussion posts and things maybe not strictly book related (Disney, Music, Life, etc.). The only meme I participate in on a weekly basis is Top Ten Tuesday, and I couldn't love it more! I love making the lists and thinking about all of the different books to create my TTT posts. I also have a meme that I've created, called Book People Talk Movies. It mainly came from noticing that we take book recommendations from each other all the time; why not movies?! Each month is themed and features two-three posts from me, and (hopefully) at least two guest posts.  It's been such a labor of love and fun, and I'm constantly finding ways to improve and things I want to do better with. After almost 2 years of the same layout/design, my boyfriend convinced me to try something different (I was terrified of changing it and messing everything up!), and I'm actually thrilled with how it came out. It's nice sometimes to let go of the pressure we put on ourselves as bloggers and experiment!
Favorite genre:  For adult fiction, historical fiction. My favorite "sub-genre" of historical fiction would have to be WWII era; if it's dual timeline/multiple POV, even better! For YA, it's fantasy all the way. I wrote a blog post the other day where I started using the word "booknip" – it's like the topics and keywords that most attract me to books, like catnip! (What's your #booknip, Lauren? 😉
My booknip is WWII, gothic fiction, dual timeline, Scotland, multiple POVs, high fantasy, Germany, romance, swoons, magic, dragons, and enchantment! Say any of these things and you'll definitely have me grabbing the book to see more!
Three books you recommend most often and why: The Forgotten Garden (or any others) by Kate Morton – I have devoured every single one of her novels, and they get a little better each time. They are perfect for a cozy winter read, a beach read, a comforting fall read, or a thank-goodness-it's-no-longer-winter read. 😉 They work if you want great characters, an engrossing plot, captivating relationships, haunting fiction, gothic fiction, historical fiction, and/or just AMAZING BOOKS. Hard to go wrong!
The Graceling Trilogy by Kristin Cashore – The love I have for this series is ridiculous. The best part of Cashore's writing, for me, is her characters and the relationships she writes. They are nothing short of brilliant – even the most minor character has a voice and a purpose and you feel so much throughout these three books. There is action, romance, family, friends, intrigue, daring, spies, kings, queens … everything you could ever want, really!
The Light Between Oceans by ML Stedman – This book gets recommended a lot when people ask us for just a general "could appeal to anyone" type of book that has been on a lot of "best of" lists at the bookstore. This debut book blew me away. To this day I have a hard time believing that it was her first novel! It's a great historical fiction set in 1920s Australia. It's definitely not an easy read; there are some hard choices made within and some o f the characters you just want to knock the stuffing out of, but it is so beautifully written you can't help but be swept up in it. (Also – it's being made into a movie with Michael Fassbender starring as the lead male character! *SWOON*)
Anything else to share? Personal plug for something coming up?  I don't have anything happening anytime soon, but I'd love to say that I've been having a great time doing the Book People Talk Movies post and would love to get more guest bloggers involved! If you're interested, there's still plenty of open slots later this year! You can find the sign up sheet and some more info here!
---
What book do we have here?  This is The Nightingale, by Kristin Hannah
Have you read it yet? If so, how was it? I actually finished it just days ago, and it blew me away! Kristin Hannah is one of my favorite authors, and you can definitely see her improvement with every book. This is probably her best yet! (WWII, Germany, dual timeline, multiple POV … 😉
What makes this cover a favorite?  I love the simple beauty of it! I find that sometimes the more powerful covers are the ones with the least amount on them. The typeface is easy to read, the colors are gorgeous, and the symbolism of the cover to the story is present as well – these are all pluses in my book!
What kind/style of covers do you usually pine over (script fonts, bright colors, realistic, etc.)? I actually wrote an entire Top TenTuesday on this! I like big lettering, girls and flowers, vague imagery, simple backgrounds, landscapes, and pictures that don't show people's faces (if at all possible). I like being able to imagine my own faces for the characters!
---
What bookmark did you chose?  This is a cloth elastic bookmark with the word "Sassenach" printed on it. It slides around the book, holding it securely no matter how big of a purse I throw it into!
What makes this one special to you? This bookmark was a gift to me from Laura @ Scribbles and Wanderlust blog; one of the first we exchanged. We met through Broke and Bookish's Top Ten Tuesday back in May of 2014, and OMG what a whirlwind year it's been! We went from doing one guest post on each other's blog to talking multiple times a day; she's come to VA to visit me twice, we went to BEA together this year, and we are planning a trip next year as well! I love how thoughtful this bookmark was – she gifted it to me as we read Outlander and discussed (read: flailed madly) it together. I keep it in my purse all the time, even if I'm not currently using it.
Where's it from?  She purchased it from an etsy shop, this much I know (I thiiinnkkk the shop's name was Kate on Pins and Needles). There are so many great bookmarks to be found on Etsy, and if you're looking for an elastic one specifically, ther are so many options! (I just searched "elastic bookmark" and I got 350 results!)
What kind of bookmarks do you prefer (paper, magnetic, quotes, etc.)?  To be perfectly honest, I'm terrible with bookmarks. Half the time, I just close the book and then when I'm ready to start reading again I flip around until I get back to where I was. That being said, the two bookmarks that I use most often are the Sassenach one shown above, and straw wrappers. I once used the same venti Starbucks straw wrapper as a bookmark for 3 books, if you can believe it! Haha 😉
---
LINDSEY I love your use of the word "booknip"! I call this "read-bait" (like internet click-bait) and if you're curious about mine, here are some posts about it. I've been meaning to read this book; glad to hear you loved it. Thanks for sharing today! <3
---
Join in the fun!
Important: Sign-ups are always open and currently scheduled through September.
Related Posts