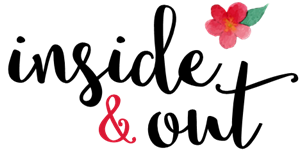 Admiring book covers and bookmarks, shared by you!
Welcome to INSIDE AND OUT. This feature includes two of my absolute favorite book-related things: bookmarks (inside) and book covers (out)! I've invited guest posters to share their favorite book covers and bookmarks here on the second and fourth Mondays of each month. Sign-ups are always open (see bottom of post)! Check out past posts here.
---

Twitter: @xerinxlynnx| Instagram: @xerinxlynnx | Facebook
Tell me a little about yourself: I'm a twenty-five year old substitute teacher who cannot wait to get her own classroom and start teaching English/ELA. When I'm not reading, I can be found catching up on some of my favorite TV shows or watching hockey. I also like to sew and cross-stitch. I'm a huge fan of knick-knacks, and I probably buy way too many of them. I obsess over all things Disney, and I even have a small collection Disney movies, posters, and figurines.
Talk about your blog (what you blog about/kinds of books, features, etc.): I review mostly YA on The Hardcover Lover, with most of the titles being contemporary or romance. Occasionally, and more often now than when I started blogging, I review YA science fiction, dystopia, and fantasy. I also review middle grade books and a few children's books. I also host Soundtrack Saturday, a meme about creating playlists for your favorite books.
Favorite genre: Contemporary
Three books you recommend most often and why: Divergent because I loved the world that Veronica Roth built. I was literally on the edge of my seat the whole time. Twenty Boy Summer by Sarah Ockler because it's one of the most amazingly bittersweet books I've ever read. The Harry Potter because I should have read these as a kid, and I regret not doing so. Now I tell every kid I come across who hasn't read them to read them.
---

What book do we have here?  I'm cheating and going with two covers – Open Road Summer and The Start of Me and Youby Emery Lord.
Have you read it yet? If so, how was it? I loved Open Road Summer! It's got a lot going on, but it's still light and fresh enough to throw in your beach bag.
What makes this cover a favorite?  The cover for Open Road Summer is one of my favorites because of the colorization. The picture was taken at just the right moment to give it an ethereal feel, and I love that you can't see the faces on the couple! It gives the reader the chance to imagine what the characters look like. I also love the cover of The Start of Me and You for many of the same details. Again, the faces of the couple are not present. I also love that they are sitting and enjoying a sunset. It's a wonderful cover for a contemporary. 
What kind/style of covers do you usually pine over (script fonts, bright colors, realistic, etc.)? Realistic looking covers are probably my favorite, but I also like drawn cover. I love book covers with a gradient kind of feel to them, but I also love a book cover with a beautiful font.
---
What bookmark did you chose? My Pittsburgh Penguins bookmark
What makes this one special to you?   I'm a huge hockey fan, and the Pittsburgh Penguins are my favorite team. The bookmark is actually made out of the aluminum that was once the roof of The Civic Arena, the first home to the Pittsburgh Penguins. I went to many games there as a child and during college, so owning a piece of the Igloo is very near and dear to my heart. Besides, I'd been dying to buy one since Wendell August Forge announced that they would be making pieces out of the roof, and now that I've got it, I'm going to treasure it for the rest of my life.
Where's it from?  Well… it's originally from Pittsburgh, PA because it was part of the Civic Arena's roof, but Wendell August Forge (the manufacturer) is based out of Mercer County in PA.
What kind of bookmarks do you prefer (paper, magnetic, quotes, etc.)? I don't discriminate when it comes to bookmarks. If they are cute, I'll buy them. I have paper, magnetic, and all kinds of decorative bookmarks in my collection. I'm also not opposed to using sticky notes, especially if I'm keeping a book in my purse.
I'm obsessed with both of these covers, so I'm extremely glad to see them chosen here! The story behind your bookmark is awesome.
Thanks for sharing, Erin!
---
Join in the fun!
Important: Sign-ups are always open and currently scheduled through September.
Related Posts