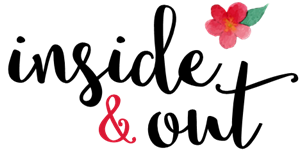 Admiring book covers and bookmarks, shared by you!
Welcome to INSIDE AND OUT. This feature includes two of my absolute favorite book-related things: bookmarks (inside) and book covers (out)! I've invited guest posters to share their favorite book covers and bookmarks here on the second and fourth Mondays of each month. Sign-ups are always open (see bottom of post)! Check out past posts here.
---

Twitter: @YAIndulgences| Instagram: @YAIndulgences
Tell me a little about yourself: Hi everyone! I'm so happy to be here! I guess I'll give you the basics for my life. 🙂 I'm 23. I began writing poetry when I was in middle school, which expanded to short stories in high school. I'm a Christian and went to Christian college for two years. I've had four blogs in the past, YA Indulgences being the only one to not quickly die out. 🙂 I figure it makes sense given the awesome community there is so I couldn't just leave. For fun I like to listen to music, binge tv series, and go for walks. I'm also known to be quite quiet and sarcastic. If you can figure out how that works, let me know. 😉
Talk about your blog (what you blog about/kinds of books, features, etc.): My blog is primarily a Young Adult blog. I want to eventually bring in some adult books and classics as well every once in a while. My favorite genre of book within the YA umbrella are contemporary whether they be romances or books that deal with serious issues. I do lean more towards darker contemporary though like Little Peach by Peggy Kern. A few of my features are Musical Monday, Wondrous Covers Wednesday and More Than This Provincial Life. Musical Monday is anything music related. I've raved about musicals in the past and I currently use the feature to create book playlists, and list songs to discuss. I'm hoping to begin talking about musicals again though. I've begun having authors create guest playlists for Musical Monday which is really exciting. Wondrous Covers Wednesday is a weekly feature where I showcase three covers that I really like and talk about them a bit. 🙂 More Than This Provincial Life is a feature where I talk about tv shows, movies or anything else that's not book-related.
Favorite genre: Contemporary!
Three books you recommend most often and why:
All The Bright Places: All The Bright Places was my first "favorite" book of the new year. I recommend it the most because I think it portrays mental illnesses well.
I'll Meet You There: I recommend I'll Meet You There a lot because it deals with issues that aren't generally showcased such as poverty, alcoholism and PTSD. I love that it involves teenagers who are going off to college or just graduated and they all sound realistic. Sometimes in YA teenagers have a way of talking in a more superior way that I find turned off by, but the teens in I'll Meet You There, the way they talk makes a lot of sense to me. I'll Meet You There also takes place in a small rural town where there isn't much to do for fun and I just found it really unique because it's rare to see a setting like that. Overall, I just found I'll Meet You There so realistic with it's characters.
We Were Liars: We Were Liars was my first reading experience I had with a thriller/mystery (aside from Pretty Little Liars). I loved the vague summary, the poetic language and the literature that was weaved throughout it. I found the ending to be surprising and I enjoyed the characters a lot. I think it's definitely one of the most beautifully written books in YA.
Anything else to share? Personal plug for something coming up? Adi Alsaid has created a Never Always Sometimes guest playlist for my Musical Monday feature that I'll be sharing on June 8th! I'm trying to launch a guest post feature called Oh, The Places You'll Read! (title inspired by Oh The Places You'll Go! by Dr. Seuss) where bloggers can share the weirdest/most memorable place that they've ever read a book at and the story behind it. If anyone's interested, they can fill out my contact form or email me. 🙂 Also, my blog turns one on July 20th! I may do a week of posts involving my blog during that week.
---

What book do we have here? The Wrath and The Dawn by Renee Ahdieh
Have you read it yet? If so, how was it?  I've started it, but not finished it yet! 🙁 However, the first few pages of it is so compelling that I was sucked in right away.
What makes this cover a favorite? This cover is a favorite of mine because I love how the woman on the cover is kept active with the designs on the front. We don't see the full image of her on the cover because she's hidden. This is just great symbolism for the story in general because it's an Arabian Nights retelling where a woman is basically stuck in this situation that she can't really get out of, even though she volunteers to be put in it.
What kind/style of covers do you usually pine over (script fonts, bright colors, realistic, etc.)?  I like realistic covers, covers that make me swoon or take a second look.
---

What bookmark did you chose?  I chose my Magnetic A Court of Thorn and Roses bookmark!.
What makes this one special to you?  It's special to me because it's magnetic and I've heard the book itself is amazing, which I can't wait to read. It's also special to me because it almost got thrown away a few times before I knew what it was! D: Which would have been the worst thing ever!
Where's it from?  I received it from the ACOTAR pre-order campaign!
What kind of bookmarks do you prefer (paper, magnetic, quotes, etc.)?  I prefer paper bookmarks with quotes or images. I do love magnetic bookmarks too because they're really stable! Lately I am SUPER addicted to getting bookmarks for books that I own or want to own.
Thanks for sharing your cover and bookmarks, Amber! I hope to read that book soon! And I hope you love ACOTAR as much as I did 😉 I have that bookmark too! ALSO we started blogging only four days apart!
---
Join in the fun!
Important: Sign-ups are always open and currently scheduled through September.
Related Posts