Ten Books I Plan To Have In My Beach Bag This Summer
Top Ten Tuesdays are hosted by The Broke and the Bookish, where we make lists of our top ten books based on that week's prompt… and then we stalk other people's answers to add a million books to our TBR. The topics are provided ahead of time and can be found here. Links go to Goodreads or my review.
I LOOOOVE THISSS TOPICCCCC *twirls*
For real though, my favorite time of year for reading is SUMMERTIME. I save allll of the beachy, road trip, summery contemporary books for June, July, and August. These types of books are my favorite and I make sure I read them when the weather matches! Reading on the beach, outside, on my porch, by the pool, in the pool – you name it, I'm there. Reading. All summer. DAMN why did I change my career ideas to something year-round, 9-5? Someone go back and punch high-school-Lauren in the head.

Check out my summery shelf on Goodreads and my summer book recommendation list (pardon the formatting and ugliness – it's an old post. Also you will not be surprised to see that I have more than ten books on this list… duh.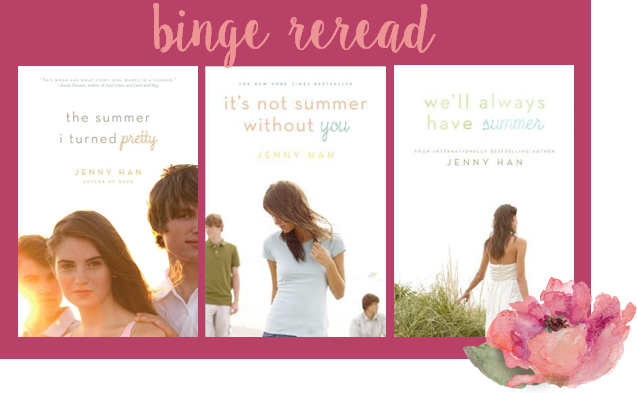 If you haven't read The Summer I Turned Pretty trilogy by Jenny Han, I'm not sure what you're waiting for! …well, unless you have an aversion to love triangles. I binge-read this series maybe 3 summers ago and have wanted to revisit ever since. Target is releasing a gorgeous new bindup of the trilogy (TODAY!!) that I plan to buy immediately and hopefully reread this summer.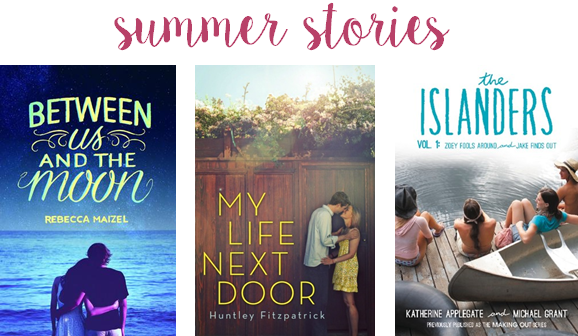 I'm a big fan of books that take place in the summer, obviously, but I'm an even bigger fan if they're in beach towns or summer vacation spots. The minute I see "this summer on Cape Cod" (Between Us and the Moon by Rebecca Maizel), I am SUPER THERE. I've spent many-a-summer on Cape Cod so that's a big draw for me right off the back… not to mention that this book otherwise sounds really awesome. Another summer locale here in The Islanders by Katherine Applegate and Michael Grant is a "tiny New England community on Chatham Island" – also, SO there. New England is my place (aka the only place I've lived for my entire life so far). I've noticed a trend that old Katherine Applegate books from the 90's (especially summer-related ones) are being repackaged with new covers and rereleased lately. I am PUMPED because I really enjoyed her Summer series last year. Hopefully this next series doesn't disappoint! And lastly, My Life Next Door by Huntley Fitzpatrick has been recommended countless times and I now own both a Kindle copy and a physical copy! (Love when that happens. Switching back and forth, especially when being sneaky at work, is my favorite.)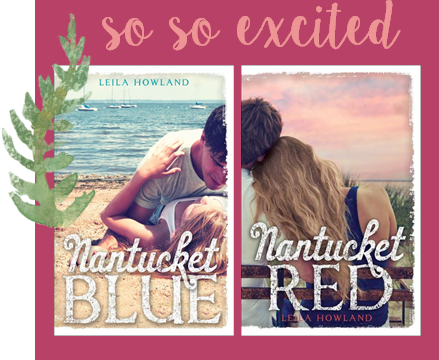 This duology just deserved its own special section. It's one of those things where I wonder HOW it's possible that I haven't read these yet. I adore the covers, the synopsis sounds like it was literally written for my summer-book-loving soul, and all of you book people seem to love them. The Nantucket duology by Leila Howland is definitely the number one thing I'm looking forward to reading this summer. Thank you, OTSP Secret Sister for getting my butt going and buying me the Kindle copy! 😀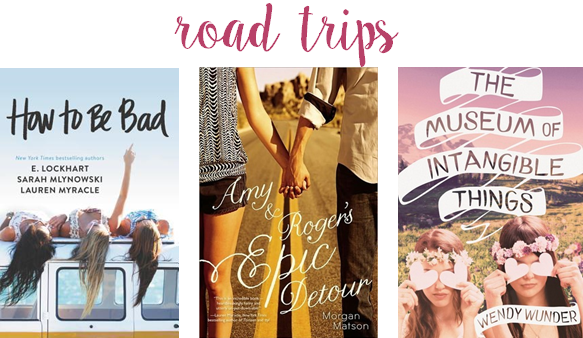 YEP it's finally time for me to get to Amy & Roger's Epic Detour by Morgan Matson. Aside from her Katie Finn books, this is the last MM book I have to read. I love her writing SO MUCH and don't know why I've delayed this one. It's ready and waiting on my Kindle. Another book I've wanted to read foreeeeever is The Museum of Intangible Things by Wendy Wunder. It's another road trip book that hopefully gives me some wanderlust. Judging from the synopsis, the focus will be on friendship instead of romance and I highly welcome that. I saw How to be Bad by E. Lockhart, Sarah Mlynowski, and Lauren Myracle at the store a few weeks ago and almost bought it on the spot. I just love that cover for some reason. It's another book that was republished with a new cover this year; it promises "fun, friendship, and feminism" – I'M IN.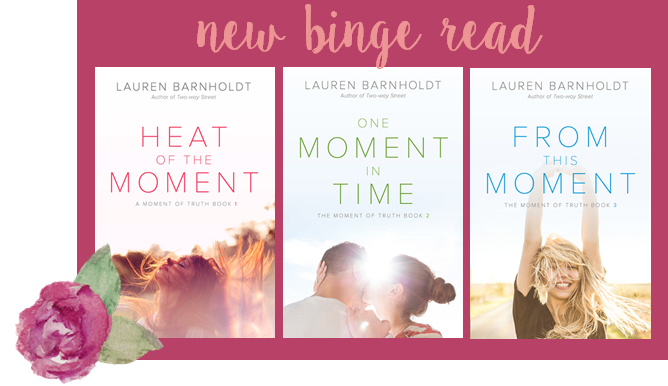 I'm super in the mood for this series. The Moment of Truth trilogy by Lauren Barnholdt has such an interesting concept: each book follows a different girl in a group of ex-best friends. They're each delivered an email that they wrote to themselves freshman year about goals they wanted to achieve by graduation. Now, they're facing the end of high school and trying to keep the promises to their old selves. I guess if you read all three books you get the full story and see how they hopefully can bring their friend group back together. Best part? Book one came out in May, book two comes out in June, and book three comes out in July.
What books are you going to read this summer?
Are you obsessed with summery, beachy reads like me?
Link me up to your TTT – you know I need recs!
Related Posts