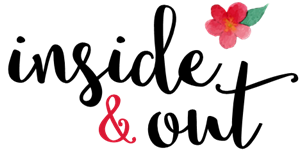 Admiring book covers and bookmarks, shared by you!
Welcome to INSIDE AND OUT. This feature includes two of my absolute favorite book-related things: bookmarks (inside) and book covers (out)! I've invited guest posters to share their favorite book covers and bookmarks here on the second and fourth Mondays of each month. Sign-ups are always open (see bottom of post)!
---

Twitter: @VWalkerViews | Instagram: @VWalkerViews | Facebook
Tell me a little about yourself: I just started blogging a few months ago and am still learning all the ins and outs of it.  I'm also writing my very own novel, which is a contemporary romance (and have ideas for a fantasy series also).  I'm usually found reading, writing, or marathoning something on Netflix (usually while sitting next to my husband).
Talk about your blog (what you blog about/kinds of books, features, etc.): My blog is a mix between book reviews (YA, fantasy, paranormal, and romance genres), some of my own writing (little bits and pieces), and my writing journey.  I started a new feature called Adventures of a Writing Blogger, which is a monthly post about adventures that I have outside of book reviews & writing.
Favorite genre: I absolutely adore the fantasy genre.  I'm a huge fan of witches, and an even bigger fan of alternate worlds (see: Middle Earth).  I'm also a pretty big fan of contemporary romances & paranormal/urban fantasy romances (like the Dark Hunter series by Sherrilyn Kenyon).
Three books you recommend most often and why: I just read Some Boys by Patty Blount in September and I think that everyone should read this book.  It handles slut-shaming and victim-shaming after the main character Grace is raped (off page — it never shows up on page), and how she deals with it.  It's so important to read this book. The Harry Potter series because it's simply magical and I grew up with the characters — I normally recommend that series to younger kids/adults with young kids. The Hobbit is the other most common recommendation that I make.  I read that in seventh grade and absolutely fell in love with fantasy and other worlds (Middle Earth feels like home for me).

What book do we have here? This is Some Boys by Patty Blount.
Have you read it yet? If so, how was it? I did read it and I absolutely loved it.  It was easily my favorite book of 2014.
What makes this cover a favorite? I love this cover because it so accurately represents how alienated the main character, Grace, feels.  It just pulled me right into the story.
What kind/style of covers do you usually pine over (script fonts, bright colors, realistic, etc.)? I wouldn't say that I pine over a "type" of cover, because the covers I love tend to vary.  I will say that I like a font that easy to read (no super fancy scripts please!) and colors that match the tone of the book.

What bookmark did you chose? This is a bookmark that says "Believe in your dreams."  And it's pretty to look at, with some colorful ribbon and beads and floral designs on it.
What makes this one special to you? When Borders was still open, I would always leave with a bookmark, without fail.  I love collecting quotes and this one is especially important to me because I lost sight of my dreams for a little while, BUT I'm back on track.  Always believe in yourself & your dreams.
Where's it from? This is one that I found at Borders years ago.
What kind of bookmarks do you prefer (paper, magnetic, quotes, etc.)? I actually tend not to use bookmarks too often, and usually resort to a post-it note.  It's shameful, I know.  But when I was using bookmarks, they always fell out of the book!  So…sticky notes/post-it notes became my go-to.  I still buy bookmarks that have beautiful or inspiring quotes on them, though!
Thanks for sharing your cover and bookmark, V! I haven't gotten to this book yet but I've heard that it's powerful!
---
Join in the fun!
Important: Sign-ups are always open, but are scheduled very far out at this point. If you sign up, you'll receive a confirmation and tentative month, but won't receive the full questionnaire (unless you plan on just sending yours in ASAP – just let me know when you reply). I don't want to risk planning for someone's post that's eight months away and then have them bail at the last minute. I will send the questionnaire two months before you're scheduled to post and you can confirm if you're still interested and set for that date.
Related Posts