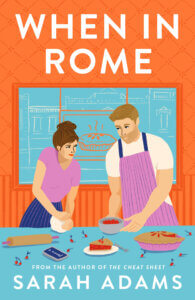 When in Rome
by
Sarah Adams
Series:
When in Rome #1
Genres:
Adult
,
Contemporary
Published by
Random House
on September 20, 2022
Also by this author:
Practice Makes Perfect
Format:
eBook
(320 pages) •
Source:
Libby
Goodreads
•
Amazon
•
Barnes & Noble

Opposites certainly attract for the stranded pop star and small-town baker in this charming slice of romance from the author of the TikTok sensation The Cheat Sheet.

Amelia Rose, known as Rae Rose to her adoring fans, is burned-out from years of maintaining her "princess of pop" image. Inspired by her favorite Audrey Hepburn film, Roman Holiday, she drives off in the middle of the night for a break in Rome . . . Rome, Kentucky, that is.

When Noah Walker finds Amelia on his front lawn in her broken-down car, he makes it clear he doesn't have the time or patience for celebrity problems. He's too busy running the pie shop his grandmother left him and reminding his nosy but lovable neighbors to mind their own damn business. Despite his better judgment, he lets her stay in his guest room--but only until her car is fixed--then she's on her own.

Then Noah starts to see a different side of Rae Rose--she's Amelia: kindhearted and goofy, yet lonely from years in the public eye. He can't help but get close to her. Soon she'll have to return to her glamorous life on tour, but until then, Noah will show Amelia all the charming small-town experiences she's been missing, and she'll help him open his heart to more.

Amelia can't resist falling for the cozy town and her grumpy tour guide, but even Audrey had to leave Rome eventually.
I always expect the popular, hyped books to not be as good as others say (looking at you, Fourth Wing), but I was thrilled to be proved wrong with WHEN IN ROME! I suddenly had the urge to follow the hype (something I'm doing this year for some reason) and request this one from the library. I also requested the new companion sequel, PRACTICE MAKES PERFECT, at the same time. I thought I'd probably enjoy this one but I didn't think I'd be adding my name to the list of crazed Sarah Adams fans… yet here we are with a new favorite five-star romance!
This story follows Amelia, a super popular pop star who needs a break from it all, when her car breaks down in the middle of nowhere Rome, Kentucky. She's saved by adorable baker Noah and he eventually offers up his guest room for her. She gets to know Noah, his sisters, and other locals around Rome, and pretty much falls for everyone very quickly.
This was exactly the kind of low-drama romance I'm into these days! I don't want to spoil anything but there's really not any major events or miscommunications leading to a huge breakup of the main couple. It's definitely got instalove (I mean, they knew each other for two weeks!!) and zero spicy scenes. It's closed door, which is fine, but I do think the story could have used some! (Maybe I'm just biased toward that kind of romance these days lol.) I liked the external drama throughout the story with Amelia trying to reconcile her popstar life with her new quiet life in the country – most of the climax of the story surrounded her life drama rather than romance drama.
Rome was a super cute small town (not explored as thoroughly as some of the other small town romance companion series I love) and I enjoyed the abundance of nosy neighbors and siblings. Noah has three sisters and one of them is already the lead in PRACTICE MAKES PERFECT. Definitely hoping and assuming the other two will lead more books in the future!
All in all, this book definitely exceeded my expectations. I can't wait to dive into the sequel the moment it comes in (or I drive to my sister's house and steal her copy…)!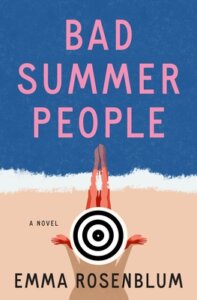 Bad Summer People
by
Emma Rosenblum
Genres:
Adult
,
Contemporary
,
Mystery/Thriller
Published by
Macmillan
on May 23, 2023
Format:
eBook
(257 pages) •
Source:
Libby
Goodreads
•
Amazon
•
Barnes & Noble
A whip-smart, propulsive debut about infidelity, backstabbing, and murderous intrigue, set against an exclusive summer haven on Fire Island

None of them would claim to be a particularly good person. But who among them is actually capable of murder?

Jen Weinstein and Lauren Parker rule the town of Salcombe, Fire Island every summer. They hold sway on the beach and the tennis court, and are adept at manipulating people to get what they want. Their husbands, Sam and Jason, have summered together on the island since childhood, despite lifelong grudges and numerous secrets. Their one single friend, Rachel Woolf, is looking to meet her match, whether he's the tennis pro-or someone else's husband. But even with plenty to gossip about, this season starts out as quietly as any other.

Until a body is discovered, face down off the side of the boardwalk.

Stylish, subversive and darkly comedic, this is a story of what's lurking under the surface of picture-perfect lives in a place where everyone has something to hide.
I was really looking forward to BAD SUMMER PEOPLE! It was one of my more anticipated releases this year and I was sure to request it on Libby as soon as I saw it. I always love books set in northeast beach towns, especially with shitty wealthy people and a little bit of murder.
This book is set on Fire Island in a small town – it's rife with the usual drama in these books: infidelity, spoiled children, bitchy women, finance bro husbands, the list goes on. The story alternates between a bunch of POVs to give all of the locals' perspectives.
The story overall doesn't add much to the "rich people behaving badly" genre but that doesn't mean I didn't have a fun time reading it! I think one area where I was misled is that I did expect the murder mystery to be more apparent. It's not a thriller or anything – my friend described it as White Lotus-like and I would agree! Not a super mysterious book but you learn of a dead body in the prologue and find out more about it later (much like the show), without any of the typical thriller elements in between. I spent some time wondering who was going to be the victim so it was interesting to attempt to piece it together. I liked the ending (and big reveal of who died) and some of the twists that happened for sure.
I'd definitely recommend this as a breezy beach read! It's only 275 pages so you could certainly sit in the sand and read it in a day. If the premise interests you, give it a shot, but don't expect it to reinvent the wheel.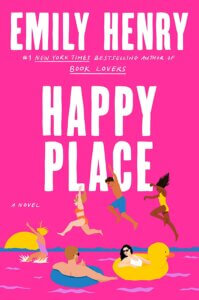 Happy Place
by
Emily Henry
Genres:
Adult
,
Contemporary
Published by
Berkley
on April 25, 2023
Also by this author:
Beach Read
,
People We Meet on Vacation
,
Book Lovers
Format:
Hardcover
(388 pages) •
Source:
Purchased
Goodreads
•
Amazon
•
Barnes & Noble

Harriet and Wyn have been the perfect couple since they met in college—they go together like salt and pepper, honey and tea, lobster and rolls. Except, now—for reasons they're still not discussing—they don't.

They broke up six months ago. And still haven't told their best friends.

Which is how they find themselves sharing the largest bedroom at the Maine cottage that has been their friend group's yearly getaway for the last decade. Their annual respite from the world, where for one vibrant, blue week they leave behind their daily lives; have copious amounts of cheese, wine, and seafood; and soak up the salty coastal air with the people who understand them most.

Only this year, Harriet and Wyn are lying through their teeth while trying not to notice how desperately they still want each other. Because the cottage is for sale and this is the last week they'll all have together in this place. They can't stand to break their friends' hearts, and so they'll play their parts. Harriet will be the driven surgical resident who never starts a fight, and Wyn will be the laid-back charmer who never lets the cracks show. It's a flawless plan (if you look at it from a great distance and through a pair of sunscreen-smeared sunglasses). After years of being in love, how hard can it be to fake it for one week… in front of those who know you best?

A couple who broke up months ago make a pact to pretend to still be together for their annual weeklong vacation with their best friends in this glittering and wise new novel from #1 New York Times bestselling author Emily Henry.
Another total winner from Emily Henry! I saw mixed reviews from some friends/bloggers and was really nervous – people didn't like or understand the reason for the breakup, or didn't enjoy the friend group, or didn't like that there were heavy elements including grief and depression. I actually liked all of these and thought they were done so well!
HAPPY PLACE follows Harriet and her ex-fiance Wyn, who have been pretending to still be engaged for the past 5 months to their friends and family, as they go to their "happy place" in Maine. Their friend group features Harriet's college roommates (Cleo and Sabrina) and their significant others (Kimmy and Parth); most of the group has lived together over the years and Wyn was longtime friends with Parth at school. They have a lot of history and great memories visiting Sabrina's family vacation home on the coast of Maine. I don't want to spoil the main reasons for the visit even though they're revealed early in the book, but there are two main drivers for everyone heading up there for the week.
(Sidenote: as someone whose grandparent lives in coastal Maine and has gone to Kennebunk 3-5 times per year since she was 10… the way she described Knotts Harbor was sheer Vacationland perfection. If I wasn't already heading to Maine the weekend after reading this book, I would have been calling my grandma and heading up there ASAP.)
I think the book is pretty evenly split between friend group feels and the second chance romance aspect. You spend most of the book wondering why Wyn unceremoniously ended his engagement to Harriet and uncover the history of their relationship throughout the story in various flashbacks. I thought Henry did such a great job of balancing the timelines and making me root for this couple to get back together. Many people didn't love the reason for the couple's initial breakup and just yelled for them to communicate after being together for so long, but I personally thought Henry characterized Wyn and Harriet SO well throughout the story, where I believed that is how things could have gone down (based on their personalities and habits). Not sure if that makes sense, but it was just awesome character work based in their upbringings, family relationships, and friendship dynamics. (To the people who think Harriet needed to stop being such a people-pleaser and do things for herself… clearly you do not suffer from the people-pleasing gene like I do. This was all too real to me, especially in the friend group.)
Another issue some readers had was with the heavier plot points around grief, depression, etc. – I thought this was similar to BEACH READ where grief is involved and the characters work through it… nothing new for an Emily Henry book IMO! I've come to expect them to be well-balanced and not all fluff.
When all hell breaks loose in the final act and some conflicts come to the surface, I was rooting for everyone (friends and lead couple) to work it out. Again, felt super realistic to me based on how we got to know all of the characters.
All in all, this is another excellent book by Emily Henry and I have no complaints. I loved how well-rounded the story was and how perfectly she balanced the flashback chapters with present day, allowing the reader to truly get to know all of the characters and their intricacies.
Related Posts