Everyone knows that Sarah Dessen is the queen of contemporary romance and adorable (and often darker or more complex), coming-of-age summer stories. I have read and loved most of her books already, but I made it a point recently to read (or in a lot of cases, reread) all of her books. Her books are important to so many people and really are what got many of us into reading contemporary romance books. This summer, Cristina from Girl in the Pages and I have teamed up to talk alllllll about Sarah Dessen – when we started reading her books, our experiences with rereading, and other fun discussions, recommendations, and personal stories. Our feature will take place over 4 weeks this June on Wednesdays (here) and Thursdays (there).
Schedule
Introduction, Our Sarah Stories, and Discussion of Someone Like You
June 7th on Bookmark Lit – June 8th on Girl in the Pages
Dessen Recommendations and Similar Stories
June 14th on Bookmark Lit – June 15th on Girl in the Pages
Blog Features: Cover Colors and I Will Go Down with My Ship
June 21st on Bookmark Lit – June 22nd on Girl in the Pages
Once and For All, Dessen Favorites, and Wrap-Up
June 28th on Bookmark Lit – June 29th on Girl in the Pages
---

This week we came up with the broad category of making some recommendations! This could include recommendations for specific Dessen books based on favorite topics or other authors/books, OR it could be recommendations for other books based on your favorite Dessen. Cristina has a different approach tomorrow, so be sure to check out her rec list then!
There's a Dessen for every reader…
I paired up two Dessen books for each category to form some recommendations based on specific topics that readers deal with or like reading about. I ended up being able to recommend 12 out of her 13 books! (The thirteenth book is The Moon and More, which I haven't finished reading to be able to recommend it.)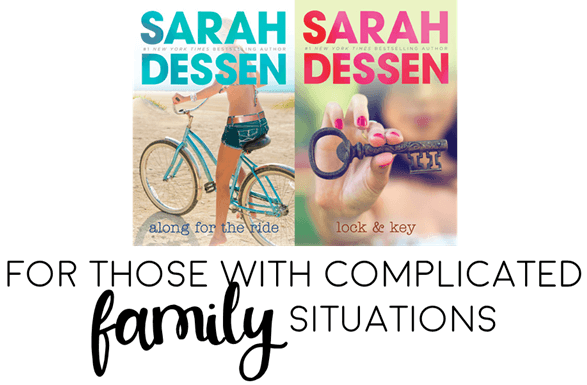 Topic: complicated or dysfunctional family dynamics and relationships
Books: Along for the Ride and Lock & Key
Both of these were the books I featured for the #ReadADessen campaign this summer! It just so happens that they both have complicated family situations and unexpected summer (or school year) situations. In Along for the Ride, Auden stays with her father in Colby for the summer and learns that her new pink-loving, boutique-owning stepmom isn't what she thought she'd be. She has a new baby sister to deal with as well. In Lock & Key, Ruby took care of herself until her sister comes to "rescue" her. She ends up at their ritzy house and in a fancy private school, all while navigating her new relationship with the sister she hasn't seen in 10 years.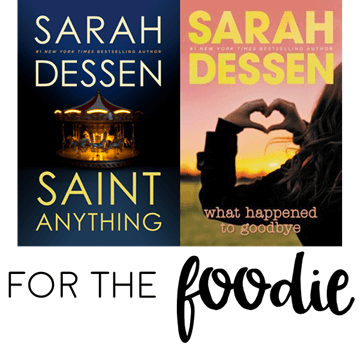 Topic: restaurant life and lots and lots of fooooood
Books: Saint Anything and What Happened to Goodbye
The biggest thing I remember about Saint Anything (aside from how much I loved it) is the PIZZA. When Syndey falls into the chaotic world of the Chatham family, she spends all of her time eating french fries and pizza at their shop. I've never craved my favorite food so much reading a book, TBH. In What Happened to Goodbye, McLean and her father travel to failing restaurants across the country to help fix them up and turn them around. (This is the trivia question I answered correctly at the event!) They end up at the Luna Blu restaurant in Lakeview (one of Dessen's major book settings). The whole story centers around revamping menus and improving the restaurants they go to, so there were major foodie vibes in this one. I'm craving pickles now too.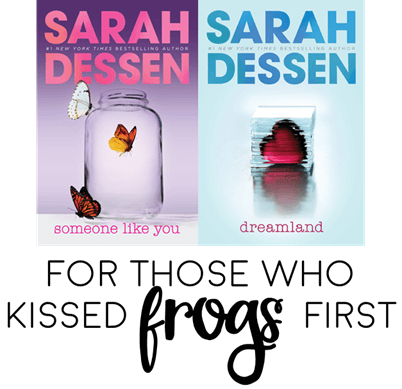 Topic: realizing that certain boys and relationships aren't right for you
Books: Someone Like You and Dreamland
I love that Dessen doesn't shy away from writing about books where the boys you initially meet aren't exactly the right fit for the main character. These were major themes in both of the novels above. Any girl who has kissed her share of frogs understands why these books can be important and helpful! In Someone Like You, the bad boy starts giving Halley attention she's never really had before. He seems sweet at first, but things take a turn throughout the story. In Dreamland, one of Dessen's darker novels, the story is similar. Caitlyn and Rogerson have a love that isn't exactly healthy (from what I remember – this one is still on my reread list!). Both books show girls how relationships can progress in a bad way sometimes, so hopefully you can learn the red flags early.
Topic: musical aspects to the stories
Books: This Lullaby and Just Listen
As many of you know from reading my blog, I'm a fan of music but don't really read books about it. I don't like to change up my playlists and often focus on the same songs all the time. I'm not going to lie, I haven't read This Lullaby in a LONG time. It was one of my favorites back in the day but my memory eludes me. I know from other reviews (plus the guitar on the cover) that love songs and "This Lullaby" are a major part of the story. I just recently reread Just Listen and really enjoyed the bonding over music between Annabel and Owen. The story digs deep into some issues and I love the quote about how music can take you right back to a specific place or time. I made a "musical memories" post as a result of rereading that book.
Topic: wedding planning (both for work and for family members)
Books: That Summer and Once and For All
It's funny because these two bookend Sarah's full collection of works so far – That Summer is her first book and Once and for All is her most recent book… and they both involve wedding planning! That Summer is about Haven's family members getting married. Her dad is getting remarried and her sister is getting married for the first time. She can't keep up with all the changes in her life, so she clings to her sister's ex-boyfriend and the past. Once and for All is about a wedding planning team – Louna's mom and her best friend William – as they all work together in her final summer before college. The actual planning of weddings was a lot of fun in this one (more so than That Summer, for me) and I loved "learning" about that particular industry. It's a book topic that immediately intrigues me when I see it!
Topic: keeping, getting, and/or maintaining summer jobs
Books: The Truth About Forever and Keeping the Moon
Last but not least – books for the girl with a summer job! A lot of the stories above involve working for the summer as well, but I wanted to highlight these two in particular. The Truth About Forever has been my long-standing favorite Dessen book. I've been putting off the reread because I'm nervous it'll be different now. Anyways, I vividly remember the Wish catering company and the way Macy's summer changed so quickly. It made me want to read about that company and industry forever! Keeping the Moon involves one of my all-time favorite Dessen settings – the Last Chance Cafe in Colby, NC. I loved reading about the different people who worked there (including the friendships that developed over time) and Colie's aunt at home. It's one of my favorites of hers and think its incredibly underrated. These two are very centered around work, crushes on coworkers, and how certain summer jobs can totally change your life.
---
Come back next week for the next installment, and be sure to check out Cristina's post tomorrow!
Related Posts