When I saw that Sarah Dessen was coming to Connecticut, I really couldn't believe it. I had just forced Along for the Ride onto my sixteen year old sister, so I was determined to make her into a Dessen reader (that was easy) and then get her to take a mini road trip with me. Connecticut is a VERY small state, as you probably know. I live at the top (a few minutes from the Massachussets border) and it would take me only an hour from my work (around the middle of the state) to get to the bottom of the state (Fairfield). I made arrangements to leave work early, pick my sister up a few minutes away, and head straight down for the 7:00 PM event. I wanted to have plenty of time to get a good seat and hopefully have some dinner down there. Here's my recap for the event, plus some fun pictures of Dessen, my sister Jordyn, and me.
Pre-Event Happenings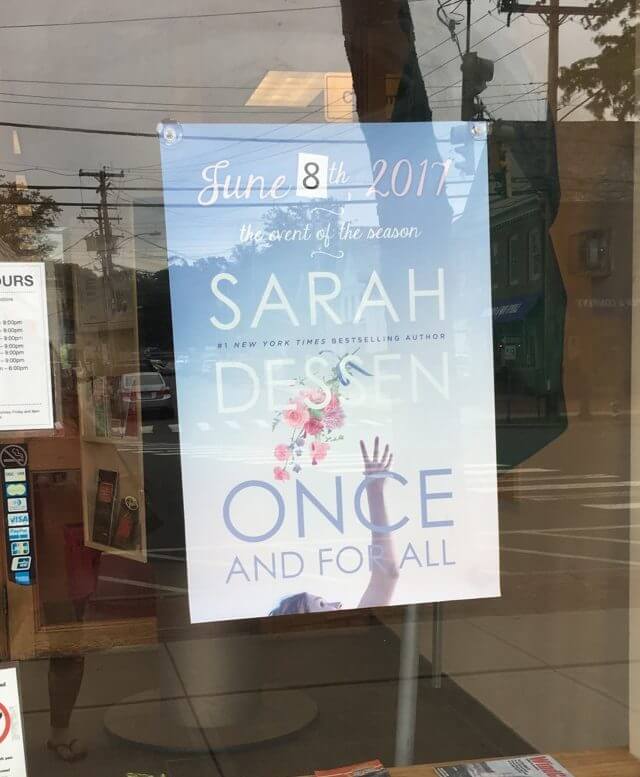 I grabbed my sister after leaving work early and luckily we didn't hit much traffic on the way down! We got there, parked, and made it inside by 5:45 PM. There was a Starbucks inside the bookstore so we were able to have a quick dinner after picking up the books. The cover (and interior!) of this book was even cuter than expected. I wish I got a better picture or Boomerang with my Pink Drink, since the inside of the book has pink endpapers!
I was anal about getting near the stairs (the event was upstairs) ASAP because they were letting us up at 6:15. I told my sister that the closer we were to the front, the more likely we'd get home at a more decent hour. Since the ride is over an hour, we were hoping to hit the road sooner than the projected end time of 9:00.
We ended up being maybe the fifth/sixth people upstairs. It was SO cute up there. They had a violinist playing music, like we were at a wedding, and they were serving finger foods and flavored water. We got seats in the very first row and then browsed the upstairs area a little. We started reading the book too, but I was honestly too distracted and excited to read much!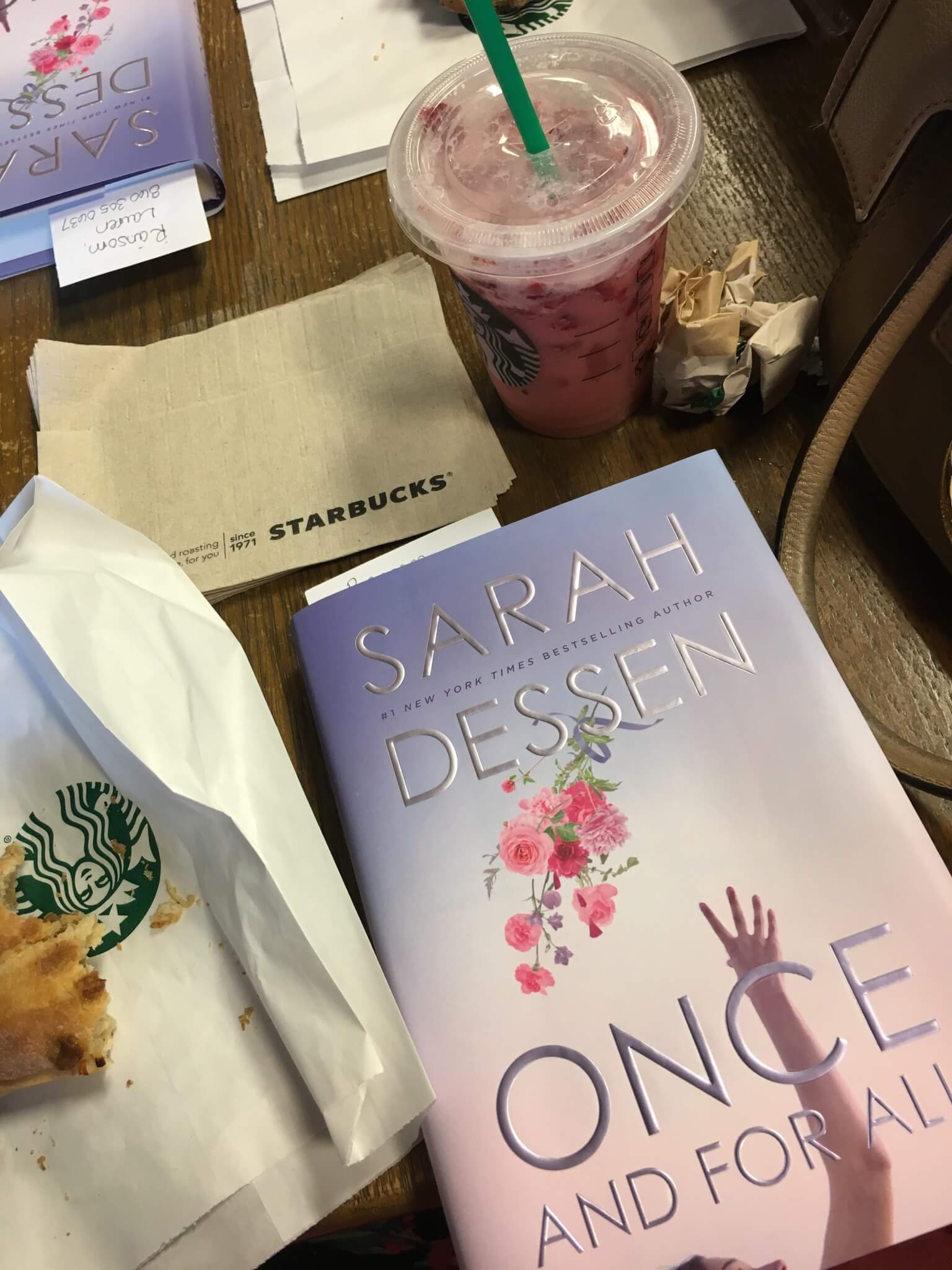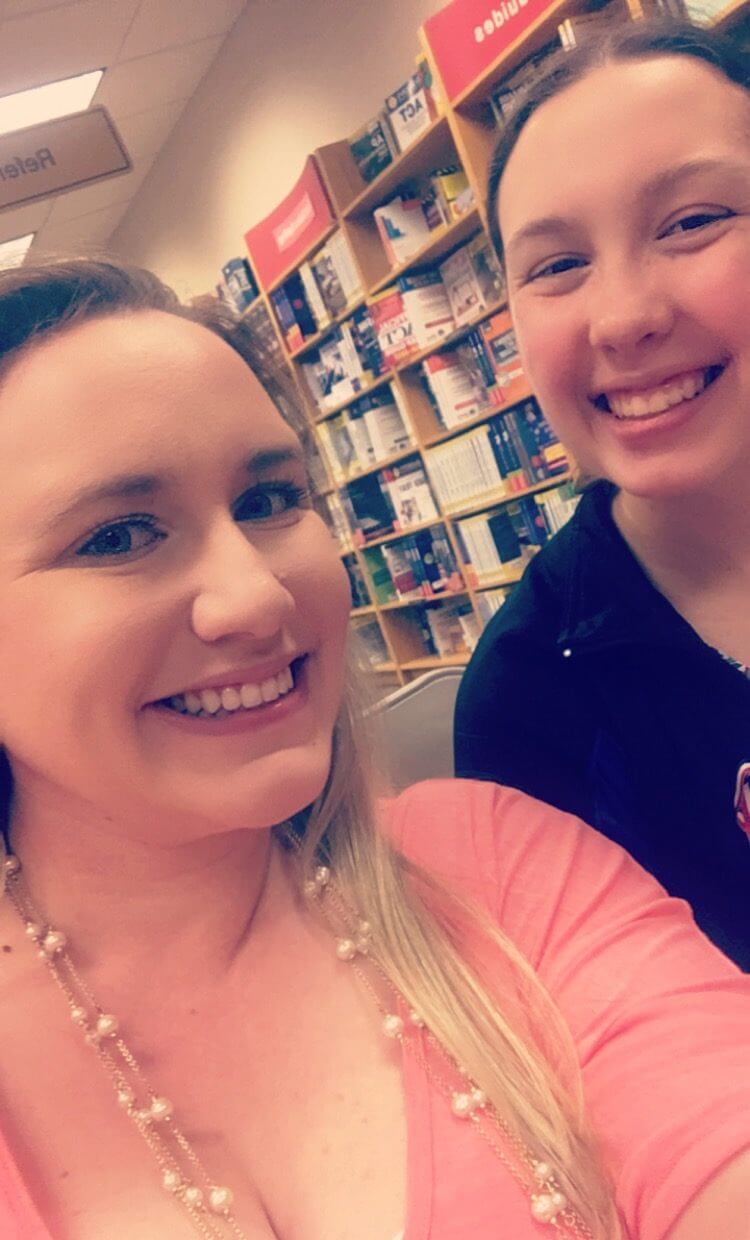 Jordyn during our fancy Starbucks dinner / Matching drink and book / Waiting!
Start of the Event
They gave us little cones that were supposed to have heart-shaped confetti that we'd throw when she "walked down the aisle" to get to the stage. My sister and I didn't have any confetti in ours, which was sad but fine haha. The stage had a little flower pot with lights, plus the big event poster and stool. I wish I got more pictures of the atmosphere and maybe her walking in, but I'm happy I absorbed the moment in real life instead of through the camera lens. I took a bunch of her onstage, but they all pretty much look the same lol.
Sarah shared that she usually does a reading from the book, but this would be her first event EVER where she decided to skip it. She said, since we all bought the book we'll probably read it ourselves and don't need her to do it for us! She enjoys answering questions and meeting with us while she signs books, so she wanted to keep the intro stuff brief instead. I'll share some highlights of the discussion and questions after the following, but I wanted to mention this first…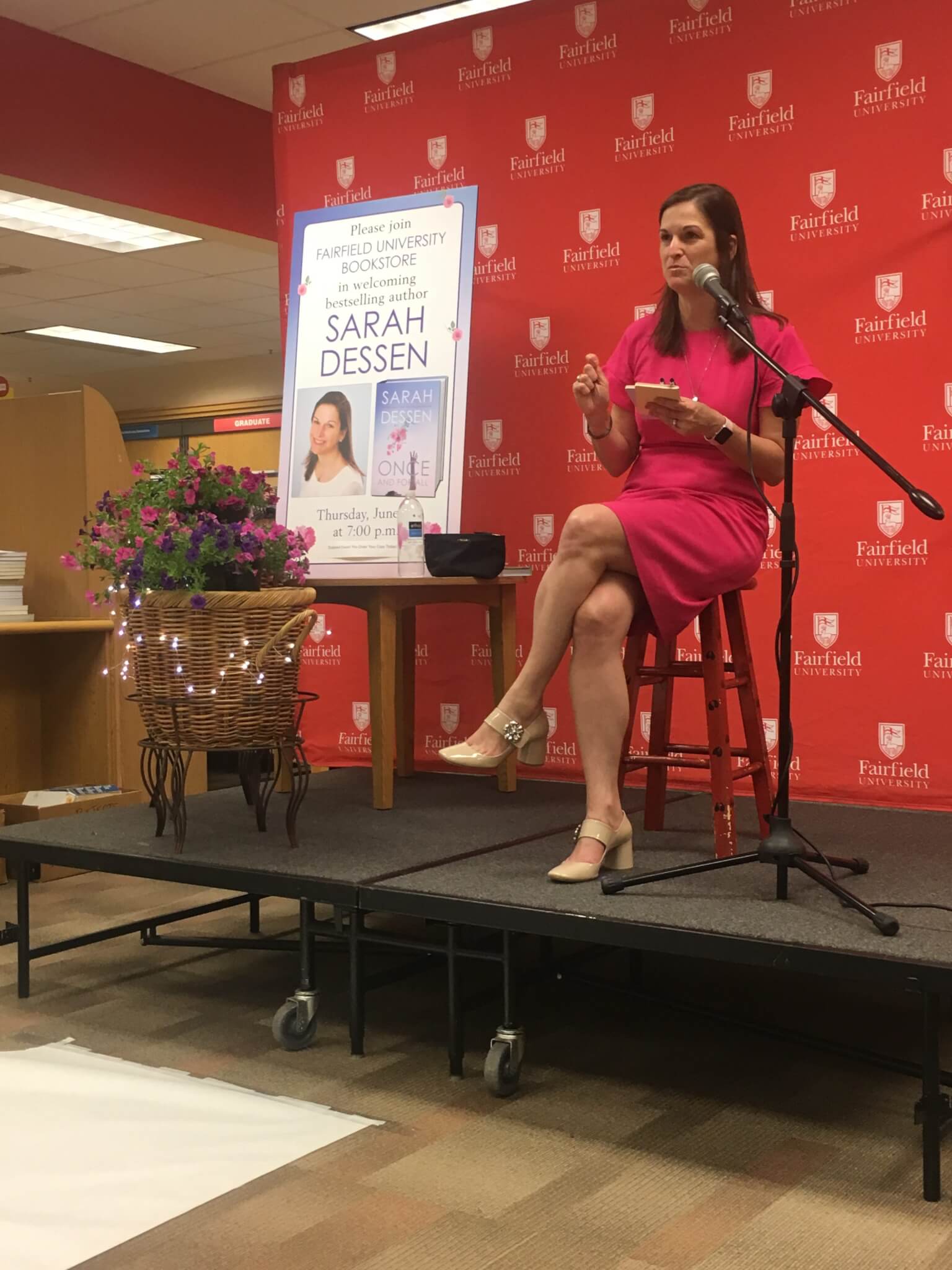 My Natalie Barrett Weddings trivia prize / Sarah onstage with the notebooks 
I won a trivia prize! She talked about the book and then did a bit of trivia. She heard previously that a girl drove down from Vermont for the event so she gave her a prize automatically. The first actual trivia question was "In What Happened to Goodbye, McLean's dad has a unique job. What does he do?" My hand SHOT up and I was in the front row, so she picked me to answer. I said, of course, that he travels to different failing restaurants and flips them to make improvements. I won a cute little blank notebook that she put a Natalie Barrett Weddings sticker on, plus a pen with the same name. Obviously this references the book. Anyways! Congrats to me and on to the actual recap 😉
On Once and For All and Beyond
Some of the bullets below may have happened during the Q&A section when she had a small side tangent, but I wanted to include them here as more general information instead (mostly because I'm not sure lol).
Sarah talked about how the inspiration for Once and for All was when two of her babysitters were planning very different weddings at the same time. One was a traditional Mung wedding and the other was a big Southern wedding. Both girls, however, had similar issues and stresses, even if the weddings themselves were super different. They worried about little details, their families, etc.
Once and for All is her 13th book and it's a book she didn't think would happen. She thought she'd take a break after Saint Anything because 12 books was a nice, round number for a break.
She feels like the "elder statesman" in YA because things have changed so much since she got started over 20 years ago. Her books (especially That Summer) were in the Children's section and there was no Teen or YA section. Since then, the audience has clearly gotten larger and more powerful!
Her daughter doesn't think her job is that cool – she didn't want her to come to career day at her school because it was for "cool jobs like firemen or police officers."
She chose the prizes (blank books and pens) because she loves the possibility of blank books to write in. She always thinks she'll be more organized or make a bullet journal. When her daughter and she go to Target on Sundays, her daughter has to push her out of the notebook aisle so she doesn't buy any.
Questions and Discussion
I don't remember every single question that was asked (mostly because my memory is garbage), but here were some of my favorite points from the Q&A that she had. There were at least two questions she said she'd never gotten before (the first two you'll see here), so that was fun! The questions below are edited or condensed for clarity and/or because of my weird memory.
Which 2-3 scenes from your books would you like to see fan art for? She said that she'd like to see some kind of image of when Caitlin first sees Rogerson (even though he's a bad fit for her), just because it's a major moment for her. It reminded her of some events from her life as well. She said there's a scene in Once and for All where Ambrose dances crazily, or something like that, and she'd like that too.
Which book quotes of yours would you give your daughter as advice? She picked "Don't think or judge, just listen" and another one I don't remember because I'm the woooorst. She also said she's nervous about raising her daughter because she herself was a handful for her own mother.
How do you know a book is "ready" and what's your writing process like? Sarah writes a book from start to finish, beginning to end. There are some key scenes she fills in throughout (like the first line, the last scene/chapter, and maybe an event or two around the climax) though.
Which of

your

books is your favorite? She has a tough time answering this one because they're all important to her in different ways. She usually leans toward This Lullaby because it was a great writing experience that pulled her out of a tough time. I believe she also referenced this book because she wasn't sure it would happen, but it did come around!
Which of your main characters is most like you? She talked about this one quite a bit, because all of her characters have elements of her personality. Her editor once noted that she always writes from the point of view of the friend on the side instead of the "dynamic" friend, even though both are in all of her stories. She said she knows that quiet girl who follows along better, because she was that girl. She thinks all of her main characters would be friends and they're all hanging out with her somewhere. Each one specifically relates to her own personality, or else she doesn't feel like she could write them well. She's never been the "dynamic" friend and wouldn't write that POV well.
What's your favorite book/author, not including her own books? She said she'd never list her own book as a favorite. Her favorite book that she's revisited multiple times is A Prayer for Owen Meany by John Irving. For YA, she loves John Green and her favorite book by him is Looking for Alaska (me too!).
Signing and Wrap-Up
Once she finished answering questions, she wanted to get signing. My sister and I were lucky we picked that first row because we ended up being the second and third people to get our books signed! I was so excited to meet her that I rambled so much. I told her how I'd read all of her books and had been reading them since I was 13. I said the best part is being able to share them with my 16 year old sister. I said my favorite book is Along for the Ride and that's the one I forced on Jordyn first. I took an AWKWARD photo with her and moved to the side for Jordyn to get her photo. She said "oh, is this your sister?" when she came up, and Jordyn was confused. It was pretty funny. She complimented the spelling of her name and I said I helped pick it out. (When my stepmom was pregnant I made sure it was with a Y instead of an A, because I thought it was pretty.) She noted that there was a bit of an age difference between us and I confirmed and said 10 years. Jordyn got her book and picture, then thanked her, and we were on our way. I own pretty much all of her books and Jordyn wanted to get her own copies, so we went down to the main bookstore. Per my knowledge of my sister and Dessen prowess, I told her to get Lock & Key and What Happened to Goodbye. I also recommended The Truth About Forever, of course, but she held off on that one for now. She couldn't resist the boy next door situation in L&K.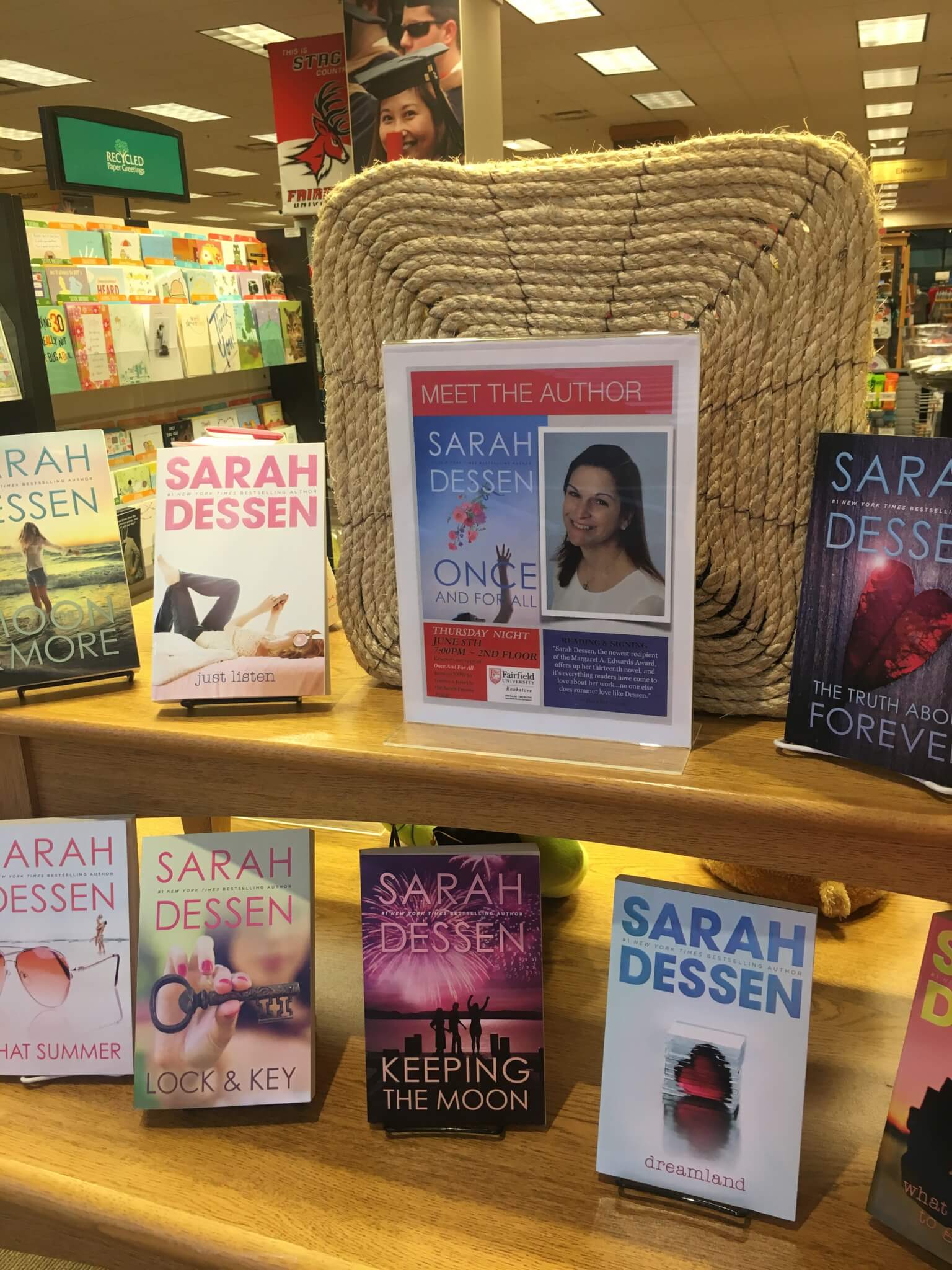 Dessen display with the event info / My awkward picture with her!
I couldn't be happier to have FINALLY met my all-time favorite author. I've talked about this twice on the blog and she made it on the list both times, of course. The first time I said I would tell her how she's the reason I read YA contemporary in the first place and also noted I'd sound incoherent if I met her. That is exactly what happened lol. I wish I didn't hate the photo so much but some cropping made it a little better 😉 My sister and I talked books the entire way home and were lucky to leave at 8:00 instead of 9:00. It was awesome to share the night with her.
Related Posts