I participated in the Statistics Survey in years past (2014, 2015, and 2016), created and hosted by Brittany and Andi, two of my all-time favorite bloggers and friends. They didn't move forward with hosting it for this year and I decided to make some adjustments to their questions for my own purposes. I always share stats and EOY information at this time anyways, but there are bits and pieces sprinkled in from their survey as well!
Monthly Reads and Stats, Book Buying Habits
Average book rating for 2018: 3.7 stars
Average number of pages per month: 3,504 pages
Average books acquired per month: 12.8 books
Most books/pages read in a month: January – 14 books (4,765 pages)
Least books/pages read in a month: June – 7 books (2,343 pages)
These are definitely not surprising to me. I always try to get ahead on my Goodreads challenge in January. Signing up for new reading challenges, participating in Bout of Books, and just being excited for a clean slate of reading? Those things all lead to an increase in January to get me on the right foot. I'm also not surprised about having a low reading month in June. It was super busy. We packed in EVERYTHING we could during our last month in Maine, including a trip home for a wedding AND a trip to California for a wedding/vacation. I knew I wasn't going to get a lot of reading done that month, which is why I tried to read a little more in May to overcompensate.
Most books acquired in a month: February – 20 books
Least books acquired in a month: March – 9 books
I'm a little surprised that January wasn't the biggest one here, but I guess this makes sense – I get a lot of gift cards for Christmas and tend to spend all of them throughout Jan/Feb on new books. I don't buy any books in December, usually, because I'll often acquire them through Secret Santas and Christmas with my family. I can see that I received 7 books for review, bought 7 books with gift cards, borrowed 2 books, AND bought 4 books with my own money in February. That'll do it. Maybe I bought less books in March because I bought so many in February? Probably.
Best average rating in a month: March – 4.1 stars
Worst average rating in a month: June – 3.4 stars
I'm not sure what was so great about March's books but I'm not mad about it. December was my worst month… literally until I finished my final book of the year. (I tend to read a lot of fluffy holiday romances in December and this year, they weren't overly impressive. I was a bit disappointed by most of my Christmas books this year and it showed in my rating. The few non-holiday books got good ratings from me, for the most part, but the holiday ones were sub-par in 2018.) After finishing THE PRINCESS AND THE FANGIRL, my lowest rated month instead became June with 3.4 stars. I think this is because I didn't read as many books so the sample size was smaller too? Most of those books just happened to be 3 stars. Womp.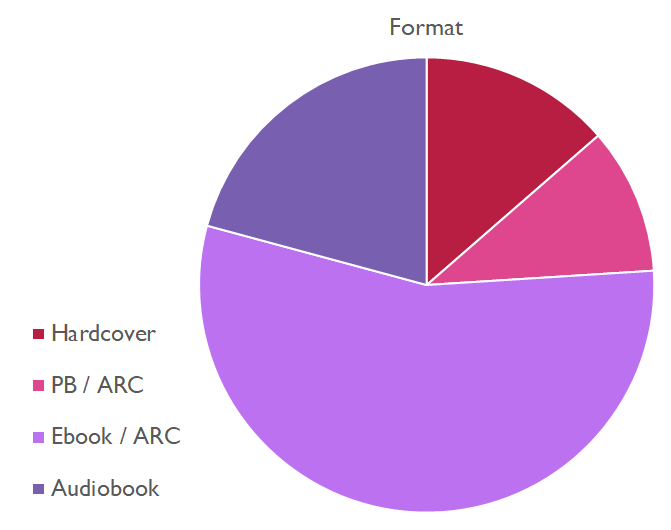 Books read by format:
Hardcover: 17
Paperback and physical ARC: 13
Ebook and egalley: 69
Audiobook/mixed: 26
I am so not surprised by this. I loved reading on my Kindle this year! For some reason, I completely lacked motivation to read physical books in 2018. I think the convenience of reading on an ereader just took over for me. Most of the hardcover books were new releases from the library, I believe, and most of the paperback books were probably ARCs instead of actual PBs. I know that about 40+ of the ebooks read were galleys too. I'm proud of myself for keeping up with review copies as best I could!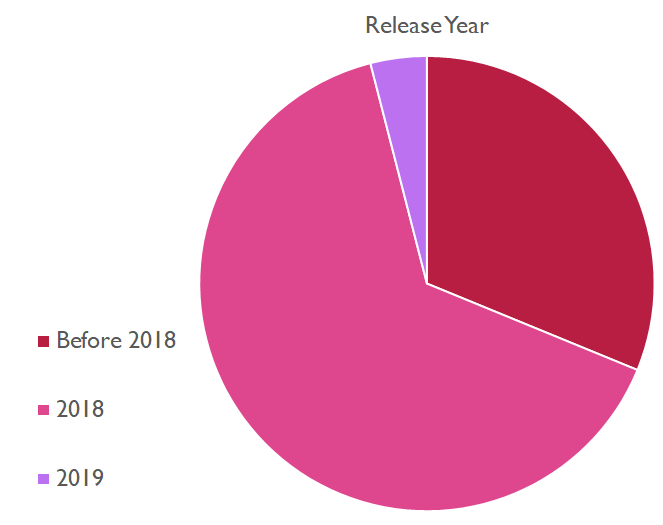 Books read by release year:
Released before 2018: 39
2018 releases: 81
Released in 2019: 5
This seems about right. I tried to read a good amount of backlist titles this year and I really let my moods guide me. I had some good blog tours and again, a LOT of review copies this year too. I'm not surprised about 80+ new 2018 releases being on here… and I'm proud I got ahead for 2019 too!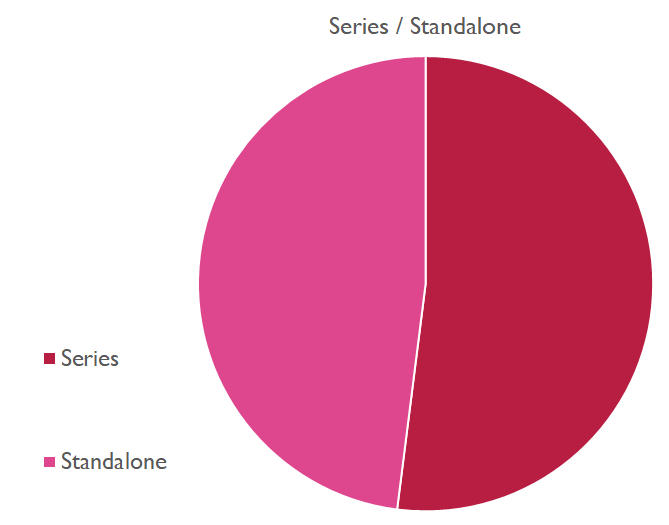 Books in series vs. standalone:
Standalone books: 60
Books in a series: 65

45 different series read
21 first-in-series
41 later in series
This one is slightly surprising because I never FEEL like I read that many series each year! I guess it makes sense though because I'm finding that more and more authors are writing companion series specifically… even contemporary books. I also continued to dive into "small town companion series" quite a bit and that probably makes up a good portion of these series. Also definitely happy that I read more "later in a series" books than series-starters, which means I'm just making good progress on finishing series lately.
Books read by target audience:
Adult: 45
New Adult: 3
Young Adult: 76
Middle Grade: 1
Look at me go! So many more adult fiction books, as expected. I still read YA the most by a wide margin, but it's nice to see a little diversity in there. I hope to read more NA books in 2019 but I find myself straying away from them unless I'm REALLY in the mood. I expect to see even more adult books in 2019, and hopefully a few middle grade too.
Books read by rating:
2 stars: 1
2.5 stars: 9
3 stars: 19
3.5 stars: 25
4 stars: 32
4.5 stars: 21
5 stars: 7
I've explored my lack of five-star reads already on the blog, but I should talk about the low-rated books. I think I've been too generous with ratings in previous years and too strict this year. I need more balance in 2019. I'm glad that I'm not fluffing up ratings anymore though. If a book isn't great, I don't hesitate to rate it as such. It's good to see a decent number of "middle" ratings because I think that's where I'm the most honest.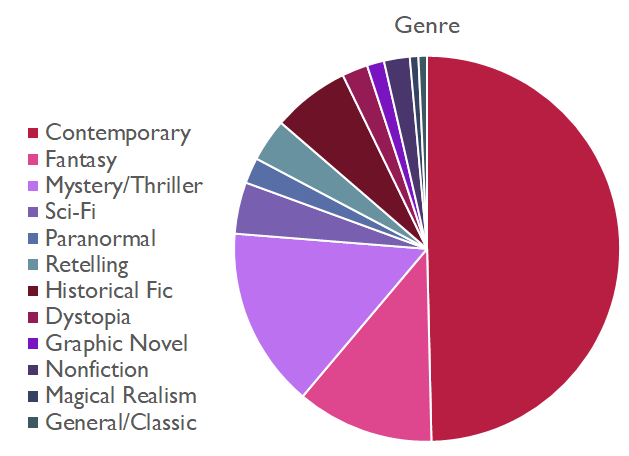 Books read by genre:
Contemporary: 69
Fantasy: 16
Mystery/Thriller: 21
Science Fiction: 6
Paranormal: 3
Retelling: 5
Historical Fiction: 9
Dystopia: 3
Graphic Novel: 2
Nonfiction: 3
Magical Realism: 1
Classic/General: 1
As you can see, I just barely missed my goal of reading less than 50% contemporary novels. I'm not surprised in the least that my second most-read category would be mysteries and thrillers because I really started to love them this year! I hope to keep it up next year but I seriously need to get back into fantasy reads. I also expect 2019 to have WAY more retellings because it's one of the reading challenges I'm participating in.
Other Stats
Different authors read: 104
I don't know if I've called this stat out before but I'm curious to know how this compares to other years. I think it's pretty wild that out of the 120 books read, 104 of them are by different authors. That means I only read repeats for certain series (or the fact that I read two TJR books this year lol).
Books read by number of pages:
Under 300 pages: 31
Between 301 and 500 pages: 92
Over 500 pages: 2
My sweet spot is around 300 pages. I love books that fall into that category because I can read them quickly without them feeling too short. I think most YA books are around that number, which is why I end up with so many in that range.
Bookish events and other details:
Authors met and events attended: 2
Books read in a day: 8
Books that made me cry: 4
These questions are from the Statistics Survey linked at the top of the post!
Book read furthest away from home (vacation reads?): Oooh this is tough! We did go to California and North Carolina this year but I didn't do a lot of reading in California, which would be the farthest… I read The Cottages on Silver Beach by RaeAnne Thayne while we were in California (technically was "currently reading" it).
Book that took you the longest to read: I don't currently have an accurate way to track this (hopefully this changes for 2019 based on new spreadsheet improvements) but one of the recent ones I can think of would be Sapphire Blue by Kerstin Gier because I just was never in the mood for it. It took me almost a month to finish.
Book that you personally connected with the most: I related to some good characters this year but I didn't really connect with a lot of books. 2018 was a weird reading year! So, judging by the main character instead of the story itself, I really still find myself connecting to Molly from 9 Days and 9 Nights by Katie Cotugno.
Book that made you love the villain: I talked about villains a few months ago and always struggle with this topic! I don't usually connect with the villains of certain stories. From 2018, the top villains I kinda loved would be Legend from Legendary by Stephanie Garber or AIDAN from Obisidio by Jay Kristoff and Amie Kaufman.
Book you said you'd come back to but still haven't picked up again: I did manage to DNF some books this year, which is always a good thing for me honestly. I don't think there are really any that I put aside IN 2018 that I planned to pick up again this year though.
Book you read waaaay before it's publication date: I actually read quite a few books WAY before the pub date, but The Similars by Rebecca Hanover takes the cake. I was super in the mood to read it over the summer so I read it in early June. It doesn't come out until this week (January!). It was almost 7 months ahead of time.

Book you read on your birthday: My birthday happened in Charlotte this year at the Panthers game! It was such a great day. The book I was reading at the time was Intercepted by Alexa Martin. I don't remember if I read ON that day or not, but I think I started it on the 9th.
Book with a character who shares your name: Ugh I know there is one but I can't remember!
Book you weren't entirely truthful about when rating (Fluff up any ratings? Rated even though you didn't finish?): I kind of did the opposite this year. I think I was too generous most of the time and it is SO frustrating. I didn't LOVE a lot of books this year.
Book you read in 2018 but already want to re-read: Starry Eyes by Jenn Bennett was so swoon-worthy that I would be interested in rereading it! I know I probably won't, but it counts.
Book you borrowed from a friend a long time ago and still have: NONE. I am finally caught up on this kinda thing.
Book you wish you could go back and read for the first time again: I feel like I should do a book where I wasn't in the mood for it but forced myself to read it and then ruined it for myself as a result? Naturally, though, none are coming to mind right now. Instead, I'll go with Stay Sweet by Siobhan Vivian. I don't reread books much (usually just series binges/rereads later), so it would be nice to read this again for the first time and not have memory of it.
Most books read by one author this year: My binge of the Rose Gardner series by Denise Grover Swank definitely was the most books read by one author – I read six books in this one so far and have the next three to read in January.
These questions sampled from the Statistics Survey linked at the top of the post!
First…
Last…
Number of posts in 2018: 260
Number of reviews posted this year: Somewhere around 100
Related Posts