I recently checked out a few adult contemporary fiction books from the library – both very recently released. I have been reaching for this genre (target age group?) so much lately for some reason. I think I needed somewhat of a break from YA. Both of these books were fantastic and I highly recommend them.
Nine Women, One Dress
by
Jane L. Rosen
Genres:
Adult
,
Contemporary
Published by
Penguin Random House
on July 12th 2016
Format:
Hardcover
(272 pages) •
Source:
Library
Goodreads
•
Amazon
•
Barnes & Noble

A charming, hilarious, irresistible romp of a novel that brings together nine unrelated women, each touched by the same little black dress that weaves through their lives, bringing a little magic with it.

Natalie is a Bloomingdale's salesgirl mooning over her lawyer ex-boyfriend who's engaged to someone else after just two months. Felicia has been quietly in love with her happily married boss for twenty years; now that he's a lonely widower, she just needs the right situation to make him see her as more than the best executive assistant in Midtown Manhattan. Andrea is a private detective specializing in gathering evidence on cheating husbands—a skill she unfortunately learned from her own life—and can't figure out why her intuition tells her the guy she's tailing is one of the good ones when she hasn't trusted a man in years. For these three women, as well as half a dozen others in sparkling supporting roles—a young model fresh from rural Georgia, a diva Hollywood star making her Broadway debut, an overachieving, unemployed Brown grad who starts faking a fabulous life on social media, to name just a few—everything is about to change, thanks to the dress of the season, the perfect little black number everyone wants to get their hands on…

I didn't have super high expectations going into this book but I was really excited for it. I let the library fines pile up a little bit and decided to just go for it. I have to say, 
NWOD
really impressed me. Most of the reviews implied a rom-com-style book that wouldn't really blow your mind. I completely agree that this book would make a PERFECT romantic comedy movie. Seriously, I hope that happens.
The plot summary reminded me a little of The Sisterhood of the Traveling Pants, but the story wasn't really set up that way. THE little black dress of the season, size small, gets passed around between multiple ladies who don't know each other throughout the course of the book. Each chapter features the POV of one character – some are those women who wear the dress, the salespeople, the men they're dating or want to date, the maker of the dress, etc. I was pretty nervous I wouldn't be able to keep track of everyone or let the story impact me, but that wasn't the case at all. I honestly can't remember every single character anymore but am left with a great overall impression.
The more I think about this story, the more impressed with it I am. I love the idea of lives intertwining without people knowing it, and adding in the dress element was beyond fun. Highly recommend this one.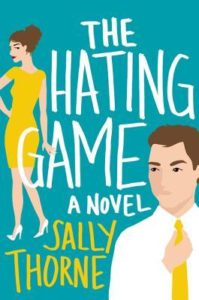 The Hating Game
by
Sally Thorne
Genres:
Adult
,
Contemporary
Published by
Harper Collins
on August 9th 2016
Format:
Paperback
(384 pages) •
Source:
Library
Goodreads
•
Amazon
•
Barnes & Noble

Debut author Sally Thorne bursts on the scene with a hilarious and sexy workplace comedy all about that thin, fine line between hate and love.

Nemesis (n.) 1) An opponent or rival whom a person cannot best or overcome.
2) A person's undoing
3) Joshua Templeman

Lucy Hutton has always been certain that the nice girl can get the corner office. She's charming and accommodating and prides herself on being loved by everyone at Bexley & Gamin. Everyone except for coldly efficient, impeccably attired, physically intimidating Joshua Templeman. And the feeling is mutual.

Trapped in a shared office together 40 (OK, 50 or 60) hours a week, they've become entrenched in an addictive, ridiculous never-ending game of one-upmanship. There's the Staring Game. The Mirror Game. The HR Game. Lucy can't let Joshua beat her at anything—especially when a huge new promotion goes up for the taking.

If Lucy wins this game, she'll be Joshua's boss. If she loses, she'll resign. So why is she suddenly having steamy dreams about Joshua, and dressing for work like she's got a hot date? After a perfectly innocent elevator ride ends with an earth shattering kiss, Lucy starts to wonder whether she's got Joshua Templeman all wrong.

Maybe Lucy Hutton doesn't hate Joshua Templeman. And maybe, he doesn't hate her either. Or maybe this is just another game.

I absolutely adored this book. So incredibly much. I knew I would because so many people were raving about it and luckily that didn't set the bar too high for me. I was a little worried about hype but it was completely true and worth it.
I'm a big fan of hate-to-love and slow-burn romances filled with banter. Some of my favorite tropes. This book had alllll of them. I've never even read a book with THIS much "hate" at the beginning either. As a result, the romance was slooooow burn even though you knew (and they knew) it was going to happen one way or another.
The two characters – Lucy and Josh – were so well done and fully fleshed out. I loved learning about their lives, their interests, and their histories. Lucy had a habit of collecting Smurfs and Josh had a weird family history, but the two of them were such a fun match. I really could have read so many more pages.
I would highly recommend this book to everyone. The characters are in the workplace but definitely in their twenties, so I think even YA readers could and would really enjoy this… especially if you love those tropes! I wish I had more words but I really don't. The story was just so fun and often LOL-worthy that everyone neeeeeeds to add it to their TBRs immediately.
Related Posts