I received this book for free (hey, thanks!) in exchange for an honest review. I promise that this does NOT affect my opinion of the book or the content of my review. For real.
Once Upon a December
by
Amy E. Reichert
Genres:
Adult
,
Contemporary
,
Holiday
Published by
Penguin Random House
on October 4, 2022
Format:
eARC
(336 pages) •
Source:
Publisher
Goodreads
•
Amazon
•
Barnes & Noble

A one-of-a-kind Christmas market offers holiday magic in the new romance from the author of The Kindred Spirits Supper Club.

With a name like Astra Noel Snow, holiday spirit isn't just a seasonal specialty--it's a way of life. But after a stinging divorce, Astra's yearly trip to the Milwaukee Christmas market takes on a whole new meaning. She's ready to eat, drink, and be merry, especially with the handsome stranger who saves the best kringle for her at his family bakery.

For Jack Clausen, the Julemarked with its snowy lights and charming shops stays the same, while the world outside the joyful street changes, magically leaping from one December to the next every four weeks. He's never minded living this charmed existence until Astra shows him the life he's been missing outside of the festive red brick alley.

After a swoon-worthy series of dates, some Yuletide magic, and the unexpected glow of new love, Astra and Jack must decide whether this relationship can weather all seasons, or if what they're feeling is as ephemeral as marshmallows in a mug of hot cocoa.
Story
This was such an odd reading experience. So many things came to me as I was reading that annoyed me or confused me that I actually had to keep track in a note on my phone… I don't ever do that anymore! Before I get too far into the details, I'll chat about the story concept itself… which was actually the best part!
Astra has a holiday weekend with her three best girl friends each winter and they usually shop around this little winter market. Each year it's come to town, she's encountered Jack (working at the kringle bakery) and he always seems familiar. The market itself (Julemarked) is actually magical and travels around the world every December, popping up in a new location. He's remembered her over the years and always waits for the market to land back in Milwaukee. They age differently in the Julemarked because they're really only "alive" for a month each year. In any case, all that backstory to say that this was a unique story. When Astra finally remembers him and slowly starts to gain memories of the market back, the two start to fall for each other.
Everything about Astra irritated me: the way she bent over backwards for her ex husband about her dog, answering his calls, and even hemming his pants. She talked constantly how he essentially forced her into abandoning her friends for the few years they were together and how she never wants to do it again (yet she spends half of the book wondering if she should go ahead and move into the Julemarked with Jack, a man she barely knows and loves out of nowhere). They fell in love instantly under the guise of "hey this girl happens to sometimes remember the market when no one else does so that means she could probably live here with us."
There were so many weird random conversations with no relevance to the plot and a lot of stupid debates about what she should do. Her parents lived in Florida and she visited them a few times but it was like all of these friends and family members were caricatures and not actually characters with backgrounds. I didn't care for the couple much because the buildup of their relationship "over the course of fifteen years" was so minimal. They kept saying this as if it wasn't ONE random day every few years. They probably saw each other 4-6 times over the course of that 15 years.
The writing style was also very odd – I can't tell if it was third person omniscient or just somewhat alternated between their perspectives?
Wintery Setting & Holiday Feels
I have to give this book props and stars because it was a cute winter setting. I loved reading about the Julemarked and Milwaukee in winter overall. I think it absolutely could have been emphasized more, as I usually do in holiday books, but still pretty good winter feels. The story also didn't ONLY take place during one holiday season. I won't spoil it, but there were lots of scenes and chapters in other months of the year that didn't fully give me Christmas vibes.
Overall
I'm giving this one three stars even though it didn't really resonate with me. I don't think it was a BAD read necessarily but there were so many things that bugged me when I was reading. The overall concept was actually pretty cool because I kept wondering how they could make their relationship work – would she sacrifice her family and friends to live much longer in the Julemarked with Jack? Would he somehow decide to live with her in the outside world despite never having the desire before they met? Those pieces kept me reading and the overall magic of the market was enjoyable.


---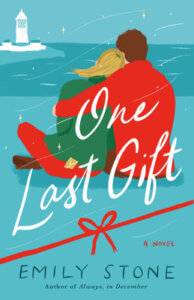 One Last Gift
by
Emily Stone
Genres:
Adult
,
Contemporary
,
Holiday
Published by
Penguin Random House
on October 11, 2022
Format:
Paperback
(400 pages) •
Source:
Library
Goodreads
•
Amazon
•
Barnes & Noble

When a young woman finds herself lost and at a crossroads, one last gift from her brother just might give her another chance at life and at love in this epic holiday romance from the author of Always, in December

Sometimes the best gifts in life are the ones you don't expect.

Cassie and Tom lost their parents at a young age and relied on each other--as well as a community of friends--to get through it. Especially Tom's best friend, Sam, who always made sure Tom and Cassie were surrounded with love. But now, twenty years later, Cassie has lost Tom as well. And in a way, she's also lost Sam; over the years they've drifted apart, and now the man she always had a crush on is someone she doesn't even recognize anymore.

She's never felt more alone.

Then she finds an envelope with her name on it, written in Tom's terrible handwriting, and she knows immediately what it is. It's the first clue in the Christmas scavenger hunt Tom made for her every year; he'd promised her for months that this year's would be the grandest one yet. At first, she's too scared to open it--what if she can't figure out the clues without his help? Or what if she does figure them all out, and her last connection to Tom is gone?

Tom's clues set Cassie on a heart-wrenching and beautiful journey that will change her life--if she lets them. And as she travels from London to the Welsh mountains to the French countryside, she reconnects with old friends, rekindles a lost love, and most importantly, rediscovers herself. But once she's solved the final clue, will she be brave enough to accept the gift her brother has given her--and the love it's led her to?
Story
I'm really glad this was my last read of the holiday season! I had started it in early December and put it on hold so I could read some Kindle books before bed instead. I picked it up right after Christmas and am glad I did – I ended up really enjoying it, and the holiday feels were pretty minimal.
Cassie has suffered loss after loss – first her parents as a kid, leaving her only with her brother, and years later her brother also passes unexpectedly in an accident. He's set up a final scavenger hunt for her with some of the best gifts and experiences of all throughout, almost as if he knew it would be his last one.
She's reconnected with her childhood crush, her brother's best friend, and is brought on a journey around Europe to receive her final gift. I really enjoyed reading about Cassie and trying to decipher the clues alongside her. I'm a sucker for this kind of story and it didn't disappoint, but it was pretty dang sad.
Wintery Setting & Holiday Feels
The story starts on a Christmas Eve and actually happens over the course of a year or two, I think. The main point of the book is around a Christmas-oriented scavenger hunt but it's centered around more than just Christmas. Some clues stretch through the spring and fall as well, so the holiday feels overall for this book are pretty small.
Overall
I wasn't sure what to expect for this one and it was definitely sadder than I like my holiday books to be! Luckily it wasn't super Christmassy at all and was a nice way to end my season of holiday reading, between Christmas and New Years. I loved the scavenger hunt aspect and was very pleased with how it all ended for Cassie and her friends.


---

Related Posts