I received this book for free (hey, thanks!) in exchange for an honest review. I promise that this does NOT affect my opinion of the book or the content of my review. For real.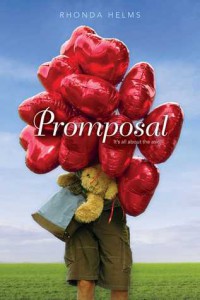 Promposal
on February 10th 2015
Format:
eARC
(224 pages) •
Goodreads
•
Amazon
•
Barnes & Noble

Promposal (n.)—an often very public proposal, in which one person asks another person to the prom, eliciting joy or mortification.

Camilla can't help hoping her secret crush, Benjamin, might randomly surprise her out of the blue with a promposal. But when she's asked to prom by an irritating casual acquaintance—who's wearing a fancy tux and standing in front of a news crew—she's forced to say yes. However, all hope is not lost, as a timely school project gives Camilla a chance to get closer to Benjamin...and it seems like the chemistry between them is crackling. Is she reading into something that isn't there, or will she get her dream guy just in time for prom?

Joshua has been secretly in love with his best friend Ethan since middle school. Just as he decides to bite the bullet and ask Ethan if he'd go to prom with him, even if just as friends, he gets a shocking surprise: Ethan asks Joshua for help crafting the perfect promposal—for another guy. Now Joshua has to suppress his love and try to fake enthusiasm as he watches his dreams fall apart...unless he can make Ethan see that love has been right in front of his eyes the whole time.

The road to the perfect promposal isn't easy to navigate. But one thing's certain—prom season is going to be memorable.
I have some mixed feelings here. Promposal and I are not friends, but we're certainly not enemies. There's nothing really wrong with this book per se; nothing that got my blood boiling. But there also wasn't really ANYTHING that made me smile, either. It's one of those books that you read that just doesn't affect you in any way.
"Promposals" are the new phenomenon that involves asking people to prom as if they were proposing marriage, with big/extravagant gestures. These started to become big back when I was in high school and my boyfriend at the time actually did a great job of asking me to dances. We dated for three years so it wasn't really necessary, but it was still thoughtful and appreciated  by me. When I saw this one on Edelweiss, I requested it immediately. I've always been fascinated by the different ideas people came up with and was looking for a book full of them. That's not exactly what I ended up with.
The book alternates points of view between two best friends, Camilla and Joshua. Camilla is pining over a boy in class who has never spoken to her, but ends up saying yes to an extravagant promposal from someone else. Josh is in love with his best friend, Ethan, but then Ethan asks him to plan a promposal… for another guy. I enjoyed the two separate (but connected) storylines, for sure, but it was like reading the same thing. The two characters were given absolutely no personality traits. They had the exact same voice and I ALWAYS forgot whose chapter I was reading, especially if Camilla and Josh were together in it. The only thing I could safely assume about the characters was:
Josh is a good cook. He's gay. His dad is a writer. His parents are divorced. He's going to college in NYC at Columbia. He's good at music.
Camilla's mom is Romanian. Her hair often has different colors in it. She likes The Beatles. She doesn't know where she wants to go to college yet.
All of these things were glazed over once or twice, but that's it! Camilla is talking about the three college options she has, mentions it a few times, and then suddenly says she's settled on the hometown college. No information on why she chose that. She doesn't even sound happy with the choice! Girl, it's college. I know that the premise of the book isn't a "coming of age tale," but SERIOUSLY these people are seniors in high school and she's going to snap her fingers and choose a college? WHY.
Going off of that, this book was extremely surface-level. There were no details about events, feelings, personalities – anythinggggg. It was like someone wrote a full book with everything fleshed out, then got a machine to come by and literally suck all of the detail out of it. It was very superficial. It started with the characters having no personalities and spread into the actual plotline. Every event felt forced. Then, of course, there were some details that were unnecessarily explained. Camilla is sitting in class, discreetly texting, and then goes on about how she doesn't want to get caught, even though her teacher is cool, because her phone is her "lifeline," she doesn't wanna get in trouble… BLAH BLAH BLAH. If you're not even going to tell me anything about Camilla's personality, why do I care about the school rules regarding phone usage? Joshua gets in his car and explains that he was so nervous that he couldn't eat his lunch, so the bag was in his car and he forgot to throw it away and it was a turkey sandwich and it's in a brown bag… COME ON. I know the author has written other books before, but it feels like it was written by someone less experienced – like someone who is rambling on when they're nervous.
The romantic elements were pretty annoying too. I wasn't sold on anything. Camilla is obsessed with Ben for no reason, except for the fact that he carries classic literature around with him. Once they finally start hanging out for a school project, she sees that maybe he's starting to like her back. He's being hot and cold for some reason (which was kind of stupid when it was revealed, but whatever.) The scenes with them were honestly the least swoon-worthy ever. He never did ANYTHING cute or worthy of attention. He was boring. And he even said to her "Why do you like me? People avoid me because I'm off-putting." UMMM YEAH, now you certainly are being off-putting, you freakin weirdo. Who says stuff like that? And more importantly, why does she like someone who says stuff like that?! Beyond Camilla's weird romance situation, Josh's was a bit better. I was rooting for him and Ethan. It was the classic tale of being in love with your best friend, with an LGBTQ twist. I'm all for it. Realistically, their story was much better than Camilla's. It was more interesting and enjoyable. Again, not swoon-worthy at all, but not bad. I could at least see some chemistry.
One thing I did like was the promposal aspect. I wish there were more of them in the book, but I liked that it touched on all the different kinds of situations. There was the long-term couple, where the guy didn't think he had to ask the girl and she got pissed. There was the guy who liked the girl and got rejected. There were the private, personal ones; there were the big romantic gestures. I liked that it showed a variety of people's approaches and situations.
A book would really have to make me angry in order for me to rate it less than three stars. As I said, this book didn't piss me off in any way. It was a quick, cliche, moderately cute, predictable read. Nothing to write home about. I wouldn't exactly recommend it because it didn't do a heck of a lot for me, but I also wouldn't deter someone from reading it necessarily. It's cliched and simple, but not terrible.
---
Related Posts