Here's another post in a new series here at the blog: Read-Bait! Over the coming weeks, I'll be featuring different words or phrases that catch my eye in book descriptions, the books I've read under those categories, and the books I plan on reading. I hope it shares some insight about my reading preferences and interests. As always, feel free to recommend any books you'd think I like!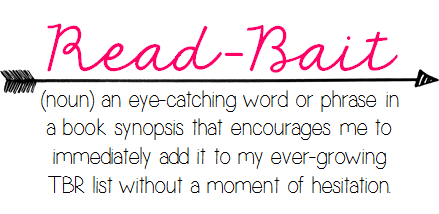 You know how it goes: you're browsing Goodreads, clicking on books that look interesting, and checking out their summaries. All of a sudden you see a certain word or phrase in the synopsis that triggers an automatic reaction to click that "Want to Read" button. I call this "read-bait" – any word(s) that make you instantly think that you MUST read this book. One example for me is…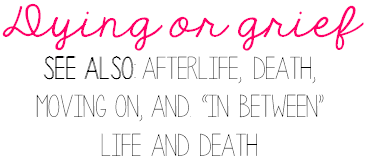 Clearly this topic sounds a bit morbid, but hear me out. You all know you agree with me. When there's a book about the various aspects involved with death, moving on, or grieving – I'm all about it. Whether the person in the book actually dies (not a spoiler, it's in the synopsis!), or they're getting over the death of someone, or they're obsessed with the concept of death, or even if they're in that "in between" place between earth and the afterlife… I am so on board. Elsewhere by Gabrielle Zevin is a book I read a LONG time ago, but was my first introduction into books that occur after death. In this case, she's Elsewhere. It's essentially like heaven, but she spends her time there living her life backwards. The general concept of being "in between" life and death is one of my all-time favorite plot premises. Before I Fall by Lauren Oliver involves a mean girl dying in an accident and living that final day over and over again until she gets it right. If I Stay by Gayle Forman was a story of a girl who has the choice to stay or go – live or die. I love the idea of someone exploring this "in between" space, making decisions, and learning about themselves. Some books just have main characters that are obsessed with the idea of death. In the case of Looking For Alaska, Pudge is fascinated by the last words people utter before they die. (This is also my favorite book and I'm sure you've already jumped on the John Green bandwagon to read it, so you know what I'm talking about!) Lastly, Breathe Annie Breathe was my first Miranda Kenneally book (even though it's currently her most recent release), and it's about a girl running a marathon in honor of her boyfriend that died. I felt a lot of THINGS during this book and watching someone work through their grief can make for an emotional, interesting, and relatable read.
It took quite a lot of whittling down to get the list to five books, if I'm being honest. This read-bait word is really one of my all-time favorites and I've unfortunately not read as many yet. Here are some of the highlights from my death-related TBR:
---
Death
+ Afterlife or "In Between" or Grieving
= SIGN ME UP.
Related Posts