Five on Friday displays the the top five things that have been on my mind this week! It could be book-related, but it may be music, movies, TV, personal life, food, etc.
We went to Foxwoods Casino for my friend's birthday earlier this month, and it was so much fun! We stayed at a hotel down the road that had a shuttle for the casino. Our plan was to go bowling at the "high end" bowling alley, then go to a club in the casino. There weren't any lanes for the alley so we hung around the bar section of the bowling place and played pool for a while. Some people went off to the club for a little bit while the rest of us hung there. We ended up getting a lane and bowling for the rest of the night. It was kind of expensive, but definitely more fun (in my opinion) than going to a club. I love seeing my college friends and wish it happened more often.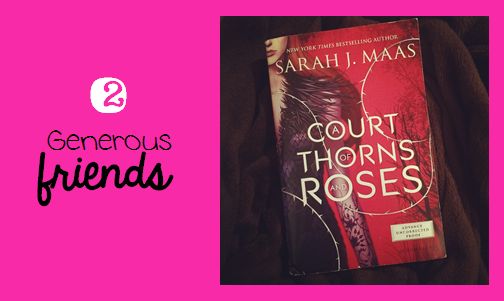 I'm still not completely over how generous this community is when it comes to…well, everything – but loaning ARCs especially. I tweeted out that I was looking to borrow A Court of Thorns and Roses. Within minutes, I had two offers! I'm just so grateful to people who make me feel welcomed and loved. Thanks so much to Andi, for this one in particular! I have a few more ARCs of other books that Brittany is lending me, that should be on my doorstep todaaaay! THANK YOU.

As most people have heard, Connecticut and Mass have been walloped with snow in the past few weeks. I haven't had a full work week in a looong time. Well, I'm technically supposed to be working from home….but that doesn't really happen. Aside from keeping up with emails, there's not much I can do. Since I work in Recruiting, my job consists of finding and calling candidates. I don't really want to call strangers with my personal cell phone number, so there goes half of my workload! I usually end up taking a bath, being lazy, and reading all day. Chris's company usually closes down too, so we basically just get a bonus "weekend" day whenever this happens. Unfortunately he ends up having to take PTO, which I think is incredibly rude (if you're going to SHUT DOWN the company and not even give people a chance to come to work if they WANT to, you shouldn't force them to take THEIR personal time!!).
I posted last week about the guest feature I finally dreamed up. It just kind of came to me one night when I was sitting on the couch! I was trying to think of something to play off the blog name. I came up with sharing your favorite bookmarks and book covers! I posted the first one, my own, to show people the kinds of questions I'd be sending out when you sign up. The feature is going to officially start in March and we're scheduled into June as of right now! The picture above shows the cover and bookmarks I chose for my post. Love me some Jenny Han + anything Lego! Speaking of Lego…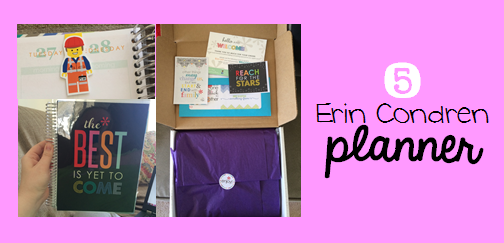 MY PLANNER ARRRRRIVEDDDDD. I've been searching forever for a planner that splits every day into sections for each time of day. My biggest issue with planners is that I'll write something on a random line in the middle or end of the day, and then not end up with any space when I schedule something before/after it. I prefer having the day split into morning, afternoon, and night – that way I can write the events of the day in each segment. Erin Condren planners are kind of expensive, but so worth it! I've been stocking up on stickers, washi tape, and other accessories to deck it out. I'm using one of my Crafted Van Lego bookmarks to hold the page!
---
My coworkers (who don't know about the blog) are most definitely wondering why I always have to go to the post office..

— Lauren (@bookmarklit) February 10, 2015
Related Posts