I received this book for free (hey, thanks!) in exchange for an honest review. I promise that this does NOT affect my opinion of the book or the content of my review. For real.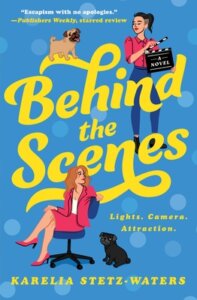 Behind the Scenes
by
Karelia Stetz-Waters
Genres:
Adult
,
Contemporary
Published by
Forever
on January 31, 2023
Also by this author:
Satisfaction Guaranteed
Format:
eARC
(352 pages) •
Source:
Publisher
Goodreads
•
Amazon
•
Barnes & Noble
Fans of Abby Jimenez and Meryl Wilsner will fall in love with this hilarious and refreshingly authentic novel about second chances, pugs, and finding the perfect muse . . .

Business consultant Rose Josten might not have officially reached "pug lady" middle age, but she's already got the pugs—along with their little Gucci coats and trash-lovin' appetites. Still, life is good, with her work, her sisters, and a secret hobby creating incredibly tactile (if surprisingly sexy) mindfulness videos. So why does it feel like it's not quite enough? Which is exactly when former filmmaker Ash Stewart enters camera left, and Rose's world suddenly goes full technicolor . . .

Ash never looks at anyone. Not since her ex ripped her heart from her chest in Spielberg-esque style, crushing Ash's reputation, dreams, and directorial career in one brutal blow. But Rose is altogether different. She's curvy, beautiful, and just so damn put together. And her business expertise might be Ash's best bet for getting her last film—and her last chance—financed. Now if they can just keep their attraction under wraps, Ash's lost dream could finally come true. But are they creating movie magic . . . or setting the stage for disaster?
I adored SATISFACTION GUARANTEED and was excited for another book by Stetz-Waters! This story centers around Rose and Ash, who meet at a random pug event (Rose has two pugs) outside of Ash's office building in Portland. Rose is a business consultant and Ash is a disgraced filmmaker who has a bad reputation for "ruining" her ex-wife's movie (clearly there is more to the story there!). When Rose is contacted by Ash's friend and colleague to help her get on track and stop trying to do it all by herself for her new movie, the two begin working together.
I really enjoyed both of the jobs the MCs had in this story. I love any book set around Hollywood or movie-making and it was fun to read about Ash's world… minus all the shitty things that happened to her. Ash had a ton of trauma from her ex-wife and an accident she was in, which was unpacked throughout the book. The same could be said of Rose, who hasn't been on an airplane for 18 years due to her parents dying in a plane crash. She basically had to raise and take care of her sisters, which was a really sweet part of the story. Rose didn't really take risks because she wanted to be stable and secure enough to support her family.
(Sidenote: Rose was a business consultant for manufacturing companies but never set foot in a factory… this would definitely never fly in real life haha. I work in a similar role/company and the clients would immediately not find you credible if you haven't been inside a plant! haha)
All in all, the two had a lot of things going on that they were able to work through together… for all of those reasons, this was an extremely slow-burn romance. I really liked that though! There was instant attraction and chemistry but they both recognized they needed to do some healing first. The pacing was pretty good, if a little slow, but it also allowed for the two characters to build trust.
There was an ASMR sideplot that I won't get into but it was really interesting. I kept wondering how it would factor into the story. When I was halfway through, I found myself thinking it was going to end up being a pointless throwaway angle that wasn't necessary but it actually was well-done and relevant in the story by the end.
This was a book that I (unfortunately) was never really in the mood to pick up. I started and finished multiple books while this one hung out on my Kindle for 20 days, with me randomly picking it up a handful of times throughout February. I did, however, find it REALLY hard to put down when I was finally reading it! It features great writing and characters, so I'm not sure where that little disconnect came from.
Overall, I enjoyed this one and definitely will be reading her next release!
Related Posts