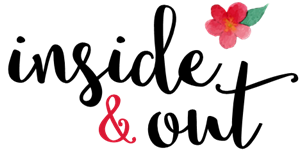 Admiring book covers and bookmarks, shared by you!
Welcome to INSIDE AND OUT. This feature includes two of my absolute favorite book-related things: bookmarks (inside) and book covers (out)! I've invited guest posters to share their favorite book covers and bookmarks here on the second and fourth Mondays of each month. Sign-ups are always open (see bottom of post)! Check out past posts here.
---

Twitter: @momsradius| Instagram: @kunger1 | Facebook
Tell me a little about yourself: Hello, Bookmark Lit readers. I am an avid reader, always have been. I am married to a non-reader and I'm a mother of one – a 5.5 year old boy who loves books and is just learning how to read. I work full time and squeeze in reading pretty much every spare second I have. I started my blog in May.
Talk about your blog (what you blog about/kinds of books, features, etc.):  I blog about life, love, and books. I review YA and adult fiction – mostly contemporary. I also review some children's books. I talk about my family and occasionally share recipes. I try to cover all of my interests, but it's mostly books. In October I started a weekly series, Fiction Friday, where I share creative writing. I'm working on improving my descriptive prose and enforcing a deadline on myself is helping me make time for this type of writing in addition to traditional blogging.
Favorite genre: YA Fiction is definitely my favorite. I especially love series: The Lunar Chronicles, The Hunger Games, Divergent, The Selection…
Three books you recommend most often and why: I have a tendency to gush about the books I love, so these recommendations are some of my favorites.
The Lunar Chronicles by Marissa Meyer – I know that's 5 books, but I talk about this series to everyone who will listen. It's just so amazing. It's definitely my favorite after Harry Potter. The way all of the books flow together indicates that Marissa Meyer definitely had a vision upfront, and that makes for such enjoyable reads.
The Future of Us by Jay Asher and Carolyn Mackler – This YA title is perfect for my age group. It's about two teenagers who discover a glimpse of their 30 year old selves via Facebook when they install an AOL Online CD-ROM. I think you kind of had to live through AOL Online as a kid and use Facebook as an adult to appreciate this book, but it worked so well for me.
Fangirl by Rainbow Rowell – I know she got famous with Eleanor & Park, but Attachments and Fangirl will always be my favorites. Fangirl is the perfect book for me, and I think everyone should read it. The main character is a twin (so am I), she's obsessed with Simon Snow (which is essentially Harry Potter – LOVE!), and she's super shy and introverted (I'm not now, but I was when I was younger). It just makes me geek out all over the place.

Anything else to share? Personal plug for something coming up? I'm hosting a giveaway on my blog right now for my copy of Winter by Marissa Meyer. Check it out through 11/25. Also, my Fiction Friday series is a link up. If you write fiction and share it on your blog, I'd love for you to link up with me on Fridays.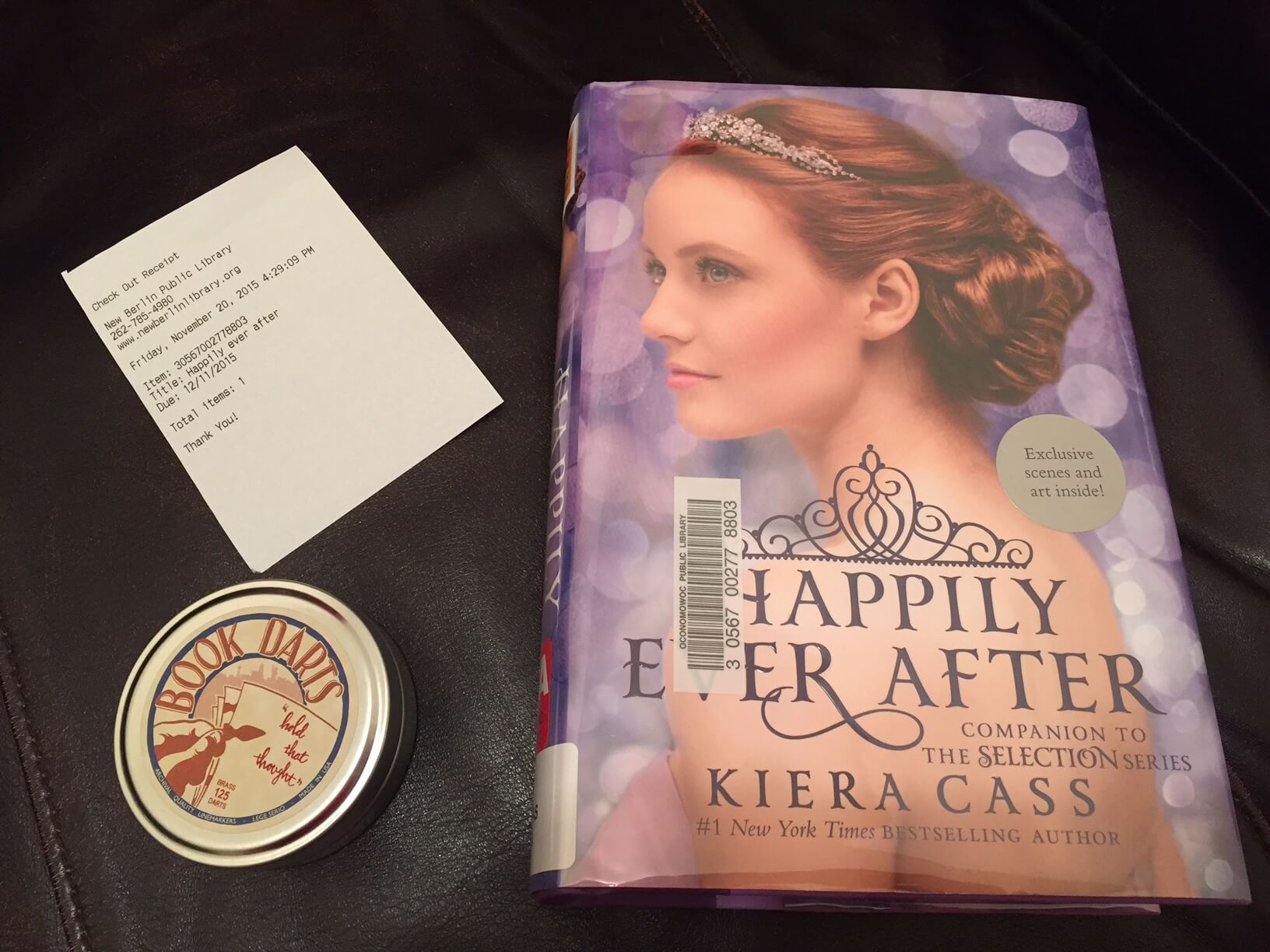 What book do we have here? Happily Ever After a companion to The Selection series by Kiera Cass
Have you read it yet? If so, how was it?  No. Although I did read The Guard and The Prince when they were printed as The Selection Stories. I'll read them again because this time they have pictures! I love this series, so I want to read every little bit that I can.
What makes this cover a favorite?  I love all of the covers in The Selection series. They're so simple and so beautiful. I love that America is a red-head. I always wanted red hair when I was younger. And I love all of the dresses. The cover of this book is just so stunning.
What kind/style of covers do you usually pine over (script fonts, bright colors, realistic, etc.)? It's funny that I picked this book because I usually don't like covers with real people. I prefer beach scenes or covers with books on them. Two that come to mind that I love are Love Anthony and The Life List, both adult contemporary fiction.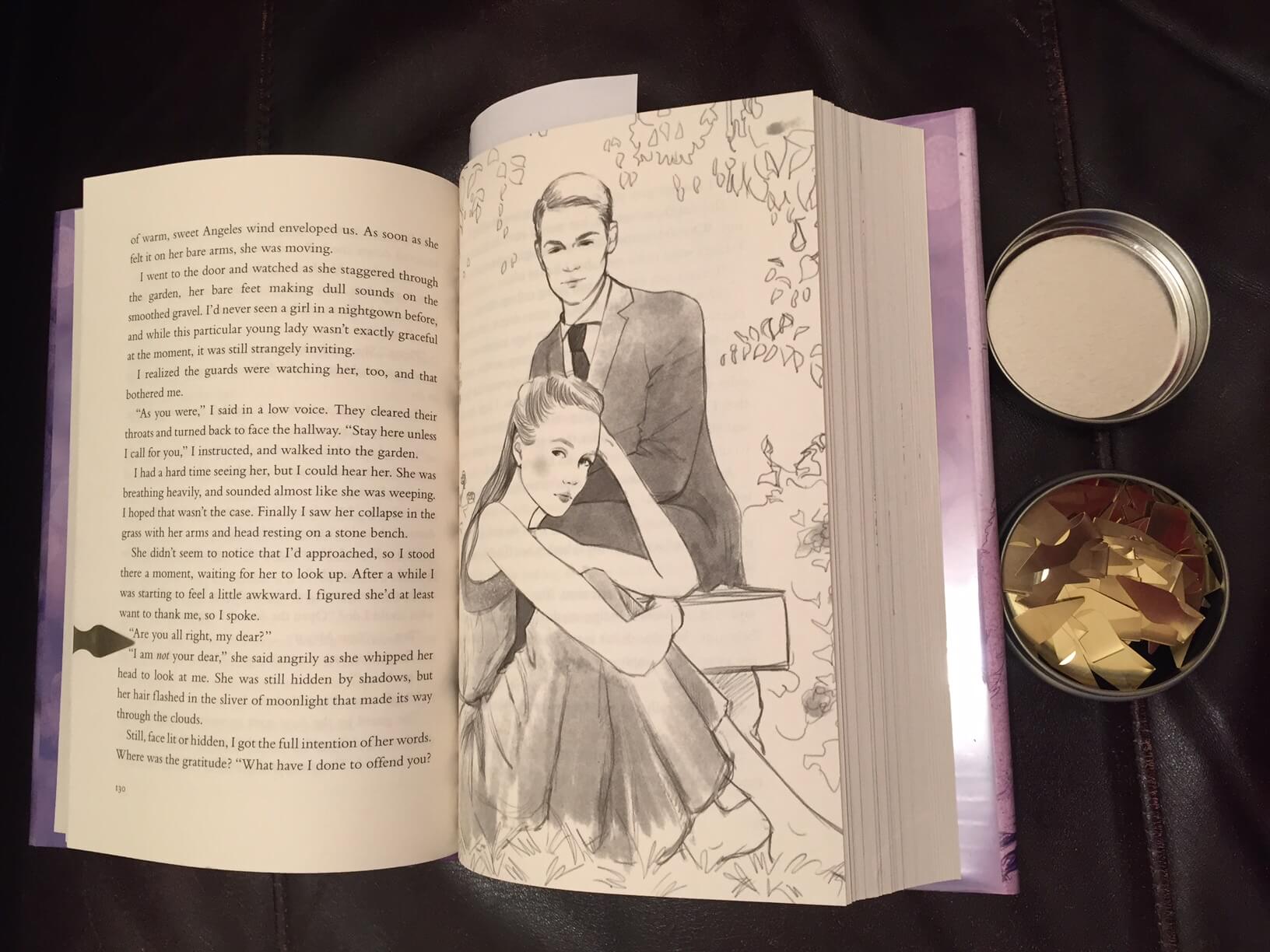 What bookmark did you chose?  I cheated and picked two. I don't actually have any bookmarks. I normally use the library receipt because I already have it in one of the books from my library haul. And sometimes I use these book darts.
What makes this one special to you?  I don't know about special, but I like the bookdarts because you can point to the exact line that you were on when you stopped reading. I get interrupted a lot by my son, so it's nice to know exactly where I left off.
Where's it from?  My husband gave me these book darts for Christmas last year.
What kind of bookmarks do you prefer (paper, magnetic, quotes, etc.)?  I prefer paper bookmarks. I'm not picky though. I use whatever's lying around – library receipts, used envelopes from the recycling bin, whatever!
---
Thanks so much for joining Inside & Out, Kate!
I think I need to get going and read this series finally…
---
Join in the fun!
Sign-ups are temporarily CLOSED. I want to work through the remaining people who have already signed up and then take a bit of a hiatus towards the middle of 2016. Hope you understand! Stay tuned for when sign-ups re-open for later next year.
Related Posts