In an effort to cut down on posts and burnout, my Review Roundups will feature 2-4 books I've read or listened to recently. Sometimes they're newer releases and sometimes they're all backlist titles. My ARC reviews usually get the solo treatment. Enjoy the mini reviews!
---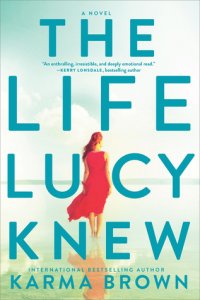 The Life Lucy Knew
by
Karma Brown
Genres:
Adult
,
Contemporary
Published by
Harlequin
on June 12, 2018
Also by this author:
Come Away with Me
Format:
eBook
(297 pages) •
Source:
Scribd
Goodreads
•
Amazon
•
Barnes & Noble

One woman is about to discover everything she believes-knows-to be true about her life...isn't.

After hitting her head, Lucy Sparks awakens in the hospital to a shocking revelation: the man she's known and loved for years-the man she recently married-is not actually her husband. In fact, they haven't even spoken since their breakup four years earlier. The happily-ever-after she remembers in vivid detail-right down to the dress she wore to their wedding-is only one example of what her doctors call a false memory: recollections Lucy's mind made up to fill in the blanks from the coma.

Her psychologist explains the condition as honest lying, because while Lucy's memories are false, they still feel incredibly real. Now she has no idea which memories she can trust-a devastating experience not only for Lucy, but also for her family, friends and especially her devoted boyfriend, Matt, whom Lucy remembers merely as a work colleague.

When the life Lucy believes she had slams against the reality she's been living for the past four years, she must make a difficult choice about which life she wants to lead, and who she really is.
I was destroyed by the first Karma Brown book I read years ago and she's one of those authors where I can't believe I've only read ONE book by. All of her stories sound so intriguing! When I started up yet another book club with a couple of friends, they were looking for TJR-esque books/authors. I knew Karma Brown would be perfect, so I shared a few options. We settled on this title for our first meeting!
I was completely addicted to this. I read the vast majority of the book in one sitting and was so enthralled by the characters. I do feel like the overall premise is a bit simplistic; sometimes the "memory loss" trope can be a little boring or not overly inventive. I'm drawn to these books usually, so I knew there'd be some level of interest for me. I think Lucy and Matt made this book because I was SO invested in them, wanting them to make it work despite the memory loss erasing their relationship from her mind.
So I definitely enjoyed this one overall, but the ending was incredibly bizarre and out of nowhere. I don't mean what happened was out of nowhere, but the book literally ended so abruptly. I read one chapter and then the next one shot ahead like an epilogue without actually saying it was an epilogue? It was incredibly illogical and jarring to have the book go from one thing to the next completely out of the blue. I don't know how to describe it without getting into spoilers but yeah… I don't know. I LIKE the ending and what actually happened but I literally thought my ebook was missing a chapter in between.

I received this book for free (hey, thanks!) in exchange for an honest review. I promise that this does NOT affect my opinion of the book or the content of my review. For real.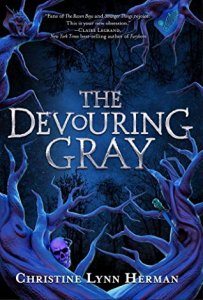 The Devouring Gray
by
Christine Lynn Herman
Series:
The Devouring Gray #1
Genres:
Young Adult
,
Fantasy
,
Paranormal
Published by
Disney-Hyperion
on April 2, 2019
Also by this author:
The Deck of Omens
Format:
Hardcover
(360 pages) •
Source:
Publisher
Goodreads
•
Amazon
•
Barnes & Noble

Branches and stones, daggers and bones,They locked the Beast away.

After the death of her sister, seventeen-year-old Violet Saunders finds herself dragged to Four Paths, New York. Violet may be a newcomer, but she soon learns her mother isn't: They belong to one of the revered founding families of the town, where stone bells hang above every doorway and danger lurks in the depths of the woods.

Justin Hawthorne's bloodline has protected Four Paths for generations from the Gray—a lifeless dimension that imprisons a brutal monster. After Justin fails to inherit his family's powers, his mother is determined to keep this humiliation a secret. But Justin can't let go of the future he was promised and the town he swore to protect.

Ever since Harper Carlisle lost her hand to an accident that left her stranded in the Gray for days, she has vowed revenge on the person who abandoned her: Justin Hawthorne. There are ripples of dissent in Four Paths, and Harper seizes an opportunity to take down the Hawthornes and change her destiny-to what extent, even she doesn't yet know.

The Gray is growing stronger every day, and its victims are piling up. When Violet accidentally unleashes the monster, all three must band together with the other Founders to unearth the dark truths behind their families' abilities—before the Gray devours them all.
I have to say, this book is slightly out of my norm. It's the kind of book I'd be tempted to pick up in October or November when I'm looking for slightly spookier fantasy/paranormal books… but I'd end up just leaving it on my TBR forever and ever. When I received a gorgeous finished copy and PR package, I knew I'd have to push myself and read it! It was incredibly helpful to split out chapters in the days leading up to book club, because fantasy/paranormal books are challenging for me to focus on. I was often compelled to keep reading despite reaching the end of the "assigned" chapters for the day.
The comp titles of Stranger Things meets The Raven Boys absolutely had me intrigued. I'm going to be a little weird and add The Covenant (amazing bad movie about male witches in MA) into the mix. Between the founding families, magical powers, group of connected teens trying to solve the town's paranormal issues, and the creepy "other world" situation, it's genuinely a perfect mix between those three things.
I don't think the characters were developed all that well. I could tell them apart, of course, because of their different founder ties/families, but there wasn't anything about them that grabbed me. I think this may have been because of the writing style. It was really detached and therefore I wasn't really able to get close to anyone. There were some solid twists and turns that I didn't expect but I never felt a POW of feeling toward anything. I thought the ending was the perfect kind of "cliffhanger" that got me interested in where things go from here! Overall, I liked this a lot, but I'm hoping to get more quality time with these characters in book two and feel all the things for them.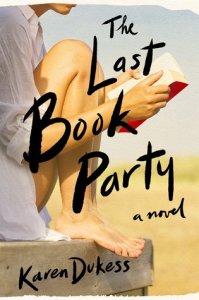 The Last Book Party
by
Karen Dukess
Genres:
Adult
,
Historical Fiction
Published by
Macmillan
on July 9, 2019
Format:
Hardcover
(256 pages) •
Source:
Library
Goodreads
•
Amazon
•
Barnes & Noble
A propulsive tale of ambition and romance, set in the publishing world of 1980's New York and the timeless beaches of Cape Cod.In the summer of 1987, 25-year-old Eve Rosen is an aspiring writer languishing in a low-level assistant job, unable to shake the shadow of growing up with her brilliant brother. With her professional ambitions floundering, Eve jumps at the chance to attend an early summer gathering at the Cape Cod home of famed New Yorker writer Henry Grey and his poet wife, Tillie. Dazzled by the guests and her burgeoning crush on the hosts' artistic son, Eve lands a new job as Henry Grey's research assistant and an invitation to Henry and Tillie's exclusive and famed "Book Party"— where attendees dress as literary characters. But by the night of the party, Eve discovers uncomfortable truths about her summer entanglements and understands that the literary world she so desperately wanted to be a part of is not at all what it seems.

A page-turning, coming-of-age story, written with a lyrical sense of place and a profound appreciation for the sustaining power of books, The Last Book Party shows what happens when youth and experience collide and what it takes to find your own voice.
This was supremely disappointing. It's not THAT often that I get super jazzed up for a historical fiction book, so I had pretty high hopes for this one. I managed to even check it out from the library AND read it immediately. *pats self on back*  Unfortunately, it was a complete miss for me.
My biggest issue overall was that this was super cliche and predictable. Exactly what you'd assume would happen when you read the synopsis, happened. I think the majority of the book was boring and only vaguely interesting enough to keep me going. It's super short though. I was excited to read about some of my favorite things: Cape Cod, book publishing, and historical fiction set in the late 80s. I always prefer more "recent" historical fiction but this missed the mark; it never really felt like it was set in a different time period. It was atmospheric in some ways because I could picture the Cape beaches, but it did nothing with the time period.
I didn't like any of the characters, which is usually okay, but I can't figure out if I'm supposed to like them? Were they written to be unlikeable? Anyways, this was a complete miss for me and I'm a little bummed to have even read it. I should also mention that this is very much a pretentious, super literary kind of book that made me feel stupid for not understanding the NUMEROUS fancy book references. I read a book earlier this year that constantly referenced old black-and-white movies, which I thought was polarizing and pretentious, but this was almost worse.
Related Posts