In an effort to cut down on posts and burnout, my Review Roundups will feature 2-4 books I've read or listened to recently. Sometimes they're newer releases and sometimes they're all backlist titles. My ARC reviews usually get the solo treatment. Enjoy the mini reviews!
---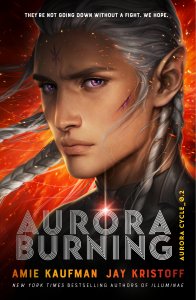 Aurora Burning
by
Amie Kaufman
,
Jay Kristoff
Series:
The Aurora Cycle #2
Genres:
Young Adult
,
Sci-Fi
Published by
Knopf Doubleday
on May 5, 2020
Also by this author:
These Broken Stars
,
Illuminae
,
Gemina
,
Obsidio
,
Aurora Rising
Format:
Audio/eBook
(512 pages) •
Source:
Library
,
Libro.fm
Goodreads
•
Amazon
•
Barnes & Noble
Our heroes are back… kind of. From the bestselling co-authors of the Illuminae Files comes the second book in the epic series about a squad of misfits, losers, and discipline cases who just might be the galaxy's best hope for survival.
First, the bad news: an ancient evil—you know, your standard consume-all-life-in-the-galaxy deal—is about to be unleashed. The good news? Squad 312 is standing by to save the day. They've just got to take care of a few small distractions first.
Like the clan of gremps who'd like to rearrange their favorite faces.
And the cadre of illegit GIA agents with creepy flowers where their eyes used to be, who'll stop at nothing to get their hands on Auri.
Then there's Kal's long-lost sister, who's not exactly happy to see her baby brother, and has a Syldrathi army at her back. With half the known galaxy on their tails, Squad 312 has never felt so wanted.
When they learn the Hadfield has been found, it's time to come out of hiding. Two centuries ago, the colony ship vanished, leaving Auri as its sole survivor. Now, its black box might be what saves them. But time is short, and if Auri can't learn to master her powers as a Trigger, the squad and all their admirers are going to be deader than the Great Ultrasaur of Abraaxis IV.
Shocking revelations, bank heists, mysterious gifts, inappropriately tight bodysuits, and an epic firefight will determine the fate of the Aurora Legion's most unforgettable heroes—and maybe the rest of the galaxy as well.
I enjoyed AURORA RISING enough, but I found myself constantly comparing it to ILLUMINAE. I really loved that format and despite that "disconnected" style (messaging longs, transcripts, etc.), really fell hard for the characters.
Unfortunately I continue to feel disconnected from the AURORA series. It just doesn't resonate with me like I expected or like I keep hoping. I really enjoy the characters and LIKE them, but I'm just not as emotionally connected to anyone or what's happening.
This book had some great twists though – there were a few moments that surprised and intrigued me. Even though I enjoy the audiobooks and think they're really well done, I think that they don't help me feel connected. The twists felt smaller hearing them instead of reading them? I don't know why!
The ending of the book was a pretty wild cliffhanger and I still was like… hmm okay I guess I'll read the next one. And I definitely will! I'm happy to continue reading this even though it's not my favorite series.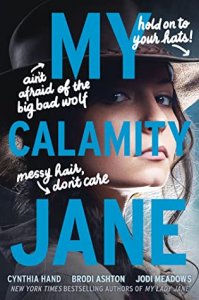 My Calamity Jane
by
Cynthia Hand
,
Brodi Ashton
,
Jodi Meadows
Series:
The Lady Janies #3
Genres:
Young Adult
,
Historical Fiction
,
Retelling
Published by
Harper Collins
on June 2, 2020
Also by this author:
My Lady Jane
,
The Afterlife of Holly Chase
,
My Plain Jane
,
Diplomatic Immunity
Format:
Audio/eBook
(544 pages) •
Source:
Purchased
,
Scribd
Goodreads
•
Amazon
•
Barnes & Noble

Welcome ​to 1876 and a rootin'-tootin' America bursting with gunslingers, outlaws, and garou.
JANE (a genuine hero-eene)
Calamity's her name, and garou hunting's her game—when she's not starring in Wild Bill's Traveling Show, that is. She reckons that if a girl wants to be a legend, she should just go ahead and be one.
FRANK (*wolf whistle*)Frank "the Pistol Prince" Butler is the Wild West's #1 bachelor. He's also the best sharpshooter onboth sides of the Mississippi, but he's about to meet his match. . . .
ANNIE (get your gun!)Annie Oakley (yep, that Annie) is lookin' for a job, not a romance, but she can't deny there's something about Frank she likes. Really likes. Still, she's pretty sure that anything he can do,she can do better.
A HAIRY SITUATIONAfter a garou hunt goes south and Jane finds a suspicious-like bite on her arm, she turns tail for Deadwood, where there's been talk of a garou cure. But things ain't always what they seem—meaning the gang better hightail it after her before they're a day late and a Jane short.
I really did enjoy this, despite the fact that it look me two full months to read. I don't know the last time that happened lol. I'll blame it on the length, obviously, and my lack of reading interest. I read a few books in between too, of course!
Anyways, I'm always thrilled to read an installment in this series This one is my second fave, after MY LADY JANE. I think the Wild West setting really drew me in; I don't usually read westerns but I'm wondering if I should branch out.
This book is named after Calamity Jane and her friends, all a part of Wild Bill's Traveling Show. This includes his son, Frank, and Annie Oakley. There were a lot of fun scenes here and the classic "present day" references and Easter eggs that I love. The twist on this historical fiction/retelling is that they're all hunting garou (werewolves)… kinda.
While I'm slightly sad the JANE series is coming to an end, I'm really excited that their next series is about famous historical Marys. AND it looks like the books will be coming out yearly instead of every other year this time. Woo!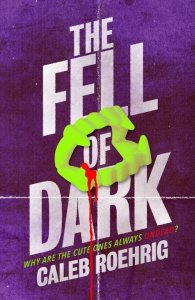 The Fell of Dark
by
Caleb Roehrig
Genres:
Young Adult
,
Paranormal
Published by
Macmillan
on July 14, 2020
Also by this author:
His Hideous Heart
Format:
eBook
(336 pages) •
Source:
Purchased
Goodreads
•
Amazon
•
Barnes & Noble
The only thing August Pfeiffer hates more than algebra is living in a vampire town. Located at a nexus of mystical energy fields, Fulton Heights is practically an electromagnet for supernatural drama. And when a mysterious (and annoyingly hot) vampire boy arrives with a cryptic warning, Auggie suddenly finds himself at the center of it. An ancient and terrible power is returning to the earthly realm, and somehow Auggie seems to be the only one who can stop it.
This was a book club pick and my first book by Caleb Roehrig. He's one of those authors I always want to sit down and finally read, but I still haven't for some reason. I love mysteries these days and his have rave reviews, so I better get into those soon.
THE FELL OF DARK is actually a part of the recent vampire resurgence in YA fiction. I really only read and enjoyed(ish) TWILIGHT back in the day, and never read VAMPIRE ACADEMY or any similar series. However, I was excited to dive in here.
This was REALLY enjoyable and funny. August was a fun character and hilarious – I would totally be his friend.
I think my biggest issue is that the book was primarily just dialogue of people explaining things to August, then someone else disagreeing or saying BUT WAIT THERE'S MORE and then…not much else. I can't think of many actual things that happened aside from those conversations over and over again. I also repeatedly forgot he had friends who were introduced at the beginning; when they popped back up I literally was like "who?" Haha.
Overall though, it was a really fun read. I'll definitely finally get to his other books now that I know how great his writing is!
Related Posts