I received this book for free (hey, thanks!) in exchange for an honest review. I promise that this does NOT affect my opinion of the book or the content of my review. For real.
My Plain Jane
by
Cynthia Hand
,
Jodi Meadows
,
Brodi Ashton
Series:
The Lady Janies #2
on June 26th 2018
Also by this author:
My Lady Jane
,
The Afterlife of Holly Chase
,
My Calamity Jane
,
Diplomatic Immunity
(464 pages) •
Goodreads
•
Amazon
•
Barnes & Noble

You may think you know the story. After a miserable childhood, penniless orphan Jane Eyre embarks on a new life as a governess at Thornfield Hall. There, she meets one dark, brooding Mr. Rochester. Despite their significant age gap (!) and his uneven temper (!!), they fall in love—and, Reader, she marries him. (!!!)

Or does she?

Prepare for an adventure of Gothic proportions, in which all is not as it seems, a certain gentleman is hiding more than skeletons in his closets, and one orphan Jane Eyre, aspiring author Charlotte Brontë, and supernatural investigator Alexander Blackwood are about to be drawn together on the most epic ghost hunt this side of Wuthering Heights.
After absolutely loving MY LADY JANE (despite not knowing much about the actual history/true story inolved), I was incredibly excited and optimistic about MY PLAIN JANE. Like the first book, I'm actually not well-versed in Jane Eyre, the heroine for this retelling. I've never read the book and actually, in hindsight, it would have been nice to read that beforehand (considering it's on my "classics I might want to read soon" list). I can't speak to how it compares to the original source.
I can't lie – this book was a bit disappointing compared to MLJ. I know it had big shoes to fill since I loved it so much, but I found myself slogging through it sometimes (mostly in the first half). I had to start and stop this one quite a few times for other reading commitments, but when I did have time to read it, I was never really compelled to pick it up. It wasn't as funny for engaging as MY LADY JANE was. I started to get into it a little more in the second half of the book but this definitely felt too long. I never read JANE EYRE so I have no idea how it compares but I have to say I'm a little more interested in reading it now. Jane, Charlotte, and Alexander were interesting main characters and I liked being inside each of their heads.
Despite all of those complaints, MPJ got more interesting as it went on and I really enjoyed the final half of the book. There were some good twists and turns that I didn't expect. I honestly had no idea where the story would go throughout most of the book, so there was really nothing predictable about it. I can't wait to see how they take on their next historical Jane in a couple of years!
---
I received this book for free (hey, thanks!) in exchange for an honest review. I promise that this does NOT affect my opinion of the book or the content of my review. For real.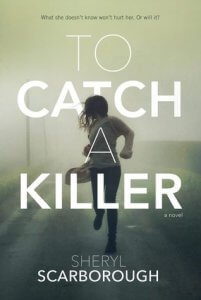 To Catch a Killer
by
Sheryl Scarborough
Series:
Erin Blake #1
Genres:
Young Adult
,
Mystery/Thriller
Published by
Macmillan
on February 7, 2017
Format:
eARC
(320 pages) •
Source:
Publisher
Goodreads
•
Amazon
•
Barnes & Noble

Erin Blake has one of those names. A name that, like Natalee Holloway or Elizabeth Smart, is inextricably linked to a grisly crime. As a toddler, Erin survived for three days alongside the corpse of her murdered mother, and the case—which remains unsolved—fascinated a nation. Her father's identity unknown, Erin was taken in by her mother's best friend and has become a relatively normal teen in spite of the looming questions about her past.

Fourteen years later, Erin is once again at the center of a brutal homicide when she finds the body of her biology teacher. When questioned by the police, Erin tells almost the whole truth, but never voices her suspicions that her mother's killer has struck again in order to protect the casework she's secretly doing on her own.

Inspired by her uncle, an FBI agent, Erin has ramped up her forensic hobby into a full-blown cold-case investigation. This new murder makes her certain she's close to the truth, but when all the evidence starts to point the authorities straight to Erin, she turns to her longtime crush (and fellow suspect) Journey Michaels to help her crack the case before it's too late.
I've been trying to be better about switching up my genres lately so I don't suffer burnout. When I was browsing through my Kindle to catch up on old ARCs, I came across TO CATCH A KILLER. I had a feeling it'd be the perfect book to keep my reading mojo going, since I tend to find most mystery books unputdownable. The story follows Erin Blake as she tries to determine who killed her biology teacher, and if it happens to be related to the murder of her mother when she was a baby.
The concept was really interesting because Erin was self-taught (from her uncle's books) about forensics, so she had a lot of household hacks to identify hair samples and other related procedures. She was determined to solve these mysteries with the help of her two friends, which were basically cardboard cut-outs of people instead of fleshed out, and Journey, the boy she's always had a crush on. He's involved because she saw him the night of their teacher's murder and he has some skeletons in his closet as well. He was a tool (he called her a "lame girl that couldn't drive a stick [shift]", which annoyed me to no end) and she was too googly-eyed over him for me to actually enjoy the ship AT ALL.
I think one of my bigger issues with the book is that certain things felt over-explained? The writing style was a little odd in that way, where the reader is given a few unnecessary details in every scene. It was also pretty simplistic at the same time, which did make it easy to read at least. Unfortunately, my first prediction about who the killer was ended up being true. That's way too obvious for me – especially because I usually fall for every red herring out there.
Overall though, I didn't mind the characters and am generally curious about what'll happen next? I will definitely read the next one once I can find it on sale or through the library.
Related Posts