I received this book for free (hey, thanks!) in exchange for an honest review. I promise that this does NOT affect my opinion of the book or the content of my review. For real.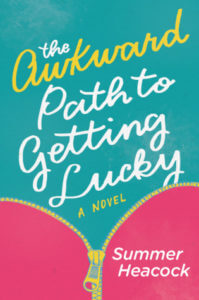 The Awkward Path to Getting Lucky
by
Summer Heacock
on July 25th 2017
(336 pages) •
Goodreads
•
Amazon
•
Barnes & Noble

A humorous novel about a cupcake shop owner with a physical ailment that's kept her from having sex for two years, and the desperate antics that ensue as she tries to overcome it.

Having sex wasn't a big priority while Kat Carmichael's successful cupcake shop was taking off. But when she realizes that it's been nearly two years since she and her boyfriend, Ryan, have been intimate, she makes a pact to break her dry spell-and cure her vaginismus, a muscular condition that can make sex physically impossible.

Out of guilt, Kat calls for a break in her relationship with Ryan, so that he can see other people while she attempts to fix the issue on her own. She throws herself into physical therapy, but soon discovers her solo mission is more complicated than she anticipated. Fortunately, Ben Cleary, the shop's best (looking) customer, is also a physical therapist, and volunteers to help out.

As time goes on, however, the boundaries Ben and Kat have set between friendship and love quickly become blurred, leaving her more confused than ever about what to hang on to and what to let go.
Review
Guys… this book was so funny. I love contemporary romances that read more like romantic comedies! It makes me want to curl up and watch some of my old favorites. Book-wise, I would compare this one to My Not So Perfect Life and The Hating Game. Pretty big shoes to fill, but I think Summer Heacock pulls it off so well.
This genre is often accused of being too predictable and formulaic (I know I've done it sometimes!), so it's really awesome when a unique premise is brought to the table to switch things up. I wish I had a dollar for every time a vagina was referenced in one way or another; this book is centered around Kat's "broken" one. She has a sudden realization that it's been two years since she and her boyfriend have had sex, so she decides to give him a free pass to go out there until their anniversary and hook up. Meanwhile, she'll be working on fixing her broken parts. She quickly starts going out with Ben, a regular customer at her cute cupcake shop/bakery, and tries to turn her reproductive organs around.
I really enjoyed being inside Kat's head. I smiled and laughed so much as she tried to navigate through this particular issue. Ben was nerdy and adorable; I loved him so much. AND Kat's friends, who were central to the plot, were all excellent characters with different backstories and contributions. There are some definite #SquadGoals in the Cup My Cakes store. I loved their brutal honesty when needed and their genuine advice and assistance. There were so many funny and embarrassing moments between the girls and Ben.
I don't really have many complaints about this one. The whole thing was incredibly funny, but there were some moments where I wished the humor were toned down a little bit. Almost like it was trying too hard? Those times were few and far between, but I did notice that. Also, as much as I loved Kat, she was incredibly thick when it came to other peoples' thoughts and feelings. I wanted to smack her every once in a while. Her selfish choices got on my nerves, but obviously I don't need perfect book characters 😉
Overall, I would highly recommend this book to those who love rom-com-style books, especially if you liked the comp titles I mentioned at the top. A unique premise, nerdy-cute love interest, solid group of friends… what more could you want?
About Summer Heacock
Summer Heacock is an author of contemporary women's fiction and prances through life like a Disney cartoon that says the "F" word a lot. She lives in a teeny Indiana town, where she's a stay-at-home-mom to two scampy tots, wife to an amazingly understanding husband, herder of a rescue critter menagerie and collector of life-size celebrity cardboard cutouts. When not writing or hoarding jellybeans, she's a member of the Midwest Writers planning committee and a cohost of PubTalkTV. She can be found at www.Fizzygrrl.com and on Twitter as @Fizzygrrl. The Awkward Path to Getting Lucky is her debut novel.
Connect with Summer
Related Posts