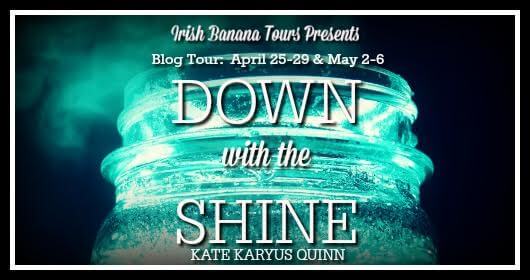 I received this book for free (hey, thanks!) in exchange for an honest review. I promise that this does NOT affect my opinion of the book or the content of my review. For real.
Down With the Shine
by
Kate Karyus Quinn
on April 26th 2016
(355 pages) •
Goodreads
•
Amazon
•
Barnes & Noble

There's a reason they say "be careful what you wish for." Just ask the girl who wished to be thinner and ended up smaller than Thumbelina, or the boy who asked for "balls of steel" and got them-literally. And never wish for your party to go on forever. Not unless you want your guests to be struck down by debilitating pain if they try to leave.

These are things Lennie only learns when it's too late-after she brings some of her uncles' moonshine to a party and toasts to dozens of wishes, including a big wish of her own: to bring back her best friend, Dylan, who was abducted and murdered six months ago.

Lennie didn't mean to cause so much chaos. She always thought her uncles' moonshine toast was just a tradition. And when they talked about carrying on their "important family legacy," she thought they meant good old-fashioned bootlegging.

As it turns out, they meant granting wishes. And Lennie has just granted more in one night than her uncles would grant in a year.

Now she has to find a way to undo the damage. But once granted, a wish can't be unmade...
Review
Whew, what a fun ride! This book was incredibly unique and awesome. I had almost no idea what to expect. I don't read a lot (or any?) magical realism and this was such an insanely cool "introduction" to the genre for me. The premise definitely intrigued me – magical moonshine that could grant wishes?! I was picturing all of these crazy consequences and that's exactly what the book delivered on.
Lennie decides to get some popularity at a party by bringing along her uncle's moonshine. She repeats the usual protocol that they do, thinking nothing of it. They ask the drinker to make a wish, she repeats it back, and says "may all your wishes come true, starting with this one." She has no idea that this is not just a way of enjoying moonshine with someone. It's a secret power the family possesses where they're able to grant wishes to the drinker. Of course, like most wishes, they can't be undone. After a drunken night full of wishing, Lennie realizes something has gone horribly wrong the next morning. Her uncles explain what happened and Lennie is on a path to make things right.
There were so many different, interesting characters in this story. For her family, Lennie has her three uncles and their tough love approach, Lennie's wanted-by-the-FBI-murderer-robber father, and her mother who is a shadow of her former self. There's her longtime crush Smith, who also happens to be the twin brother of her recently murdered friend Dylan. See? There's a LOT going on. I loved it.
This book starts out with the wish-making and gets crazier with each chapter. I absolutely could not stop reading! I was dying to know what the other wishes were and how Lennie would come to solve all of them. Her past and family relationships are not easy by any means, so they were interwoven seamlessly into the plot of the story.
It's certainly a darker contemporary – absolutely no fluff here. There were so many wacky occurrences and dark humor that I just loved reading. Even though it's not a fluffy contemp like I usually enjoy, there was some nice shipping involved. I loved her and Smith's relationship ebb and flow with each chapter and event that happened to them.
Overall, Down with the Shine is easily one of the most interesting and unique stories I've ever read. Aside from being slightly confused towards the end and seeing things get even crazier than I thought possible, this book was a slam dunk for me. I would love to reread this at some point and experience the crazy all over again. If you're looking for something unlike you've ever read or are a fan of dark humor, give this book a read!
| | |
| --- | --- |
| Plot & Premise | |
| Characters | |
| Writing Style | |
| Pacing & Flow | |
| Feels or Swoons | |
| Addiction Level | |
| Overall: | 4.2 |
About the Author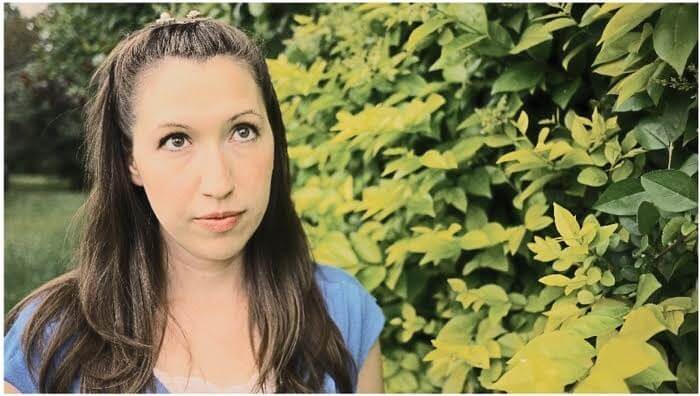 Kate Karyus Quinn is an avid reader and menthol chapstick addict. She has lived in California and Tennessee, but recently made the move back to her hometown of Buffalo, New York, with her husband and two children in tow. She promised them wonderful people, amazing food, and weather that would… build character. Another Little Piece is her first novel.    Website | Twitter
Tour Schedule
3 Finished Copies of Down with the Shine (US Only)
Related Posts