Ten Book-to-Movie (or TV) Adaptations I'm Looking Forward To
Top Ten Tuesdays are hosted by The Broke and the Bookish, where we make lists of our top ten books (or something else!) based on that week's prompt. The topics are provided ahead of time and can be found here. Book links bring you to Goodreads or my review.

This week's topic is the top ten book-to-movie adaptations I'm looking forward to, or the adaptations I still need to watch. As usual, I'll be combining both topic ideas because I can never resist it. I'm not the best at keeping up with adaptations but I will usually seek out movies if I've read the book. This topic actually required quite a bit of research! Thank you, Google.
Despite the fact that these are two of my favorite books, I still haven't seen the movies. I decided I wanted to reread Paper Towns by John Green right before seeing the movie, and of course I haven't gotten around to that yet. The DUFF by Kody Keplinger, from what I've heard, is absolutely nothing like the book. I'm a bit disappointed but I've heard that you can move past that issue and enjoy the movie nonetheless. (I even own this one now! I really need to get going.)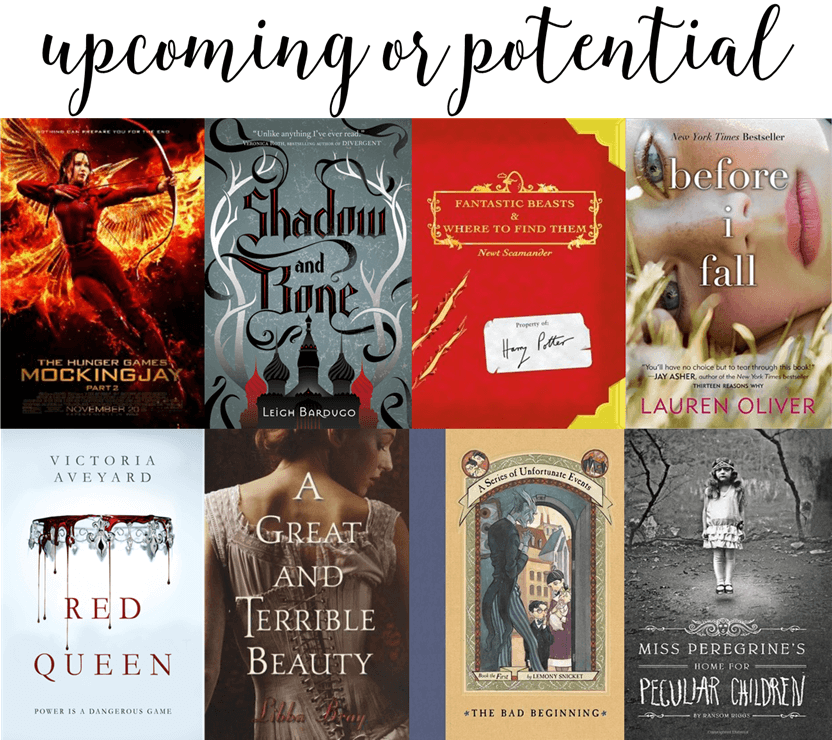 Mockingjay (Part Two) by Suzanne Young | I can't waaaaait for this movie! It's so close, too. I usually go see them with one of my friends so her and I have to start planning. It comes out later this month (November 20th) and I can't believe it. Maybe when all the movies are out, I'll reread the books…
Miss Peregrine's Home for Peculiar Children by Ransom Riggs | December 2016 isn't exactly "coming soon," but it seems closer than the rest of these below. It was supposed to be released this year (!) but it keeps getting pushed back. I think Tim Burton is the absolute best person to direct this movie and I'm so fucking excited.
Fantastic Beasts and Where to Find Them by JK Rowling | This movie just started filming last month apparently. It's actually set to release earlier than Miss Peregrine (above) but I don't feel like it's possible! I'm happy with the casting and am really interested to see how this one goes. It also looks like it will be a trilogy of films.
Before I Fall by Lauren Oliver | EEEEEKKK. This is one of my favorite books and I've said before how it would make an excellent movie. The latest news on this one is that Zoey Deutch has been cast as the lead, and I think that's perfect. The last article I read said that production was due to start in October, so things may already be happening!
Red Queen by Victoria Aveyard | I had somewhat mixed feelings about this one, but the author is a friend of a friend, so I'm excited to support her in any way! I think this would also make a great movie in general. I'm on board! The latest news, as of June/July, is that Elizabeth Banks is probably going to direct the movie. I'm not sure where things stand now, but that would be excellent.
A Series of Unfortunate Events by Lemony Snicket | One of my childhood favorites is becoming a TV show! I think this is a way better option than a movie (which was already made of course). Netflix is set to produce the series and recently hired a director. A trailer was released over the summer and we all FREAKED OUT, but apparently it was fan-made. Womp womp. It looks like this will be hitting Netflix sometime in late 2016.


A Great and Terrible Beauty by Libba Bray | I know this is kind of wishful thinking at this point, but I want this to happen. Apparently it was optioned back in 2006 or something, then the company relinquished their rights to it. Still… I want it to happen!!
The Grisha Trilogy by Leigh Bardugo | The most recent news article I could find – from 2012 – said that Dreamworks picked up the rights and the producer of the Harry Potter movies would be working on the project. Obviously it's been a few years and now all three books are out, so let's hope for some movement on this one.
Related Posts