Ten Halloween-y and Fall-time Books
Top Ten Tuesdays are hosted by The Broke and the Bookish, where we make lists of our top ten books (or something else!) based on that week's prompt. The topics are provided ahead of time and can be found here. Book links bring you to Goodreads or my review.
This week's TTT is a Halloween-themed freebie. I'm not a scary book type of gal, but I don't mind something creepy or paranormal from time to time! I definitely find myself reaching for these books during the fall season (and October, specifically). I'm going to split this up into a few categories to keep things interesting (and yes because I probably don't have enough books to fit in each one).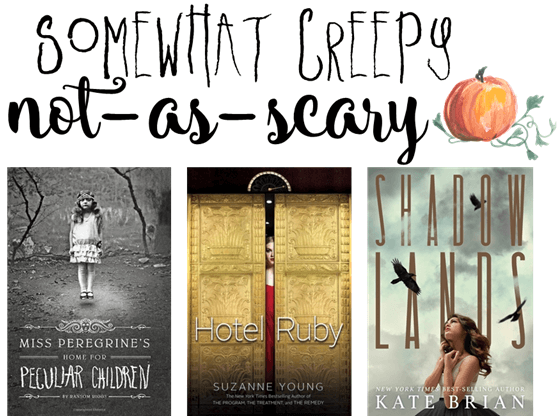 If you're like me and prefer less creepy books, then these are for you. (ALSO, you should definitely read my guest post on Alyssa's blog for Fortnight of Fright! It features similar recommendations for not-so-scary Halloween books, movies, and food.) Miss Peregrine's Home for Peculiar Children by Ransom Riggs is a really interesting paranormal story with awesome photos included. I read this one last year for Book Buddies and have decided to finish the next two books in the trilogy this October and next October. Hotel Ruby by Suzanne Young is incredibly atmospheric and creepy. I was unfortunately able to predict some of the twists (which I blame on similar books/movies I've read that others probably haven't). Regardless, I REALLY enjoyed this one. Shadowlands by Kate Brian is an extremely underrated book that I'll always recommend. The premise behind this one is pretty creepy, but there is a major twist that shocked me at the end. The next two books in the trilogy were just as excellent. Definitely a little scary, but manageable! (I'm a scaredy cat.)
I plan on reading a few spooky or ~fall time~ books this season! First & Then by Emma Mills was a preorder for me because of all the wonderful reviews. It's about football, SO DUH. It'll be perfect to read this November when football continues to be my #1 priority in life. A Madness So Discreet by Mindy McGinnis (review for Book Buddies will be up Thursday!) was not as creepy as I expected, and the mystery aspect was a lot of fun! The Raven Boys by Maggie Stiefvater is actually up next for November's Book Buddies too! Kaitlin and I planned to read it earlier this year in anticipation of the final book coming out, but the release date was pushed back. We figured it would make more sense to try it now. Brittany recommended it as a fall-time read, so I'm excited! Hollow City by Ransom Riggs is up next for me in this trilogy, so I hope to read it right around the end of October.
It's very Halloween-y to read about witches, wizards, demons, and other paranormal creatures. Trial by Fire by Josephine Angelini is a parallel universe book about witches. I loved it and really need to get myself going on the second book. White Hot Kiss by Jennifer L. Armentrout was admittedly not one of my favorite books, but if you like paranormal romance love triangles, this book is for you. The demon aspect was something I've never read about before, so I think it's worth mentioning! Of course, I have to throw in a plug for (re)reading Harry Potter by J.K. Rowling. These books are awesome to read in the second half of the year because of Halloween and Christmas celebrations. Of course there are also witches, wizards, and other ~creatures~ in the series too.
Related Posts