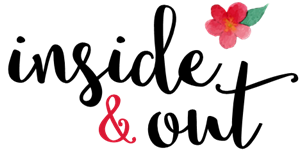 Admiring book covers and bookmarks, shared by you!
Welcome to INSIDE AND OUT. This feature includes two of my absolute favorite book-related things: bookmarks (inside) and book covers (out)! I've invited guest posters to share their favorite book covers and bookmarks here on the second and fourth Mondays of each month. Sign-ups are always open (see bottom of post)! Check out past posts here.
---

Twitter: @LECrockett| Instagram: @lauraecrock| Goodreads
Tell me a little about yourself: I'm a literary agent and bookseller by day, and blogger by night. Whenever my life isn't consumed with books, music takes over. Also, if I meet someone who's the least bit interested in Victorian literature, I chat their ears off for days.
Talk about your blog (what you blog about/kinds of books, features, etc.): Scribbles & Wanderlust mostly has book reviews, but I also participate in Top Ten Tuesday, A to Z book survey, End of Year book survey, #ReRead2015, Seasonal Rewind (my own take on the monthly recap), Advance Excitement at a Glance (a glimpse at ARC reviews coming up for the month), and the occasional discussion/observation post on book and reading preferences.
Favorite genre: All genres within Young Adult, though I also read and review whimsical Middle Grade and Adult historical fiction. I realize I mentioned categories more so than genres, but I'm across the board!
Three books you recommend most often and why:  Night Circus by Erin Morgenstern (because it has everything),Fangirl by Rainbow Rowell (it's that perfect upper-YA that even younger YA readers can appreciate and enjoy. Also, I think it's easy for the Potter generation to connect to this book), The Likeness by Tana French (an undercover detective with a strange case in Dublin, full of subtle psychological shifts and ugh, I love the Dublin Murder Squad mysteries and this is the best)
---
What book do we have here?  Paula Brackston's The Winter Witch
Have you read it yet? If so, how was it? I did read it! It was the first Brackston novel I ever read, and now I gravitate to her books — or at least the ones with Welsh settings. It's historical fiction first and foremost, with a dash of fantasy. The magic is very earth-based, kind of like Juliet Marillier's work (which I also adore). Read my full review here!
What makes this cover a favorite?  The cover matches the title. It's cool, blue and white, whispery, hushed. It's bold without having flashing colors. The typeface is wintery as well, with spidery, stick-like text. Overall, it's simply seamless.
What kind/style of covers do you usually pine over (script fonts, bright colors, realistic, etc.)?  Honestly, it depends on the genre and category. I love contemporary YA covers that look sketched, mystical or otherworldly fantasy YA covers (likeSeraphina or Snow Like Ashes). Adult covers tend to have a faceless woman on them or an object (teacups, an estate, foliage), but the typeface is usually what grabs my attention on those. MG books that I enjoy are more gothic or have a dash of sparkle in them (Flights and Chimes and Mysterious Times comes to mind). While flashy colors and big dresses are certainly eye-catching, I'm drawn to the covers that can also tell the story with that cohesive art + typeface look.
---
What bookmark did you chose?  A wooden quote bookmark.
What makes this one special to you? This bookmark was given to me by my Secret Santa last year. Not only was it a Harry Potter bookmark (without it blatantly appearing like a Potter bookmark), but the quote on it was directly from my favorite book of the series. Whether or not she knew that, I'll never know — but it is perfect.
What kind of bookmarks do you prefer (paper, magnetic, quotes, etc.)? I love off-the-wall bookmarks. Magnetic ones are cute and I do use them, but another favorite is a typewriter pin (MARIE), a stretchy strap bookmark (NANA), a ribbon clip bookmark (HANNAH), and a set of Hogwarts Houses clip bookmarks (although I never use these, haha). Anything that does as little damage to the paper or spine as possible is the bookmark for me.
---
Thanks so much for joining Inside & Out, Laura! I think I've had that bookmark on my wishlist for a long time. I love it. Great picks!
---
Join in the fun!
Important: Sign-ups are always open and currently scheduled through the beginning of 2016.
Related Posts