Lately I've noticed a new trend within blog tours: creative and unique posts. The content within the posts is more interesting to read about, and there are themes for each tour. Now, I'm not necessarily saying that the more traditional blog tours aren't fun to read, but these ones have taken things to a new level. There are a few lately that piqued my interest. If this is the way blog tours and promotional posts are headed, I consider that a major win. I wanted to recognize some of the more unique and fun tours I've seen lately, as well as share some of my feelings about blog tours and their overall improvements.
I've always had mixed feelings about blog tours. I am the kind of blogger that generally avoids requesting ARCs (and I don't often get the ones that I do request), so that means I usually find other ways to gain access to these titles if I'm really dying for them. Blog tours usually provide the blogger with an eARC (or sometimes physical ARC!) of the book, so I would sign up for the tours of highly anticipated books. Sometimes this would blow up in my face if the book didn't hit the mark for me, but other times I'd be extremely glad I got the opportunity to read the book early. Either way, blog tours can be a commitment. If you sign up and don't like it that much, your post will change at the last minute to a promotion posts… and it feels a bit fake, right? Promoting a book you didn't like? I think all new releases, debut authors, and books in general should be shouted from the rooftops… but if your blog is your place, you want to promote what you believe in. Writing a review for a blog tour when you didn't like the book can be a challenge. I've given review-writing tips in the past that may help in that situation, but not always. I've slowed down on signing up for blog tours because (a) I'm terrible about reading books when I have a "deadline" for them and (b) I don't want to promote a book I didn't like. Some blog tours allow for you to post a review regardless of how you felt about the book, but most want around 4 stars or more for a rating.
A lot of blog tours allow you to choose the type of post you want to include in the tour, but I always ask for a review. I'm not going to post thoughts on a book without including a review. I just can't imagine doing it. The traditional kind of blog tour will include: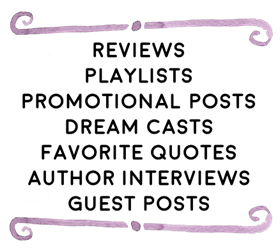 I personally don't like plain promo posts. Author interviews, playlists, and dream casts can definitely be fun… but I am just not creative enough for that kind of thing! I am so bad at remembering information about characters in general – coming up with a dream cast would be impossible for me. If playlists can contain only Led Zeppelin songs, then sign me up…otherwise I'm not really up-to-date on music. Author interviews are a lot of fun to read, but I can never come up with good enough questions. Overall some of the traditional posts for blog tours that allow for a more creative take on the story or author just don't work for ME. I can't think like that, I guess. I'm impressed by the people that can! I like to stick with a basic review, because I'm going to be posting one at some point anyways.

I've been loving some of the new blog tour ideas! They take blog tours beyond the traditional type and give bloggers the opportunity to share more about themselves, their blogs, and similar books they've read. Connecting books to OTHER things (aside from music or movie casts) is such a fun way to talk about the book… almost without actually talking about the book itself. If I see a unique post in a blog tour, I am way more likely to read it. I love seeing how people can connect the book to new things or give me an excuse to online shop a little bit. Some of the recent tours I've LOVED following include…

First & Then Book Superlative Blog Tour
For the book First & Then by Emma Mills, Macmillan invited bloggers to write up a post involving the superlative that they were assigned. For example, Brittany's superlative was "You've Come a Long Way, Baby," which involved character development throughout the course of the book. She shared other titles with characters that related to the superlative. Alexa's post showed "Biggest Tearjerkers," or the books that made her cry. I love this tour because all of the posts give bloggers the chance to recommend other stories, while still promoting the book itself. I've read every post within this tour that have been posted so far – even on blogger's sites that I don't already follow. This book was not on my radar until I saw this tour, and it sounds awesome. (I decided to keep the entire graphic in the post so you can see and Google some of the others posts, if you'd like! So creative.)
The Boy Most Likely To Blog Tour, featuring
"The Blog Most Likely To"
Oddly, this tour is also centered around the idea of superlatives. In The Boy Most Likely To by Huntley Fitzpatrick, Tim and Alice frequently reference high school superlatives and where Tim would fall on those lists. Each blog was invited by Penguin to choose a superlative for themselves and their blog, in keeping with the title of the book. Erin was "the blog most likely to read My Life Next Door" because she wanted to motivate herself to read Huntley Fitzpatrick's debut novel first. Stephanie said that she was "the blog most likely to take it all off," because she frequently takes pictures of books with and without their dust jackets. I loved seeing the superlatives that bloggers chose for themselves! You got to see a bit more about the blog and the blogger on the tour, rather than focusing just on the book itself.
Queen of Shadows Blog Tour
Okay so I haven't actually read this series yet at all (and TRIED to avoid reading reviews about the book, since duh spoilers for the whole series), but I have LOVED the posts for the blog tour! It's nice to be able to read a blog tour without worrying about spoiling a lot of things about the book or series. This tour was started by the Maas Thirteen (created by a few lovely ladies listed here) for Queen of Shadows by Sarah J. Maas. In it, each tour host showed off some insane creativity. I would love to feature every single blogger but there have been too many wonderful posts. I am even more excited to dive into this series! There have been wallpapers, bookmarks (and more wallpapers!), 2015-oriented outfits for the main characters, printable temporary tattoos, Throne of Glass THINGS that you can buy, and locations that pertain to the books. This tour is definitely geared more towards the actual book than the other tours I mentioned, but the ideas for the posts are just so damn creative. The tour for the previous book, Heir of Fire, was just as creative!

I don't know if this has been a recent change or what, but I love the way things are headed. If blog tours keep expanding upon their usual repertoire, the blogosphere is going to have a lot more fun in the future! I am not saying that traditional blog tours are bad, in any way. Their hosts and organizers are dedicated and a great thing for this community. I have just noticed a cool trend towards creativity and new ideas on tours. I love reading author interviews, seeing what songs others picked to match the book, and looking at dream casts – but my bookish memory doesn't usually allow for that kind of thing! If I could be given a fun theme or connect the book to something else, I would definitely join more blog tours. If you have the opportunity to be more creative on your blog tour stop, here are some ideas I've seen recently: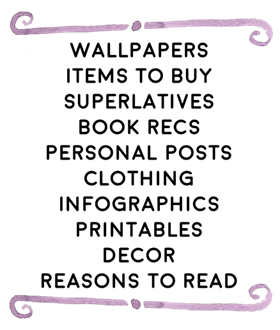 ---
What do you think? Have you noticed this trend, too?
Related Posts